GPU performance in Task Manager is the new feature of Windows 10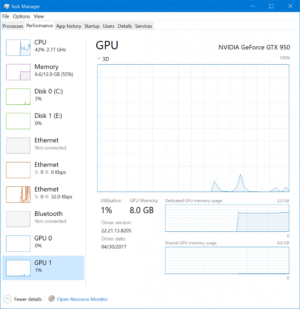 The latest Insider Build of Windows 10 – 16226 brings one very useful feature that, now when we come to think of it, we wonder why wasn't it introduced earlier. Our beloved Ctrl+Alt+Del combination that summons the mighty Task Manager which can end any task will have one more reason to be used.
We are getting an update to the Performance section of the Task Manager. Until now you were able to get vital information and graphs about the performance of your CPU, memory, storage device and other processes such as Bluetooth or Ethernet traffic if available. From now on you will be able to track the performance of your GPU as well.
Before this feature, the only way to monitor your GPU was by an external application. Not that this is such big of a deal but it is most certainly more organized to get all your data from one single application.
The new thread in the performance section will provide the following information: your GPU model name, 3D utilization, the amount of memory used, total amount of available memory, and the driver version. It will provide information for both the integrated and dedicated (if available) GPU.
We are eager to get the new feature. At the moment, it is only available to the Insiders.
Meanwhile, you can check all Microsoft products over here: http://amzn.to/2s4gVn6