HP Envy 15 (15-ep0000) gets into the top 10 of our Best Battery life chart (and has the best battery life among all other laptops with a 45W CPU)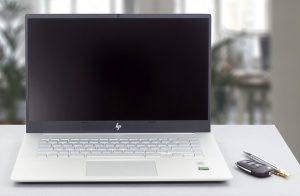 The battery is probably the most important part of a laptop. It is what, in the end, makes it work as a concept. As you may have read in our review of the HP Envy 15, and if you haven't, we'll link it down below, it scored spectacularly in our battery life test. So spectacularly, in fact, that it broke into the top 10 of our Top 50 Laptops with the Best Battery Life chart.
With its impressive 19 hours and 20 minutes of Web surfing and 13 hours and 49 minutes of video playback, the device is the best in terms of battery life among other laptops with a 45W CPU. For those of you, who are unfamiliar with the setting that we use to test the battery life, they are as follows: we have the Windows "Better performance" option turned on, and the screen brightness set to 120 nits. We use Google Chrome for the Web browsing test and VLC player for the video playback test. Our review unit came equipped with an Intel Core i5-10300H and an NVIDIA GeForce GTX 1650 Ti. The battery is a 6-cell one and has a capacity of 83Wh.
You can read our review of the HP Envy 15 here.
You can check the prices and configurations in our Specs System here.