MSI GS63VR with GeForce GTX 1060 (Laptop) debuts at $2250 / 2000 EUR, check out all configurations and prices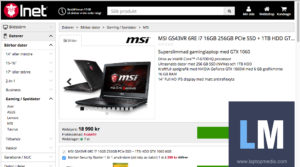 NVIDIA launched the new Pascal lineup for laptops today – LaptopMedia's readers have long been familiar with the GPUs – and now it's time to turn our attention to the prices and configurations of the new notebooks.
We've already shared the new warrior from ASUS, the G752VS with GTX 1070, which starts at 2 000 EUR for a configuration with GTX 1070 (8GB GDDR5), 16GB RAM, Full HD IPS screen and 1TB HDD of storage. And now, thanks to our Browswave system, we found the latest MSI notebooks with Pascal in Swedish online store.
MSI GS43VR 6RE (14") and MSI GS63VR (15.6") are the "cheapest" offerings at just $2250 or 2000 EUR. That includes 16GB of RAM and 256GB M.2 SSD in addition to the 1TB hard drive. Both are equipped with NVIDIA GeForce GTX 1060 (6GB GDDR5) GPU and Intel Core i7-6700HQ processor. As for the MSI GT72VR 6RD, it has the same components but features 17-inch IPS screen raising the price to $2370 / 2100 EUR.
MSI GT72VR 6RE is almost identical to MSI GT72VR 6RD but takes advantage of the powerful GTX 1070. Expectedly, the price is much higher – $2850 (2530 EUR).
| Model | CPU | GPU | RAM | Display | Storage | Price |
| --- | --- | --- | --- | --- | --- | --- |
| MSI GS43VR 6RE (14″) | Intel Core i7-6700HQ | NVIDIA GeForce GTX 1060 (6GB GDDR5) | 16GB DDR4-2133 | Full HD (1920×1080) IPS | 256GB PCIe M.2 + 1TB HDD | $2250 / 2000 EUR |
| MSI GS63VR (15.6") | Intel Core i7-6700HQ | NVIDIA GeForce GTX 1060 (6GB GDDR5) | 16GB DDR4-2133 | Full HD (1920×1080) IPS | 256GB PCIe M.2 + 1TB HDD | $2250 / 2000 EUR |
| MSI GT72VR 6RD (17.3″) | Intel Core i7-6700HQ | NVIDIA GeForce GTX 1060 (6GB GDDR5) | 16GB DDR4-2133 | Full HD (1920×1080) IPS | 256GB PCIe M.2 + 1TB HDD | $2370 / 2100 EUR |
| MSI GT72VR 6RE (17.3″) | Intel Core i7-6700HQ | NVIDIA GeForce GTX 1070 (8GB GDDR5) | 16GB DDR4-2133 | Full HD (1920×1080) IPS | 256GB PCIe M.2 + 1TB HDD | $2850 / 2530 EUR |
NVIDIA GeForce GTX 1060 Laptops: http://amzn.to/2aXVPSh
NVIDIA GeForce GTX 1070 Laptops: http://amzn.to/2aWAEwX
NVIDIA GeForce GTX 1080 Laptops: http://amzn.to/2b8x6Lq