New ADATA powerbanks – colorful and convenient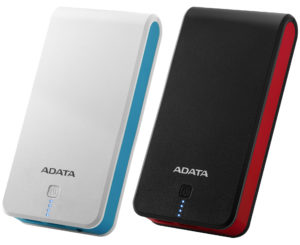 Now that the holidays are fast approaching we have some very good news for you, in case you have not yet chosen a Christmas gift for your friends and family. What we have in mind is several products by the renowned tech manufacturer ADATA. The models are P10050, P16750, and P20100. We live in a time when our smart devices are low on battery quite frequently and that's where the new products come in handy. The most important aspect of theirs is that they come in smaller dimensions while not compromising on capacity. Additionally, they offer stylish looks and good build quality.
Check all currently available ADATA products here: Buy from Amazon.com
As you may guess, the capacities of the three new models are 10050 mAh, 16750 mAh, and 20100 mAh. This is enough for four 100% smartphone charges. Also, all three models come with two USB output ports, each supplying 2.0 amperes, which allows you to charge two devices simultaneously. Furthermore, each of these batteries has an integrated LED flashlight.
As far as design goes, the P10050 style is more rounded and has many color options. On the other hand, the P16750 and P20100 have a dual color scheme which is also pleasing to the eye. The build quality is also high, and there are specially designed circuits to prevent damage. Thanks to their fire-resistant constructions, the powerbanks meet the IEC 60950 safety standards.