Razer releases BlackWidow Chroma V2 – silent mechanical gaming keyboard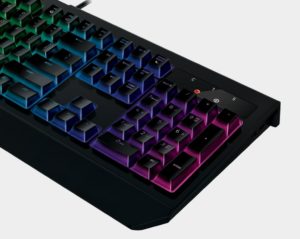 Now, this will be really sweet for you gaming geeks out there. The popular manufacturer of gaming-related products Razer launched a new mechanical keyboard called BlackWidow Chroma V2.
As the name "Chroma" suggests, this keyboard is really colorful. To put the phrase "really colorful" into a more precise dimension – it features 16.8 million colors. What's more, BlackWidow Chroma V2 is programmable which means that you can leave your artistic passions free in customizing this beauty.
Another good thing about this product is that it's already out and you could check its current price and availability, if you show interest, of course: http://amzn.to/2j4d0at
Additionally, this black widow is not only pretty but it's also tough. According to the manufacturer, it has 80 million keystroke life span, which means at least several years of heavy usage.