Samsung announced the first ever 8GB LPDDR4 memory chip on 10nm process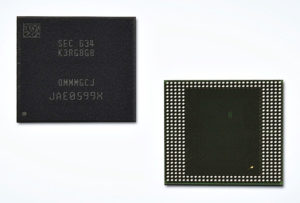 Exciting times we are living in. Samsung just announced world's first 8GB LPDDR4 memory package and it's built upon 10nm manufacturing process making its footprint so small that will satisfy the needs of all ultra-thin premium high-performance devices.
Some time ago the company introduced a 12GB mobile DRAM solution under the LPDDR4 standard but it was fabricated using a 20nm process so now, the company is ready to launch a 16GB LPDDR4 package with 10nm technology as well as the single 8GB package. This will greatly improve the performance of mobile devices when decoding 4K UHD content and "virtual machine operations". The best part is that the LPDDR4 successfully challenges the DDR4 DRAM on modern PCs because it's doubling the data transfer at 4266 Mbps while DDR4 still operates on 2133 Mbps per pin. Moreover, an 8GB LPDDR4 memory package will consume exactly the same amount of power as a 20nm 4GB solution while delivering twice the capacity. Not to mention the footprint of this thing is just 15 mm by 15 mm by 1.0 mm.
We also expect the new 10nm fab process to make its way to other components in the near future and will continue to mass-produce the new LPDDR4 packages. This might also allow for companies to release their high-end mobile devices sooner than expected or just include the new tech sooner than we thought.
You can find Samsung's current DDR4 memory sticks here: http://amzn.to/2e8VAWl