We just finished our display tests on Samsung Galaxy Tab S2's 8-inch Super AMOLED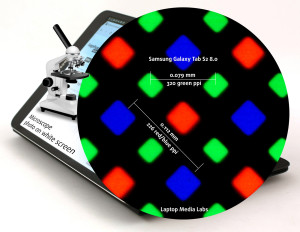 We're almost ready to publish the full review of the new Galaxy Tab S2 8.0 by Samsung, but until we do, we can give you a sneak peek of its display capabilities.
The new flagship of the Korean company features an 8-inch Super AMOLED display packing 2048 x 1536 pixels, which will give you image quality with perfect details and a pixel density of 320 ppi.
The high brightness and contrast levels don't come as a surprise, but we were pleased to measure 100% sRGB color gamut coverage and 97% AdobeRGB. There is a drawback, however – we stumbled upon pulse-width modulation, but the good news is that the frequency is not aggressive when you bring the brightness slider to more than 75%.
You'll find more on the display, as well as detailed battery, camera, and performance tests in our upcoming in-depth review.
You can check the current price of Samsung Galaxy Tab S2 here: http://amzn.to/1fvbAyz