Meet the first G-Sync curved monitor – Acer Predator X34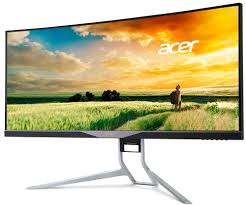 The Predator X34 is another exciting piece of hardware part of the new gaming line from Acer and we are glad we are one of the first to test it ourselves. Well, not exactly, because we have the FreeSync version of the display, which only has 75 Hz refresh rate compared to the 100 Hz on its G-Sync counterpart. Back to the X34, the monitor boasts some pretty good specs that every gaming enthusiast will drool over, but it will be interesting what's under the hood and will all claims be met.
For starters, this is the first curved G-Sync-enabled monitor you can buy right now, but other than that, it has quality IPS panel with good viewing angles and wide color gamut coverage and response time of just 4 ms. And as we all know, this is a contributing factor for a good gaming experience. At least we can say this for now with confidence. The resolution is QHD (3440 x 1440) leading to 21:9 aspect ratio on a 34-inch diagonal, but more importantly – the refresh rate of the panel is from 60 to 100 Hz paired and paired with the G-Sync chip will make gaming buttery smooth. More on the G-Sync technology – here.
In addition, features presented by Acer should offer less eye strain for the gamers thanks to the EyeProtect for reduced blue light emissions and no screen flickering. We will be sure to check those two out, since most probably both displays share the same specs and panel. The monitor also comes with 7W dual-speakers on the sides, HDMI, DisplayPort 1.2, and a USB 3.0 hub.