The HP ProBook 470 G3 isn't too far behind its smaller 15-inch sibling in terms of battery life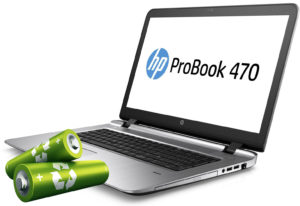 Quite surprisingly, the HP ProBook 470 G3 offers relatively good battery life, especially compared to its 15-inch sibling. This comes as a surprise because it's only natural that the 17-inch screen with slightly higher resolution (1600×900 vs 1366×768) will drain the battery faster than a 15-inch display since both laptops share the same battery capacity – 44Wh.
You can find the notebook's price and configurations here: http://amzn.to/2cWWzWX
Anyway, we got 344 minutes (5 hours and 44 minutes) on the web browsing test and 382 minutes (6 hours and 22 minutes) of video playback. These results are a tad better than most machines, including 15-inch devices and loses against the 15-inch ProBook 450 G3 by just 9%. Of course, all tests were run under the same conditions as always – Wi-Fi turned on, Windows battery saving feature turned on and screen brightness set to 120 cd/m2.