The newly announced ASUS ROG GX800 is the GX700 plus another desktop-grade GTX 980 GPU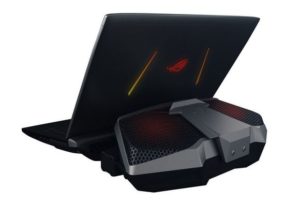 During this year's Computex at Taiwan, ASUS unveiled its absolute flagship gaming laptop, which is also a direct successor to the well-known liquid cooled GX700 but the latter became obsolete in no time. Why? Well, check out Acer's new Predator 17x gaming laptop that sports the very same hardware, better overclocking capabilities and minus the big and heavy liquid cooling docking station. So why choose the significantly more expensive and heftier GX700?
You don't have to anymore because the GX800 carries the same concept but rights the wrongs of the GX700. The new machine comes with (reportedly) the same unlocked Intel Core i7-6820HK processor, up to 64GB of DDR4-2400 (O.C.) SDRAM and two desktop-grade NVIDIA GeForce GTX 980 GPUs each with 8GB of GDDR5 VRAM working in SLI configuration. The latter makes the machine the most powerful gaming notebook on the planet so now the liquid-powered cooling system totally makes sense. You'd still have to carry the big suitcase with all that hardware if you want to take advantage of the overclocking features, though.
On the display front, we've got an updated 17.3-inch Ultra HD (3840×2160) IPS panel, although the Full HD version is still an option. Finally, a notebook that can actually support all those pixels on the latest games. Storage-wise, we've got RAID0 configurations coming in 256GB or 512GB flavors or if you need the extra space, the M.2 connectors can work separately as two PCIe NVMe devices. To power up the whole system, ASUS has crammed up a huge 6-cell 93Wh battery but the overall weight remains the same 8.5 kg (including the dock, which is 4.6 kg) as well as dimensions.

Oh, and let's not forget the updated keyboard which is now mechanical and as we all know, mechanical keyboards are superior to the membrane ones in terms of feedback and durability. So that's a major feature that needs to be considered.
Specs sheet
CPU
Intel Core i7-6820HK (2.70 – 3.60 GHz, 8MB cache)
RAM
up to 64GB (4x 16384MB) – DDR4, 2400MHz (O.C.)
GPU
2x NVIDIA GeForce GTX 980 (8GB GDDR5) in SLI
HDD/SSD
RAID0 support or 256/512GB M.2 PCIe NVMe SSD
Display
17.3-inch – 1920×1080 (Full HD) IPS, matte / 17.3-inch – 3840×2160 (Ultra HD) IPS, matte
Optical drive
DVD burner
Features

1 x Microphone-in jack
1 x Headphone-out jack
2 x USB 3.1 TYPE C port(s)
3 x USB 3.0 port(s)
1 x RJ45 LAN Jack for LAN insert
1 x HDMI
1 x mini Display Port
1 x Thunderbolt port
1 x SD card reader
1X AC adapter plug

Thickness
33-35 mm (1.3 – 1.38″)
Weight
Laptop: 3.9 kg (8.6 lbs) Dock: 4.6 kg (10.14 lbs)