Toshiba Portege Z30 (A-1E1, 2015) has harmless screen that can even be used for professional purposes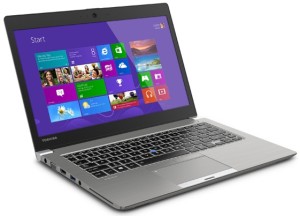 Toshiba is well renown for its high-quality displays in its products. Our recently reviewed budget Toshiba Satellite Click Mini tablet surprised us with a cool IPS panel, despite the low price tag.
However, the subject of this publication is the refreshed Protege Z30 (A-1E1, 2015) notebook having a 13.3-inch screen with Full HD resolution. Our initial tests show pretty good results – 338 cd/m2 maximum brightness (which is enough for even working outdoors), 6319K color temperature (pretty close to the optimal one of 6500K (D65)), and 96% coverage of the sRGB color gamut. Furthermore, after calibration we've recorded 1000:1 contrast ratio and extremely accurate color reproduction with DeltaE(2000) = 0.48. To put this into perspective, you will not be able to see the difference between input and output colors without the proper lab equipment.
Nevertheless, the most important thing we would want to share is the PWM tests which showed absence of screen flickering above 25% brightness. You can see it on the graph below.