We got some pretty interesting results from our battery tests on the ASUS ROG GL752VW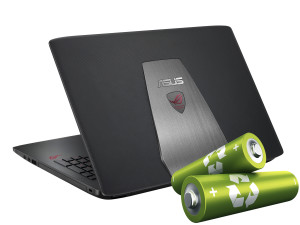 The ASUS ROG GL552VW got us pretty puzzled (we mean that in a good way) about its battery performance. We are used to pretty mediocre results from gaming laptops given the power draining hardware, but the GL552VW actually scored good results in our battery tests. However, the same cannot be said about its bigger 17-inch sibling. And that's kind of strange.
You can find the laptop with all of its available configurations and prices here: http://amzn.to/1SEW3Ol
First of all, the GL752VW uses a TN panel, which is believed to be more energy efficient, giving an edge over the 15-incher with the IPS panel. Second of all, both notebooks pack the same hardware (CPU, GPU, RAM etc.) and the same battery capacity (48 Wh). So the only thing done different here is the larger 17-inch screen to be lighted up and it appears to be more demanding than a 15-inch IPS panel. Anyway, the results are 209 minutes of web browsing, 181 minutes of video playback and only 95 minutes of gaming away from the charger. All tests were run with the same settings as always – Wi-Fi turned on, battery saver turned on and screen brightness set to 120 cd/m2.