We have some initial results from the Acer Aspire V15 Nitro Black Edition's (VN7-591G, 960M) screen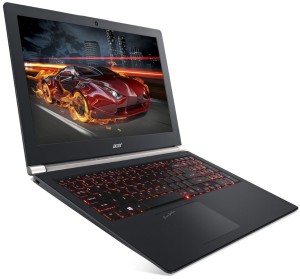 You might be really keen to know how the new V15 Nitro Black Edition gaming notebook from Acer scores in terms of performance, battery and so on. Well, you will have to wait just a little bit longer until all tests are done, but in our opinion, a good gaming notebook has to be not only powerful, but also has to offer excellent multimedia experience. We are going to play beautiful 3D games, after all, aren't we?
Usually, we test every single display of every laptop we review and the new Acer Aspire V15 Nitro Black Edition makes no exception. We've got some juicy details about the screen and the most notable one is the PWM. PWM or pulse-width modulation can also be referred as "screen flickering", which is known to damage your eyes and in long term can lead to serious medical conditions. Unfortunately, the new V15 Nitro Black Edition notebook uses a slightly different LCD panel than last year's generation and we've recorded PWM across all brightness levels. You can see the results below. At least the frequency of the emitted light is above 20 kHz, which means that this is less stressful to the eyes. Also, above 75% the screen flickering decreases which makes it a lot better for your vision.

However, you will have to wait for our full review on the Aspire V15 Nitro Black Edition (with GeForce GTX 960M) to see all our tests, including the screen, battery, CPU and GPU performance. Stay tuned.