[Specs and Info] ASUS ExpertBook B2 Flip (B2402F, 12th Gen Intel) – Corporations will love this one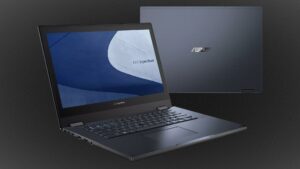 ExpertBooks from ASUS come in all shapes and sizes, being divided into tiers, depending on the price and features. Today we have the ExpertBook B2 Flip (B2402F, 12th Gen Intel), which is a more low-end representative of the brand. It still manages to bring some very good hardware inside a 14-inch chassis that might not be the lightest, but you often have to make sacrifices when working within a lower budget. Nevertheless, you still get a very nice array of features and ports, which make for a pretty complete business experience.
Today we're giving you a quick overview of the ASUS ExpertBook B2 Flip (B2402F, 12th Gen Intel).
ASUS ExpertBook B2 Flip (B2402F, 12th Gen Intel): Full Specs
Design
The ExpertBook B2 Flip doesn't try to reinvent the wheel and sticks to basics with its looks. While ASUS doesn't reveal what materials it uses for the laptop, you do get MIL-STD-810H certification, which generally means that the chassis is strong enough to survive and not have to be treated like an eggshell. All ExpertBooks come with a dark blue / Navy finish on the lid and base, while the bottom panel is left black. The lid does have the ErgoLift mechanism that helps with comfort as well as cooling. This isn't the lightest convertible, especially at 14 inches, as it weighs 1.70 kg and has a profile of 20 mm.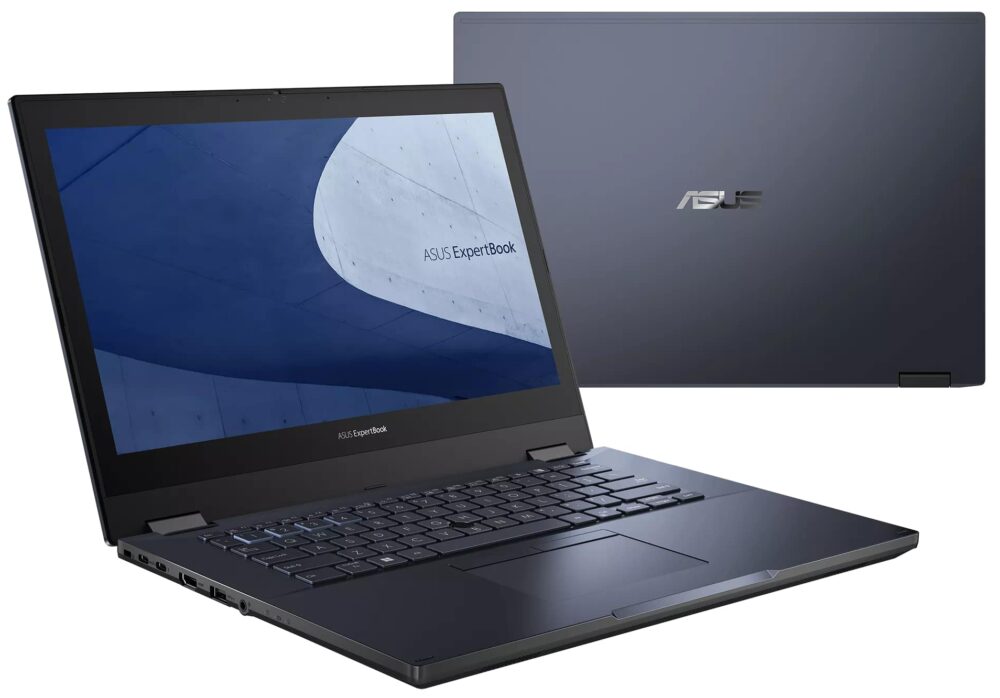 The port selection is pretty thorough and complete, offering two USB Type-A ports, one of which runs at 2.0 speeds while the other is a 3.2 (Gen. 1) port. You also have a USB Type-C 3.2 (Gen. 2) port, as well as a Thunderbolt 4 port, an HDMI 1.4 port, a LAN port, and a 3.5 mm audio jack.

Display
There's only one display available, with a Full HD resolution and an IPS panel. The part comes with up to 250 nits of brightness. Since this is a convertible, the panel has a touchscreen and Stylus support.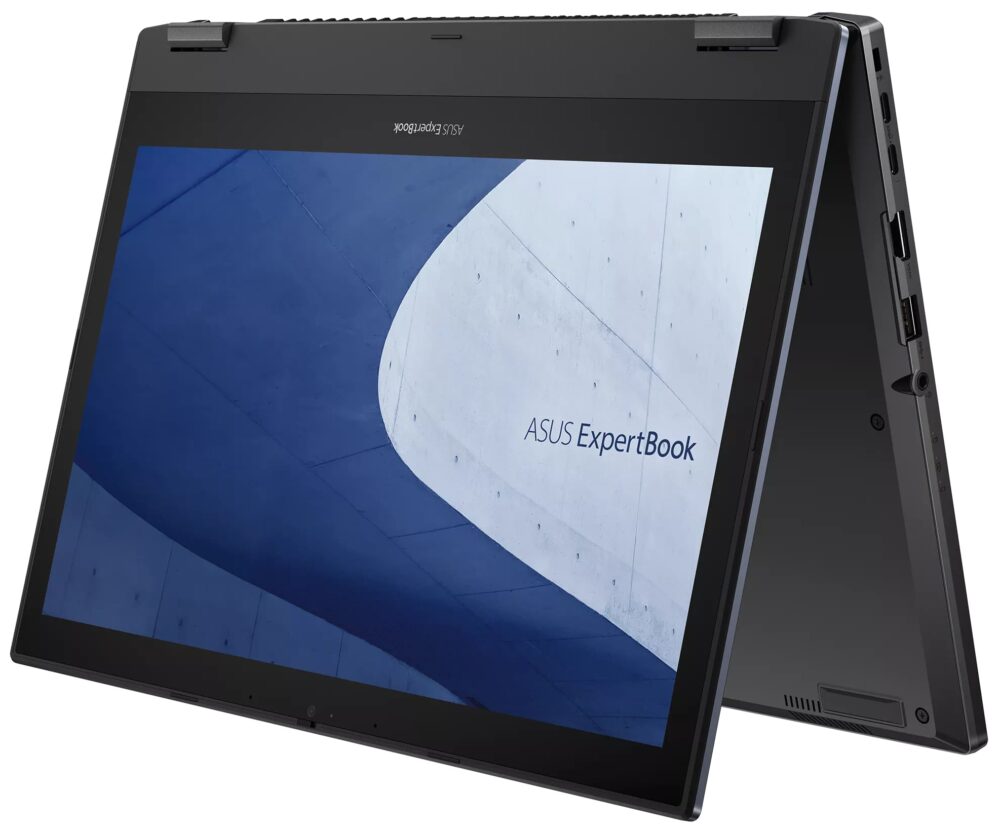 Specifications and features
There are three processors to choose from. The B2 Flip's base configuration has the Core i3-1215U, a 15W chip that comes with 6 cores and 8 threads. From there, you can upgrade to the Core i5-1240P and Core i7-1260P, with a higher base wattage of 28W, as well as 12 cores and 16 threads, which means a lot more performance. Paired with the integrated graphics, the P-series configurations can handle more complex tasks like video rendering, especially thanks to the more power and the hardware encoding support inside the graphics. In stark contrast to a lot of 14-inch business machines (and even convertibles), the ExpertBook B2 Flip comes with expandable RAM and storage, as it has two SODIMM slots for up to 64GB of DDR4 memory. For storage, there's one M.2 slot that does fit Gen 4 SSDs.
Security is a big part of a business machine, and ASUS knows that, offering a Privacy shield for the camera, an optional SmartCard reader, which can be used for authentication, a fingerprint reader, and a TPM 2.0 chip for securely storing the information from the SmartCard and the biometric information of your fingerprint.
Wymiary
339.5 x 239.9 x 19.9 - 20 mm (13.37" x 9.44" x 0.78")
All ASUS ExpertBook B2 Flip (B2402F, 12th Gen Intel) configurations: