Acer Aspire 3 (A315-21) review – good budget laptop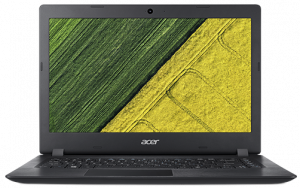 Today we shall have a look at yet another product meant for those who do not want to invest a lot of money into expensive and powerful laptops but do want a regular budget machine at a low price – Acer Acer Aspire 3 (A315-21). This is a mid-range budget product that may attract many customers. Hence our interest in it. We must first note the hardware highlights. The configuration we've chosen features a dual-core AMD A4-9120 CPU – a mid-range chip part of the Stoney Ridge architecture. As for the GPU, we are looking at a Radeon 520. It is a laptop GPU made by AMD, and was released back in 2017. Other than that, you could buy the notebook with an Intel Core or Celeron CPU.
Acer Aspire 3 (A315-21) boasts a Full HD (1920 х 1080p) display with a TN panel which is 15.6″ in diagonal but you can also buy a 768p display. As for its design, this price range does not offer luxurious elements but we hope it will be stable and reliable enough – just as the manufacturer promises. We shall evaluate this in great detail, and we shall also check screen quality, battery endurance, and conclude with a hardware discussion – whether the modest chips will be enough for everyday tasks or not.
This laptop stands out mostly in terms of its price. The most obvious target group is that of students who need a laptop with a reasonably big screen for work in the library/lecture hall and watching movies in the dorm.
You can check all currently available Aspire 3 configurations here: Buy from Amazon.com (#CommissionsEarned)
Contents
Specs Sheet
What's in the box?
The box features a 65 W AC power adapter, working at 19V/3.42А, a cable, manuals and the laptop itself.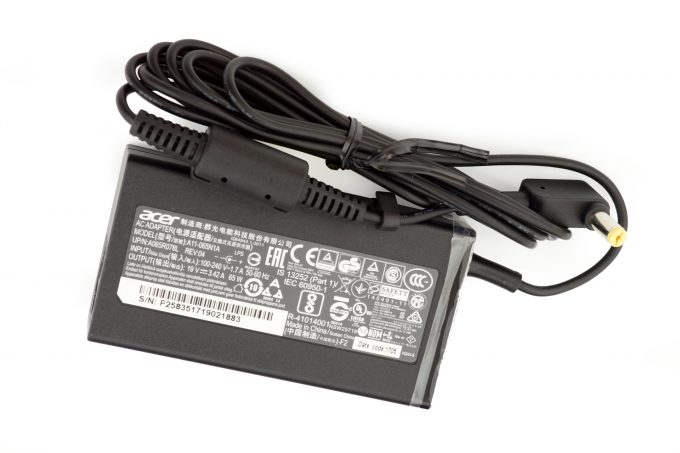 Design and construction
Like we said, Acer Aspire 3 (A315-21) has a very pleasant and simple design that is quite ordinary but has enjoyable rounded edges. The lid and base are entirely plastic imitating fiberglass surface. Due to the peculiarities of the surface, fingerprints are not to be found. Despite this being a budget model that one would not normally expect to have exceptionally high build quality, we must note that the laptop has a commendable rigidity and there are no gaps to be found. When opening and closing the lid we did not observe any twists or bends. The cooling system works silently, and there are no vibrations along the body of the machine.
The lid features Acer's logo which fits really well with the overall design approach and is a nice final touch. The display has two separate hinges which hold it firmly in place despite their small size. Opening and closing it is quite stable. The touchpad is big and comfortable to work with. THe touchpad buttons are comfortable to press. They are big enough to avoid the problem of accidentally pressing both.
Acer Aspire 3 A315-21 has an Island Style keyboard which is really pleasant to work with. When you press a tad harder, you could notice a slight bending but this does not interfere in any way with its proper functioning. The keys have a dense travel. You also get F buttons for multimedia control. Fortunately for all who work with numbers often, the keyboard has a NumPad.
Acer Aspire 3 (A315-21) does not have a keyboard backlight which is normal for this budget class. It is also important to note that the display goes back up to a 180 degrees angle, allowing you to display content to a wider audience. This could be quite convenient when several people need to discuss some matter in the same room. However, the available TN panel is somewhat limiting in this regard.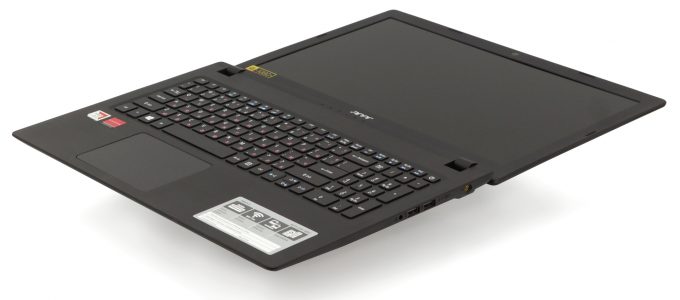 The ON/OFF button is withing the keyboard panel itself. This might be an issue if you got carried away and pressed this button accidentally while typing something else. However, Windows wants us to confirm a potential shut down, so this problem will not have a fatal effect.
Above the display, you can find a 720p camera which has an LED indicator and a built-in mic. On the left, the laptop has a USB 3.1 Gen1, one HDMI 1.4 port, memory card reader, RG-45 and a lock slot. On the right, we find a 3.5mm audio jack, DC port, and two USB 3.1 Gen 1 ports as well as light indicators for the HDD and power. Acer Aspire 3 (A315-21) does not come with an optical drive but you can purchase an external one. Additionally, the audio chip here is Realtek ALC3246, and it blows out sound through the two 4.2 stereo speakers. As for the wireless connection, this machine features a Wi-Fi module Intel Dual Band Wireless AC 3168 that also comes with Bluetooth 4.2.
Disassembly, maintenance, and upgrade
Acer Aspire 3 (A315-21) has been designed to be easy for maintenance but also tightly put together. Like we said, the base employs hard plastic and is fixed to the rest by means of plastic clips and 15 evenly distributed screws. Once you remove the bottom panel, you have access to all hardware components.
Apart from this, Acer's designers have included two service hatches for quick access to the RAM and HDD components. These small panels are held by two screws each. We must note that the bottom panel has enough vents for cooling.
Upgrade HDD/SSD, M.2 SSD
Acer Aspire 3 (A315-21) features an М.2 2280 NVMe PCIe slot and a 2.5-inch HDD/SSD slot. The laptop we tested was equipped with a WDC WD10SPZX-21Z10T0 (1000GB) HDD. This model is part of the Blue series by WDC. WD10SPZX boasts 5400 rpm speed, 6GB/s data transfer, and 8GB cache.
As mentioned above, Acer Aspire 3 (A315-21) has an М.2 2280 NVMe PCIe slot. M.2 is a small form factor (SFF) with a multipurpose connector which is meant to replace the small mSATA and mini-PCIe slots. The M.2 form factor is not meant only for storage, it supports USB, SATA, and PCIe. М.2 PCIe coincides with the migration of SSD to PCIe and the desire to overcome the 600 Mbps speed limit for data transfer via a SATA bus. The merging of PCIe and SSD leads to higher data transfer speeds.
RАМ
Our Acer Aspire 3 (A315-21) came with a single SK Hynix H5AN8G8NAFR-UHC stick of 4GB. It operates at 2400 MHz. The laptop has a single RAM slot that supports up to 32GB and features a 4GB sodered chip. The memory works in a single-channel mode.
Other components
Acer Aspire 3 (A315-21) has a 2-cell Li-Ion battery with a capacity of 37Wh (4810mAh), working at 7.7V. As you will see in our tests, the battery has very decent runtimes. It is positioned in the lower left part of the body, away from the cooling system. This may be a prerequisite for lack of overheating as it is far from heat-emitting components, and this in its turn leads to a longer product life. It is held in place by several screws.

Acer Aspire 3 (A315-21) features a Wi-Fi chip Intel Dual Band Wireless AC 3168 which has Bluetooth 4.2 connectivity. The adapter is in the central part, below the cooling and above the battery. The coverage is good, and transfer speeds – up to 433 Mbps, which allows for effortless work.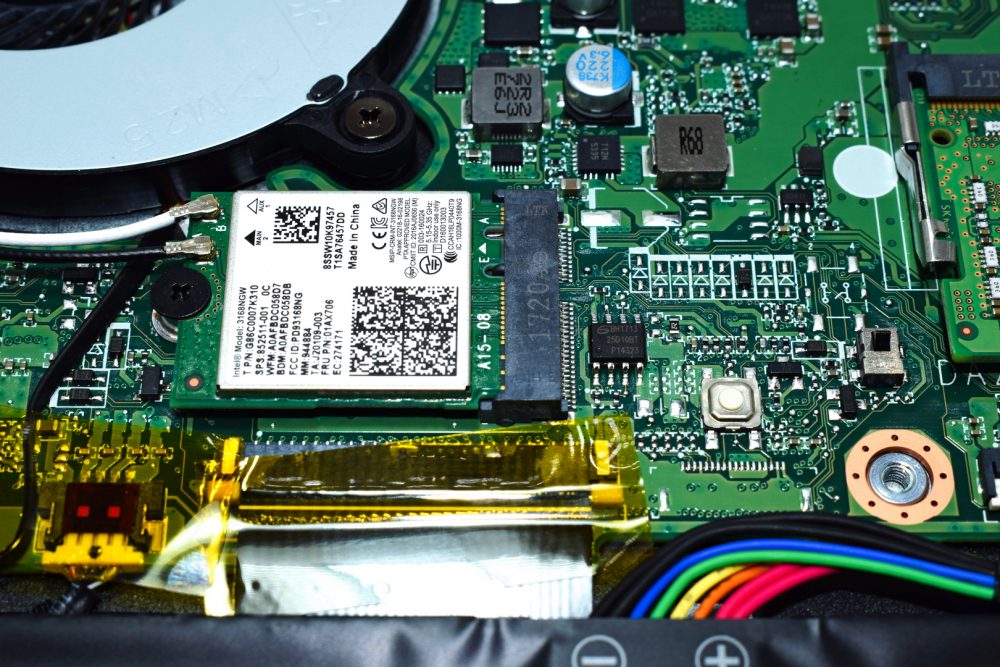 Cooling system
The cooling employs a heat pipe and turbine fan. The machine sucks cool air through a big vent positioned on the bottom mid-rear part. The turbine diameter is big enough for efficient cooling.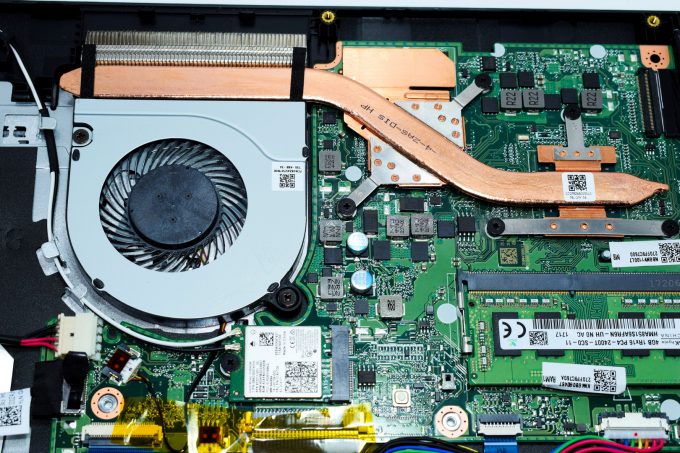 The protective grills of the vents look discretely and are big enough for the required airflow. As for efficiency, we shall look into that later.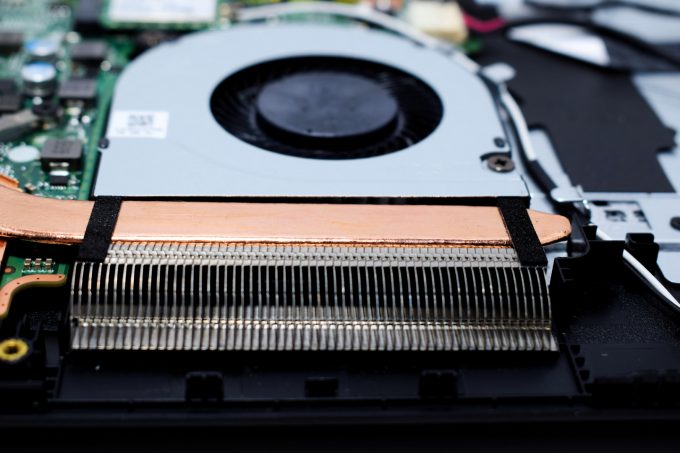 Display quality
Acer Aspire 3 (A315-21) has a Full HD display with a TN panel, model AUO B156HTN03.8 (AUO38ED). Its diagonal is 15.6-inch (39.62 cm), and the resolution 1920 х 1080 p. The screen ratio is 16:9, its pixel density – 142 ppi, and the pixel pitch – 0.18 х 0.18 m. The screen becomes Retina when viewed from a distance greater than 60 cm (from this distance one's eye stops differentiating the separate pixels, and it is normal for looking at a laptop).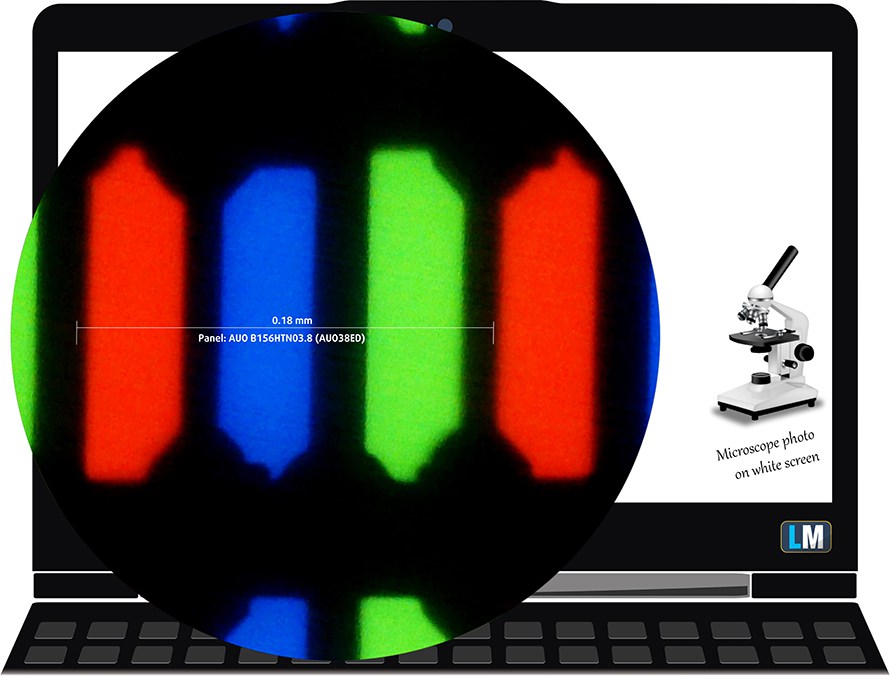 Acer Aspire 3 (A315-21) has uncomfortable viewing angles. We offer images at 45° to evaluate image quality.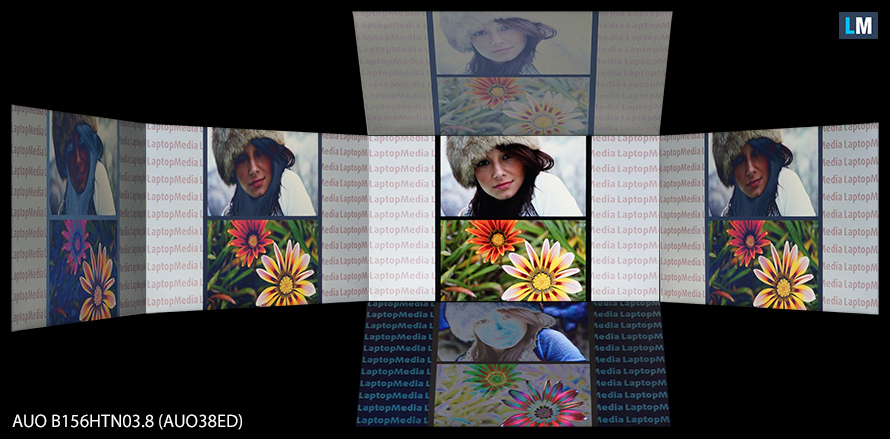 The maximum measured brightness is 264 nits (cd/m2) in the middle of the screen and 257 nits (cd/m2) average across the surface with a maximum deviation of 7%. The Correlated Color Temperature on a white screen and at maximum brightness is 7040 K (average) – a bit colder than the optimal 6504K temperature for sRGB. The average color temperature through the grey scale before profiling is 12000K (corrected by our profiles).
In the illustration below you can see how the display performs from uniformity perspective. In other words the leakage of light from the light source. The illustration below shows how matters are for operational brightness levels (approximately 140 nits) – in this particular case at 46% Brightness (White level = 143 nits, Black level = 0.48 nits).
Values of dE2000 over 4.0 should not occur, and this parameter is one of the first you should check if you intend to use the laptop for color sensitive work (a maximum tolerance of 2.0 ). The contrast ratio is modest – 310:1 (300:1 after profiling).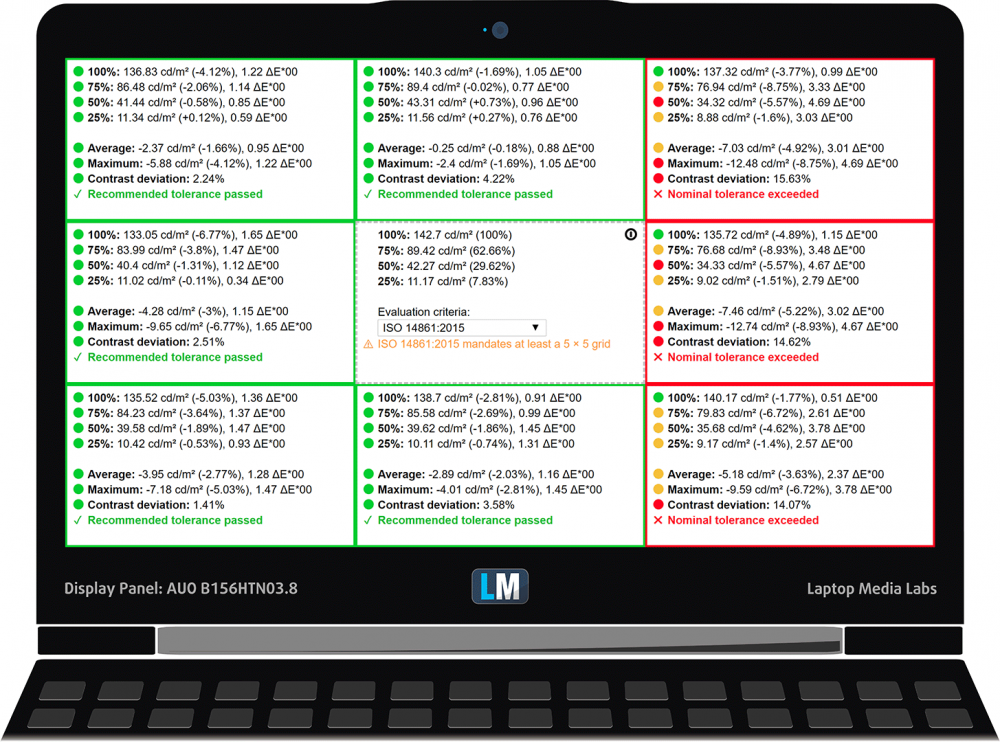 Color reproduction
To make sure we are on the same page, we would like to give you a little introduction of the sRGB color gamut and the Adobe RGB. To start, there's the CIE 1976 Uniform Chromaticity Diagram that represents the visible specter of colors by the human eye, giving you a better perception of the color gamut coverage and the color accuracy.
Inside the black triangle, you will see the standard color gamut (sRGB) that is being used by millions of people in HDTV and on the web. As for the Adobe RGB, this is used in professional cameras, monitors etc for printing. Basically, colors inside the black triangle are used by everyone and this is the essential part of the color quality and color accuracy of a mainstream notebook.
Still, we've included other color spaces like the famous DCI-P3 standard used by movie studios, as well as the digital UHD Rec.2020 standard. Rec.2020, however, is still a thing of the future and it's difficult for today's displays to cover that well. We've also included the so-called Michael Pointer gamut, or Pointer's gamut, which represents the colors that naturally occur around us every day.
The yellow dotted line shows Acer Aspire 3 (A315-21)'s color gamut coverage.
Its display covers 51% of the sRGB/ITU-R BT.709 (web/HDTV standard) in CIE1976.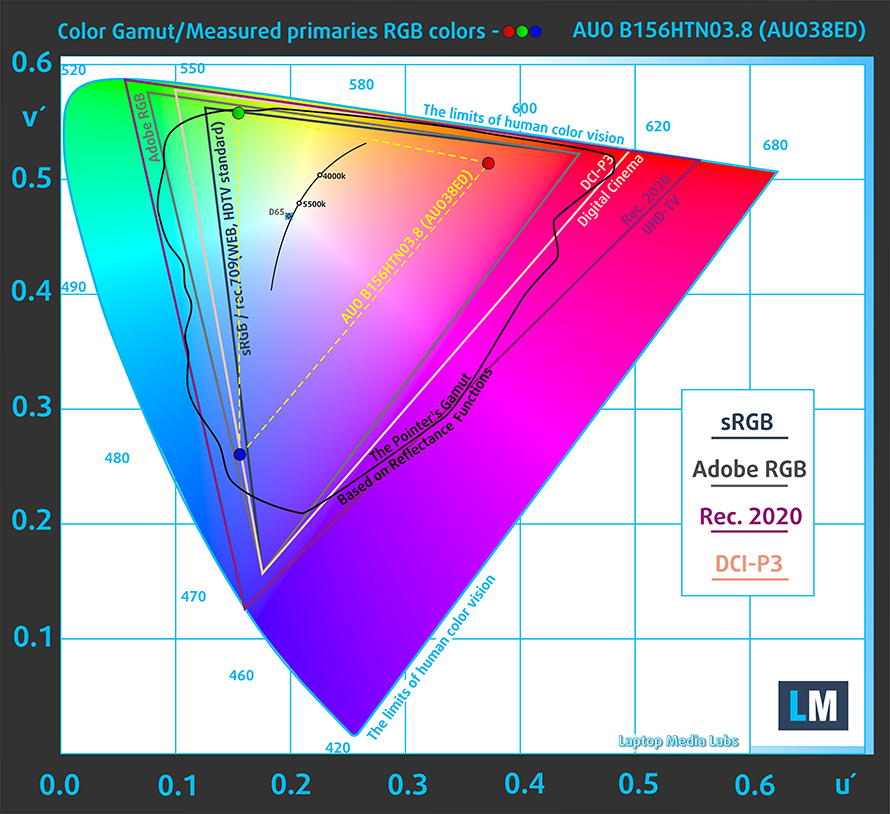 Our "Design and Gaming" profile delivers optimal color temperature (6500K) at 140 cd/m2 luminance and sRGB gamma mode.
We tested the accuracy of the display with 24 commonly used colors like light and dark human skin, blue sky, green grass, orange etc. You can check out the results at factory condition and also, with the "Design and Gaming" profile.
Below you can compare the scores of Acer Aspire 3 (A315-21) with the default settings (left), and with the "Gaming and Web design" profile (right).
The next figure shows how well the display is able to reproduce really dark parts of an image, which is essential when watching movies or playing games in low ambient light.
The left side of the image represents the display with stock settings, while the right one is with the "Gaming and Web Design" profile activated. On the horizontal axis, you will find the grayscale and on the vertical axis – the luminance of the display. On the two graphs below you can easily check for yourself how your display handles the darkest nuances but keep in mind that this also depends on the settings of your current display, the calibration, the viewing angle and the surrounding light conditions.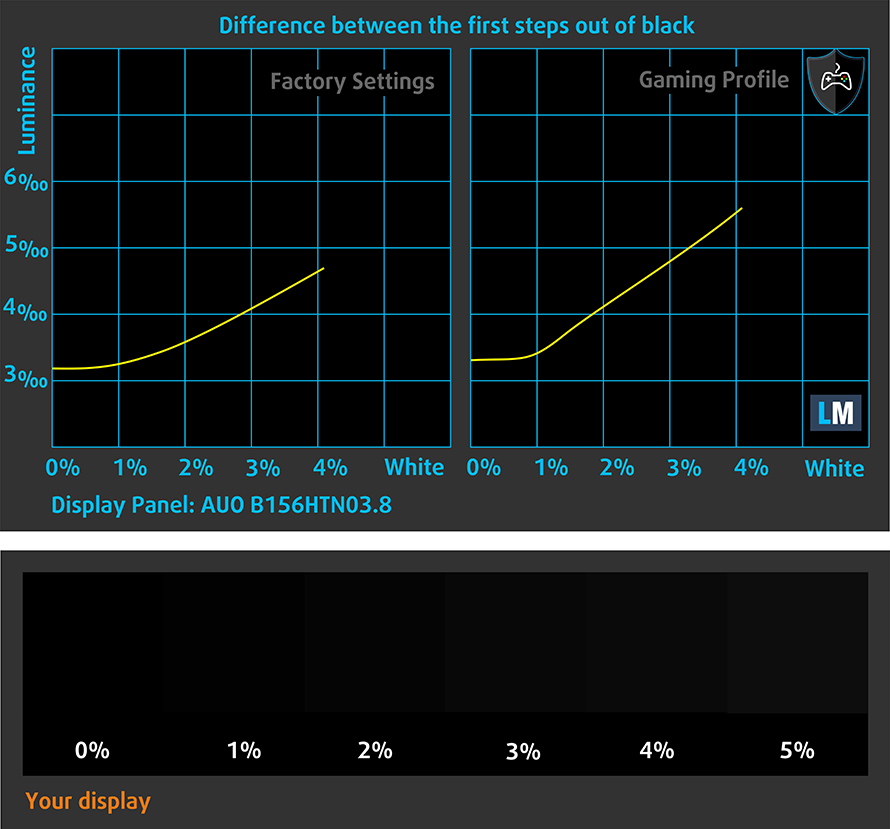 Response time (Gaming capabilities)
We test the reaction time of the pixels with the usual "black-to-white" and "white-to-black" method from 10% to 90% and vice versa.
We recorded Fall Time + Rise Time = 21 ms.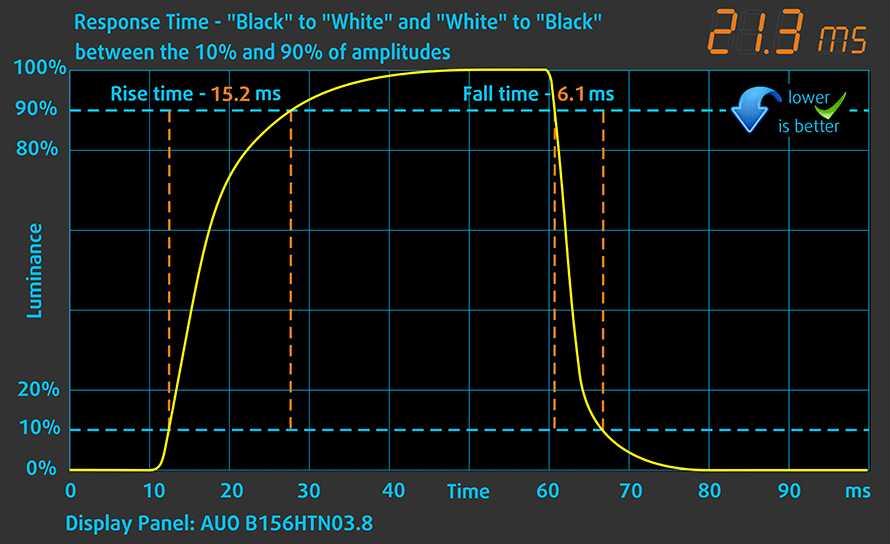 PWM (Screen flickering)
Pulse-width modulation (PWM) is an easy way to control monitor brightness. When you lower the brightness, the light intensity of the backlight is not lowered, but instead turned off and on by the electronics with a frequency indistinguishable to the human eye. In these light impulses, the light/no-light time ratio varies, while brightness remains unchanged, which is harmful to your eyes. You can read more about that in our dedicated article on PWM.
Acer Aspire 3 (A315-21) does not use PWM for all brightness levels which makes it comfortable for continuous work in this regard.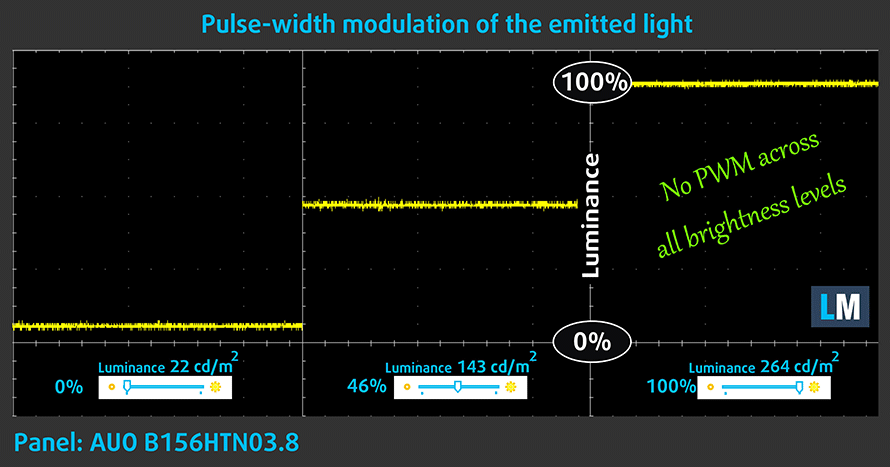 Blue light emissions
Installing of our Health-Guard profile not only eliminates PWM but also reduces the harmful Blue Light emissions while keeping the colors of the screen perceptually accurate. If you're not familiar with the Blue light, the TL;DR version is – emissions that negatively affect your eyes, skin and your whole body. You can find more information about that in our dedicated article on Blue Light.
You can see the levels of emitted blue light on the spectral power distribution (SPD) graph.
Buy our profiles
Since our profiles are tailored for each individual display model, this article and its respective profile package are meant for Acer Aspire 3 A315 configurations with 15.6″ FHD TN AUO B156HTN03.8.
*Should you have problems with downloading the purchased file, try using a different browser to open the link you'll receive via e-mail. If the download target is a .php file instead of an archive, change the file extension to .zip or contact us at [email protected]
Read more about the profiles HERE.
Sound
Acer Aspire 3 (A315-21) has a very good stereo sound. The lows, mids, and highs are clear.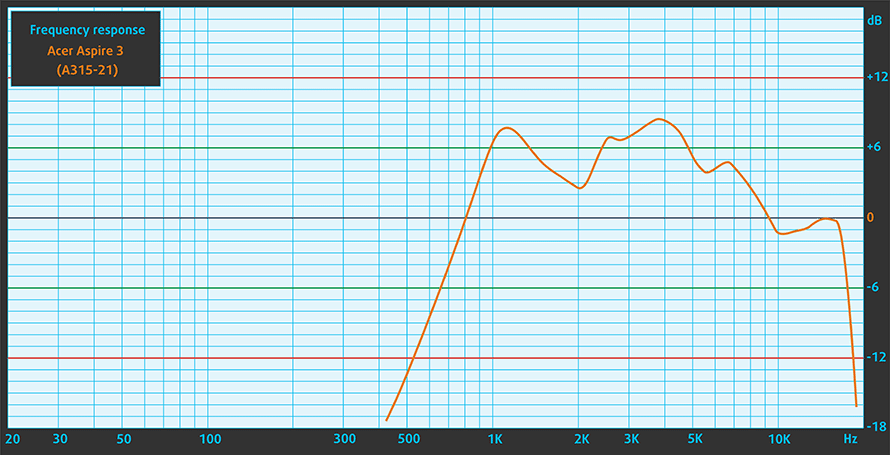 Software
The laptop arrived with a pre-installed Windows 10 OS. In case you need to reinstall your system, you can get the drivers from Acer's official webpage.

Battery
The laptop has a 2 cell battery with a capacity of 37 Wh. Вe conduct the battery tests with Windows Better performance setting turned on, screen brightness adjusted to 120 nits and all other programs turned off except for the one we are testing the notebook with.
CPU – AMD A4-9120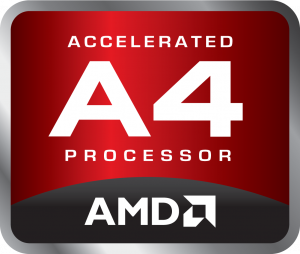 AMD A4-9120 is a chip part of the Stoney-Ridge APU series, meant to be used in laptops (7th gen APU), announced in mid-2017. A4-9210 is a mid-range CPU part of the Stoney Ridge architecture. The processor boasts two cores ticking at 2.2 – 2.5 GHz. As a part of the Stoney Ridge family, А4-9102 is a successor to the Carrizo architecture, and the design is almost identical. Thanks to the optimized manufacturing processes, the frequency is a bit higher while retaining the same power consumption. The memory controller supports DDR4-RAM, which in this case goes up to 2133 MHz. The chips from the Stoney Ridge architecture are meant to be used in smaller single-core and dual-core processors, while the chips from the Bristol Ridge architecture target bigger microprocessors that employ a dual-channel mode for memory control. AMD defines its consumption between 10 and 15W.
You can get more information about the AMD A4-9120 and other processors from our Top Laptop CPU Ranking.
GPU – AMD Radeon 520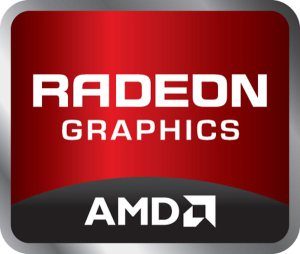 The Radeon 520 GPU is a laptop GPU made by AMD, released in 2017. The manufacturer discloses that the chip has five computational blocks, based on a GCN architecture, and 2 GB GDDR5 64-bit graphics memory. The new chip does not use the Polaris architecture from 2016. This GPU has 320 shader units, 20 TUs, and 4GB GDDR5 graphics memory. Thanks to its higher frequency, reaching 1030 MHz, Radeon 520 is supposed to be a bit faster than the older Radeon R7 M445 which ticks at 920 MHz and has 320 shader units and GDDR5 memory. If only DDR3 is used, the performance should be equal to that of Radeon R7 M440 (1021 MHz, 320 shader units, DDR3). 
You can get more information about the Radeon 520 and other GPUs from our Top Laptop Graphics Ranking.
Temperatures and convenience
We conducted a CPU, GPU, and memory stress tests in our attempt to see how the cooling copes with heavy system load and evaluate its long-term capabilities. We must bear in mind that such a load on all components will not occur in everyday use. During the entire test, this system operated in a stable way without fluctuations. The cooling system was engaged at max speed. Additionally, the two CPU cores worked at 2.2 GHz. As you can see in the graphic below, the CPU temp reached 78°C, but no throttling was observed.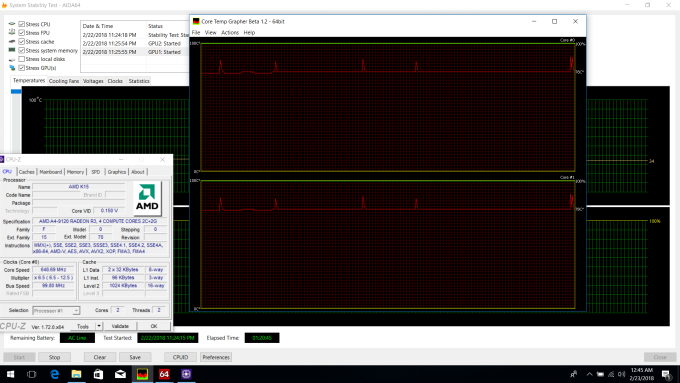 These temps show that the cooling manages relatively well. We must also agree that the two cores' frequency was not that surprising. Also, a mention should be made that the product's dimensions and weight impose certain cooling restrictions. Considering all we've said so far, we can accept that the cooling is adequate for this processor, despite the presence of high temps at a certain point.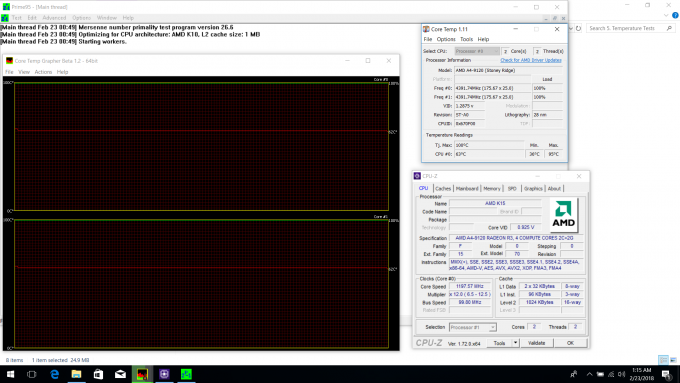 We also measured the temperatures along the surface. As you can see below, there's nothing to worry about. The amplitude is small and evenly distributed, the upper mid part being a tad warmer than the rest. This is because of the available vent at the back. Like we said, the cooling is adequate.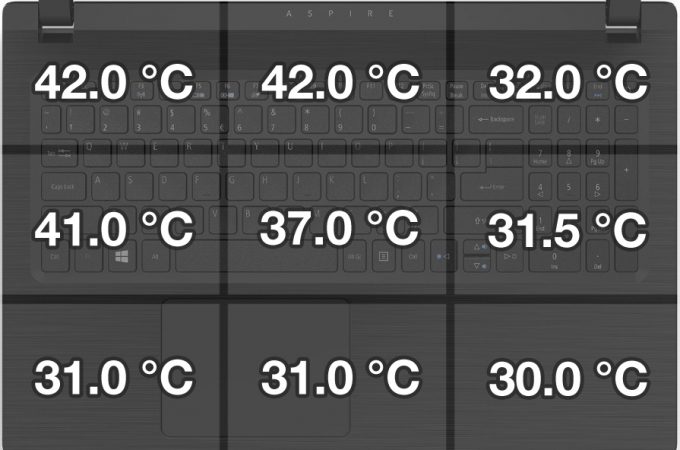 Verdict
We can conclude that Acer Aspire 3 (A315-21) is a budget mid-range laptop that is just ordinary. Despite this, the model has many merits which would attract one's attention. Firstly, there is its low price. Also, the display does not use PWM which allows for continuous reading or working without eye strain. If you make use of our Display Profiles, the display significantly improves its qualities. The matte finish is also a big plus.
Another selling point is the peculiar lid surface and lack of fingerprints on it. Additionally, despite this being a low to mid-range laptop, its build quality is really intact. Like we said, there are no gaps or weak spots. This together with the easy upgrade process (RAM or HDD) is a strong plus for the model. The battery runtimes are not the best by any means but you could purchase a bigger battery.
You can check all currently available Aspire 3 configurations here: Buy from Amazon.com (#CommissionsEarned)