Acer Aspire V15 Nitro (VN7) – gaming series by Acer, bursting with speed and elegance
Although Acer rarely pays attention to the high-end class, when they do, they do it with style. Remember the Acer Aspire S7? A notebook with great design and Gorilla Glass coating, which at the end of 2012 impressed all with its unique portable size. And what about TravelMate P6 (P645)? The epitome of the perfect business laptop with very long battery life, an excellent IPS screen and a carbon protected casing.
So, when Acer contacted us and told us that they are preparing something that will become a "Game Changer" for all fans of video games, we were eager to make its acquaintance. Well, the prototype is already in our hands and it's called the Aspire V 15 Nitro (VN7) – "Black Edition".
Nitro + Black Edition? This will surely be a cross between a powerful racing machine and an elegant model, whose appearance is so slick and carefully thought-out, that it's earned the name "Black Edition". Our expectations are already high and in order to avoid disappointing us, VN7 has to address them by performing properly in all of our detailed tests.
Contents
Inside the box
Acer has opted for a beautiful black box, which in addition to the laptop, also contains a few instruction booklets and a charging device, manufactured by Lite-On. The model is PA-1131-095 and its power – 135 watts.
Design and construction
Even before lifting the lid, you will notice the high-class style of the Aspire V 15 Nitro (VN7), which combines strength and elegance through nanoimprint lithography – the first layer of the panel is aluminum, followed by layer of paint and finally, a textured finish. The latter a nice touch and most importantly – does not attract fingerprints! At the center, to the left stands the logo of the company, which, as in most models, is done in metallic gray. The same goes for the hinges and the unit that holds them, featuring an engraved inscription that reads "ASPIRE V NITRO".
Moving on to the "interior", where we expect more simple and elegant elements – when the keyboard backlight is not working, the inside of the computer is colored in black and gray. The "Dolby Home Theater" inscription is engraved on the left, behind the keyboard. In the corner of the track pad, one reads "Black Edition". A black-gray patch in the corner of the "Palm Rest" (where your hands reside when typing) reveals part of the model's main pride and joy. Somewhat comically, there is also a Skype certification, which declares that the computer's Skype capability is checked by a technician, who has concluded that the machine is ideally suited for use with communications software (like the remaining 99.99% of mobile machines). Additionally, there are "4 speakers'' and "up to 2x faster wireless" captions, but we will discuss those later.
On the left side, V 15 Nitro is only equipped with a Kensington Lock, while most of the ports are instead located on the right – input for charger, RJ-45 port for wired Internet connection, HDMI port, three USB 3.0 ports and an audio jack for speakers/headphones. This placement is somewhat uncomfortable, because in general, you keep your mouse to the right of the machine, and you don't want USB devices sticking out and getting in the way. The engineers would have presented us with a better solution, if they had placed the Kensington on the right side, while the majority of the ports had remained on the left side. The slot for multimedia cards is placed on the front and on the rear side, there are the vent holes for two fans, which evacuate warm air outside the machine's frame.
Aspire V 15 Nitro weighs 2156 grams – we have seen lighter 15-inch machines, but given that the model is for gamers, the weight value is pretty good. For comparison, Lenovo's last Y-model, Y50, weighs 2442 grams, or 13% more than its new competitor. Acer's new machine is also thinner than the Y50 – 23.25 mm for the 15 V Nitro against 24.50 mm for the Lenovo.
This nice, portable size, however, comes at a great cost. Servicing the V 15 Nitro is really annoying, especially if you just want to upgrade the RAM, which can be done in seconds for some laptops. Not only do you need to deal with a solid number of screws on the black cover, but also, you have to remove the keyboard to get access to the hard disk. And then, to add or change RAM, you actually need to remove the motherboard.

Display and sound
The display of Acer Aspire V 15 Nitro has a Full HD IPS panel by LG, model LP156WF4_SPK1. The diagonal is 15.6 – inch (39.62 cm) at 1920 x 1080 pixels. Aspect ratio is 16:9, pixel density – 151 per inch, pitch – 0.18 x 0.18 mm.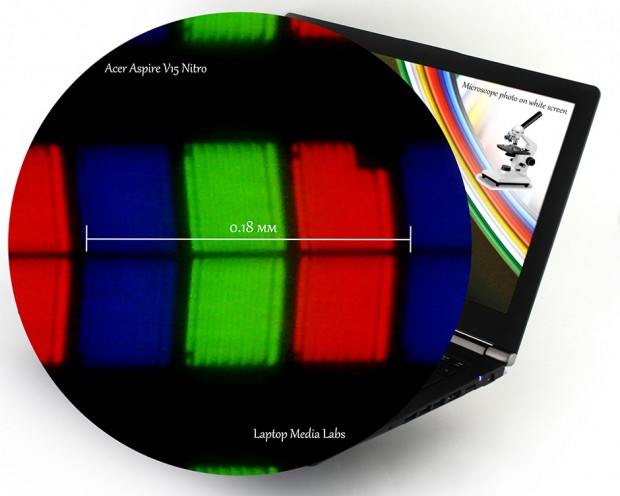 At an angle of 45 degrees, image quality remains virtually unchanged, as evident in the photos bellow.
The measured average of the maximum brightness before calibration is 331 cd/m2, with a maximum deviation of 15%. The color temperature, measured on a white screen, matches the optimal D65 (6500K), but there is an above-accepted deviation in two sections . Contrast is high – 1000:1.
Color gamut coverage (CIE)
Acer Aspire V 15 Nitro's display covers 91% of the sRGB and 70% of AdobeRGB color gamut. The Web colors don't cover two relatively small stripes in the green and red part of the spectrum.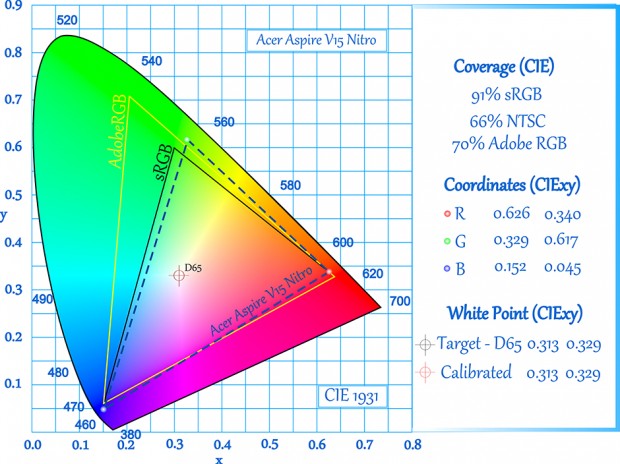 The measured gamma curve is close to the optimum. There are slight variations – areas with low brightness levels will be a little darker, while average brightness areas – a little lighter.
Color reproduction
After calibration, the average variation of the color accuracy, DeltaE, amounted to 2.85.
You can see a reproduction map here.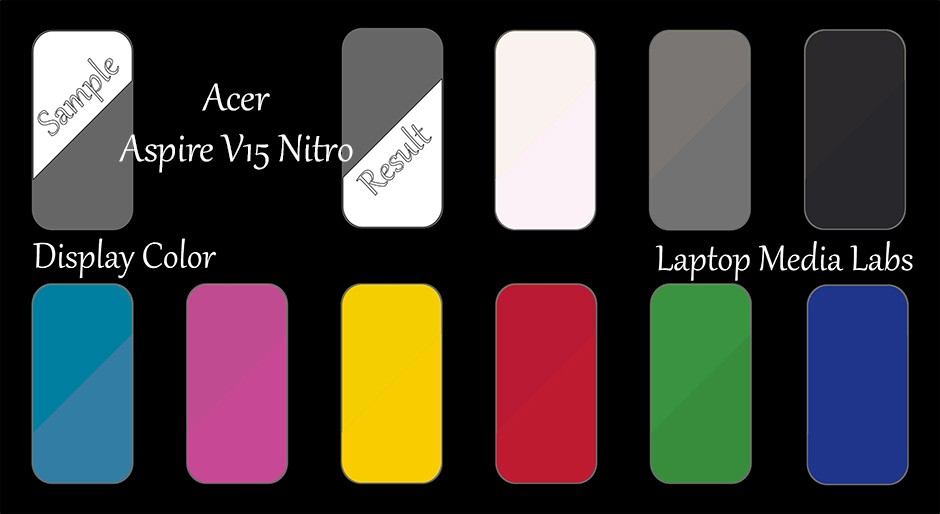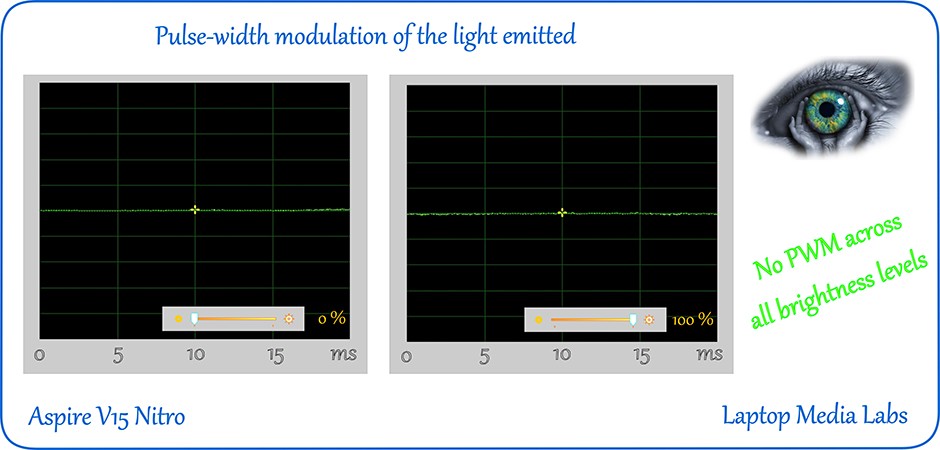 Conclusion
The display of Acer Aspire V 15 Nitro is a high quality, budget matrix. The user will enjoy wide viewing angles, high brightness and contrast ratio, Full HD resolution and relatively accurate colors. Its backlight operates without eye-straining pulsations. Of course, compete elimination of all flicker is not possible, because the matrix has a 6-bit color channel. Something of a drawback is the uneven color temperature on the surface of the screen.
Sound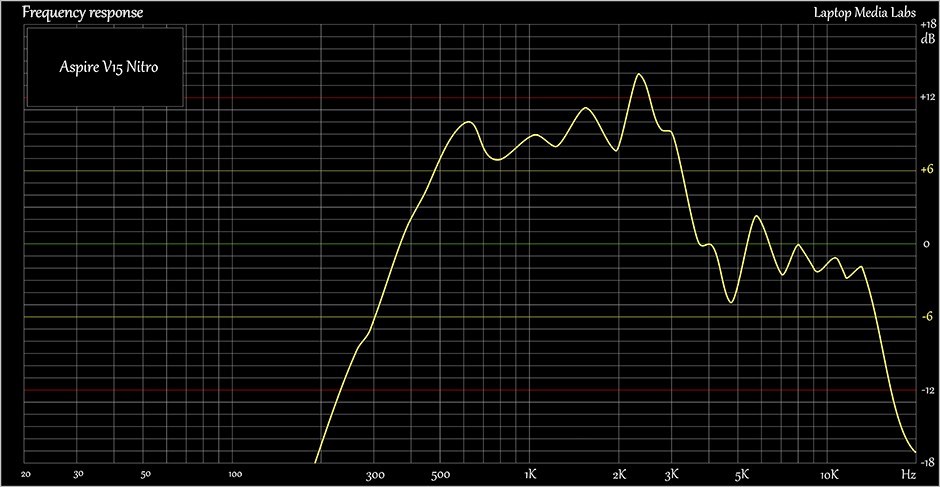 Specs sheet
These technical specifications refer only to the particular device being tested in this review. Laptops from the same series could have different characteristics and features.
| | |
| --- | --- |
| Processor | Intel Core i7-4710HQ (4-core, 2.50 – 3.50 GHz, 3MB cache) |
| RAM | 8GB (1x 8192MB) – DDR3, 1600Mhz |
| GPU | NVIDIA GeForce GTX 860M (2GB GDDR5, GM107) |
| HDD/SSD | 1TB HDD |
| Display | 15.6-inch (39.62 cm.) – 1920×1080 (Full HD), IPS, matte |
| Optical drive |  – |
| Connectivity | LAN 10/100/1000 Mbit/sec, Wi-Fi 802.11a/g/n 2×2, Bluetooth 4.0 |
| Features | Card reader (SD, MMC, SDXC, SDHC), keyboard backlight, Kensington Lock, 3x USB 3.0 ports, web camera, HDMI, SPDIF, stereo speakers |
| Battery | 53 Wh |
| Height (at its thickest point) | 23.25 mm |
| Weight (with the battery) | 2156 g (76 oz) |
There are several things that we should pay attention to. First is the IPS screen, which places the machine ahead of many competitors TN matrices, which are not as sophisticated. IPS offers wide viewing angles and impressive colors.
Should it bother you that the GTX 860M has "only" 2GB GDDR5 memory instead of 4 – something we are becoming accustomed to seeing in a lot of gaming machines? No, the memory capacity is not an indicator of the video card's power – instead, note the frequency, width of the bus, the type of memory, etc.
The Wi-Fi 802.11 a/g/n 2×2 MIMO module, as you've probably guessed, works with two antennas, which in theory increases the efficiency of your connection by a factor of two. Instead of the objects which reflect signals (such as walls) causing interference, with MIMO (Multiple-Input / Multiple-Output) those same reflections are utilized.
This is accomplished by the integration of multiple antennas divided into several modules. When packets are transmitted, the information is divided into portions, and each module sends it to its counterpart in the receiving antenna.

Operating system, software
The configuration we've tested didn't have a preinstalled Windows operating system. If yours isn't equipped with one as well, and you need drivers, head to Acer's official support page and download the latest approved drivers.

Battery
The battery in our system is manufactured by LG Chen Ltd., model AC14A8L. According to the manufacturer, the 53Wh capacity should last up to 4 hours of Internet surfing. We conduct our own tests with connected Wi-Fi module for wireless Internet, 120 cd/m2 brightness and Power Saver mode.
Battery life when surfing the Internet
We start our classic test by surfing the Internet by means of a script we created for this very purpose. It automatically goes through about 70 popular Bulgarian and international sites, some of which contain Flash ads.
Battery life doesn't quite go up to 4 hours, but it's not too far off. V 15 Nitro withstood for 196 minutes, or 3 hours and 16 minutes, and the promised 240 minutes are likely to be achieved by using a minimum brightness setting for the display. We will remind you that Lenovo's Y50, in a similar configuration, holds on for 280 minutes with identical load.
Battery life when watching a movie
We tested the notebook by using a 720p movie.
Here, the result are somewhat lower – 176 minutes (2 hours and 56 minutes). Y50's result is a little better – 191 minutes.
Battery life while gaming
To measure endurance in 3D gameplay, we use the relatively graphics-heavy Metro: Last Light at minimum graphic settings.
That, of course, is the toughest test for all notebooks. The powerful GeForce GTX 860M graphic card is not intended for prolonged use without a charger, but if that should happen, it will be able to provide you with 101 minutes (1 hour 41 minutes) of gameplay – this is how, in the most important test, V 15 Nitro eventually managed to defeat its opponent by a major 60% margin.

Processor (CPU)
Intel Core i7-4710HQ is an integrated (soldered onto the motherboard) high-end processor released in April of 2014. It is part of the "Haswell" generation and operates at a base frequency of 2.5GHz. If a higher frequency is needed, its four cores can automatically overclock, and if they all operate in tandem, they can reach 3.3GHz. The frequency can go up to 3.4GHz for two cores or 3.5GHz for only one core.
The chip is equipped with 256KB of first level cache, 1MB of second level cache, and 6MB of third level cache. The Core i7-4710HQ has been developed using a 22nm process, allowing for the integration of the Intel HD Graphics 4600 controller. It operates at a base frequency of 400MHz, while Turbo Boost can increase that to 1200MHz, which is slightly different from i7-4700MQ, whose HD Graphics 4600 can operate with a maximum frequency of 1150MHz. Power consumption of the whole SoC (System on a Chip) amounts to 47 watts with a maximum operating temperature of 100C.
Intel Core i7-4710HQ supports TurboBoost (increasing the clock frequency when necessary), HyperThreading (additional virtual core for every physical one), PCI Express 3.0, DDR3L 1333/1600 memory, AVX, AVX2.0, FMA, Quick Sync and the SSE4 instruction set.
Official page of Intel Core i7-4710HQ: http://ark.intel.com/products/78930
Results are from our Photoshop benchmark test (the lower the score, the better)
Results are from the Fritz chess benchmark (the higher the score, the better)
Fritz
Fritz is a benchmark indicating the performance in chess move calculation. The Intel Core i7-4710HQ in the Y50 handles 9.851 million positions per second, or in other words – once again, behind the V 15 Nitro (12.774). One of the most powerful computers in the world, Deep(er) Blue reached a speed of 200 million positions per second in 1997, when it beat the world champion Garry Kasparov with 3.5 to 2.5.

Graphics card (GPU)
NVIDIA GeForce GTX 860M, codenamed "N15P-GX", is a high-end graphics chip, announced in late Q1 of 2014. It is available in two models.
The first one, which is used in this Lenovo Y50 configuration, is part of the Maxwell architectural generation and relies on a GM107 core, constructed through a 28nm process. It consists of five shader blocks, known as SMM, and each of those has 128 smaller shader cores, also known as CUDA, for a total of 640 CUDA cores. The package also includes 40 texture cores and 16 raster cores. All of them operate at a base frequency of 1029MHz, but NVIDIA's GPU Boost 2.0 can dynamically increase that frequency.
The second one is part of the Kepler generation and relies on a GK104 core, constructed through a 28nm process. It consists of six shader blocks, known as SMX, and each of those has 192 CUDA cores, for a total of 1520 CUDA, and of course, there are the additional 32 texture cores and 16 raster cores. They clock at 797MHz and GPU Boost 2.0 is available here as well.
Both have a 128bit bus and GDDR5 memory. NVIDIA GeForce GTX 860M supports DirectX 11.2, Pixel Shader 5.0, Optimus, SLI, PhysX, OpenCL 1.1, OpenGL 4.4, DirectCompute, CUDA, Blu-Ray 3D and 3D Vision. Memory bandwidth is 80.2GB/sec. Max resolutions (WxH) are 3840×2160 digital and 2048×1536 analog.
The latest drivers for GeForce GTX 860M can be downloaded here: http://www.geforce.com/drivers


Results are from the 3DMark: Fire Strike (Graphics) benchmark (higher the score, the better)
Gaming tests
*These tests are run with a resolution of 1366 x 768 pixels, with the goal of a fair comparison with GPUs in laptops whose displays don't support higher resolutions.
There is, of course, no need to pay attention to the results from FIFA 14, which works reasonably well even on some built-in processor graphic solutions, but it is good news that the intensive Metro: Last Light offers smooth gameplay even at maximum graphics settings. Tomb Raider is also not a problem for Aspire V 15 Nitro. The average frame rate at Ultimate settings is 38.
The driver used for this test is 344.11, WHQL.

Temperatures and comfort
In light load (Internet browsing, writing documents etc.), the computer keeps the processor cores at about 45 to 50 degrees, which is a very good result.
After about 30 minutes at 100 percent of computational load, core temperature is increased to 85-90 degrees – not very far from the Tj.max temperature, which is 100 degrees for i7-4710HQ. The frequency of the cores reached 3.1-3.2 GHz, which is well above the base, but slightly below the Turbo Boost capabilities of 4710HQ, which can increase clock speed to 3.3 GHz with four active cores.
On the chart below, you can see the temperatures and the processor utilization – the green line is the percentage load, and the red represents the temperature.
Here is the moment for the most serious test for the cooling system – maximum load of all eight logical cores of the CPU + maximum load of the GeForce GTX 860M graphics chip. This goes on for another hour, increasing the overall duration of the temperature benchmark to 90 minutes. By the end, the temperature of the four processor cores reaches 89-93 degrees – about 7 to 11 degrees from Tj.max – this does not impress us much, but the computer is still stable, and the frequency is between 2.2 and 2.4 GHz (base for the CPU is 2.5GHz). The temperature of the graphic chip reaches 82 degrees.
It should be noted that there is no real scenario, in which you will put such a burden on your computer for that length of time – we run the test to make sure that this mobile machine is stable in the long-term and it's cooling system is up to the challenge.
After the 90-minute test, without interrupting the load, we measure the temperature levels of the housing to assess whether they are still comfortable for the user. The result are in the graph below.
At this point, not only do we feel like praising the Aspire V 15 Nitro, but we have to say that we were impressed by the "Palm Rest" panel. After more than an hour and a half at maximum load, not only did its temperature not increase, but in fact, it remained cool .

Conclusion
Although there are things that we would like to change like the problematic servicing and port location, Aspire V 15 Nitro has managed to become perhaps the most lucrative gaming notebook on the market. At the time of publication of the review, the position of VN7 in our ranking of most affordable gaming laptops is number four, with 2% behind Y50. Given the presence of an IPS screen, however, the battle becomes quite fierce. In front position is another Acer model in two modifications, which undoubtedly is great for its price, but its graphics performance is much lower.
In addition to the price vs performance ratio, V 15 Nitro also has great appearance going for it, as well as robust design, a great sound system (4x2W) and let's not forget – a very useful M.2 SSD slot.
Pros
Relatively thin and lightweight body for a gaming computer
Attractive appearance and strong construction
High computing and graphics performance
Wi-Fi 802.11 a/g/n 2×2 MIMO module for wireless Internet
IPS screen (in the final version)
Four built-in speakers
The surface of the housing remains cool, even at continuous maximum load
2 slot for SSD
Cons
Hard servicing
High temperatures of the CPU at maximum load
Most ports are located on the right side of the housing