Acer Predator Helios 500 review – a monsterbook featuring Intel Core i9-8950HK

Almost every manufacturer sells gaming laptops. Most of them have a series that is 100% devoted to bringing the ultimate gaming experience to the world of notebooks, although not being very small or lightweight. ASUS has its ROG line up, HP sells Omen devices, Lenovo builds Legion, while a company like Dell owns Alienware. As you know from the title, today we are looking at Acer's iteration of a gaming behemoth – Acer Predator Helios 500. This 17.3-inch monster of a device houses the latest and greatest from Intel – Core i9-8950HK – a 6-core, 12-thread monster with unlocked multiplier that will be this year's flagship for the blue company.
In addition to the workstation-grade processor, Acer targets hard-core gamers with an NVIDIA GeForce GTX 1070 and a choice between a 4K UHD screen or a panel with a lower resolution (1920 x 1080) but higher refresh rate (144Hz). Moreover, Helios 500 supports up to a whopping 64 GB of DDR4-2666 MHz memory, while storage options include two M.2 NVMe enabled slots with RAID 0 support as well as a SATA connector. One would fall in love with the Predator Helios 500 by simply looking at the specs sheet. We should also note that Acer went all-in for performance here, so if you want to carry around this computer with you, be prepared to look even more aggressive than the Helios itself, given the 4 kg your shoulders have to bear. Anyhow, let's dig into it!
You can check the prices and configurations in our Specs System: http://laptopmedia.com/series/acer-predator-helios-500-17/
Contents
Specs Sheet
Acer Predator Helios 500 technical specifications table
Display
17.3", 4K UHD (3840 x 2160), IPS
HDD/SSD
256GB SSD PCIe + 1TB HDD, 7200 rpm
M.2 Slot
2x 2280 PCIe NVMe M.2 slot (RAID 0 support)
See photo
Dimensions
428 x 300 x 38.7 mm (16.85" x 11.81" x 1.52")
Body material
Plastic / Polycarbonate, Aluminum
Ports and connectivity
1x USB Type-A 3.2 Gen 1 (5 Gbps)
2x USB Type-C 3.2 Gen 2 (10 Gbps)
HDMI
VGA
Displayport full
Ethernet lan LAN 10/100/1000 Mbps
Wi-Fi 802.11ac (2x2)
Bluetooth
Audio jack 1x 3.5 mm Mic port, 1x 3.5 mm headphone
Features
Fingerprint reader
Web camera HD 720p
Backlit keyboard RGB Backlighting
Microphone Stereo microphones
Speakers Stereo speakers + subwoofer
Optical drive
Security Lock slot
AeroBlade 3D cooling
What's in the box?
Acer Predator Helios 500 comes in a box, bearing the color pattern of what's inside. When you open the package you're going to see two more boxes (thankfully no more boxes are inside of them). One of them houses the device itself, while the other one is meant for the huge 330W charging adapter.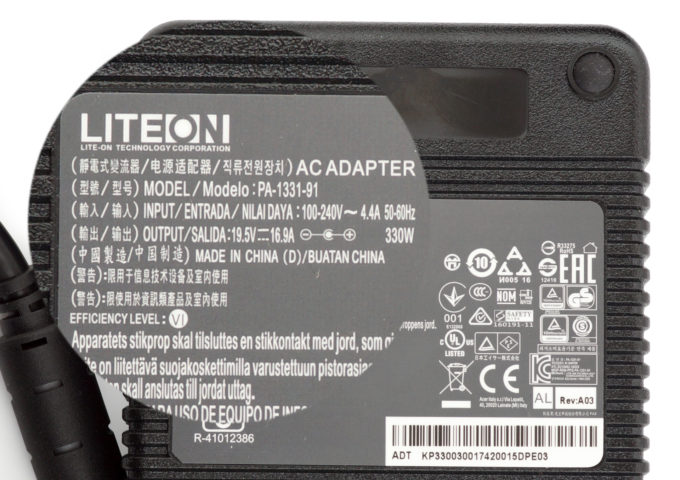 Design and construction
Acer Predator Helios 500 is built around a very aggressive design, with a lot of vents, modulated in a way in which they resemble certain game and movie characters. It is a combination of aluminum and plastic and design-wise it presents a change from the Helios 300. The body itself is bulky and heavy, which is exactly in the opposite direction of the trend these days. Nonetheless, bear with us to see why they still make such huge devices. Speaking of measurements, this one hits the ruler at 428 x 300 x 38.7 mm (16.85″ x 11.81″ x 1.52″) and weighs 4 kg (8.8 lbs).
Like the smaller Helios 300, Predator Helios 500 sports aluminum on the top and the base, while the rest of the body is made of plastic. Thankfully, there are no weird sounds when carrying the heavy body of this laptop, meaning that the construction is very well made. While we have previously said that we prefer lighter and more incognito gaming laptops, there is a reason why some of them are so clunky. Stay until the end of this review to see why.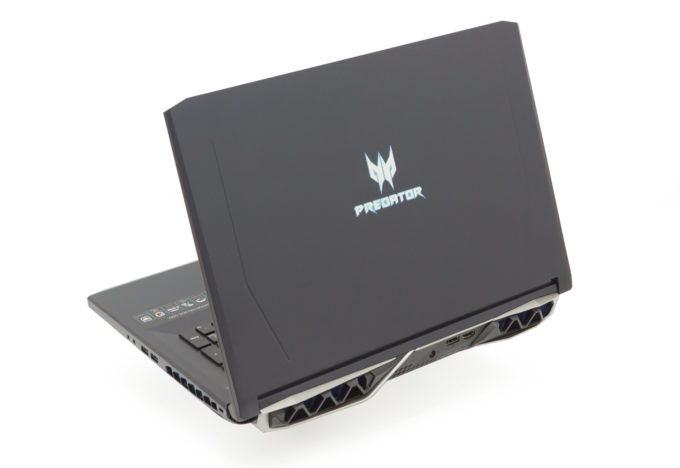 The lid is easy to be open single-handedly and has some slight bend to it when put under torsion. As we take a look at the base of this monster, we can see a full-sized keyboard on top of which there are 6 separate buttons, the on/off switch, and a speaker grill. The keyboard itself feels really nice both to type and to play on. It is illuminated by RGB LEDs and has the WASD and arrow keys painted in blue to emphasize the gaming nature of the device. Moreover, the 6 buttons we told you about can be assigned to different performance and fan profiles. It's always cool to have standalone keys, rather than having to use a combination.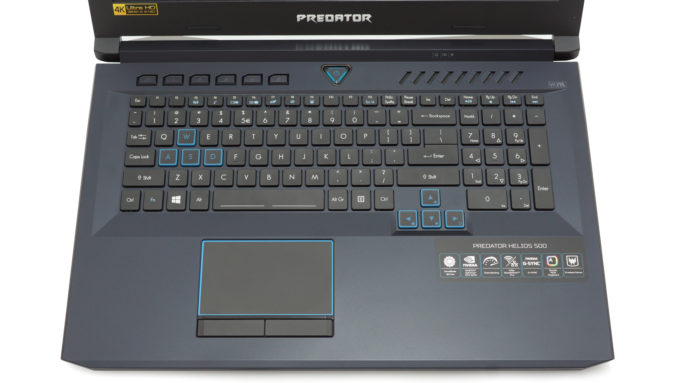 Another input device that has a blue accent to it is the touchpad, which has the mandatory standalone keys. Keep in mind that laptops of this class are most probably going to be used with a dedicated mouse, so don't expect anything special from this touchpad. Actually, this is the reason why they keep them as small as possible, so they don't obstruct your left hand while playing. However, it is adequate enough and does the job perfectly in day-to-day work.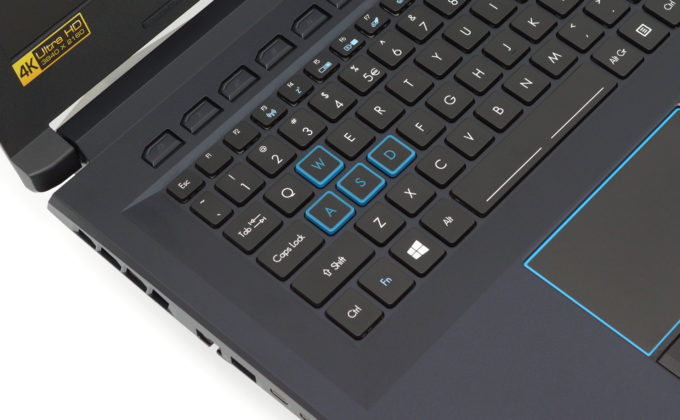 As we already said, Acer Predator Helios 500 looks very aggressive, especially at the side and the back of it. This is mainly to the huge exhaust vent needed to disperse the air blown through those two sets of heatsinks by the 3D blade turbine fans. Speaking of them, they are actually made of metal and are able to blast a very fast flow of air.
Finally, we look at the I/O selection. Next to the huge vents you can see an RJ-45 connector in the company of a total of three USB ports on the left side. One of them is USB 3.0 Type-A, while the other two are superfast USB 3.1 Type-C Thunderbolt 3 ports. On the other side are located two more USB 3.0 Type-A ports, as well as two 3.5 mm jacks. Thoughtfully, the video connectors (comprised of a DisplayPort and HDMI connector) and the charging plug are located on the back of the device, right between the distinctive vents.
Disassembly and maintenance
Acer have made sure that you can upgrade your storage or RAM easily at any given time as they provided the Predator Helios 500 with a service door. It is held just by a couple of screws and some clips on the bottom. As you can see clearly from the image below, you can also change the battery simply by disconecting it from the motherboard and pulling it straight up.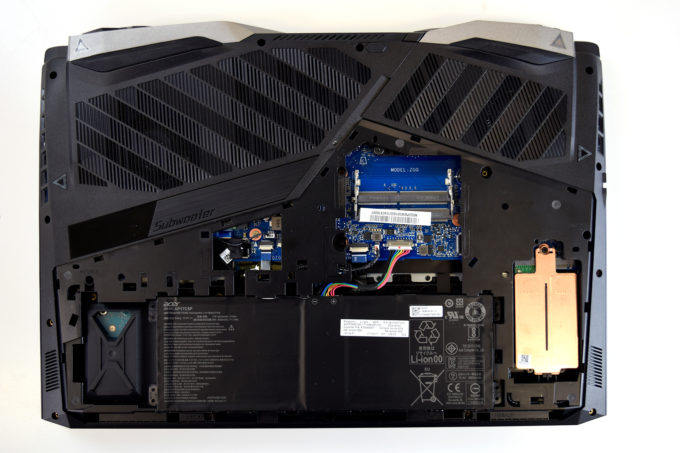 Here you can see a pair of RAM DIMMs, as the device has one more pair on the back of the main board, which is kind of weird, but given the fact that this enables the laptop to support up to 64 GB of DDR4 memory, it's easily forgivable. Subsequently, in the bottom right corner are the M.2 slots which feature a cooling metal plank that dissipates the heat from the chips. Our sample unit is equipped with an HFS256GD9MNE-6200A from SK Hynix, but we cannot assure you that you'll get the same SSD in your retail model.
Furthermore, there is also an option to upgrade or change the HDD. This happens by removing the 74Wh battery (it is always best to unplug the battery when you do any changes to your laptop). Next, there is a plastic cover that is held in place by three tiny Phillips screws and then voila.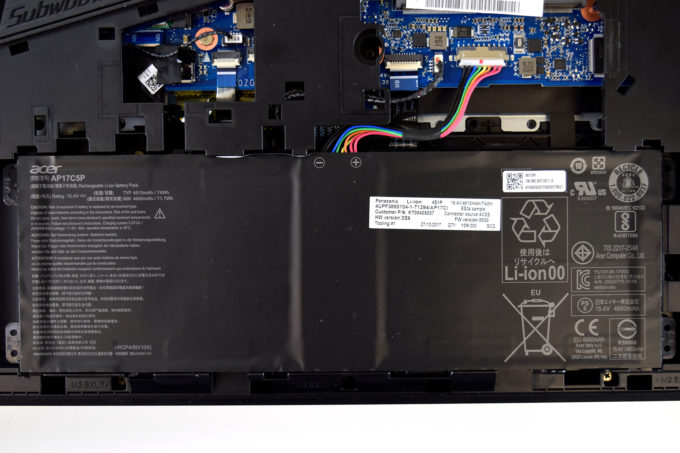 All in all, this covers everything you'll want to do to your priceless laptop. However, sometimes hardware (usually fans and heatsinks) has to be cleaned from dust. In order to do so, you need to completely remove the back cover. First of all, you need to both detach the battery and clean the M.2 slot compartment. Finally, you have to unscrew all of those Phillips head screws and also remove a couple of connectors.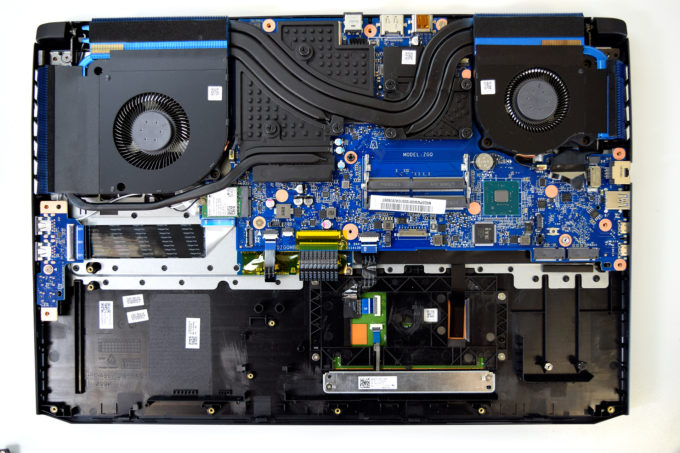 Finally, you have a look at the cooling system that apart from the regular heatpipe-heatsink design, features a plate on top of both CPU and GPU. This ensures better heat dissipation, thus the need for fewer heat pipes.

Display quality
Acer Predator Helios 500 in the configuration we tested featured an UHD 4K (3840 x 2160) IPS panel with a model number AUO B173ZAN01.0. This results in a pixel pitch of 0.1 x 0.1 mm and 255 ppi pixel density, meaning that the screen can be considered as "Retina" when viewed from further than 33 cm – perfectly suitable for 17.3-inch device.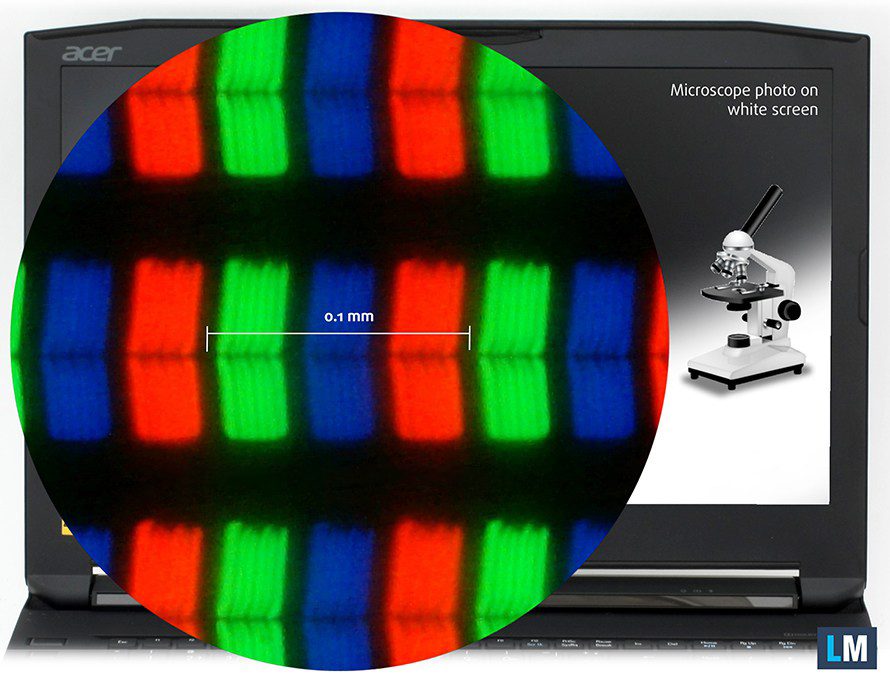 As expected, viewing angles are excellent.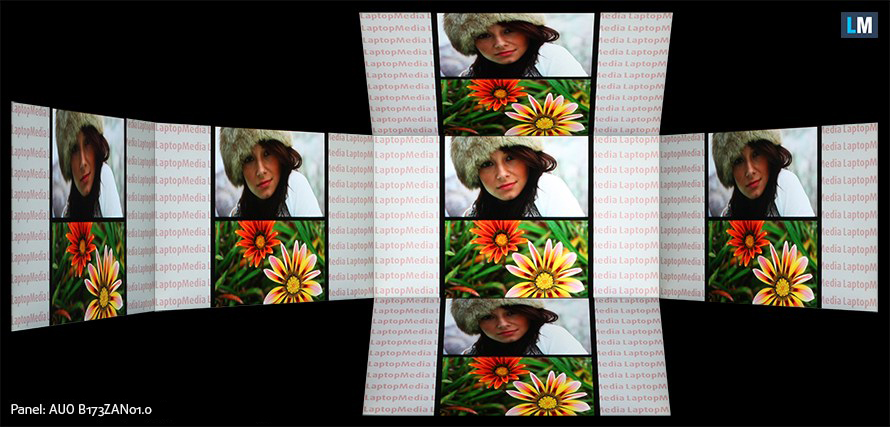 This panel is very bright with a peak brightness of 410 nits in the center of the screen and 386 nits as an average across the surface with 11% maximum deviation. In addition to that, color temperature on a white screen at maximum brightness is close to the optimal 6500K – 6680K and it matches it almost perfectly along the greyscale with 6490K. You can see how values change at 142 nits or in other words – 32% brightness.
Values above 4.0 are unwanted and should not be present. The contrast ratio is good – 1050:1 (1000:1 after calibration).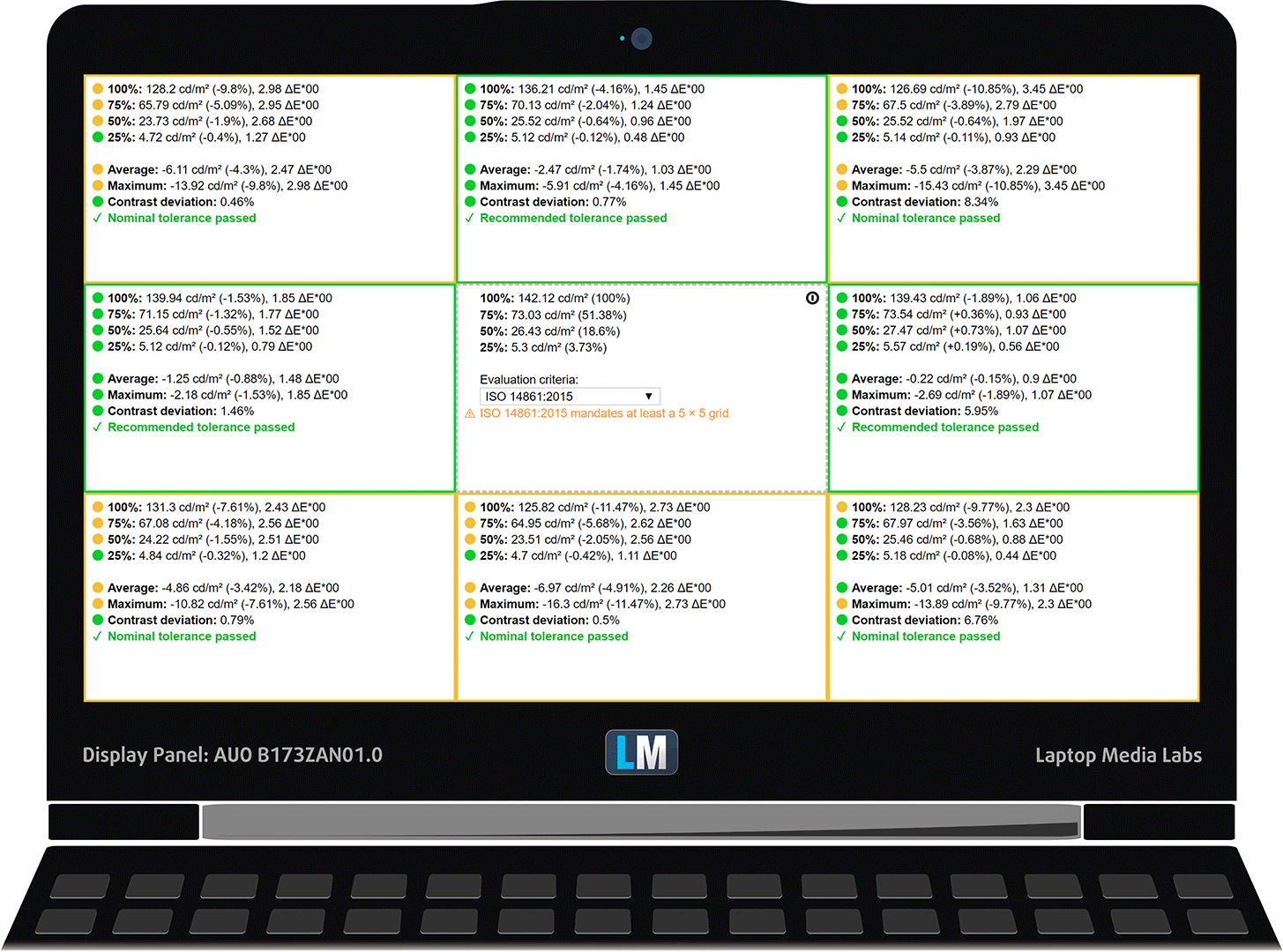 Color reproduction
To make sure we are on the same page, we would like to give you a little introduction of the sRGB color gamut and the Adobe RGB. To start, there's the CIE 1976 Uniform Chromaticity Diagram that represents the visible specter of colors by the human eye, giving you a better perception of the color gamut coverage and the color accuracy.
Inside the black triangle, you will see the standard color gamut (sRGB) that is being used by millions of people in HDTV and on the web. As for the Adobe RGB, this is used in professional cameras, monitors etc for printing. Basically, colors inside the black triangle are used by everyone and this is the essential part of the color quality and color accuracy of a mainstream notebook.
Still, we've included other color spaces like the famous DCI-P3 standard used by movie studios, as well as the digital UHD Rec.2020 standard. Rec.2020, however, is still a thing of the future and it's difficult for today's displays to cover that well. We've also included the so-called Michael Pointer gamut, or Pointer's gamut, which represents the colors that naturally occur around us every day.
In this aspect, the display is exceptional, being able to reproduce all of the colors on the Internet. Moreover, it covers 99% of the Adobe RGB color gamut and 96% of DCI-P3, providing super punchy and vibrant colors to gamers.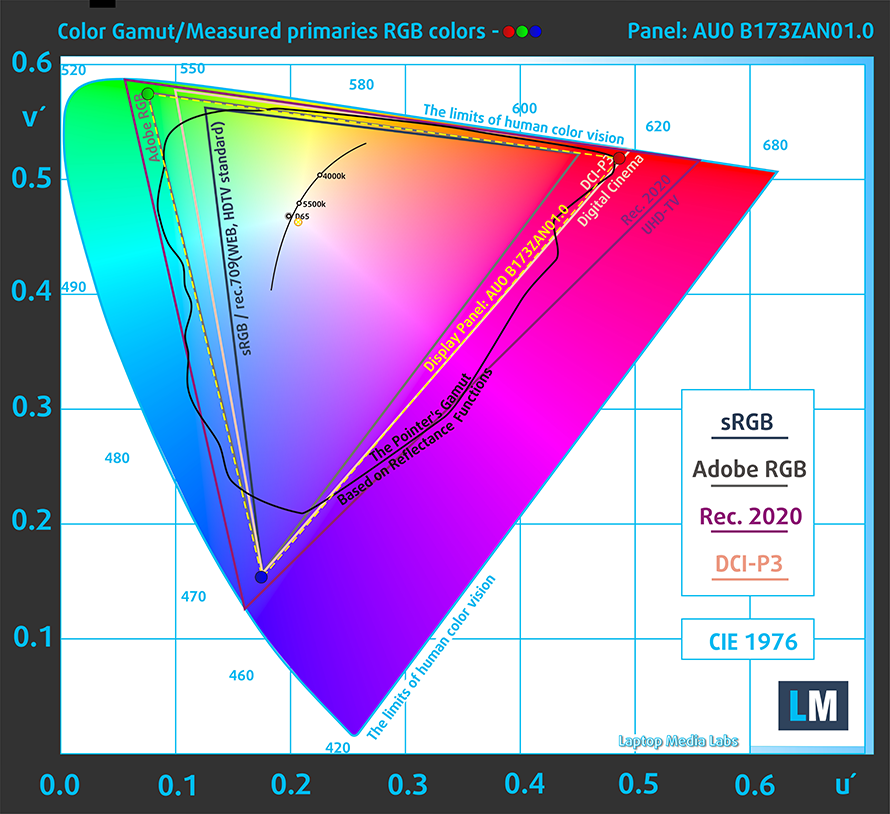 We tested the accuracy of the display with 24 commonly used colors like light and dark human skin, blue sky, green grass, orange etc. You can check out the results at factory condition and also, with the "Design and Gaming" profile.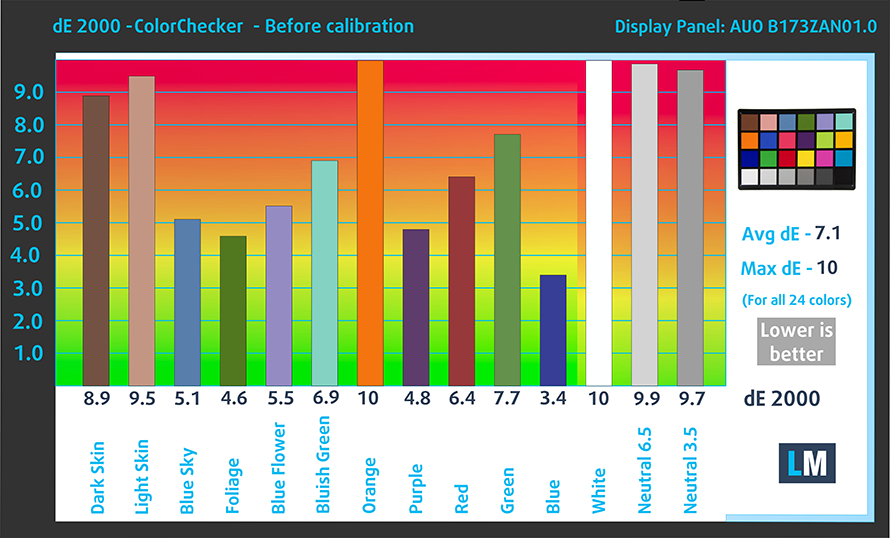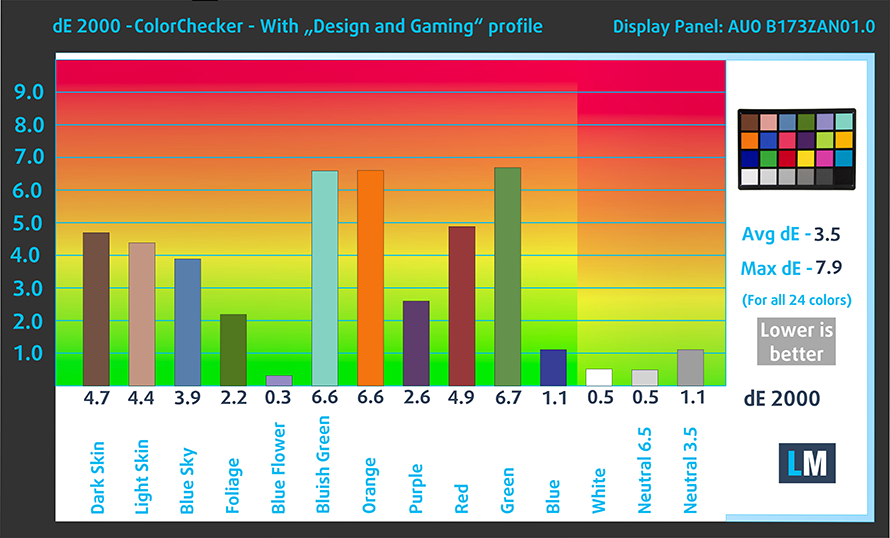 The next figure shows how well the display is able to reproduce really dark parts of an image, which is essential when watching movies or playing games in low ambient light.
The left side of the image represents the display with stock settings, while the right one is with the "Gaming and Web Design" profile activated. On the horizontal axis, you will find the grayscale and on the vertical axis – the luminance of the display. On the two graphs below you can easily check for yourself how your display handles the darkest nuances but keep in mind that this also depends on the settings of your current display, the calibration, the viewing angle and the surrounding light conditions.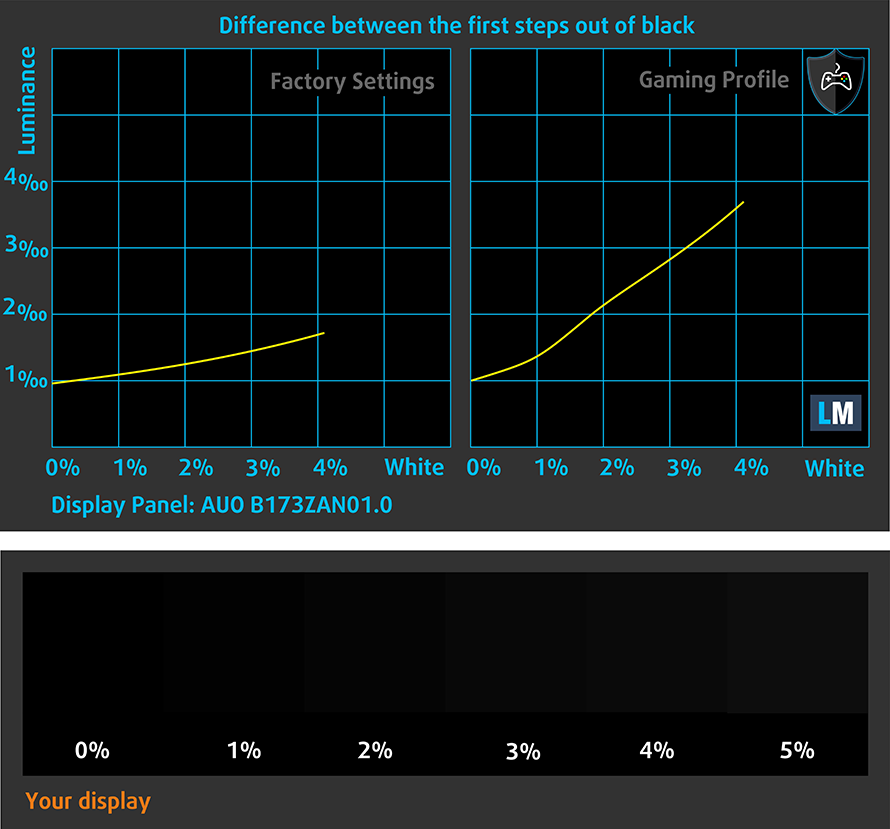 Response time (Gaming capabilities)
We test the reaction time of the pixels with the usual "black-to-white" and "white-to-black" method from 10% to 90% and reverse.
We recorded Fall Time + Rise Time = 26 ms.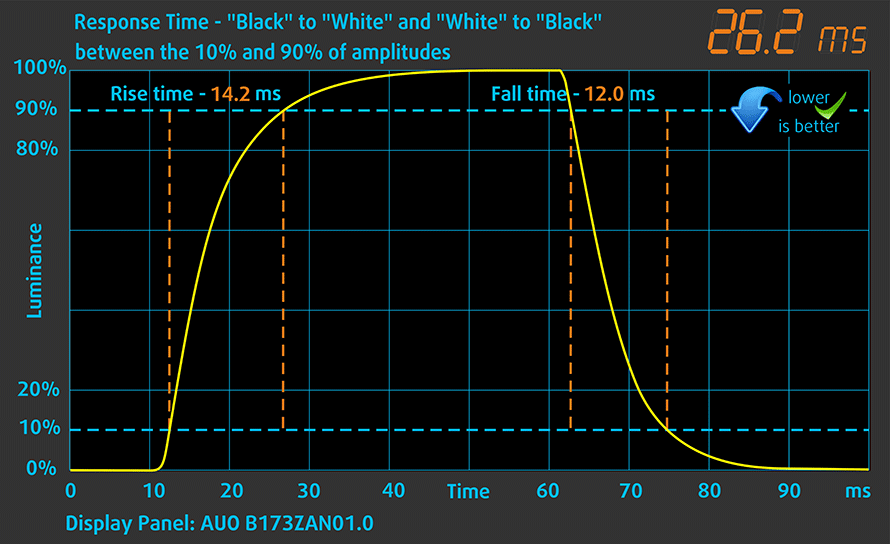 PWM (Screen flickering)
Pulse-width modulation (PWM) is an easy way to control monitor brightness. When you lower the brightness, the light intensity of the backlight is not lowered, but instead turned off and on by the electronics with a frequency indistinguishable to the human eye. In these light impulses, the light/no-light time ratio varies, while brightness remains unchanged, which is harmful to your eyes. You can read more about that in our dedicated article on PWM.
The light emitted from Acer Predator Helios 500's display doesn't pulsate at any brightness level, making it comfortable for extended periods of use, without being particularly harmful to the eyesight in this aspect.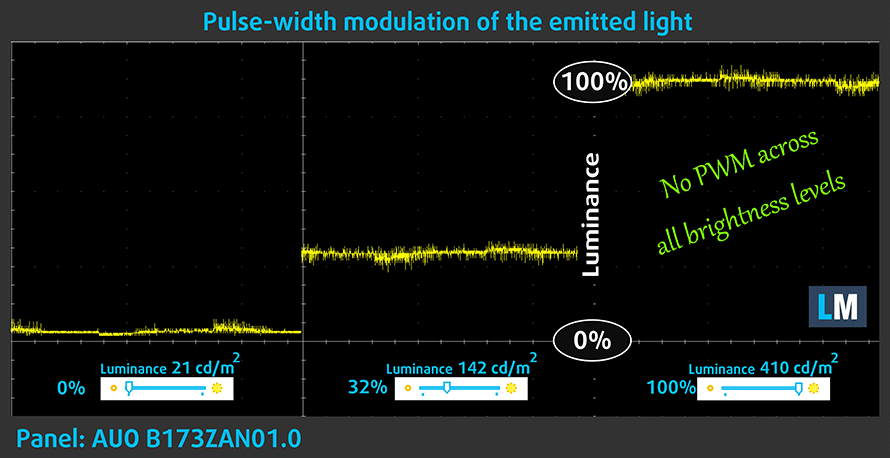 Blue light emissions
Installing our Health-Guard profile not only eliminates PWM but also reduces the harmful Blue Light emissions while keeping the colors of the screen perceptually accurate. If you're not familiar with the Blue light, the TL;DR version is – emissions that negatively affect your eyes, skin and your whole body. You can find more information about that in our dedicated article on Blue Light.

Conclusion
We won't be exaggerating, if we said that this is one of the best displays we have tested. Its super crisp color image makes it suitable for gamers and fans of high-quality movies. Furthermore, it boasts a very high maximum brightness and good contrast ratio, in addition to the excellent viewing angles. One of the most important parameters health-wise is also covered as PWM-adjustment of brightness is absent. There is only one little setback and it is the fairly slow reaction time of this panel, which is inevitable with 60 Hz IPS models.

Buy our profiles
Since our profiles are tailored for each individual display model, this article and its respective profile package is meant for Acer Predator Helios 500 configurations with 17.3″ AUO B173ZAN01.0 (4K UHD, 3840 x 2160) IPS screen and the laptop can be found at: Buy from Amazon.com (#CommissionsEarned)
*Should you have problems with downloading the purchased file, try using a different browser to open the link you'll receive via e-mail. If the download target is a .php file instead of an archive, change the file extension to .zip or contact us at bg.laptopmedia@gmail.com.
Read more about the profiles HERE.
In addition to receiving efficient and health-friendly profiles, by buying LaptopMedia's products you also support the development of our labs, where we test devices in order to produce the most objective reviews possible.
Sound
This device is able to produce sufficiently loud and clear sound, while low, mid and high frequencies are free of deviations.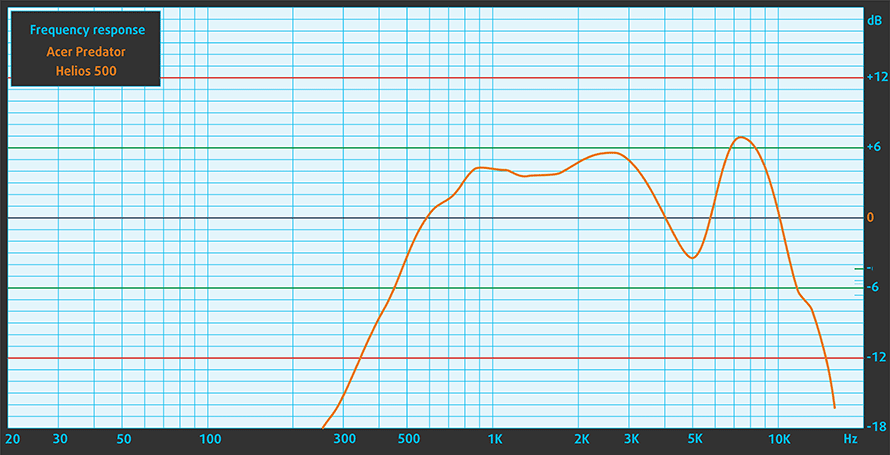 Software
As we said earlier, we are reviewing a sample unit and all drivers and features were preinstalled. However, when the retail units start to circulate on the market we are positive that you can find the drivers and utilities on Acer's official support page: https://www.acer.com/ac/en/US/content/drivers

Battery
As always, the battery tests were run with Windows power saving setting and Wi-Fi turned on, and the screen brightness adjusted to 120 nits. This unit is equipped with a 74Wh battery, which is hardly enough for a 4K monitor and a processor and GPU combo of this caliber. It could only last for three hours of web browsing and about two hours and a half of video playback. However, the time you got if you decide to play some games away from the plug is respectable – almost two hours.
In order to simulate real-life conditions, we used our own script for automatic web browsing through over 70 websites.
For every test like this, we use the same video in HD.
We use F1 2017's built-in benchmark on loop in order to simulate real-life gaming.
CPU – Intel Core i9-8950HK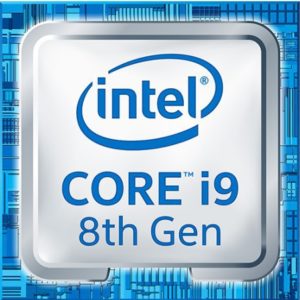 Intel Core i9-8950HK is going to be the blue company's flagship for 2018. It is built on the same 14 nm architecture as it's predecessors, although there are some improvements to it and some might refer to it as 14nm++. This one is the more powerful of two Coffe Lake SoCs that were released simultaneously. The new models are aimed at content creation and enhancing the VR experience. In order to do so, Intel bumped up the core count from 4 to 6 physical cores, while retaining the Hyperthreading technology, which results in a total of 12 logical cores (threads). Core i9-8950HK comes with a base frequency of 2.90 GHz and goes up to 4.80 GHz in Turbo mode on one of the cores, while all six of them can go up to 4.3 GHz in Turbo. The new Coffe Lake line-up is also a lot more power-efficient, retaining the same 45W TDP as the Kaby Lake CPUs while featuring 50% more cores and twice the cache – 12 MB.
Furthermore, Intel has retained the same Intel HD Graphics 630 technology in their new CPUs. The GPU offers slightly higher clock speeds (350 – 1200 MHz vs 350 – 1100 MHz) compared to the Kaby Lake chips and support for H265/HEVC Main10 profile at 10-bit color depth and the VP9 codec for full hardware acceleration. In addition, the HDCP 2.2 is also supported allowing Netflix's 4K video streaming.
You can browse through our top CPUs ranking: http://laptopmedia.com/top-laptop-cpu-ranking/
Results are from the Cinebench 20 CPU test (the higher the score, the better)
Results are from our Photoshop benchmark test (the lower the score, the better)
Results are from the Fritz chess benchmark (the higher the score, the better)
GPU – NVIDIA GeForce GTX 1070 (8GB GDDR5)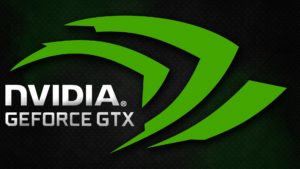 The NVIDIA GeForce GTX 1070 is a part of NVIDIA's Pascal generation of GPUs and unlike previous releases, the company finally closes the gap between mobile and desktop graphics processors and that's why there's no "M" in the branding of Pascal GPUs. All thanks to the 16nm TSMC manufacturing process of the GPU, which allows better thermals and overall performance in a smaller form factor. That's a big technology jump compared to the 28nm Maxwell generation.
Compared to its desktop counterpart, the GTX 1070 doesn't differ too much. They share an identical number of ROPs (64) and identical memory – 8GB GDDR5 with 256-bit bus clocked at 8000 MHz. However, there's a minor difference in clock speeds – the laptop GPU ticks at 1443 MHz and can go up to 1645 MHz while the desktop variant is running at 1506 MHz – 1683 MHz. To compensate to some extent, the laptop 1070 carries more CUDA cores (2048 vs 1920) and more TMUs (170 vs 120).
Due to its performance, thermals and power consumption, which is believed to be 10W more than the GTX 980M, the GPU is suitable for large 17-inch laptops with the appropriate cooling solution.
You can browse through our top GPUs ranking: http://laptopmedia.com/top-laptop-graphics-ranking/
Storage performance
Our configuration of Acer Predator Helios 500 comes with a 256 GB M.2 PCIe SSD with a model number HFS256GD9MNE-6200A. Keep in mind that storage device choices are region dependent. However, this unit was able to perform at Read speeds of 1051.6 MB/s and Write ones at 987.6 MB/s, which is very fast for a non-NVMe drive.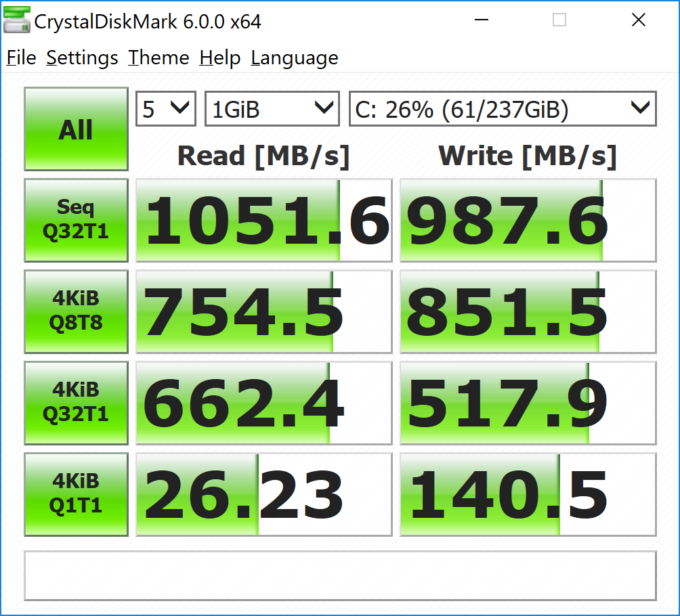 Gaming tests
Here we are. At the place, which intrigues you, gamers, the most. Without hesitation, we can say that the Acer Predator Helios 500 is the fastest GeForce GTX 1070 notebook we've tested up to the time of writing this review. Whether it's because of the better CPU or more likely because of the better cooling (or both) we are not sure yet. Our future reviews of devices, boasting the Core i9-8950HK are going to show more. Anyhow, below you can see scores with both the "Normal" and "Turbo" clock profile of the graphics card in Acer's utility app.
Update: If you're interested in the AMD Ryzen 7 2700 + Radeon RX Vega 56 variant, check out its performance here:
http://laptopmedia.com/highlights/acer-predator-helios-500-amd-ryzen-7-2700-radeon-rx-vega-56-benchmarks-and-gaming-tests/


| Grand Theft Auto V (GTA 5) | Full HD, Medium (Check settings) | Full HD, Very High (Check settings) | Full HD, MAX (Check settings) |
| --- | --- | --- | --- |
| Average FPS | 144 fps | 85 fps | 58 fps |
| Average FPS (OC) | 144 fps | 88 fps | 59 fps |
| Min FPS | 43 fps | 48 fps | 32 fps |
| Min FPS (OC) | 42 fps | 48 fps | 34 fps |
| Far Cry Primal | Full HD, High (Check settings) | Full HD, Very High (Check settings) | Full HD, MAX (Check settings) |
| --- | --- | --- | --- |
| Average FPS | 108 fps | 95 fps | 88 fps |
| Average FPS (OC) | 111 fps | 100 fps | 94 fps |
| Min FPS | 83 fps | 75 fps | 72 fps |
| Min FPS (OC) | 84 fps | 76 fps | 73 fps |


Temperatures
The temperature tests go this way. We use Prime95 and FurMark to torture the CPU and the GPU respectively. This won't give real-life representation but with our methodology, we try to give you the most optimal results.
The first values from the test are from the 30th second of running the Prime95 stress test, which simulates a heavy task run on your computer (usually lighter tasks take from a part of the second up to a couple of seconds). Next, we take the ones from the 2nd-minute mark, which imitates a very heavy task, run on the CPU. The last values we give you are the ones at the end of the test, which is 15 minutes, simulating the CPU load when rendering a video, for example.

0-15 min. CPU torture test
Although this device is equipped with cooling that has big potential, it is burdened with the task of extracting and dissipating the heat of one of the most powerful CPUs currently on the market. Intel's brand new Coffe Lake flagship – the Core i9-8950HK has a TDP of 65W, a base frequency of 2.9 GHz and is able to reach up to 4.8 GHz with a single core or 4.3 GHz for all 6 cores.
First things first. This CPU maintained 39C when idle. After we pumped it to full load with the Prime95 software, we noticed a weird tendency. First of all, the system didn't even bother Turbo boosting the clock speeds, as usual. Actually, the contrary happened, as the frequencies of all cores were 2.9 GHz (the base clock speed) and after around 20 seconds we saw some sort of throttling. However, we are positive it wasn't thermal because the temps went as high as 68C which is a strong 10C lower than what we saw even during some updates. We want to note that we are reviewing a sample unit, so there might be some precaution that may not be present on a retail device.
And when we say throttle we are talking about 500 MHz drops for all cores, while the temperature sustained at 58C with fans not even breaking a sweat and being pretty low as far as noise levels go.
At the last phase of our CPU stress test weird things continued as, except for some "peaks" to 63C, the overall temperature dropped down to 57C at the end. Frequencies were fluctuating between 2.4 and 2.5 GHz while at the end they also sustained a 2.4 GHz value. However, at 45W TDP and 6 physical cores, we can't say we are not happy with the performance of this CPU so we think future BIOS updates or even the first retail units are not going to have this issue at unusually high load.
0-30 min. GPU torture test
Taking a look at the GPU, which idled at 42C by the way, reveals that the bulky design has its advantages after all. Despite the maximum boost frequency of 1684 MHz, our unit was able to pump the clock up to almost 1800 MHz. Moreover, we were able to achieve 1705 MHz average for 30 minutes of stress testing. Even more impressive here is the fact that the temperature of the GPU never passed 59C! For sure, this cooling solution can easily handle the more powerful GeForce GTX 1080 with ease.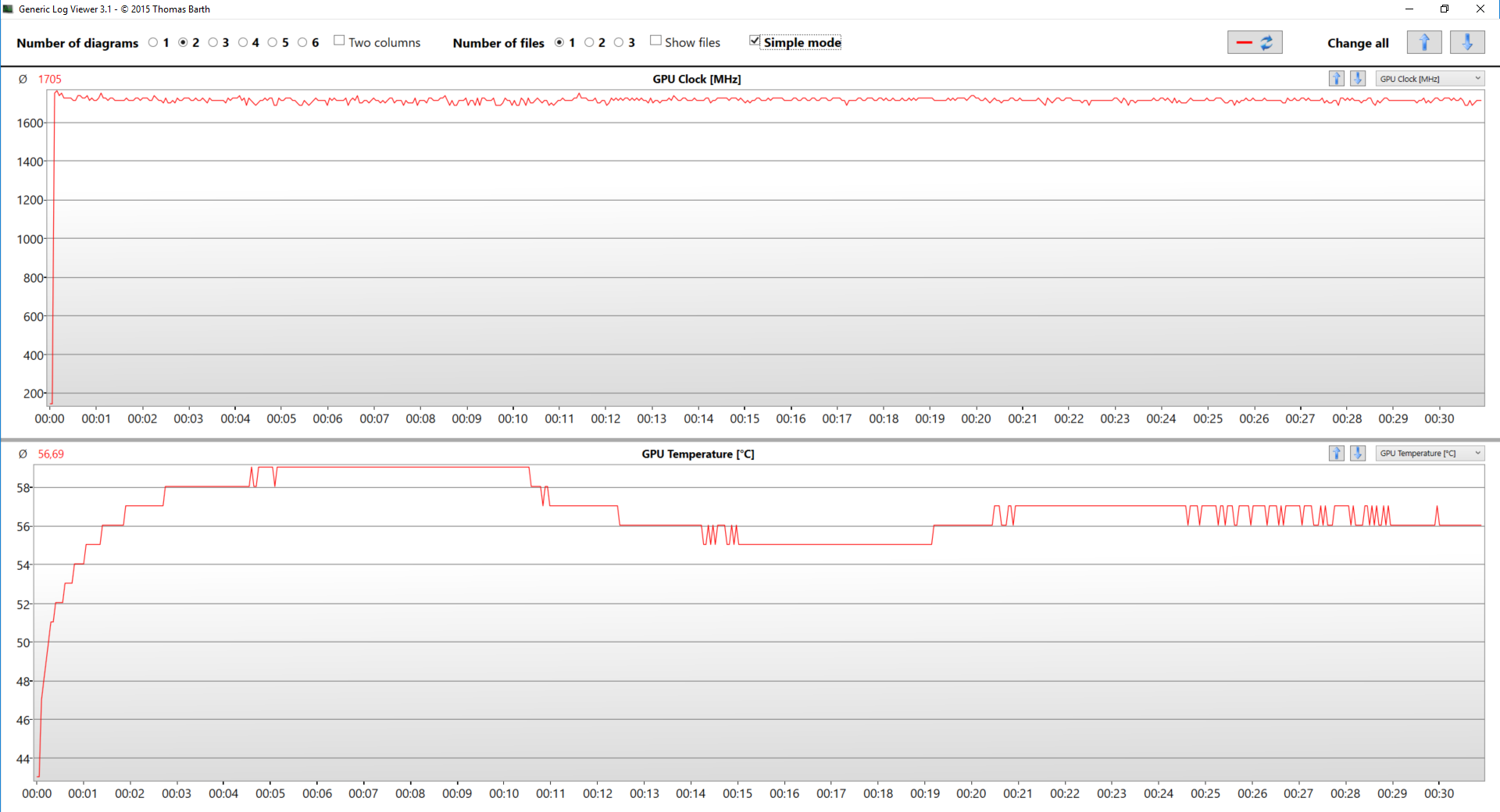 Next, we'll take a look at surface temperatures. Having such a large cooling capacity on the inside means that on the outside this device is one of the coolest ever equipped with a GeForce GTX 1070, combined with the best to this date CPU for a laptop. Temperatures were pretty evenly spread around the middle and right side of the keyboard upwards and although the palm rest area was around 30C, it won't present any discomfort even at extreme loads.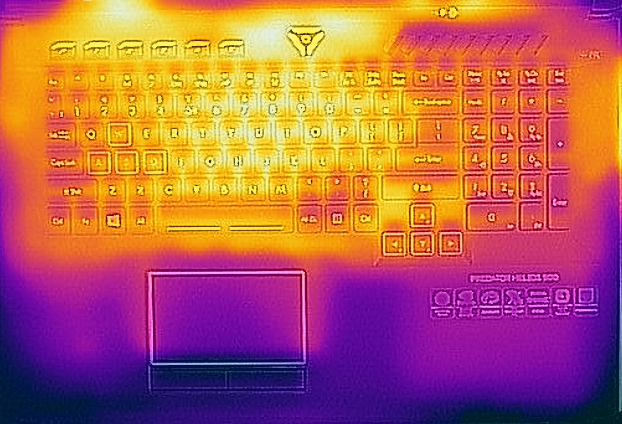 41.2°C
41.1°C
36.8°C
38.9°C
40.0°C
34.9°C
30.4°C
30.2°C
29.8°C
Verdict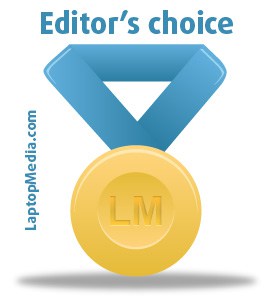 Acer Predator Helios 500 is set to change the gaming laptop world. Not only by using the latest and greatest from Intel in the face of Core i9-8950HK but also by featuring a super effective cooling solution and an amazing screen. We can define the Lenovo Legion Y720 and HP Omen 17 as direct competitors to this device as it also features an overclockable CPU and a bulky, thermal efficient design. Before we start with praising this piece of hardware we want to note that notebooks of this size are not our type, actually. We prefer more lightweight and low-profile ones, with less aggressive looks. More, let's say, blendable to the surroundings. This is why we added to the comparison MSI GE73VR.
Anyhow, let's move on to what most of you are here for – the Core i9-8950HK. Actually, we are working on a review of this CPU, so expect one coming to you soon. However, for now, we know for sure that this is a monster of a processor. What got us impressed us is not the raw benchmark results because more cores = higher score. Instead, we were astonished by the performance in Adobe Photoshop. We never had a device go through our editing script as fast as this one. Moreover, it beat the competition by a mile.
In addition to that, we also saw an unprecedented performance by the GeForce GTX 1070. It ran like crazy through the Heaven 3.0 and 4.0 benchmarks, beating even some devices equipped with the more powerful GTX 1080 (ASUS ROG GL702VI). The gaming experience was also the best we saw on a device with this hardware GPU-wise, which can mean two things – the new Coffee Lake CPUs are utilizing the GTX 1070 better; or it is simply because of the amazing cooling, which enabled the GPU to reach almost 1800 MHz in "Normal" clock mode, maintaining temperatures under 59C even at extreme load. How cool is that?!
Screen-wise, Acer provides you with two options in their Predator Helios 500 series. Our unit was equipped with a 4K 17.3-incher, although we would have preferred a Full HD 120Hz+ monitor because it can really benefit from the faster hardware and higher framerate. This doesn't mean we didn't like the present display, by no means. Quite the contrary actually. With a super bright panel, reaching 400 nits by our measurements, great contrast ratio and color reproduction that covers almost fully Adobe RGB and spreads to 96% of DCI-P3 it can blow your mind with picture detail and vibrancy. Moreover, the unit doesn't use PWM-adjustment at all, making it suitable for long gaming sessions.
The only disadvantage we saw here along with the fat and heavy design is the battery life. Well, you can't expect much from a 4K 17.3-inch screen and although it is not designed to be used away from the 330W charging unit, it was able to get us through just three hours of web browsing and even less in video playback. However, we can see light at the end of the tunnel for the "tiny" 74Wh battery as gaming times were around two hours.
We are certainly looking forward to seeing more laptops with the Coffee Lake CPUs and see how they fare both in the gaming world and in the editor/creator universe of Adobe products. For now, we can't emphasize enough the greatness of the Helios 500, although the price tag raises questions like – Do you really need that much power? Should you not settle for a slimmer and cheaper device with better looks but less performance like the MSI GE73VR 7RF? These are questions whose answers only you know.

Pros
The best GTX 1070 notebook out there (at the moment of writing)
Maintains super low GPU temperatures at exceptionally high frequencies
Super bright panel with a high contrast ratio and very punchy colors (covers 99% of Adobe RGB and 96% of DCI-P3)
RGB keyboard backlighting
Decent upgrade options
PWM-free across all brightness levels
NVMe SSD enabled device with RAID 0 support
Workstation CPU
Cons
Heavy and bulky design
Price tag is also heavy
Short battery life