Apple MacBook Air (M2, 2022) review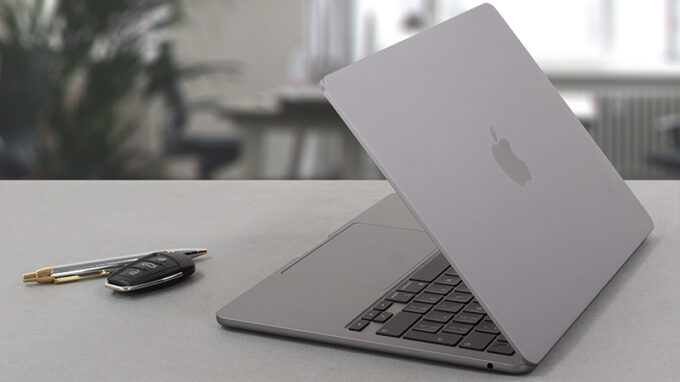 Apple regards its MacBook Air as the best-selling 13-inch laptop in the world. The company is also notorious for artificially differentiating the Air from the Pro, by either reducing its port count, limiting its cooling, or both. Well, this year, Apple did something unexpected. The manufacturer created all new housing for the Air, which includes a new display form factor (it now has the infamous notch), while the Pro remained largely overlooked.
Indeed, both devices are outfitted with the latest Apple M2 chip. And once again, the MacBook Pro 13 (2022) receives an active cooling solution, while the Air (M2, 2022) relies on a passive one. This means that it has no fan to blow the heat off a heat sink or other type of heat conductor. Essentially, this means that either the M2 is extremely efficient, or they have tried to once again artificially widen the gap between the MacBook Air and the Pro.
Nevertheless, it is really intriguing how the new Air actually looks more like the 14, and 16-inch MacBook Pros, rather than the device, which comes at pretty much the same screen size. We will discuss the similarities later on, and we will pay more attention to the 13.6-inch "Liquid Retina" display.
You can check the prices and configurations in our Specs System: https://laptopmedia.com/series/apple-macbook-air-13-2022/
Contents
Specs Sheet
HDD/SSD
up to 2000GB SSD
Dimensions
304.1 x 215 x 11.3 mm (11.97" x 8.46" x 0.44")
2x USB Type-C
4.0, Thunderbolt 4, Power Delivery (PD), DisplayPort
Audio jack
3.5mm Combo Jack
Fingerprint reader
Touch ID
Web camera
1080p FaceTime HD
Microphone
Three-mic array with directional beamforming
Speakers
Four-speaker sound system
What's in the box?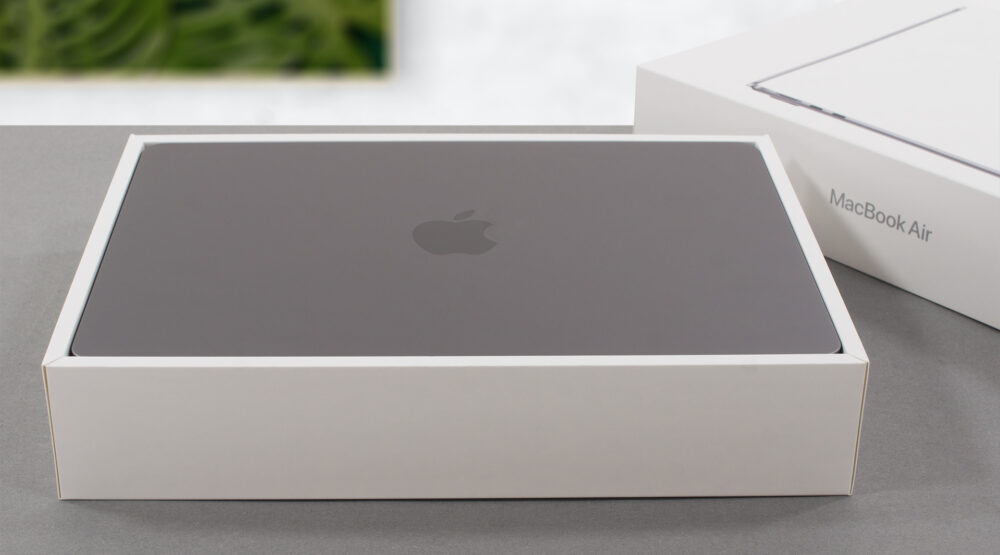 Thankfully, unlike its smartphones, Apple still provides its notebooks with chargers. This device comes with a 30W USB Type-C power adapter. In addition, there are options like a 35W dual USB Type-C port, and a 67W fast charger available separately. Typical for Apple. On the other hand, the cable provided is a USB Type-C to MagSafe 3, which is great and shows you one of the new stuff regarding this device.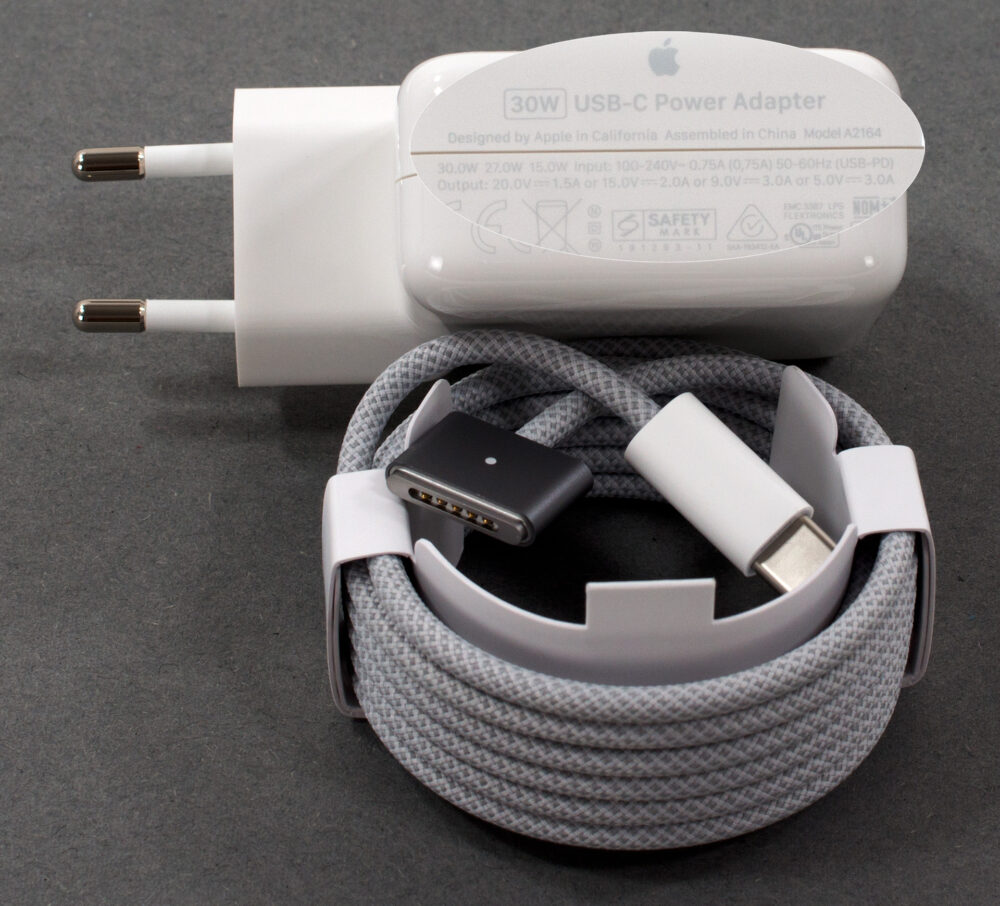 Design and construction
As usual, the MacBook Air (M2, 2022) is made out of aluminum. Build quality is unquestionably on point, even though it has a profile of only 11.3mm. This is barely thicker than the iPad Pro. You can pick among four color options – Silver, Starlight, Space Gray, and Midnight.

By the way, you can see that the edges and the corners of the notebook are now round, and it is now all the same when it comes to thickness. In addition, the device weighs 1.24 kg, which gives the feel of heft and confidence in the structural rigidity of the machine but is still incredibly light by itself.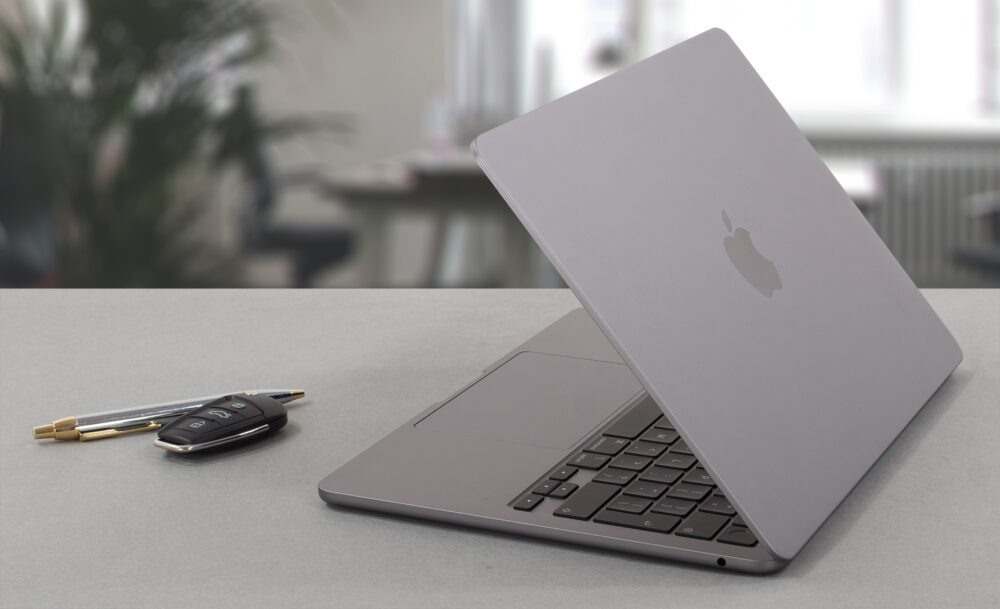 Expectedly, the lid can easily be opened with a single hand. Its hinges are very smooth and satisfying while closing the lid doesn't result in a nasty "clap". As you can see, there are thin bezels around the display, with the top corners being rounded, and the middle of the top part of the display featuring a bizarre notch. It houses the Full HD Web camera, and that's pretty much it.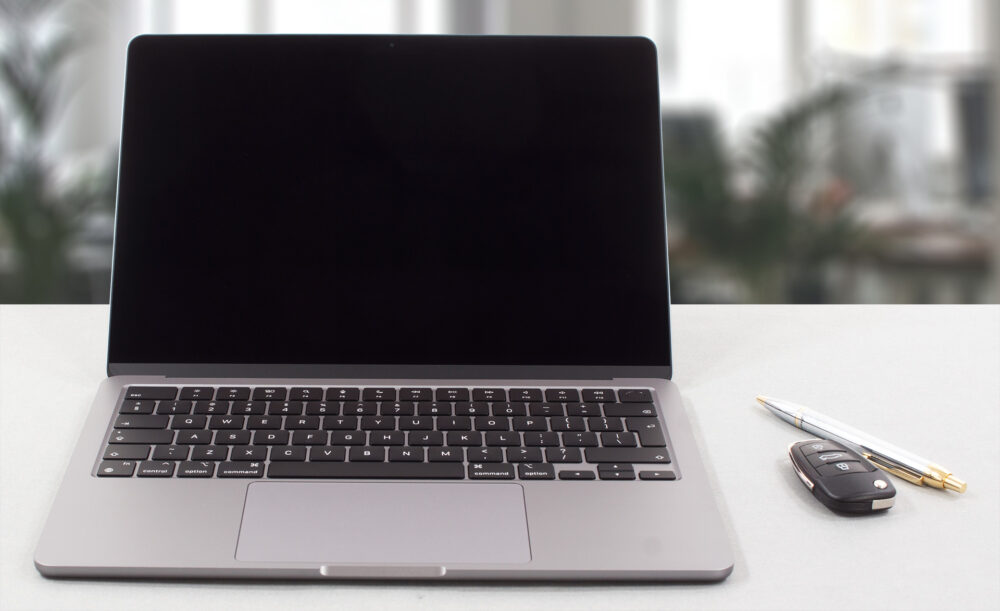 Do you know what we would like to see at some point in the future? A MacBook whose screen goes all the way to 180 degrees. Until then, let's focus on the base, which features a pretty good keyboard. It has a bit short key travel, which is expected at 11.3mm of body thickness. On the other hand, it has clicky feedback, which makes the device pretty comfortable for typing.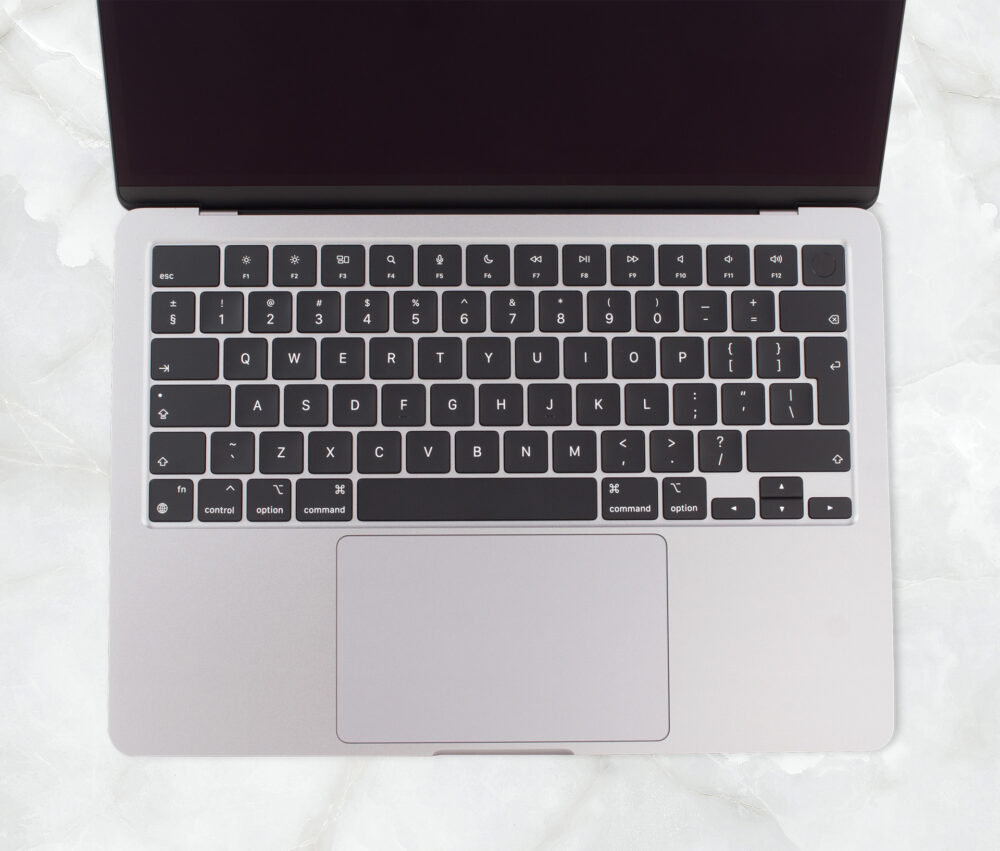 Furthermore, the Power button doubles as a fingerprint reader (Touch ID). And a fast one too. In terms of the trackpad, we've definitely seen bigger ones on the larger MacBooks, but it is still one of the best ones found on a laptop. We have to mention that ours was a bit lifted on the right side, which is very uncharacteristic for Apple products.
What is very interesting, is that you get four speakers inside of this laptop, but there seem to be no vents, cutouts or grills anywhere to be found.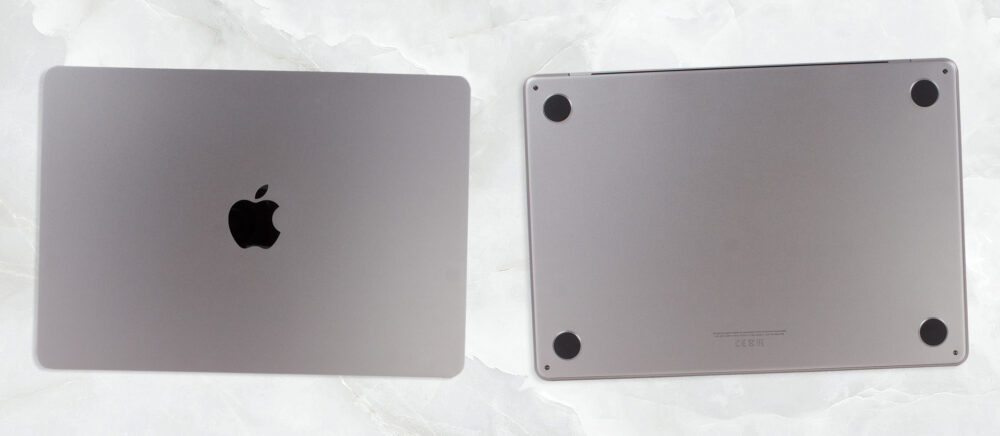 Ports
Here, you get the Mag Safe 3 charging port, two Thunderbolt 3 connectors on the left, and an Audio jack on the right. That's all.
Display quality
Apple MacBook Air (M2, 2022) has an LED-backlit IPS panel, called a "Liquid Retina display". This screen comes with rounded corners at the top. When measured as a standard rectangular shape, it has a 13.6″ (34.5 cm) diagonal (actual viewable area is less). It sports a 2560 x 1664 resolution. Additionally, the screen ratio is 14:9, the pixel density – 224 ppi, their pitch – 0.11 x 0.11 mm. The screen can be considered Retina when viewed from at least 38 cm (from this distance, the average human eye can't see the individual pixels).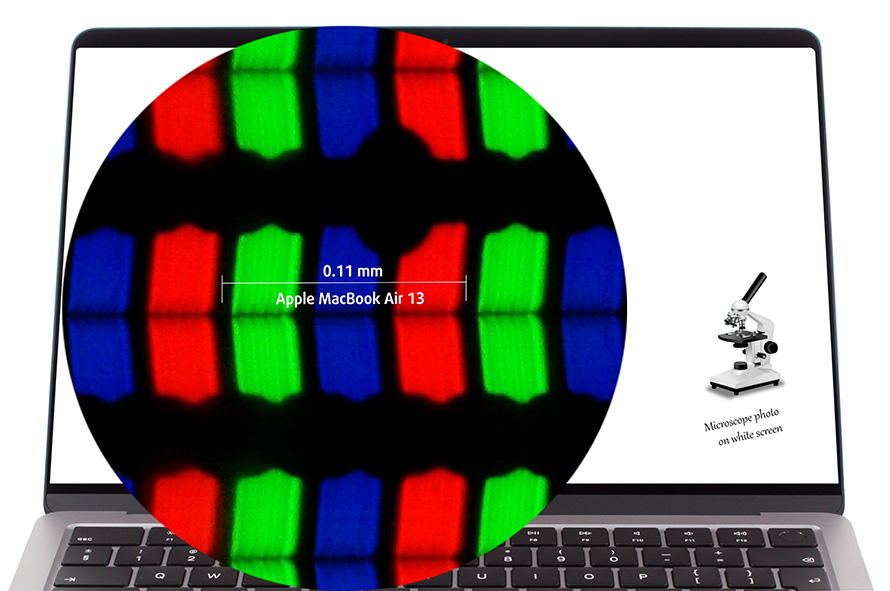 Its viewing angles are great. We have provided images at 45 degrees to evaluate quality.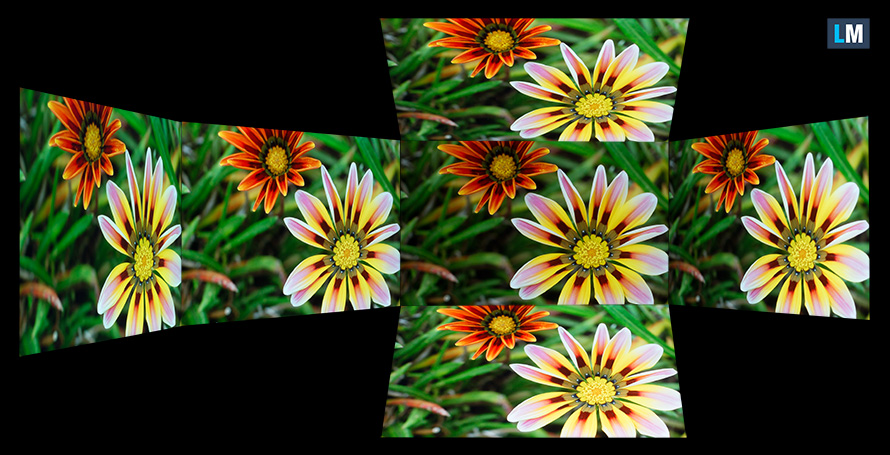 Also, a video with locked focus and exposure.
We measured a maximum brightness of 514 nits in the middle of the screen and 502 nits as an average across the entire area, with a maximum deviation of 5%. The Correlated Color Temperature on a white screen and at maximum brightness is 6780K ("True Tone" Off "Colour LCD" Profile) – slightly colder than the 6500K optimum for sRGB.
In the illustration below you can see how the display performs from a uniformity perspective.
Values of dE2000 over 4.0 should not occur, and this parameter is one of the first you should check if you intend to use the tablet for color-sensitive work (a maximum tolerance of 2.0 ). The contrast ratio is very good – 1340:1.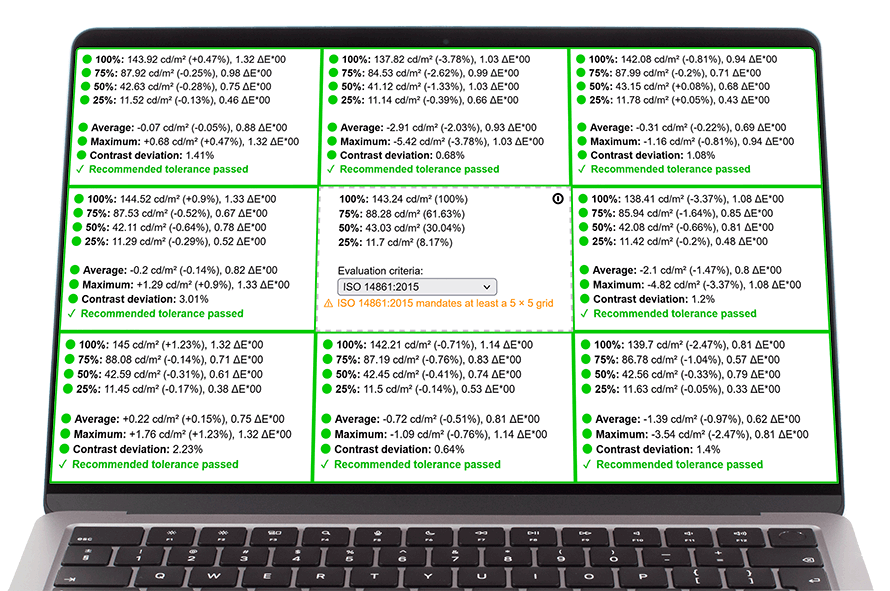 To make sure we are on the same page, we would like to give you a little introduction to the sRGB color gamut and the Adobe RGB. To start, there's the CIE 1976 Uniform Chromaticity Diagram that represents the visible specter of colors by the human eye, giving you a better perception of the color gamut coverage and the color accuracy.
Inside the black triangle, you will see the standard color gamut (sRGB) that is being used by millions of people on HDTV and the web. As for the Adobe RGB, this is used in professional cameras, monitors, etc for printing. Colors inside the black triangle are used by everyone and this is an essential part of the color quality and color accuracy of a mainstream device.
Still, we've included other color spaces like the famous DCI-P3 standard used by movie studios, as well as the digital UHD Rec.2020 standard. Rec.2020, however, is still a thing of the future and it's difficult for today's displays to cover that well. We've also included the so-called Michael Pointer gamut, or Pointer's gamut, which represents the colors that naturally occur around us every day.
The yellow dotted line shows Apple MacBook Air (M2, 2022)'s color gamut coverage.
Its display covers 100% of the sRGB/ITU-R BT.709 (web/HDTV standard) in CIE1976. Also, it covers 99% of the DCI-P3 color gamut. This is a prerequisite for a vibrant and punchy image.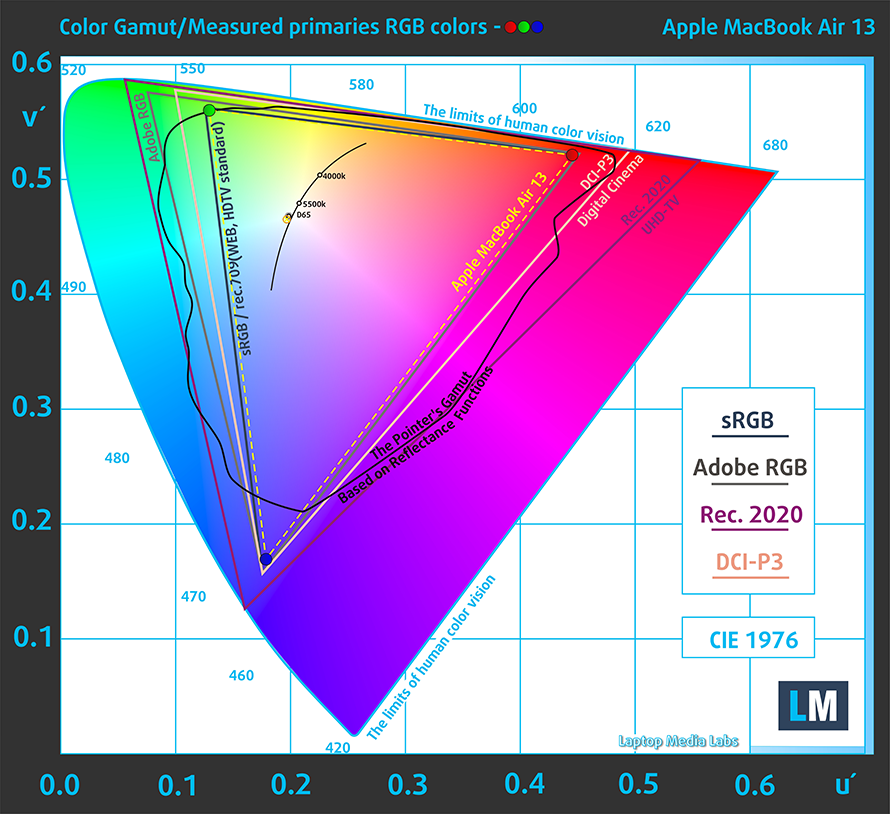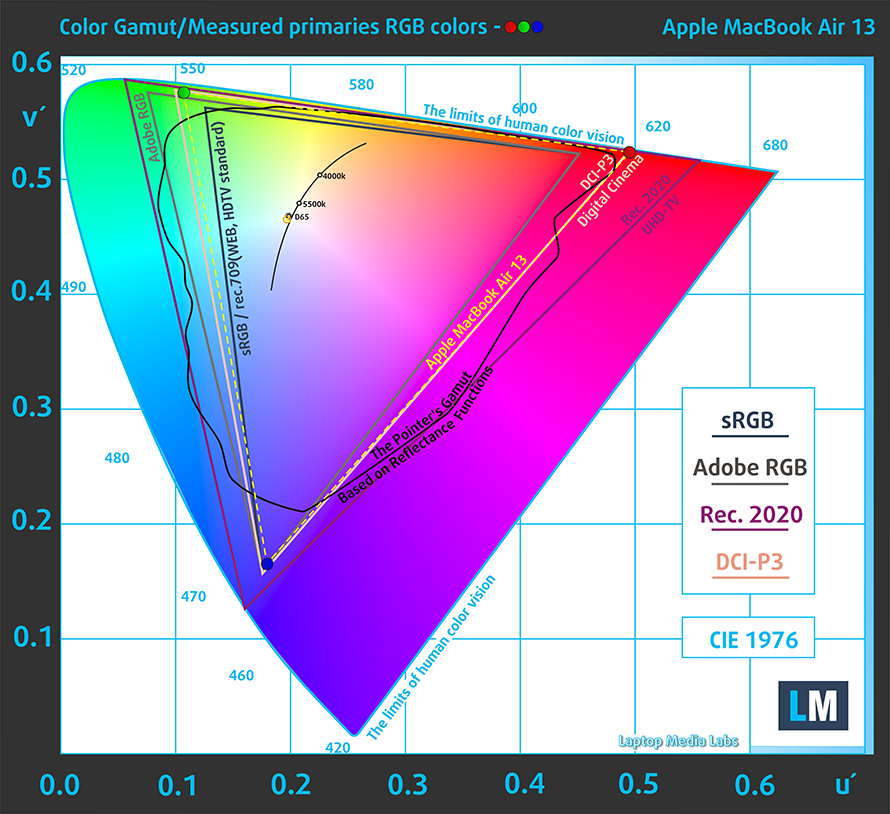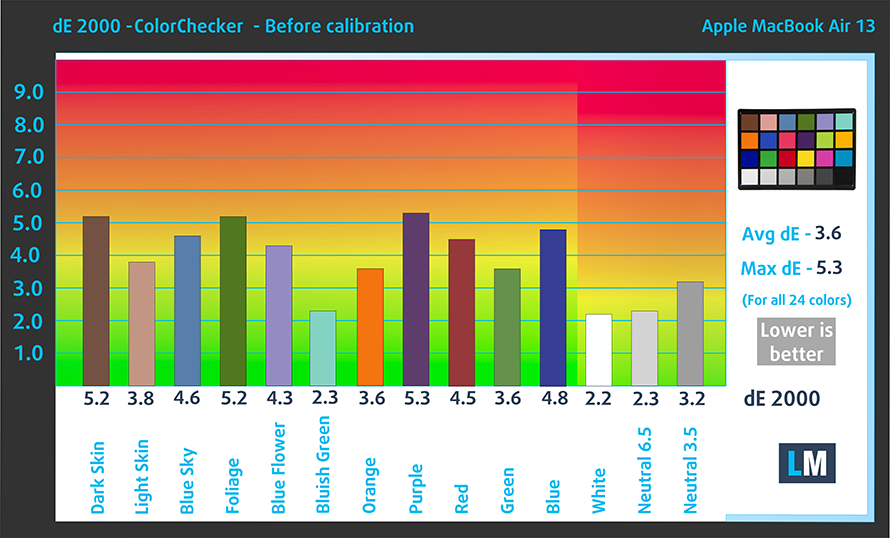 Response time (Gaming capabilities)
We test the reaction time of the pixels with the usual "black-to-white" and "white-to-black" method from 10% to 90% and vice versa.
We recorded Fall Time + Rise Time = 23 ms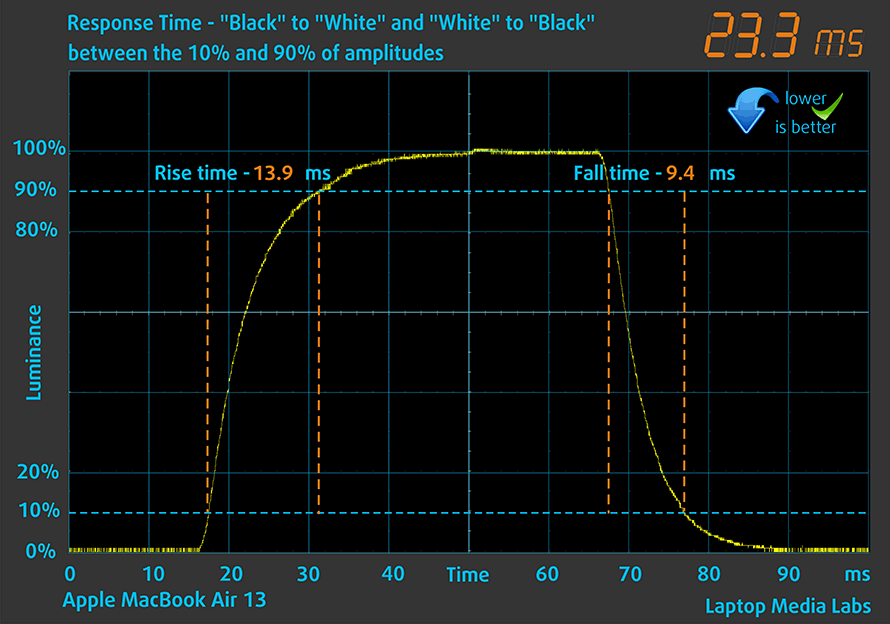 After that, we test the reaction time of the pixels with the usual "Gray-to-Gray" method from 50% White to 80% White and vice versa between 10% and 90% of the amplitude.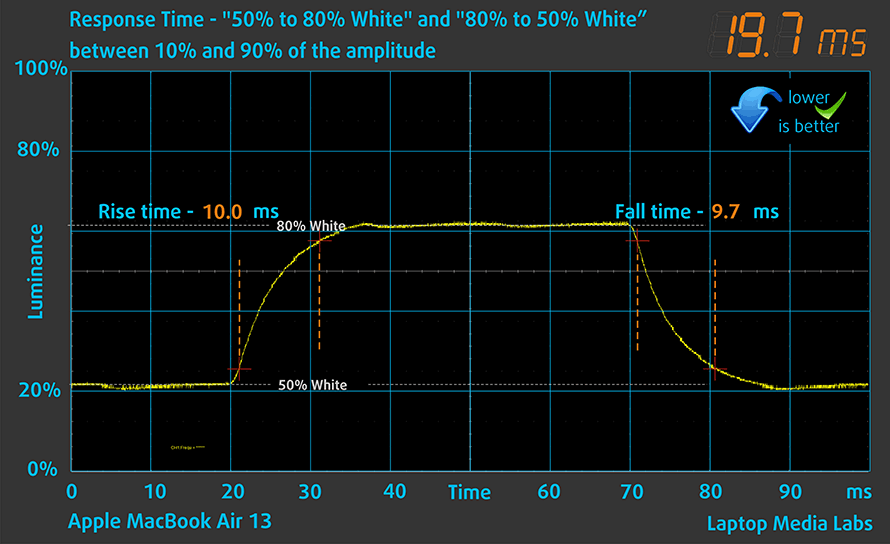 Health impact – PWM / Blue Light
PWM (Screen flickering)
Pulse-width modulation (PWM) is an easy way to control monitor brightness. When you lower the brightness, the light intensity of the backlight is not lowered, but instead turned off and on by the electronics with a frequency indistinguishable to the human eye. In these light impulses, the light/no-light time ratio varies, while brightness remains unchanged, which is harmful to your eyes. You can read more about that in our dedicated article on PWM.
Apple MacBook Air (M2, 2022)'s display doesn't use PWM for brightness adjustment, which makes it comfortable, and more importantly – safe, for continuous work.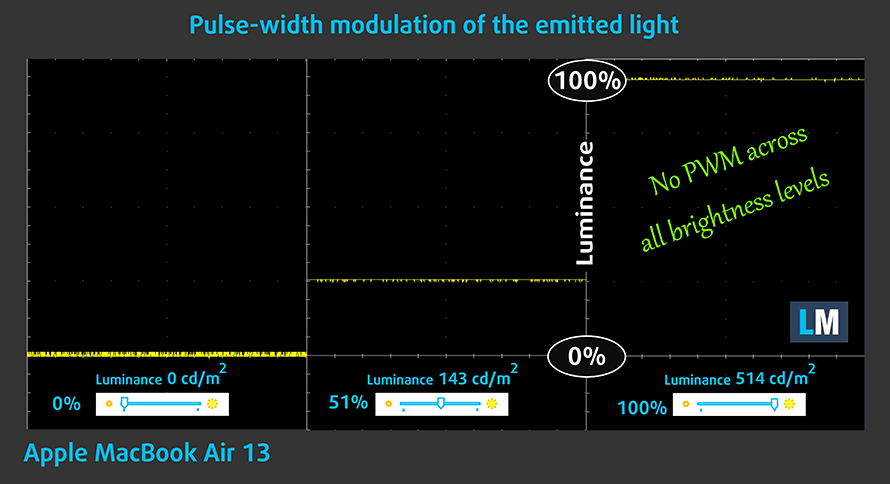 Gloss level measurement
Glossy-coated displays are sometimes inconvenient in high ambient light conditions. We show the level of reflection on the screen for the respective laptop when the display is turned off and the measurement angle is 60° (in this case, the result is 55.6 GU).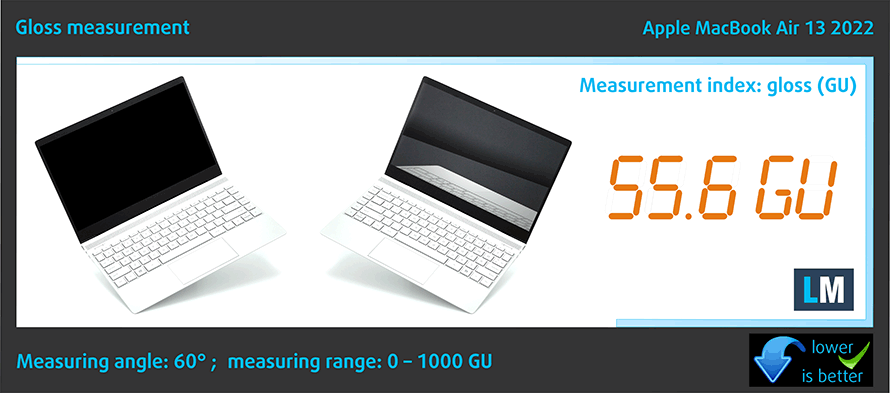 Sound
Apple MacBook Air (M2, 2022)'s quad-stereo speakers produce a sound of very good quality. Not only that, but the low, mid, and high tones are clear of deviations.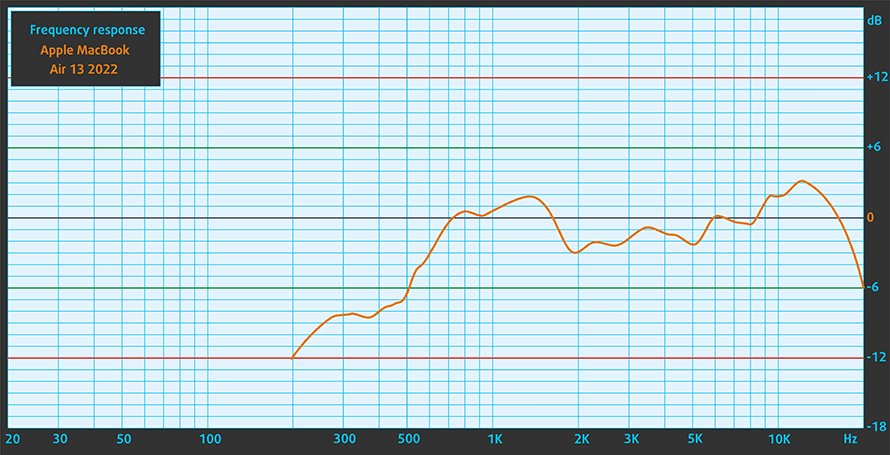 Storage
Our device is equipped with a 256GB SSD. It runs 1663 MB/s Write and 1554 MB/s Read speeds, which is a bit quicker than the same capacity SSD inside the MacBook Pro 13 (M2, 2022).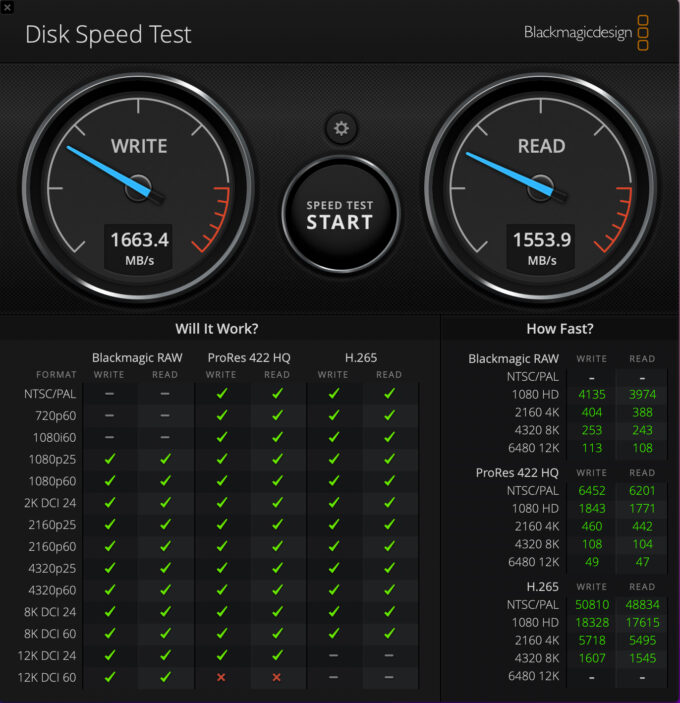 Battery
Now, we conduct the battery tests with the screen brightness adjusted to 120 nits and all other programs turned off except for the one we are testing the notebook with. Apple has given this machine a 52.6Wh battery pack. It lasted us 17 hours and 23 minutes of Web browsing, or 17 hours and 55 minutes of video playback.
In order to simulate real-life conditions, we used our own script for automatic web browsing through over 70 websites.
For every test like this, we use the same video in HD.
CPU options
Obviously, the main event here is the new Apple M2 SoC. It is built on a 5nm node, and in the case of the MacBook Air (M2, 2022) there is one option – 8 processor cores. It uses LPDDR5 memory that has a 100GB/s bandwidth.
Results are from the Cinebench 20 CPU test (the higher the score, the better)
| CPU Benchmarks | Cinebench R23 |
| --- | --- |
| Apple MacBook Air (M2, 2022) | 8361 |
| Apple MacBook Pro 13 (2022, M2) | 8739 |
| Apple MacBook Pro 14 M1 Pro (8C/14C) | 9564 |
| Dell XPS 15 9510 | 11315 |
| Lenovo IdeaPad 5 Pro (14″) | 9905 |
| ASUS VivoBook Pro 14X OLED (M7400) | 12608 |
| CPU Benchmarks | single/multi Geekbench 5 |
| --- | --- |
| Apple MacBook Air (M2, 2022) | 1911/8979 |
| Apple MacBook Pro 13 (2022, M2) | 1933/8985 |
| Apple MacBook Pro 14 M1 Pro (8C/14C) | 1764/9955 |
| Apple MacBook Air M1 | 1732/7574 |
| Apple MacBook Pro 13 M1 | 1727/7564 |
| Apple iPad Pro 11 2020 | 1118/4636 |
There is quite a significant bump in performance, compared to the M1 chip. The new SoC is about 12% faster in single-core load, and 19% faster in multi-threaded applications.

GPU options
This laptop is sold with either 8 or 10 Graphics cores, and we got the smaller one.
| | 3DMark Wildlife Extreme |
| --- | --- |
| Apple MacBook Air (M2, 2022) | 5683 |
| Apple MacBook Pro 13 (2022, M2) | 6840 |
| Apple MacBook Pro 14 M1 Pro (8C/14C) | 9142 |
| Dell XPS 15 9510 [RTX 3050 Ti (45W)] | 8633 |
| MSI Sword 15 [RTX 3050 Ti (60W)] | 10618 |
| GPU Benchmarks | GFXBench Manhattan 3.0 (1080p offscreen) | GFXBench Manhattan 3.1 (1080p offscreen) | GFXBench Aztec Ruins OpenGL (1080p offscreen) | GeekBench 5 Compute OpenCL | GeekBench 5 Compute Metal |
| --- | --- | --- | --- | --- | --- |
| Apple MacBook Air (M2, 2022) | 478 fps | 319 fps | 247 fps | 23824 | 26182 |
| Apple MacBook Pro 13 (2022, M2) | 552 fps | 370 fps | 296 fps | 35262 | 38692 |
| Apple MacBook Pro 14 M1 Pro (8C/14C) | 818 fps | 496 fps | 394 fps | 35262 | 38692 |
| Apple MacBook Air M1 | 404 fps | 273 fps | 214 fps | – | – |
| Apple MacBook Pro 13 M1 | 407 fps | 274 fps | 215 fps | – | – |
Temperatures and comfort
Max CPU load
In this test we use 100% on the CPU cores, monitoring their frequencies and chip temperature. The first column shows a computer's reaction to a short load (2-10 seconds), the second column simulates a serious task (between 15 and 30 seconds), and the third column is a good indicator of how good the laptop is for long loads such as video rendering.
CPU temp.
| Apple M1/M2 | 0:02 – 0:10 sec | 0:15 – 0:30 sec | 10:00 – 15:00 min |
| --- | --- | --- | --- |
| Apple MacBook Air (M2, 2022) | 89°C | 104°C | 90°C |
| Apple MacBook Pro 13 (2022, M2) | 38°C | 48°C | 71°C |
| Apple MacBook Pro 13 (Late 2020, M1) | 38°C | 48°C | 71°C |
Stability
| Apple M1/M2 | First run | Middle run | Last run | Amount of runs | Score |
| --- | --- | --- | --- | --- | --- |
| Apple MacBook Air (M2, 2022) | 8541 | 7482 | 7189 | 18 | 7585 |
| Apple MacBook Pro 13 (2022, M2) | 8705 | 7765 | 8700 | 19 | 8261 |
| Apple MacBook Pro 13 (Late 2020, M1) | 7591 | 7659 | 7631 | 18 | 7648 |
We were afraid that Apple is allowing its M2 chip to run at high temperatures on the MacBook Air (M2, 2022). Unfortunately, we were right to worry, as the second checkpoint shows an average temperature of 104°C and a maximum one of 109°C. By the end of the test, everything settles to 90°C, while the SoC drops its power usage to just shy of 15W.

Comfort during full load
Well, since there is no fan inside, the laptop is practically silent even in extreme torture scenarios. This makes the middle part of the keyboard reach a temperature of 43°C, while the bottom panel is a bit toasty.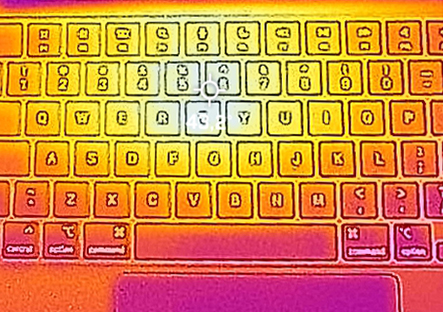 Verdict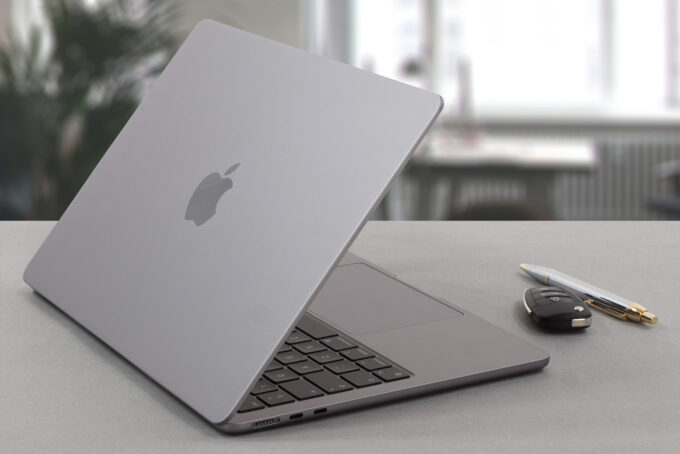 MacBooks are the pinnacle of laptop engineering. This makes Apple, Apple's biggest enemy in the mobile world. Because the Air (M2, 2022) could have been a rather solid performer. Instead, its SoC throttles quite aggressively, as you can lose up to 16% of the performance. Moreover, you lose an additional 5-6% in the first seconds. We couldn't believe it when we saw the M2 temperature shoot to the sky when we started Cinebench R23. Within no more than 20 seconds, the sensors were reading some 104°C, which indicates two things.
First, the heat dissipation here doesn't have a large capacity. And second – this is done deliberately. In order to widen the gap between the "entry-level" Air, and the "professional" Pro 13, which features a tiny (but useful) fan.
In addition to that, you won't be able to upgrade either the RAM or the storage of your MacBook Air (M2, 2022), which is really sad. One thing that we also don't like, but is less sad, is the I/O selection. You get two Thunderbolt 3 connectors and an Audio jack. Furthermore, there is the Mag Safe 3 charging connector. It is useful because it detaches when you accidentally trip on the cable. Also, it means that you won't have 50% of your Thunderbolt connectors used up.
By the way, you will be using the charger pretty rarely, as the battery lasts for more than 17 hours of either Web browsing or video playback. Surprisingly, Apple is pretty accurate with their promises, as they state it should last you 18 hours on their Web site.
Apple MacBook Air (M2, 2022)'s display has a high resolution, comfortable viewing angles, and a good contrast ratio. It almost fully covers the P3-D65 color gamut, which means a colorful and punchy image, perfect for media consumption. In our tests, we saw that the color accuracy is not really up to the standards.
In addition to the beautiful display, the laptop sports a fantastic build quality. We are talking about construction that is rarely seen on a Windows notebook. But it can be seen nonetheless. For example, the XPS 13 Plus 9320 is a laptop that is similarly resistant to flex. However, Dell has spent significantly more money on R&D when making the XPS 13 than Apple did for its MacBook Air.
On the other hand, you have to consider the fantastic speakers of the MacBook Air (M2, 2022), its super fast and reliable TouchID, and great performance, despite the lack of adequate cooling. So, if you are 100% sure that you want to treat yourself to a new MacBook, the new Air (M2, 2022) will surely do the job. And if you want to spend a little bit more for something more "Pro-worthy", go for the 14-inch MacBook Pro. Other than that, you can check out the XPS 13 Plus 9320, which is a decent alternative from Dell.
You can check the prices and configurations in our Specs System: https://laptopmedia.com/series/apple-macbook-air-13-2022/
Pros
Apple M2 offers between 12% and 18% more CPU performance and 35% more GPU performance over M1
The Touch ID is quick and accurate
Full sRGB and DCI-P3 coverage
Supports Wi-Fi 6 and features two Thunderbolt ports
Doesn't use PWM
Great build quality
Brutal battery life
Loud and dynamic speakers
Mag Safe charging port
Cons
I/O is limited to two Thunderbolt ports
Soldered RAM and storage
High temperatures due to the poor passive cooling