Apple MacBook Pro 13 (2022) review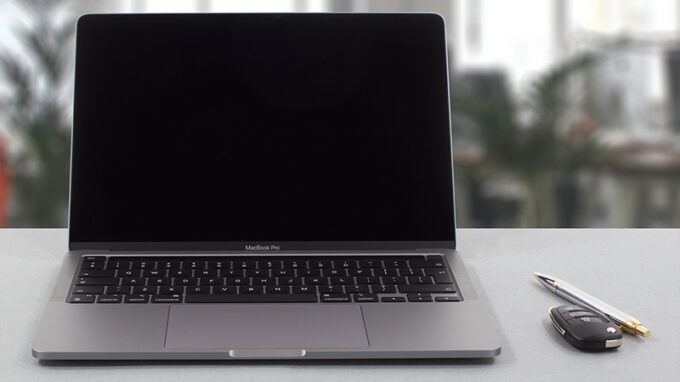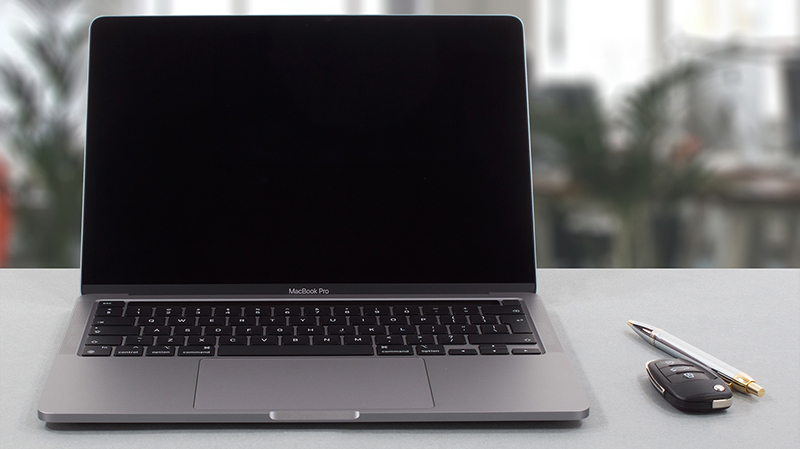 It's a public secret that Apple is setting the standards in mobile computing. Pretty much every other manufacturer out there has borrowed some sort of design feature from the MacBooks. While being a visual trendsetter, Apple hasn't really been known for its hardware miracles over the years.
At the end of 2020, the entire industry turned on its head, when Cupertino introduced the M1 chip – an SoC developed in-house and built on the ARM architecture. Apple's great idea of putting a "glorified smartphone processor", proved to be a very strong move, due to the high efficiency and performance yield of the product. Ultimately, this lets the MacBook Pro 13 and MacBook Air become champs in our Battery Life Chart.
A year and a half later, M2-equipped MacBooks start to hit the market, and it seems to be even better than the M1. On the other hand, Apple has made the weird decision to use the same body and chassis as the late 2020 version.
This itself is not bad but makes the laptop hardly impressive. Basically, the main difference is the step-up provided by the M2 chip, which may or may not be big enough. Also, you have to keep in mind that the new MacBook Air, which is also redesigned, comes at a lower price.
You can check the prices and configurations in our Specs System: https://laptopmedia.com/series/apple-macbook-pro-13-2022/
Contents
Specs Sheet
HDD/SSD
up to 2000GB SSD
Dimensions
304.1 x 212.4 x 15.6 mm (11.97" x 8.36" x 0.61")
2x USB Type-C
4.0, Thunderbolt 4, DisplayPort
Audio jack
3.5mm Combo Jack
Fingerprint reader
optional
Web camera
720p FaceTime HD
Microphone
Three-mic array with directional beamforming
Speakers
Four-speaker sound system
All Apple MacBook Pro 13 (2022) configurations
#CommissionsEarned
What's in the box?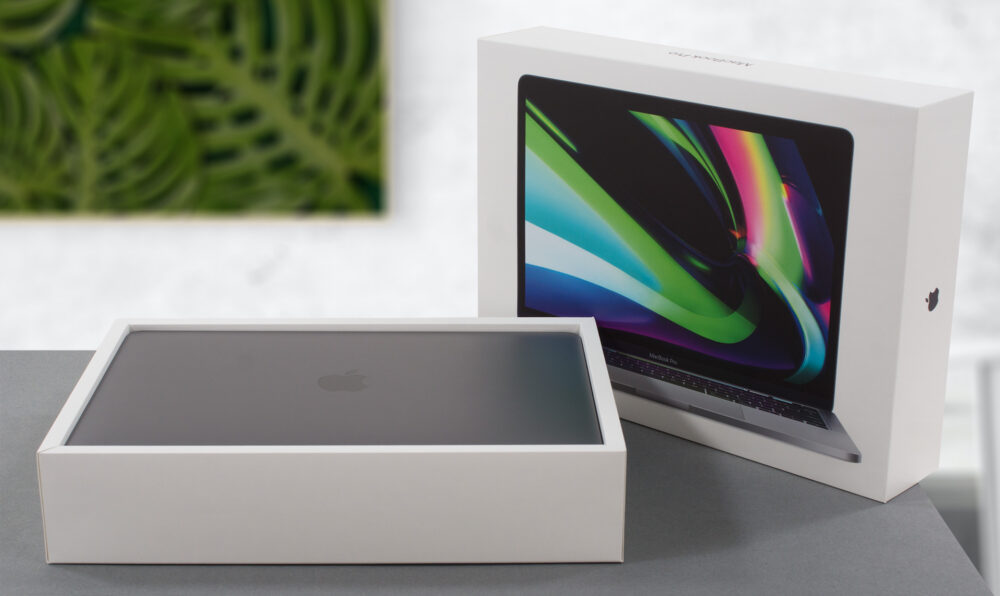 Traditionally, Apple's laptops come in a well-branded packaging, which delivers a pleasant unboxing experience. Inside, you will find some paperwork, a 67W charger, and a USB Type-C cable.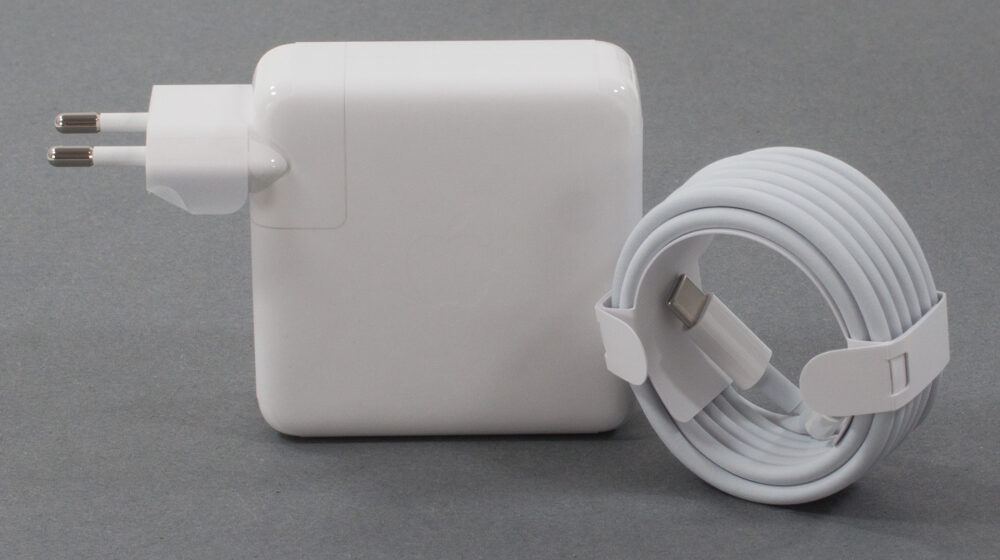 Design and construction
This might be the last MacBook Pro 13 that looks this way… or at least we hope it will. Not that it looks bad – it just feels overused. Nevertheless, the build quality remains arguably the best in the 13-incher world. There is basically no flex in either the lid or the body.

The metal chassis weighs 1.40 kg and has a profile of 15.6mm. Interestingly, the likes of ASUS, Lenovo, and Acer are doing a tremendous job in making thinner and lighter notebooks, and we feel Apple has to step their game up. And when they do, these kinds of laptops will undoubtedly become even more popular than ever before.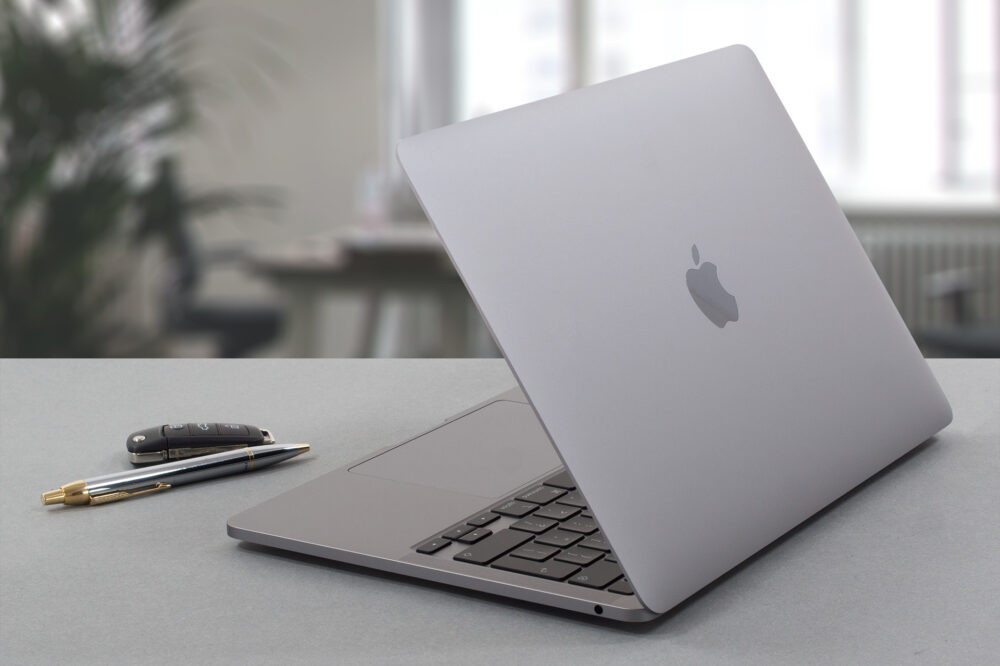 Once again, opening the lid with one hand is a piece of cake, with the hinges being extremely smooth in their motion. The side and top bezels now look a bit larger than they used to (of course, they haven't changed – the world did). Above the glossy panel, you will find the 720p Web camera.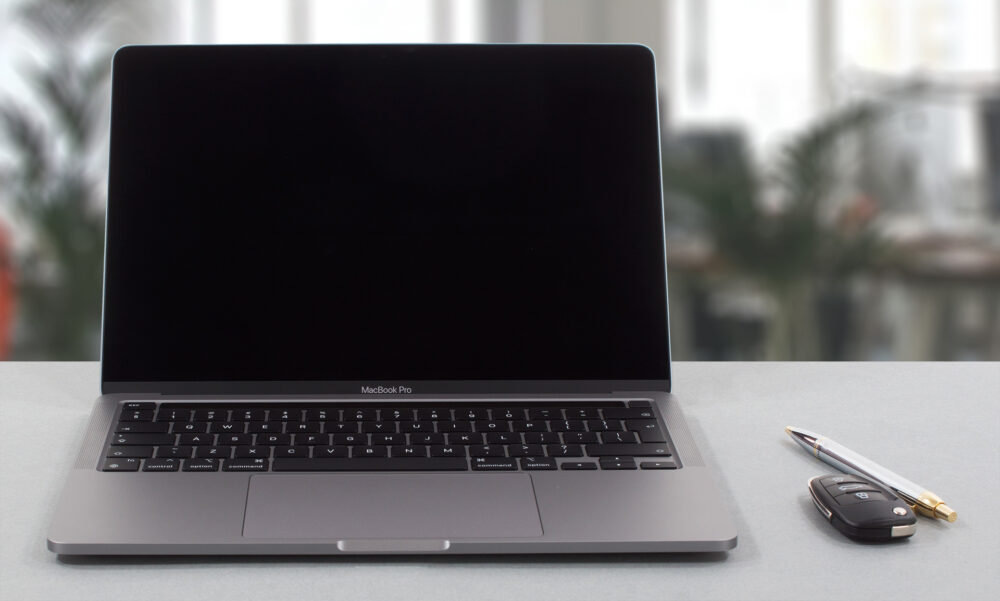 Moving to the base, we see a deck that doesn't flex a bit. The so-called "Magic Keyboard" is miles ahead of its Butterfly cousin, as it offers some sort of key travel (albeit still a bit short) and clicky feedback. Ultimately, the best thing about it is its consistency.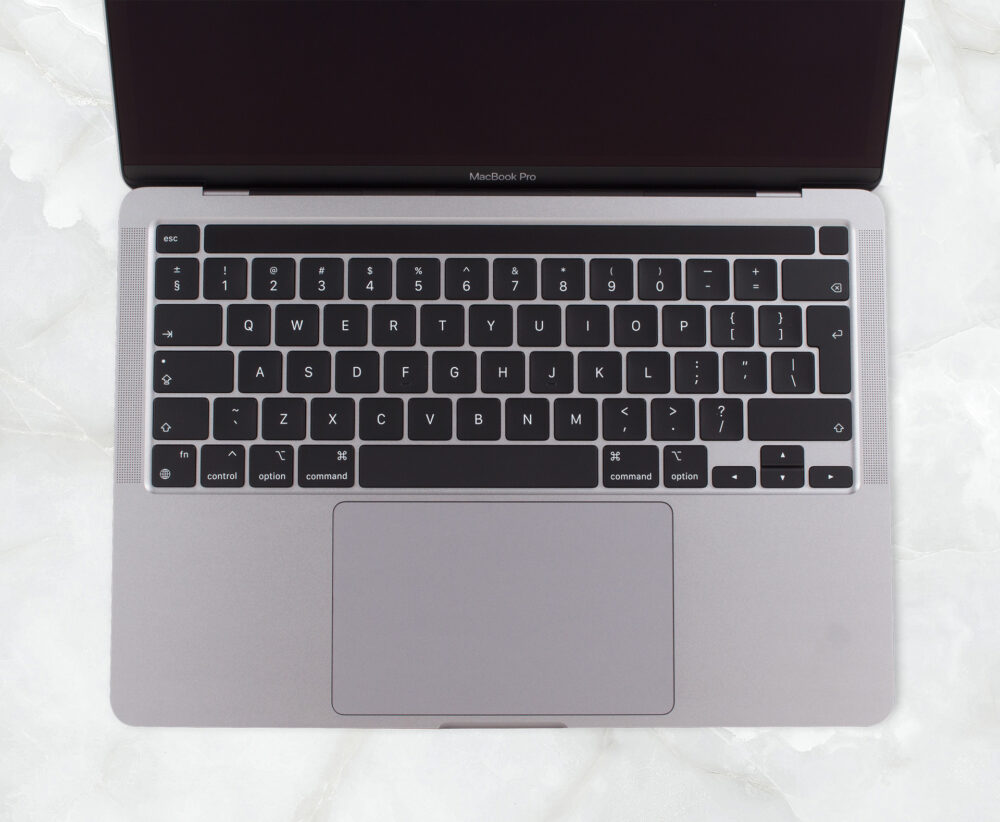 You can still find the TouchBar above it, which may well mean that this is going to be the last MacBook with it. To its right, you get the Touch ID sensor, which doubles as a power button.
Last but not least, there is the glass-covered trackpad. Needless to say, it is part of the fanciest club of touchpad devices, together with its other Apple MacBook cousins.
The speakers are flanking the keyboard, while the bottom panel virtually lacks a ventilation grill.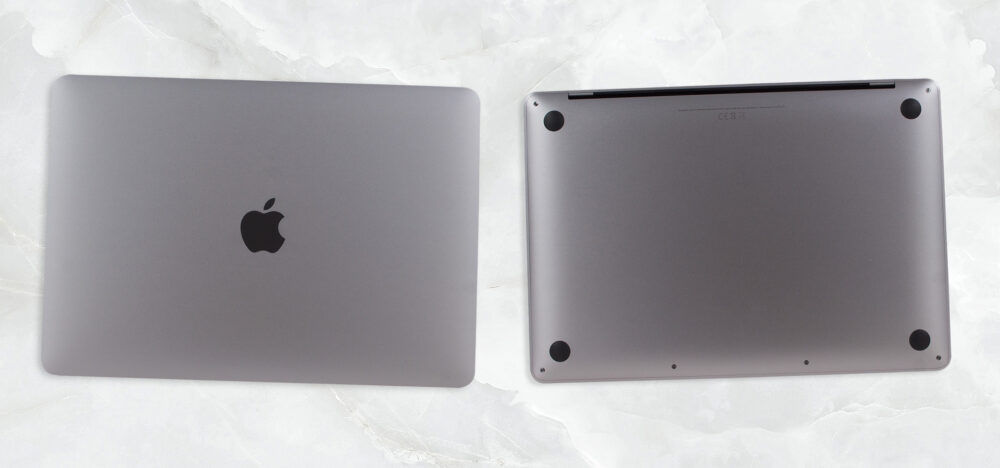 Ports
Writing this section is so effortless when we are reviewing MacBooks. You get two Thunderbolt 4 ports and an Audio jack… that's it.
Disassembly, upgrade options and maintenance
To open this device, you will need to undo all six Pentalobe screws. Then, use a suction cup to gently lift the two sides of the device. This will allow you to pry it with your plastic tool. Lastly, pull the bottom panel forwards, to detach it from the hooks, which secure it in place.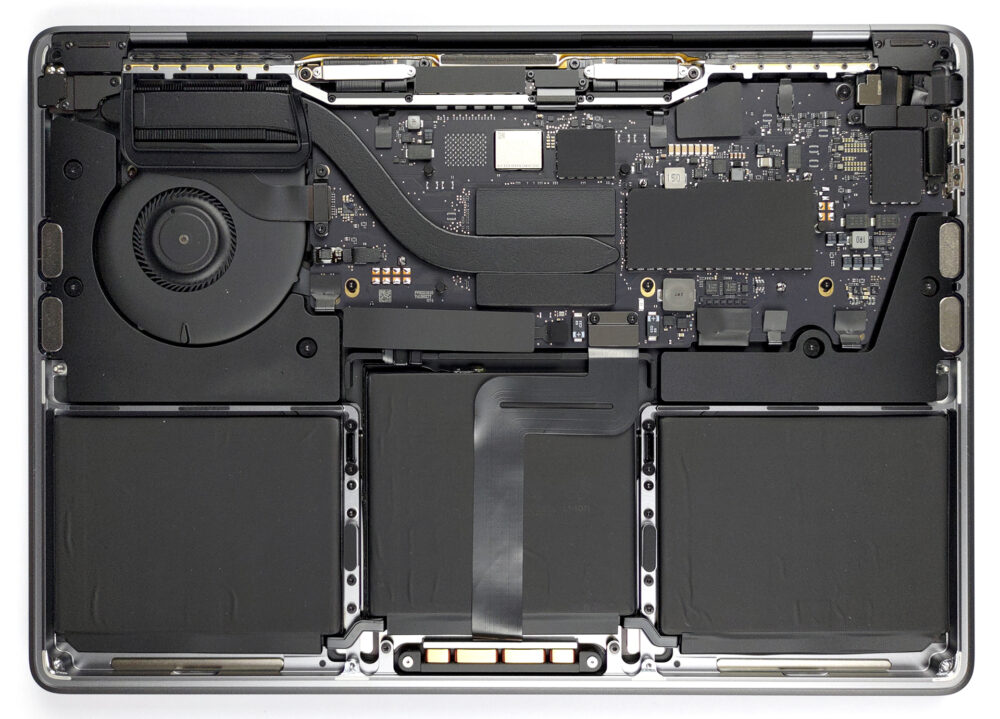 Now that we're inside, we see a 58.2Wh battery pack. It lasts for 28 hours of Web browsing or nearly 20 hours of video playback, which is a fantastic result.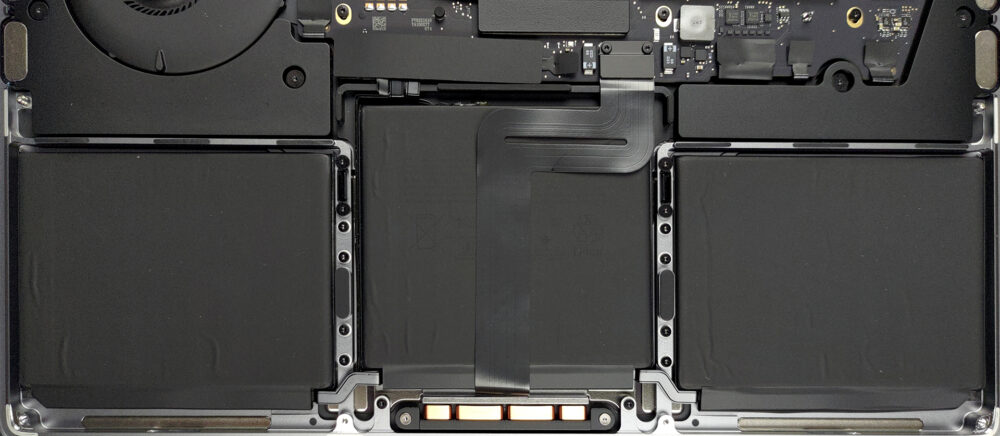 Unfortunately, the storage is soldered to the motherboard. On the other hand, Apple allows you to configure the device with up to 2TB before purchase. The situation with the memory is equally unfortunate, as the unified memory is soldered onto the SoC. Here, the maximum amount is 24GB.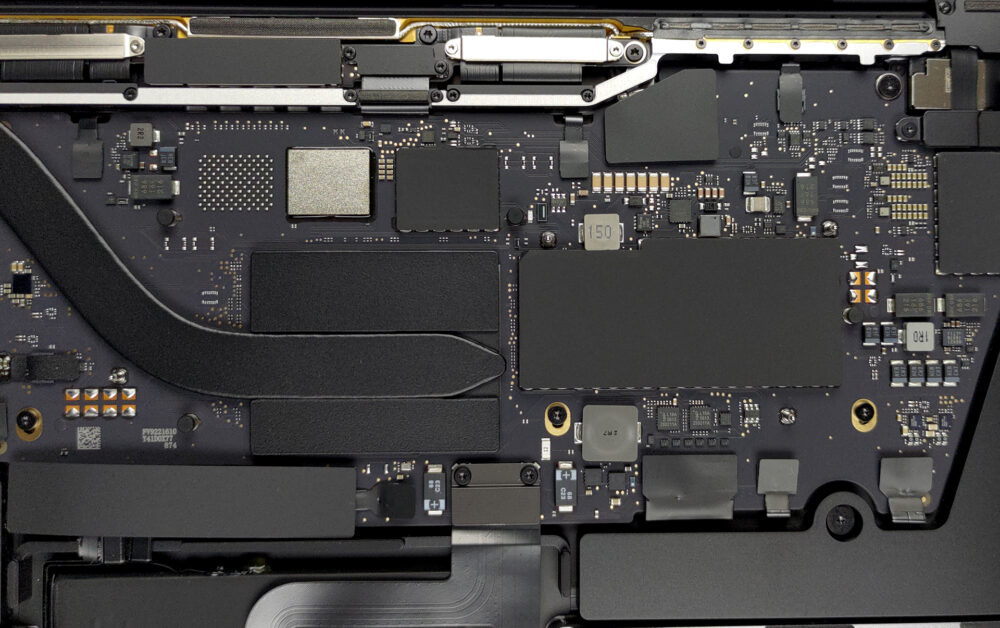 Cooling-wise, there is a single heat pipe, some heat spreaders on the RAM modules, and a rather small fan.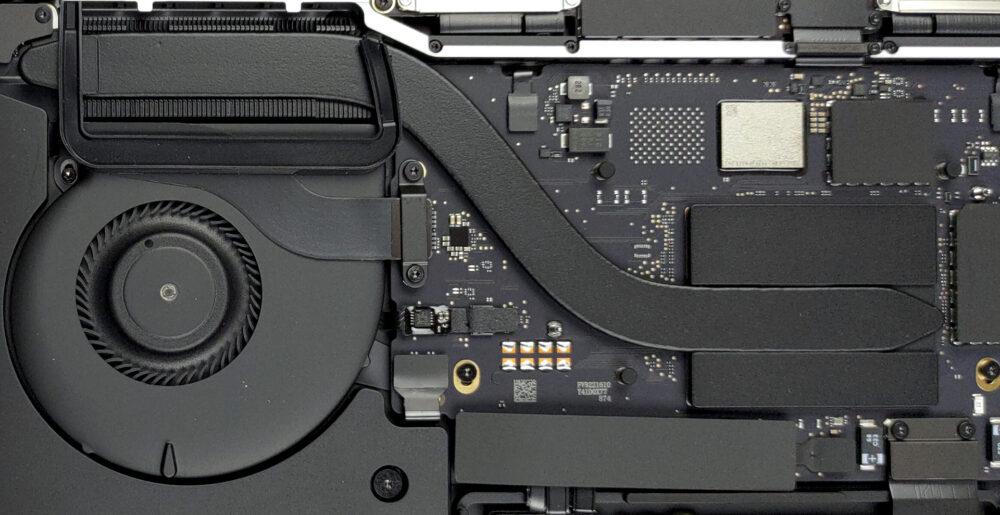 Display quality
Apple MacBook Pro 13 (2022) has a display with a 13.3″ (33.8 cm) diagonal and 2560 x 1600 resolution. Additionally, the screen ratio is 16:10, the pixel density – 227 ppi, their pitch – 0.11 x 0.11 mm. The screen can be considered Retina when viewed from at least 38 cm (from this distance, the average human eye can't see the individual pixels).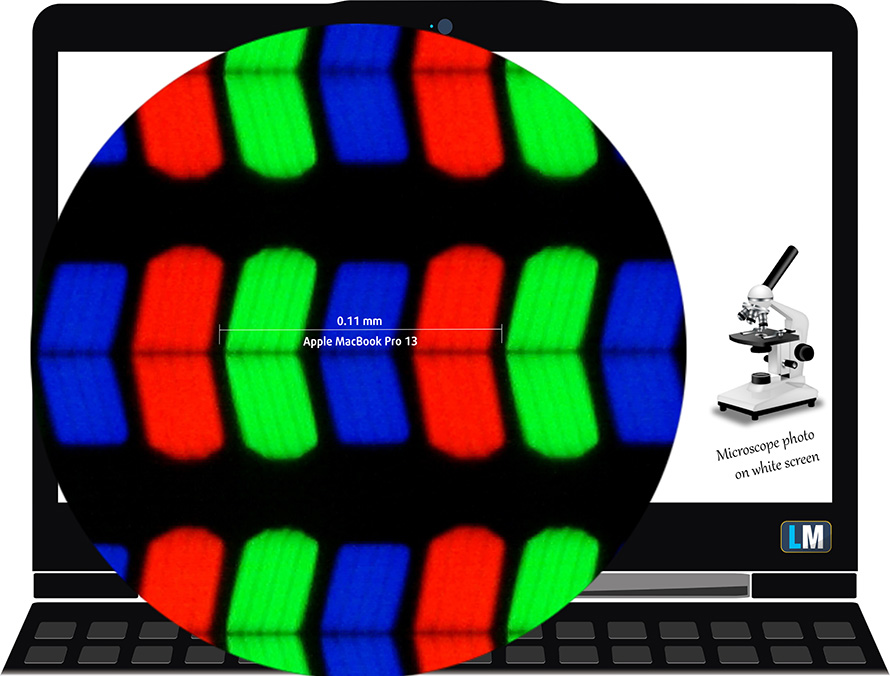 Its viewing angles are great. We have provided images at 45 degrees to evaluate quality.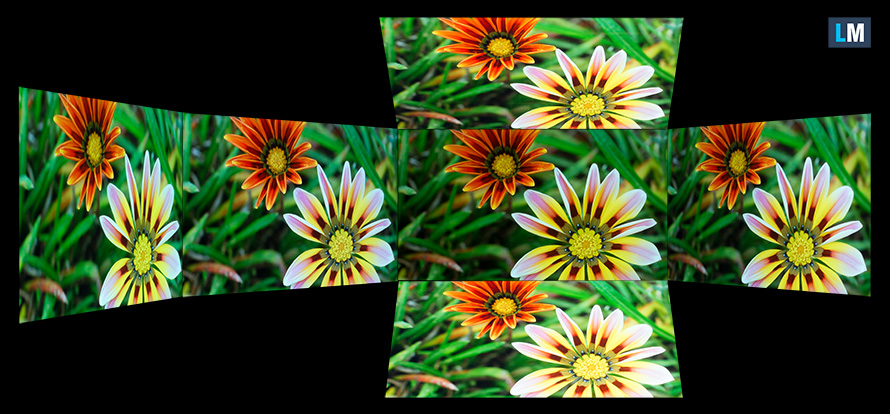 Also, a video with locked focus and exposure.
We measured a maximum brightness of 522 nits in the middle of the screen and 498 nits as an average across the entire area, with a maximum deviation of 9%. The Correlated Color Temperature on a white screen and at maximum brightness is 6750K ("True Tone" Off "Colour LCD" Profile) – slightly colder than the 6500K optimum for sRGB.
In the illustration below you can see how the display performs from a uniformity perspective.
Values of dE2000 over 4.0 should not occur, and this parameter is one of the first you should check if you intend to use the tablet for color-sensitive work (a maximum tolerance of 2.0 ). The contrast ratio is very good – 1530:1.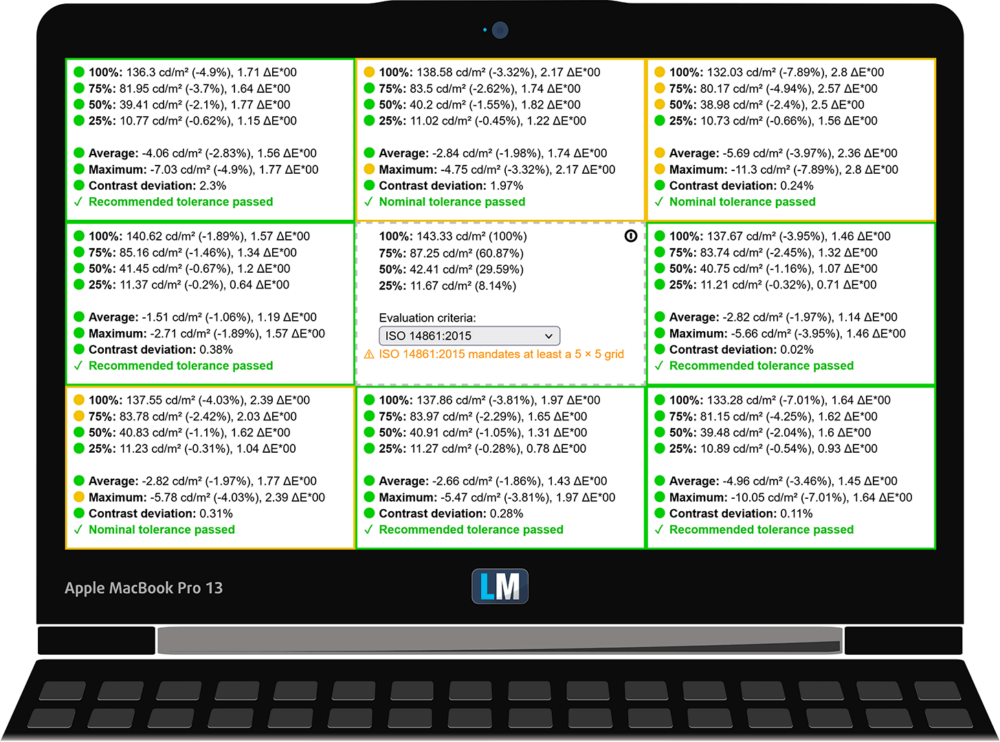 To make sure we are on the same page, we would like to give you a little introduction to the sRGB color gamut and the Adobe RGB. To start, there's the CIE 1976 Uniform Chromaticity Diagram that represents the visible specter of colors by the human eye, giving you a better perception of the color gamut coverage and the color accuracy.
Inside the black triangle, you will see the standard color gamut (sRGB) that is being used by millions of people on HDTV and the web. As for the Adobe RGB, this is used in professional cameras, monitors, etc for printing. Colors inside the black triangle are used by everyone and this is an essential part of the color quality and color accuracy of a mainstream device.
Still, we've included other color spaces like the famous DCI-P3 standard used by movie studios, as well as the digital UHD Rec.2020 standard. Rec.2020, however, is still a thing of the future and it's difficult for today's displays to cover that well. We've also included the so-called Michael Pointer gamut, or Pointer's gamut, which represents the colors that naturally occur around us every day.
The yellow dotted line shows Apple MacBook Pro 13 (2022)'s color gamut coverage.
Its display covers 100% of the sRGB/ITU-R BT.709 (web/HDTV standard) in CIE1976. Also, it covers 99% of the DCI-P3 color gamut. This is a prerequisite for a vibrant and punchy image.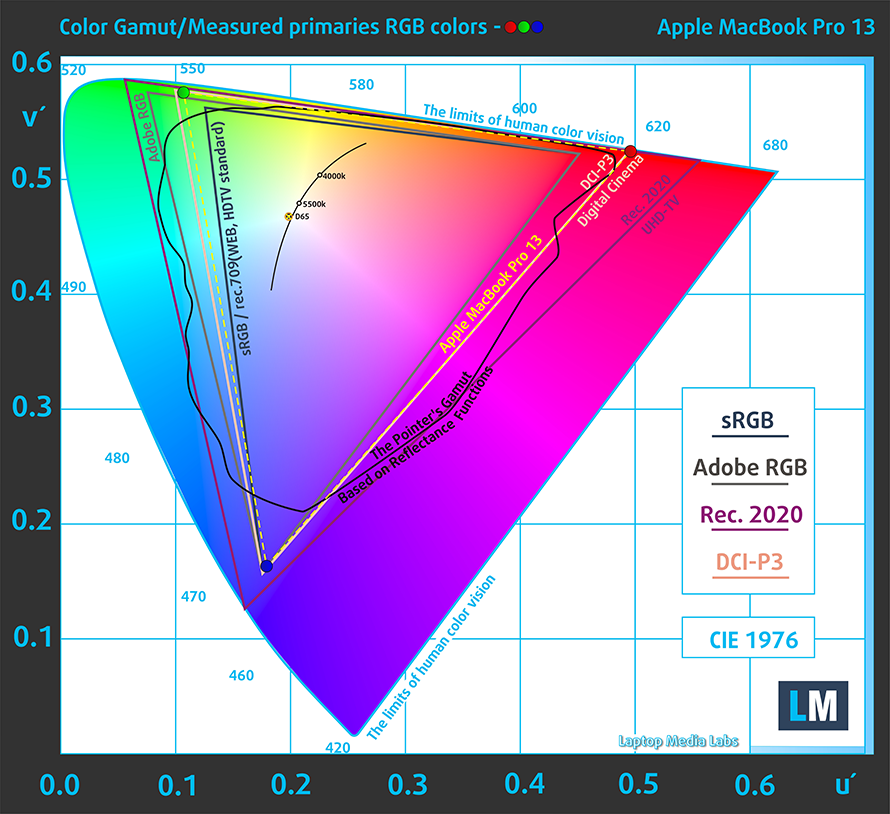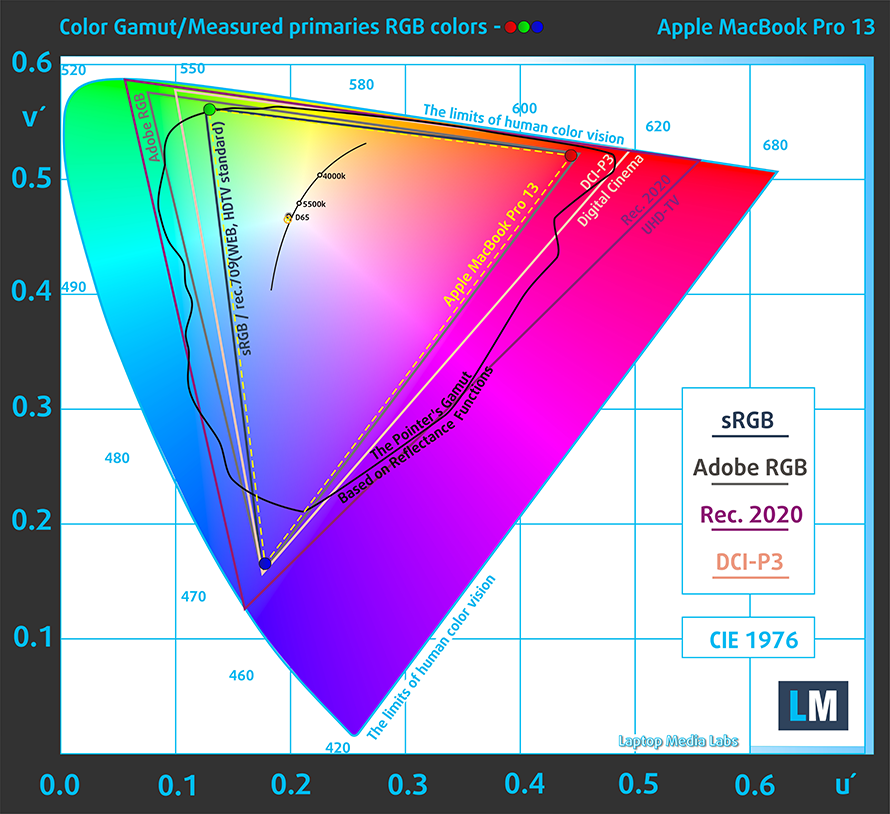 Response time (Gaming capabilities)
We test the reaction time of the pixels with the usual "black-to-white" and "white-to-black" method from 10% to 90% and vice versa.
We recorded Fall Time + Rise Time = 27 ms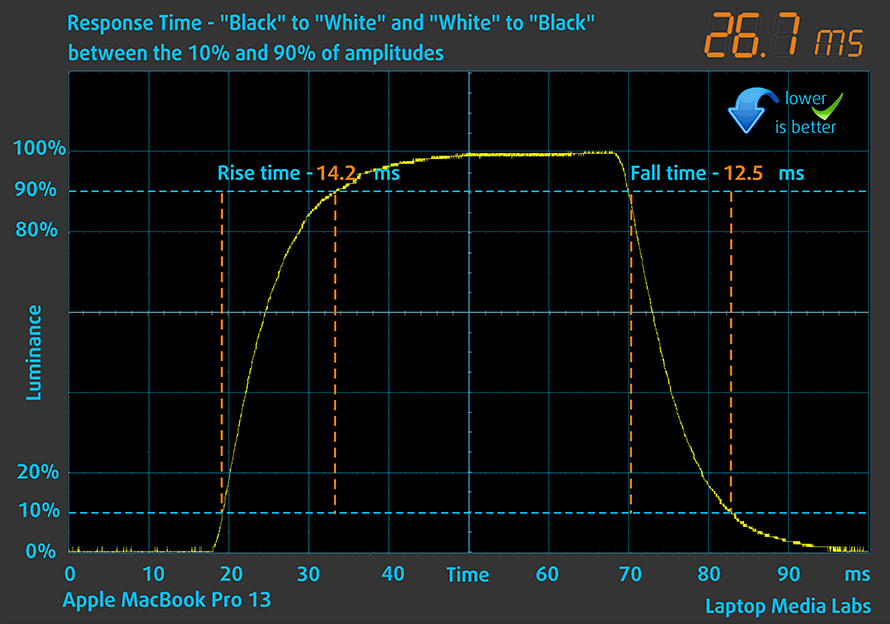 After that, we test the reaction time of the pixels with the usual "Gray-to-Gray" method from 50% White to 80% White and vice versa between 10% and 90% of the amplitude.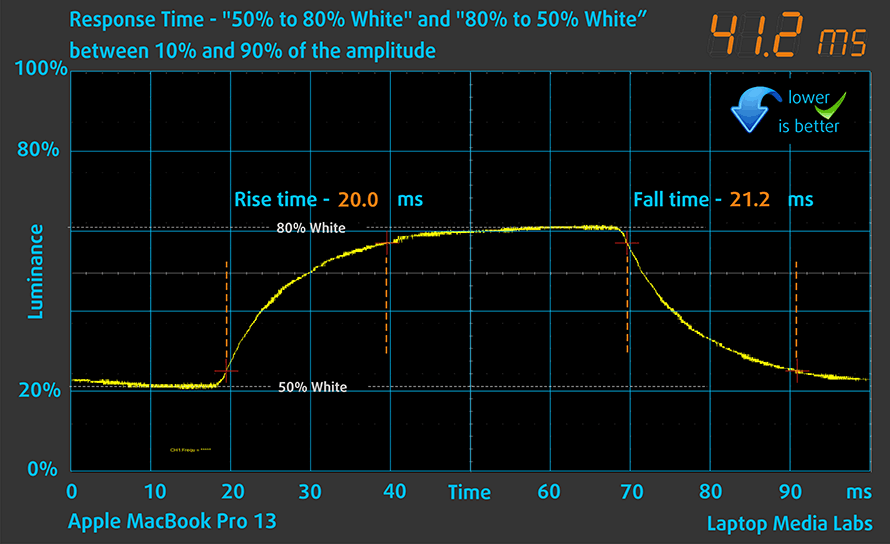 Health impact – PWM / Blue Light
PWM (Screen flickering)
Pulse-width modulation (PWM) is an easy way to control monitor brightness. When you lower the brightness, the light intensity of the backlight is not lowered, but instead turned off and on by the electronics with a frequency indistinguishable to the human eye. In these light impulses, the light/no-light time ratio varies, while brightness remains unchanged, which is harmful to your eyes. You can read more about that in our dedicated article on PWM.
Apple MacBook Pro 13 (2022)'s display doesn't use PWM for brightness adjustment, which makes it comfortable, and more importantly – safe, for continuous work.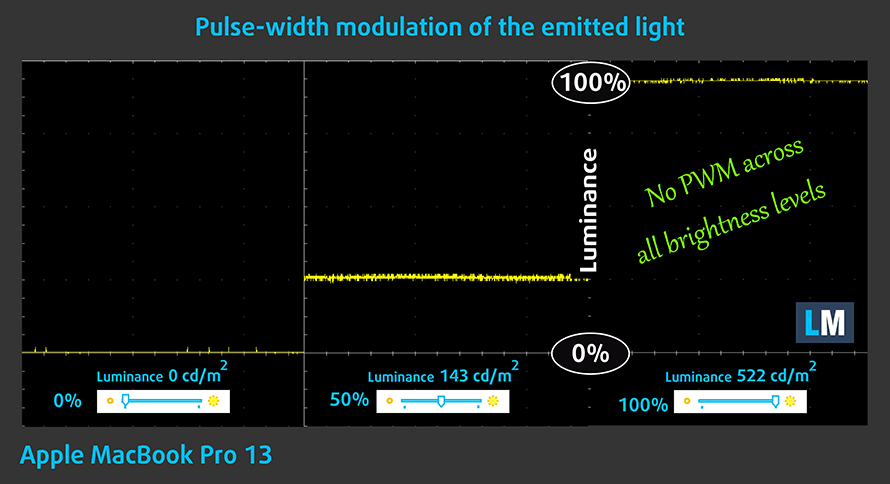 Gloss level measurement
Glossy-coated displays are sometimes inconvenient in high ambient light conditions. We show the level of reflection on the screen for the respective laptop when the display is turned off and the measurement angle is 60° (in this case, the result is 70.7 GU).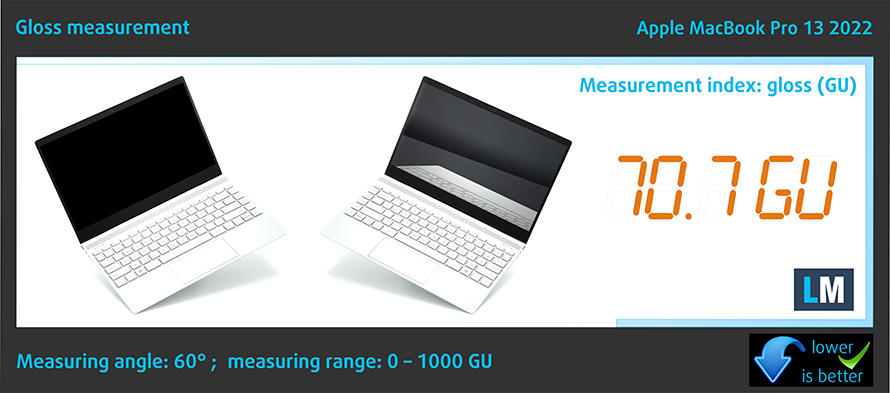 Storage
Weirdly, the 256GB SSD is showing 1466 MB/s of Write and 1523 MB/s Read speeds.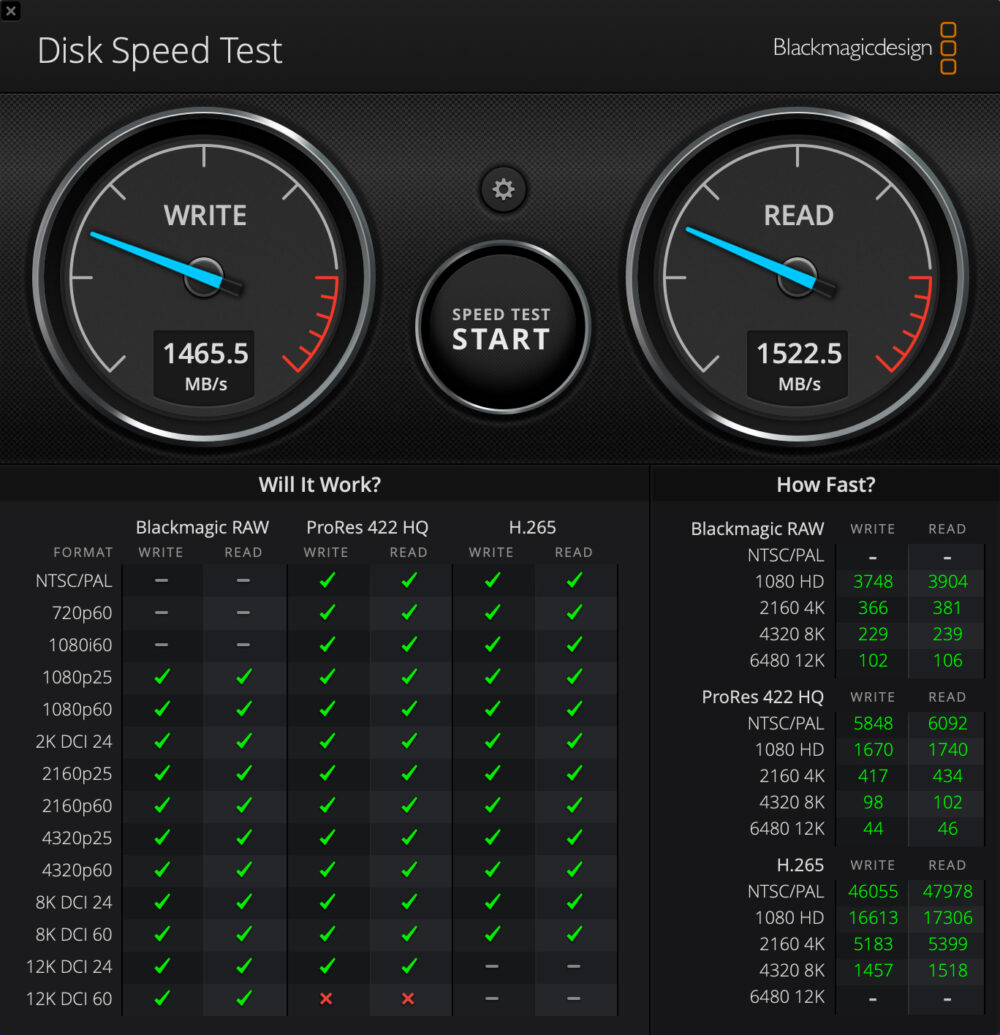 Battery
Now, we conduct the battery tests with the screen brightness adjusted to 120 nits, and all other programs turned off except for the one we are testing the notebook with. Apple clearly outdid itself with the efficiency of this machine. The 58.2Wh battery inside lasts for 28 hours and 20 minutes of Web browsing, or 19 hours and 40 minutes of video playback.
In order to simulate real-life conditions, we used our own script for automatic web browsing through over 70 websites.
For every test like this, we use the same video in HD.
CPU options
Obviously, the main event here is the new Apple M2 SoC. It is built on a 5nm node, and in the case of the MacBook Pro 13 (2022), there is one option – 8 processors and 10 graphics cores. It uses LPDDR5 memory that has a 100GB/s bandwidth.
Results are from the Cinebench 20 CPU test (the higher the score, the better)
| CPU Benchmarks | Cinebench R23 |
| --- | --- |
| Apple MacBook Pro 13 (2022, M2) | 8739 |
| Apple MacBook Pro 14 M1 Pro (8C/14C) | 9564 |
| Dell XPS 15 9510 | 11315 |
| Lenovo IdeaPad 5 Pro (14″) | 9905 |
| ASUS VivoBook Pro 14X OLED (M7400) | 12608 |
| CPU Benchmarks | single/multi Geekbench 5 |
| --- | --- |
| Apple MacBook Pro 13 (2022, M2) | 1933/8985 |
| Apple MacBook Pro 14 M1 Pro (8C/14C) | 1764/9955 |
| Apple MacBook Air M1 | 1732/7574 |
| Apple MacBook Pro 13 M1 | 1727/7564 |
| Apple iPad Pro 11 2020 | 1118/4636 |
There is quite a significant bump in performance, compared to the M1 chip. The new SoC is about 12% faster in single-core load, and 19% faster in multi-threaded applications.

GPU options
Apple claims that the M2 will offer a 35% faster GPU. For once, they were absolutely spot on, as the difference we saw in the GFXBenchmark is exactly 35%.
| | 3DMark Wildlife Extreme |
| --- | --- |
| Apple MacBook Pro 13 (2022, M2) | 6840 |
| Apple MacBook Pro 14 M1 Pro (8C/14C) | 9142 |
| Dell XPS 15 9510 [RTX 3050 Ti (45W)] | 8633 |
| MSI Sword 15 [RTX 3050 Ti (60W)] | 10618 |
| GPU Benchmarks | GFXBench Manhattan 3.0 (1080p offscreen) | GFXBench Manhattan 3.1 (1080p offscreen) | GFXBench Aztec Ruins OpenGL (1080p offscreen) | GeekBench 5 Compute OpenCL | GeekBench 5 Compute Metal |
| --- | --- | --- | --- | --- | --- |
| Apple MacBook Pro 13 (2022, M2) | 552 fps | 370 fps | 296 fps | 35262 | 38692 |
| Apple MacBook Pro 14 M1 Pro (8C/14C) | 818 fps | 496 fps | 394 fps | 35262 | 38692 |
| Apple MacBook Air M1 | 404 fps | 273 fps | 214 fps | – | – |
| Apple MacBook Pro 13 M1 | 407 fps | 274 fps | 215 fps | – | – |
Temperatures and comfort
Max CPU load
In this test we use 100% on the CPU cores, monitoring their frequencies and chip temperature. The first column shows a computer's reaction to a short load (2-10 seconds), the second column simulates a serious task (between 15 and 30 seconds), and the third column is a good indicator of how good the laptop is for long loads such as video rendering.
Average core frequency (base frequency + X); CPU temp.
CPU temp.
| Apple M1/M1 Pro | 0:02 – 0:10 sec | 0:15 – 0:30 sec | 10:00 – 15:00 min |
| --- | --- | --- | --- |
| Apple MacBook Pro 13 (2022, M2) | 72°C | 86°C | 91°C |
| Apple MacBook Pro 13 (Late 2020, M1) | 38°C | 48°C | 71°C |
Stability
| Apple M1/M1 Pro | First run | Middle run | Last run | Amount of runs | Score |
| --- | --- | --- | --- | --- | --- |
| Apple MacBook Pro 13 (2022, M2) | 8705 | 7765 | 8700 | 19 | 8261 |
| Apple MacBook Pro 13 (Late 2020, M1) | 7591 | 7659 | 7631 | 18 | 7648 |
We saw a weird dip in the scores produced by this laptop. In the middle of the test, there were three or four results, which returned a value of about 7700. However, the performance went back to the levels from the beginning. This made the final result almost match that of the beginning.

Comfort during full load
During these tests, the M2 was running pretty warm. The outside of the machine measured around 41°C, while the fan is fairly quiet, even when it spins with its full 7000+ RPM.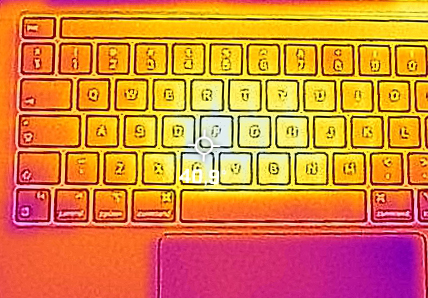 Verdict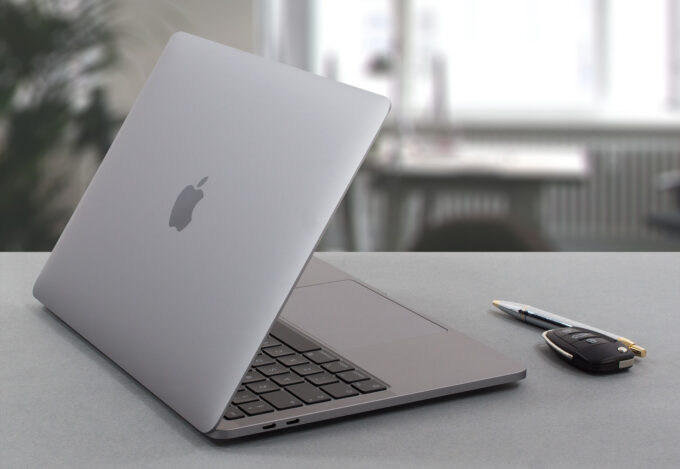 The main talking point in this review is the new Apple M2 chip. Even more than the laptop itself, since the MacBook Pro 13 hasn't changed whatsoever for the last couple of years. Of course, we don't say that the machine has a poor build quality or anything. In fact, it is one of the best machines in terms of rigidity that money can buy. However, reusing old hardware (in terms of body panels and chassis) feels a bit like cheating.
Apple MacBook Pro 13 (2022)'s display has a high resolution, comfortable viewing angles, good contrast ratio, and an almost full DCI-P3 color coverage. This makes the image really attractive, while the color profile presets will help designers and photographers to utilize an accurate image representation. On the other hand, the new MacBook Air looks promising with its 13.6-inch offering.
However, wait 'till you hear about the battery life… We got 28 hours of Web browsing or nearly 20 hours of video playback on a single charge. This makes the MacBook Pro 13 (2022) the absolute battery life champ.
Ultimately, it is the ease of use that makes the deal for most Apple users. In our opinion, you shouldn't avoid this unit just because it has a different OS and you are not "used to it". In fact, most of the stuff around the Mac OS just makes sense.
What doesn't make sense though, is the port selection, which consists of only two Thunderbolt connectors, and an audio jack. The upgrade options are equally limited. No! They are even more limited – you basically don't have a way to upgrade your laptop's memory or storage. Unless you have soldering skills and you are not afraid of bricking your laptop, you are left with what you get out of the box.
So think smart, don't rush into buying this laptop. Indeed, it is a better version of the M1 option, but we advise you to wait for the new Air to release.
You can check the prices and configurations in our Specs System: https://laptopmedia.com/series/apple-macbook-pro-13-2022/
Pros
Apple M2 offers between 12% and 18% more CPU performance and 35% more GPU performance over M1
The Touch ID is quick and accurate, while the Touch Bar feels more usable than ever
Full sRGB and DCI-P3 coverage
Supports Wi-Fi 6 and features two Thunderbolt ports
Doesn't use PWM
Great build quality
Record-breaking battery life
Loud and dynamic speakers
Cons
I/O is limited to two Thunderbolt ports
Soldered RAM and storage