ASUS ROG G551JW (GeForce GTX 960M) review – despite the obvious advantage of the G501, the G551 proves that it's not obsolete yet

We continue the list of reviews on ASUS ROG products with the refreshed G551 series laptops that feature the new GeForce GTX 960M GPU which will add a marginal performance over last year's model and a bit better energy efficiency. Unlike most refreshed notebooks, this one also has a slightly better screen than 2014's model, but this might be more of a personal opinion on the matter. You will find out why in the "Display" section below.
Before we begin, we would like to question the existence of the G551 notebook since the release of the G501. Both notebooks have the same powerful hardware, but the G551 is bulkier and heavier. On the other hand, the G551 could be considered as more affordable variant since the price tag is significantly lower and the cooling system should be a bit better because of the extra airflow due to the bigger body. However, we can't be sure unless we take a closer look of what ASUS has to offer with this machine.
Check the current price of ASUS ROG G551 here: Buy from Amazon.com (#CommissionsEarned)
Contents
Video review
Retail package
As usual, the notebook comes in a red and black box with the ROG logo on top of it. Inside you will find the AC charging cable, adapter, user manuals, DVD with drivers, and a small tie for easier cable management.
Design and construction
As we said earlier, this notebook is heavier and bulkier than the G501, but it doesn't stay too far behind when it comes to design and build quality. ASUS has used mainly polycarbonate with aluminum touches here and there.
Starting with the lid that's made of brushed aluminum, it's somewhat thin and has the usual ASUS ROG logo in the center. The last one is backed up by LED backlight when the notebook is on. Going around the top cover, you will see the 15.6-inch Full HD display, the webcam, integrated microphone, and another ASUS logo at the bottom. The bottom of the chassis, however, isn't featuring any aluminum parts – just plain plastic. Near the back is located the battery with a little lock switch preventing it from falling while the front holds the main service cover. Under it, you will find the most common upgrade options – HDD/SSD, M.2 SATA SSD (2280, M&B type key) slot and RAM chips.
Moving away from the back and on the sides of the machine, the plastic is still the main material. The left side contains the DC charging port, HDMI, mini DisplayPort, LAN and two USB 3.0 ports along with the main heat dispersing grill. The right side, however, has the optical drive, one USB 3.0 port and the 3.5 mm jack for headphones or headphones with microphone.
The interior of the notebook follows the same design signature with red chamfered aluminum edges and matte plastic around the keyboard. Unfortunately, the plate, just like the top lid, is prone to smudges and fingerprints. Right above the keyboard are the stereo loudspeakers from Bang & Olufsen Sonic Master. Nonetheless, we would like to comment a bit more on the keyboard. The keys are just about the same as the ones we saw in the GL552 and N751 with cool red LED backlight, which is a little dim, but still provides enough light when you need it. You can adjust the brightness quickly with the "Fn"+ F3 or F4 keys, but you might want to leave it at maximum. The keyboard is comfortable, keys have enough travel and the "WASD" keys are easily distinguished by the red color around them.
The touchpad, on the other hand, felt a bit wobbly at times, and you can even hear a strange clicky sound when touching it. But fortunately, we didn't find this to be getting in the way. It's responsive, mouse click work well (well, most of the times) and it's fairly stable.
So the N551 has the same design signature as the G771 notebook but in a smaller form factor. It inherits all of the advantages and disadvantages of its big brother, and there are no special features that come with it. We are happy with the design quality with our only complaint about leaving smudges easily, and it's thick profile (32.2 mm) and big weight (2.7 kg). Most of its competitors (even including the G501) carry the same hardware but in a significantly smaller chassis. We do, however, suspect that this machine will handle high temperatures better than its thin rivals.

Display and sound
ASUS G551JW's display has been changed from last year's model with LG AH-IPS panel with a model number (LP156WF4-SPH1). The diagonal is 15.6″ and the resolution is 1920 x 1080 pixels leading to a pixel density of 141 PPI. Also, the space between each pixel is 0.18 x 0.18.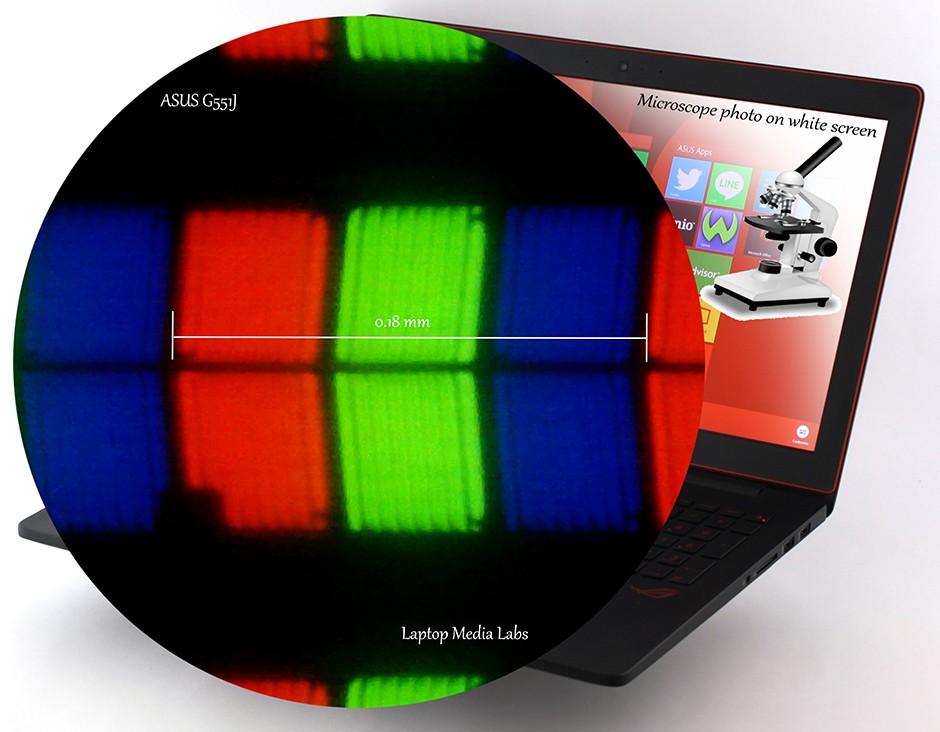 You can see how the image quality changes when viewed from 45-degree angle.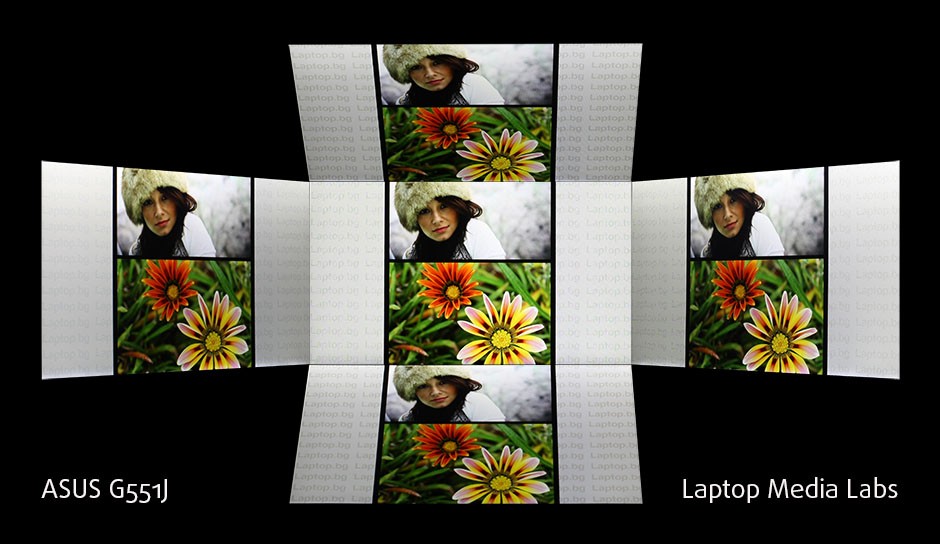 The maximum brightness we were able to measure is 291 cd/m2 with a deviation of 12% (insignificant). The brightness provided by the panel would be suitable even for bright rooms, but it will not remain visible under direct sunlight. The color temperature is 5916K – close to the optimal one of 6500K (D65). There is no abnormal deviation on the surface.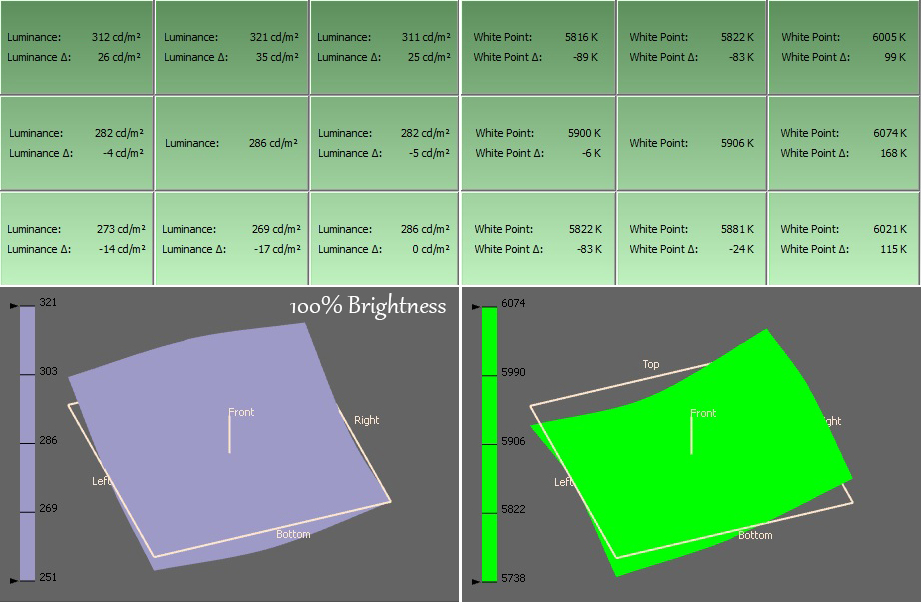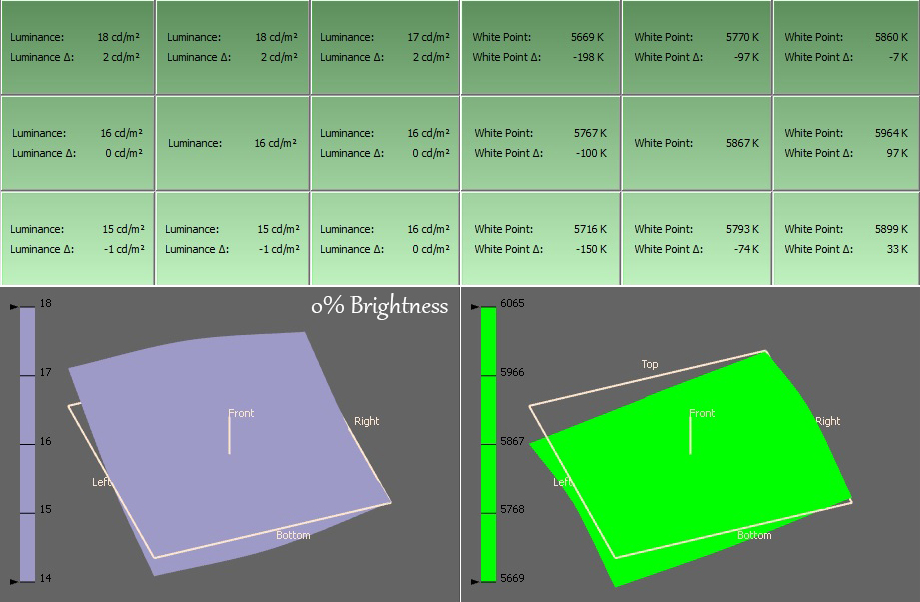 Color gamut coverage (CIE)
G551's display covers 84% of the sRGB and 63% of the Adobe RGB color gamut.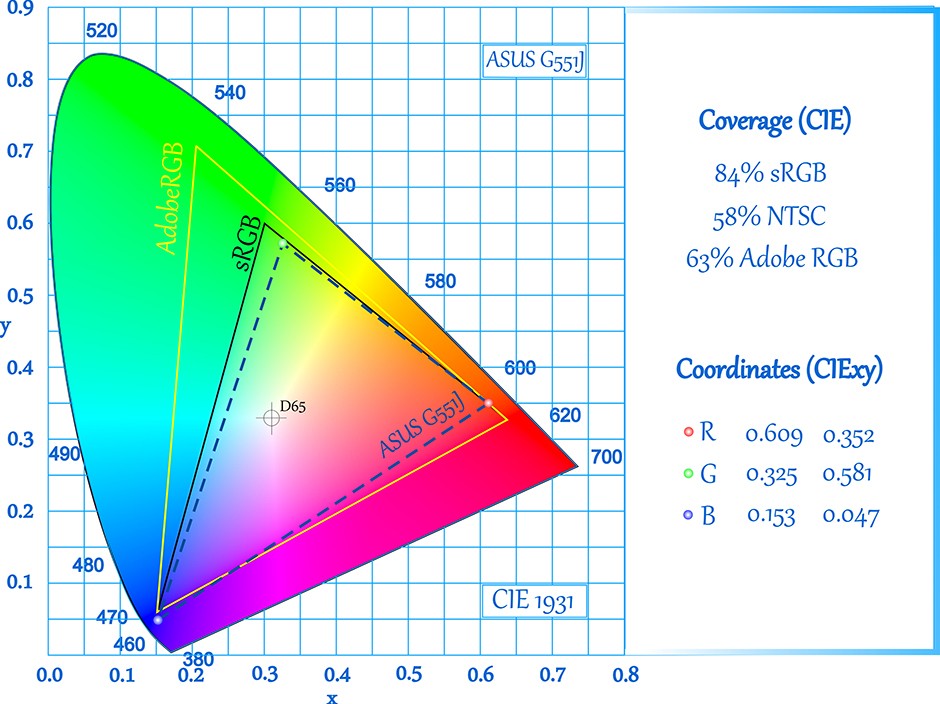 The gamma curve has a small deviation going really close to the optimal one – 2.2.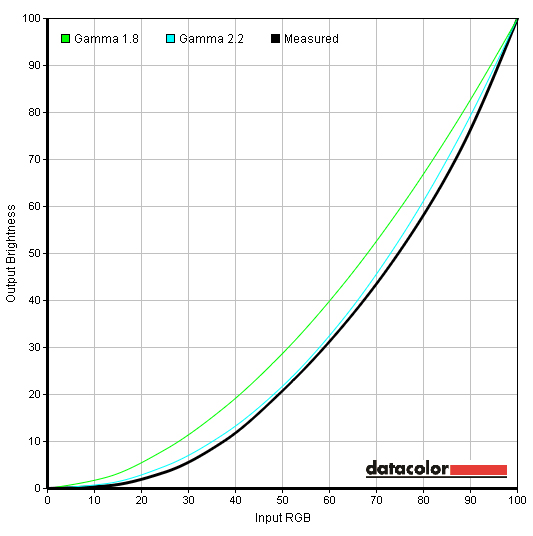 Color reproduction
We calibrated the display to reach 140 cd/m2 (48%) brightness with two different calibrators.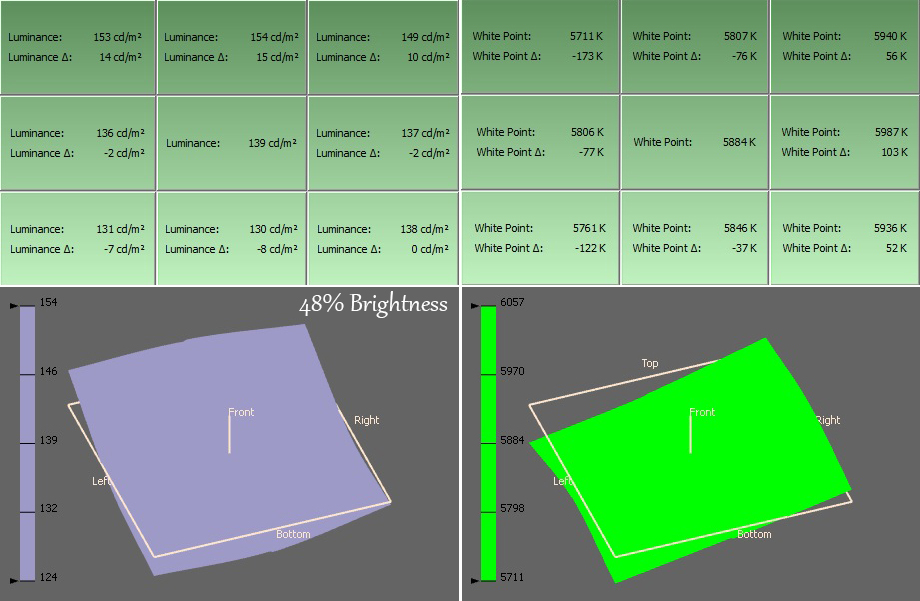 We were also aiming for 6500K color temperature.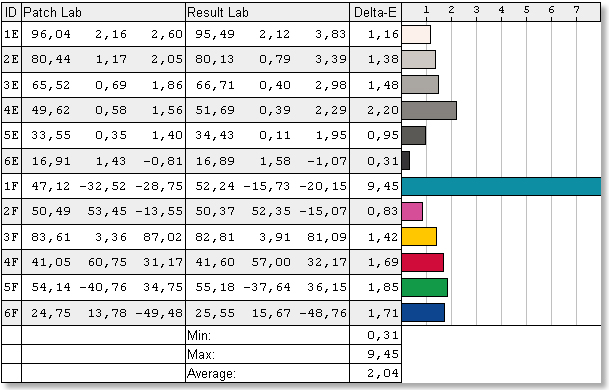 The next graph is after the calibration.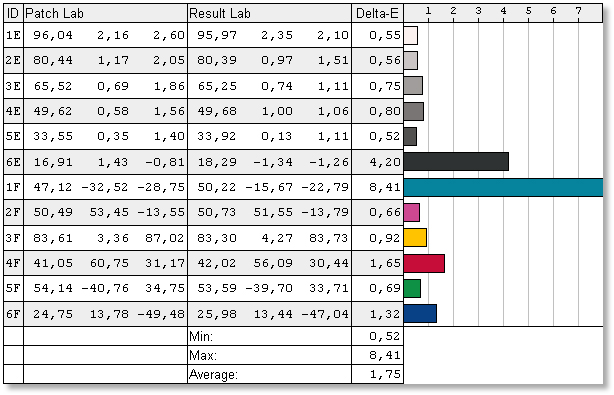 The results can be seen on the color map below.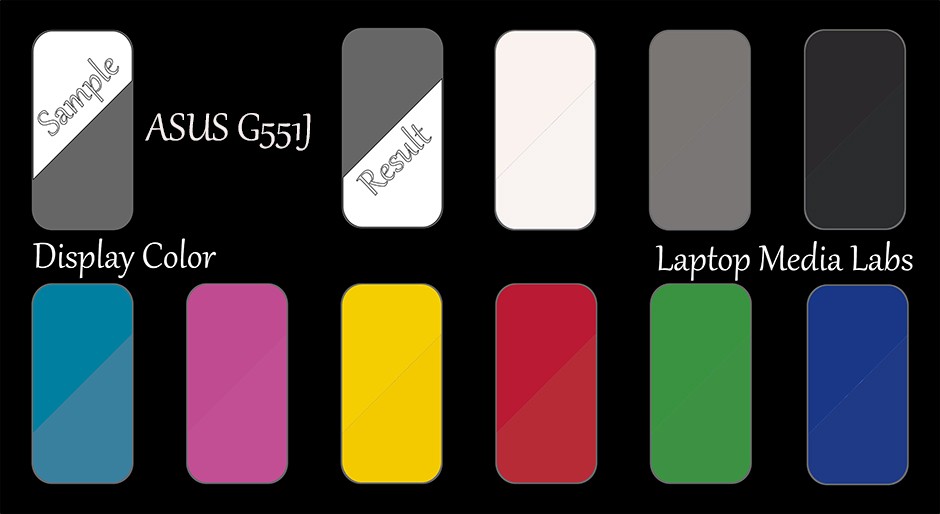 This time we used i1Display Pro for calibration, again with a color temperature equal to 6500K.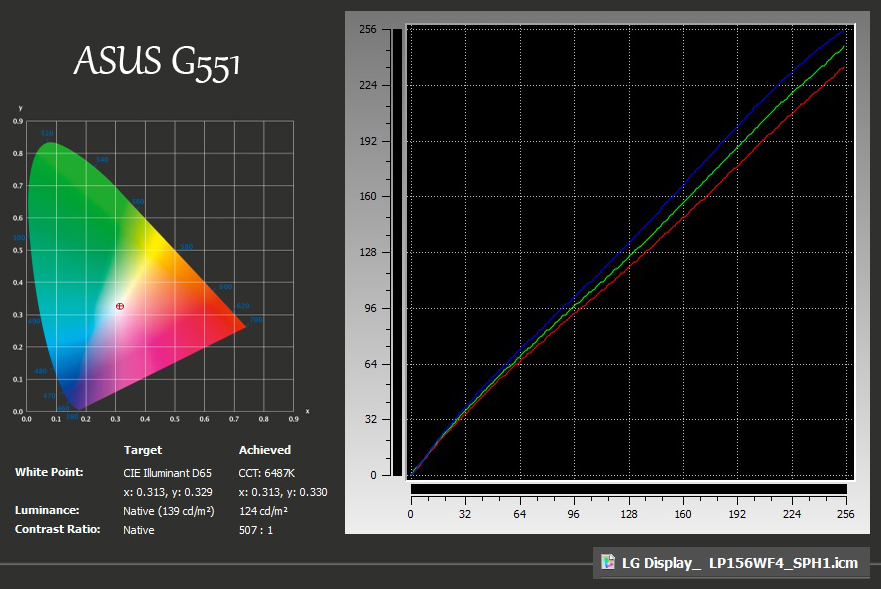 After calibration, the average DeltaE(76) is 1.75, and the contrast is 507:1.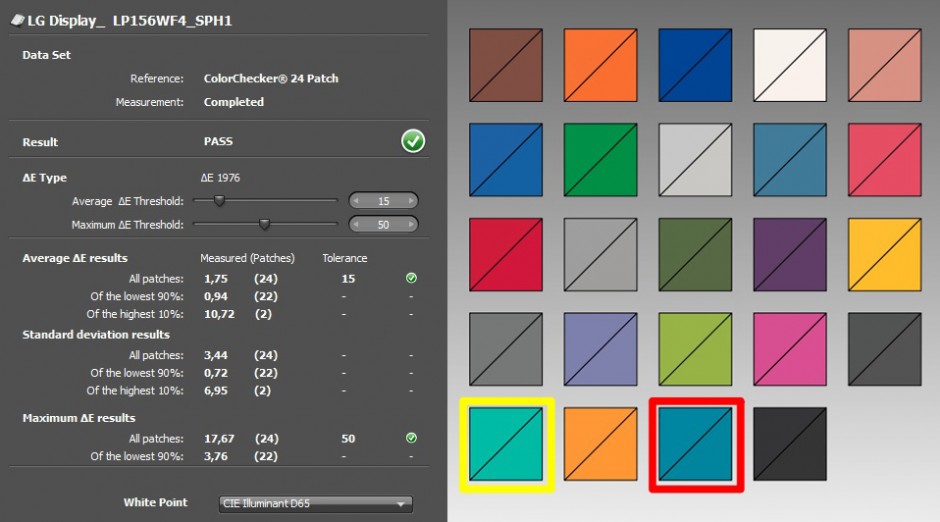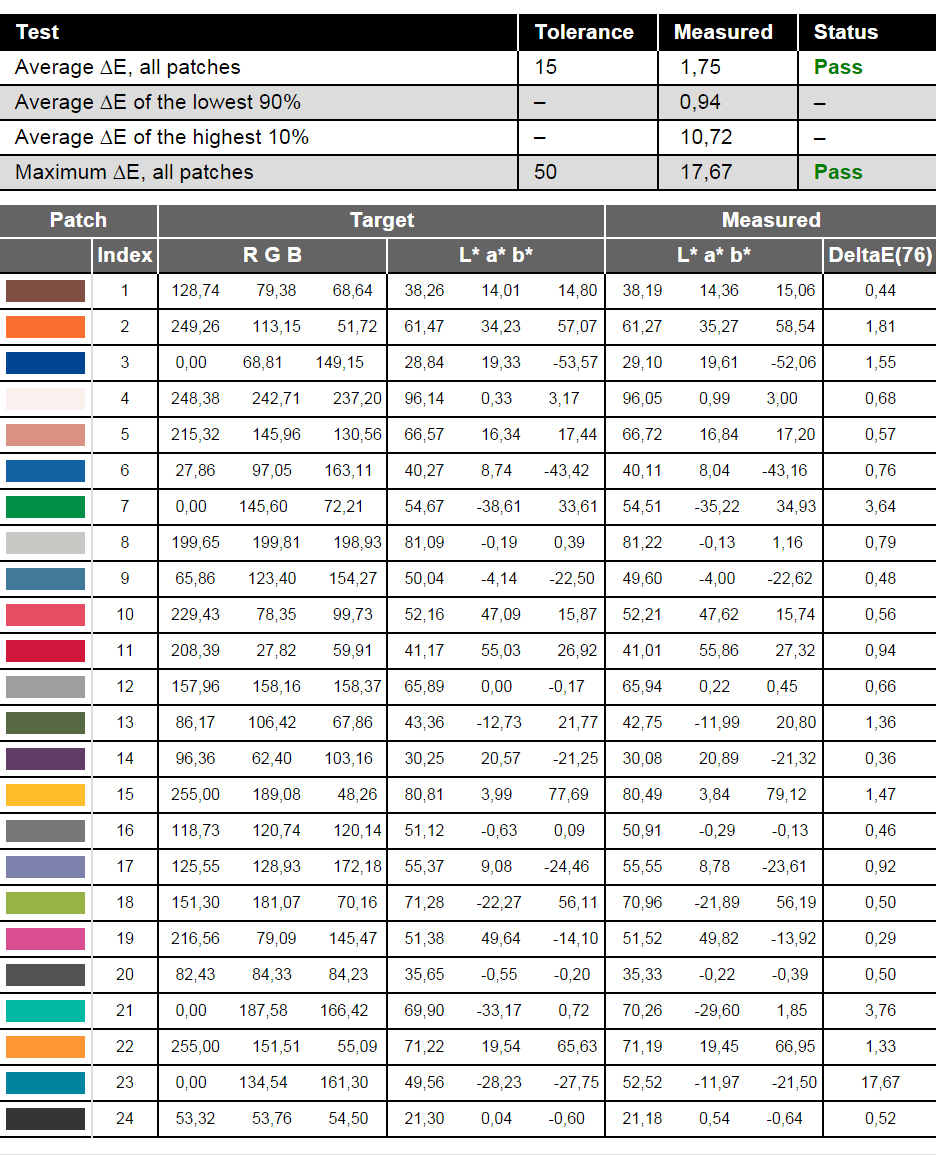 Below you will see another profile, but this time with its native color temperature.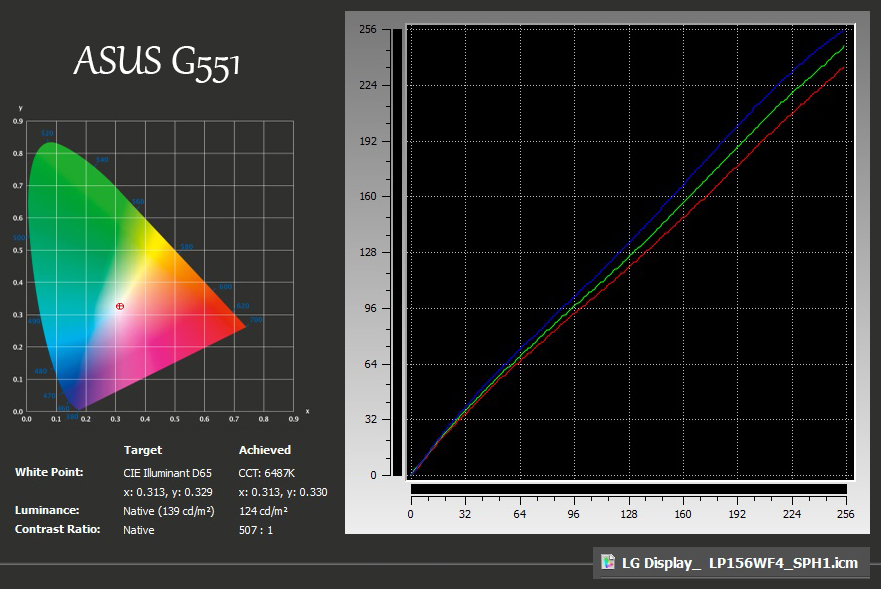 The contrast ratio is 800:1 and DeltaE(76) is 1.31.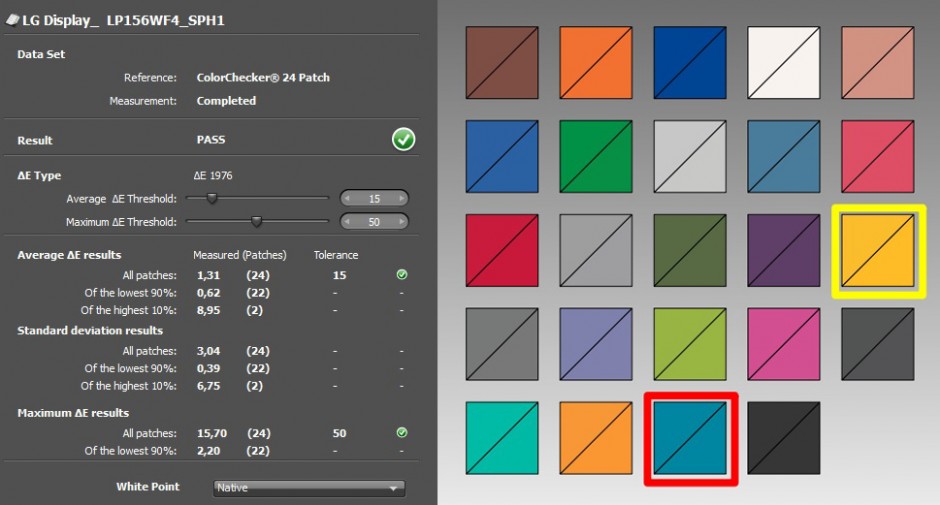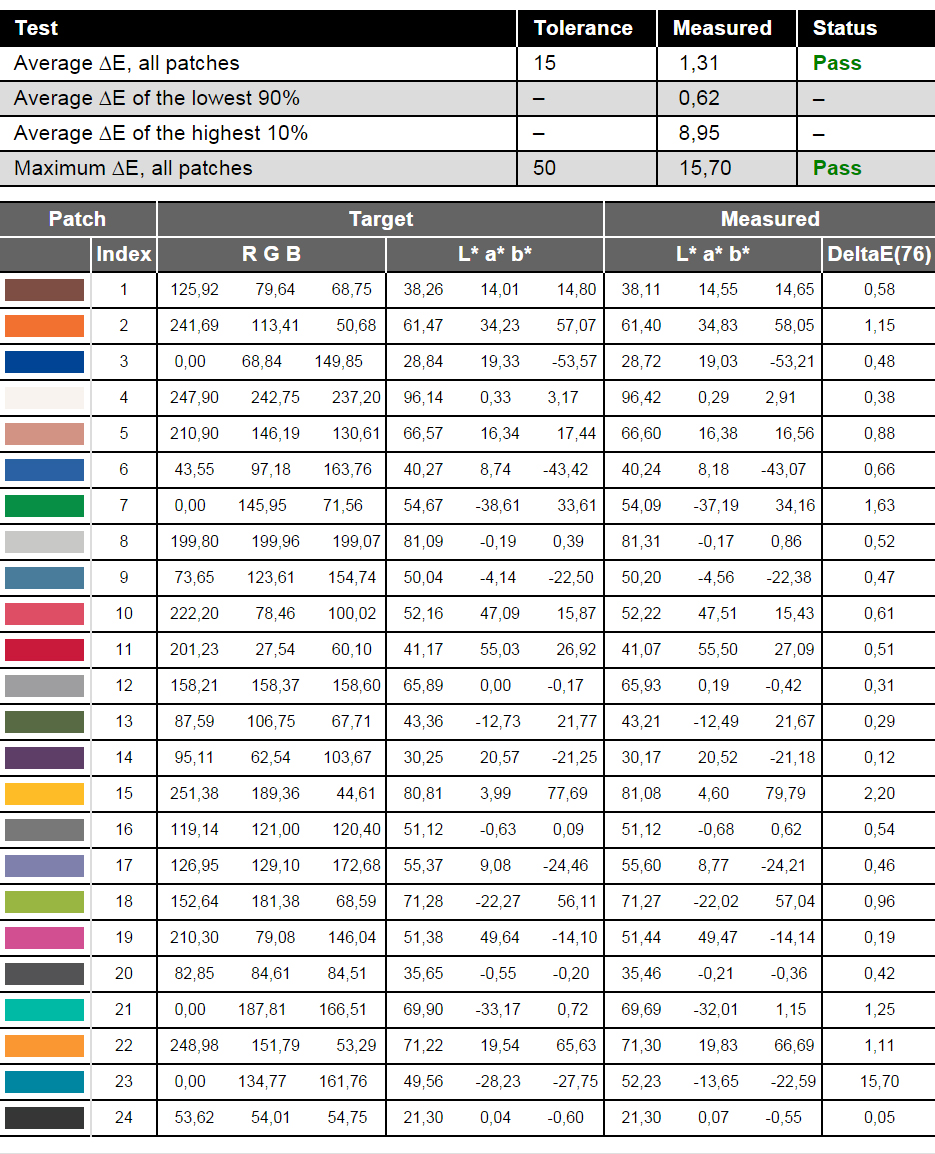 Pulse-width modulation (PWM, Screen flickering)
Unlike last year's model, this one features an IPS panel manufactured by LG that does not emit aggressive light or simply put – screen flickering. PWM was not recorded across all brightness levels.

Gaming capabilities (Response time)
We recorded the refresh time of the pixels from black to white and white to black for 10 to 90%. So we were able to measure Fall Time + Rise Time = 31 ms, which is more than three times the response time a TN panel would reach. But the TN panel cannot be compared to an IPS panel in terms of image quality.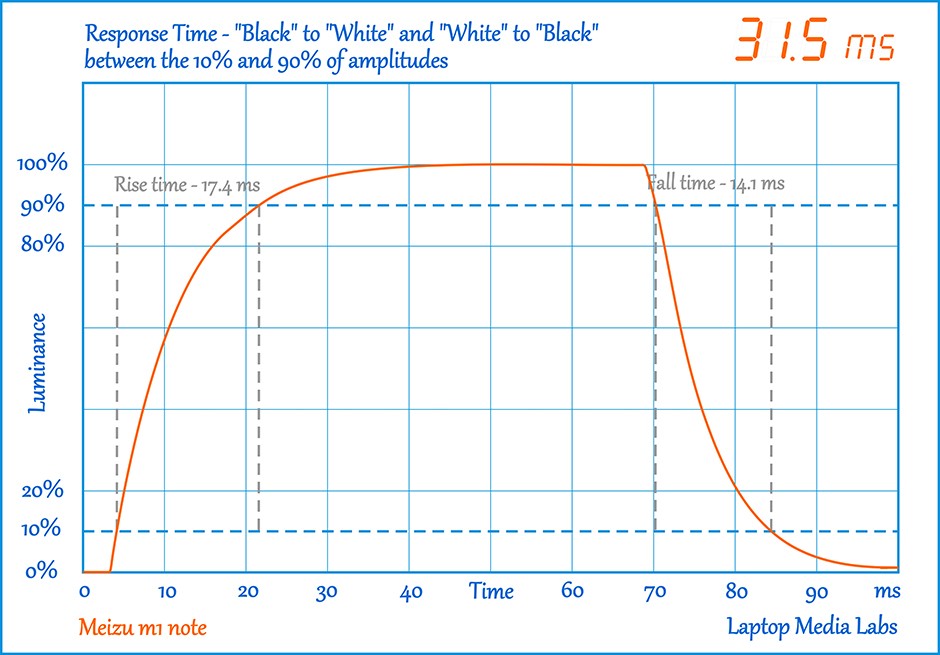 Conclusion
The new panel provided with the ASUS G551 scores a bit worse than its predecessor in terms of image quality, but we didn't record any PWM (screen flickering) across all brightness levels. This can be considered as user-friendly, and it will not cause eye fatigue. However, you will be pleased with the color accuracy, viewing angles, relatively good contrast ratio, and high maximum brightness. On the other hand, gamers may see the display as "not good enough" due to the slow response time, but keep in mind that this could be seen only by hardcore gamers and more in particular – when playing first-person shooter games.
Screen compariosn
If we assume a distance of 58cm (~23in) between the human eye and the notebook monitor, then normal (20/20) vision would require a pixel density of at least 150ppi in order to interpret an image as perfectly detailed.
Laptop
Results
Result
difference
Price
Price
difference
ASUS ROG G551JW (GeForce GTX 960M) 15.6-inch, LG, 1920 x 1080 pixels
141
ASUS ROG G501 15.6-inch, Samsung, 1920 x 1080 pixels
141
Lenovo Y50 15.6-inch, LG, 1920 x 1080 pixels
141
Acer Aspire V15 Nitro (VN7-591G, 960M) 15.6-inch, LG, 1920 x 1080 pixels
141
Higher panel brightness is of key importance for visual comfort when working outside or in a brightly lit room.
Laptop
Results
Result
difference
Price
Price
difference
ASUS ROG G551JW (GeForce GTX 960M) 15.6-inch, LG, 1920 x 1080 pixels
292
ASUS ROG G501 15.6-inch, Samsung, 1920 x 1080 pixels
322
+10.27%
Lenovo Y50 15.6-inch, LG, 1920 x 1080 pixels
235
-19.52%
Acer Aspire V15 Nitro (VN7-591G, 960M) 15.6-inch, LG, 1920 x 1080 pixels
300
+2.74%
Delta E is a CIE measurement unit of color difference. Higher values indicate that the display produces less accurate colors. (lower results are desirable).
Laptop
Results
Result
difference
Price
Price
difference
ASUS ROG G551JW (GeForce GTX 960M) 15.6-inch, LG, 1920 x 1080 pixels
1.31
ASUS ROG G501 15.6-inch, Samsung, 1920 x 1080 pixels
3.48
+165.65%
Lenovo Y50 15.6-inch, LG, 1920 x 1080 pixels
1.47
+12.21%
Acer Aspire V15 Nitro (VN7-591G, 960M) 15.6-inch, LG, 1920 x 1080 pixels
1.24
-5.34%
The sRGB color gamut, introduced as a standard for the Web, shows the percentage of colors used on the Web that can be displayed on the screen of the device being tested (higher values are better).
Laptop
Results
Result
difference
Price
Price
difference
ASUS ROG G551JW (GeForce GTX 960M) 15.6-inch, LG, 1920 x 1080 pixels
84
ASUS ROG G501 15.6-inch, Samsung, 1920 x 1080 pixels
94
+11.9%
Lenovo Y50 15.6-inch, LG, 1920 x 1080 pixels
64
-23.81%
Acer Aspire V15 Nitro (VN7-591G, 960M) 15.6-inch, LG, 1920 x 1080 pixels
91
+8.33%
Sound
The sound quality from the loudspeakers is good covering frequencies from +/-6 dB.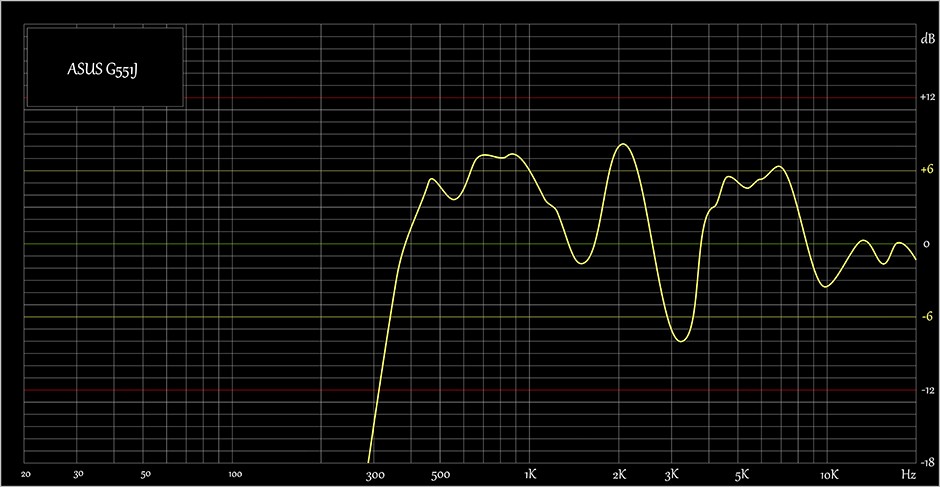 Specs sheet
The technical specifications listed below are for the current model we've tested and may vary depending on your region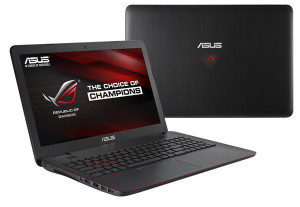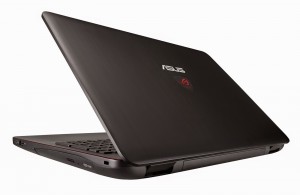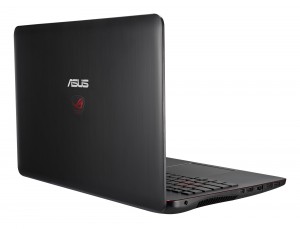 Processor
Intel Core i7-4720HQ (4-core, 2.60 – 3.60 Ghz, 6MB cache)
RAM
8GB (1x 8192MB) – DDR3, 1600GHz
Graphics card
NVIDIA GeForce GTX 960M (2GB GDDR5)
HDD/SSD
1TB HDD (7200rpm)
Display
15.6-inch (39.62 cm.) – 1920×1080 (Full HD), IPS matte
Optical drive
DVD burner
Connectivity
LAN 10/100/1000 Mbps, Wi-Fi 802.11a/g/n, Bluetooth 4.0
Other features

3x USB 3.0
built-in webcam
built-in microphone
2x 3.5 mm jack for headphones and external microphone
LAN
HDMI
VGA
card reader (SD, MMC, MS)
Sonic Master loudspeakers
keyboard LED backlight
mini DisplayPort

Battery
6-cell 5000 mAh (52Wh) Li-Polymer Battery
Thickness
32.2 mm (1.27″)
Weight
2.6 kg (5.95 lbs)
ASUS ROG G551 configurations
[ad_728]
Software
For the writing of this review, we used Windows 8.1 (64-bit) and all tests were conducted on this OS. If you need to perform a clean install of Windows 8.1, you can find all the needed drivers here: http://www.asus.com/Notebooks_Ultrabooks/G551JW/HelpDesk_Download/

Battery

For a gaming notebook packed with serious horsepower under the hood, we cannot expect a decent battery life. However, we got some pretty good readings from our battery tests that indicated a slightly better battery performance than its competitors. The G551 uses a 56Wh / 5000 mAh battery manufactured by Simplo Technologies with a model number of LC32LG126Q-8. We ran the usual tests with the same conditions – Wi-Fi turned on, Bluetooth is off, power saver is on, and screen brightness is set to 120 cd/m2.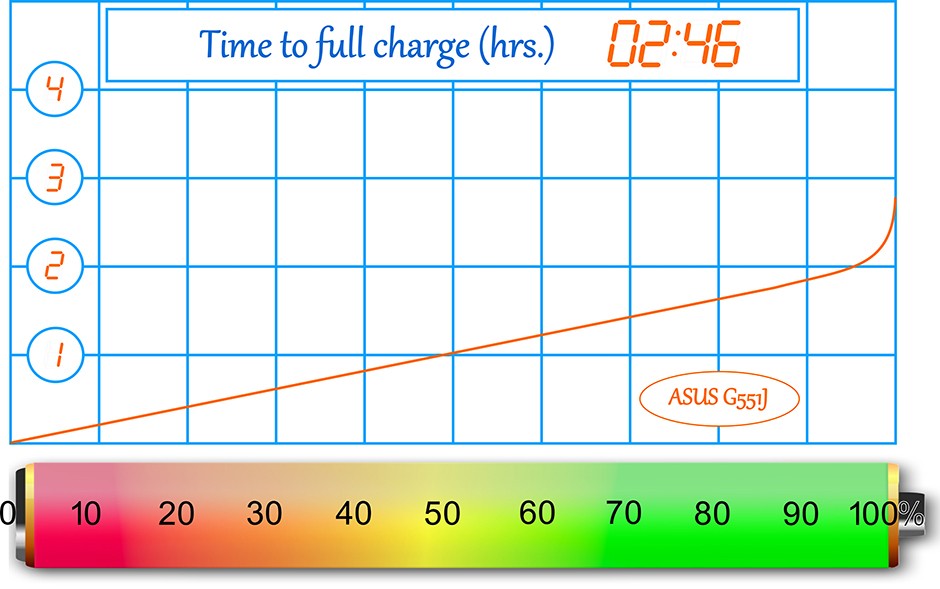 Web browsing
In order to simulate real-life conditions, we used our own script for automatic web browsing through over 70 websites.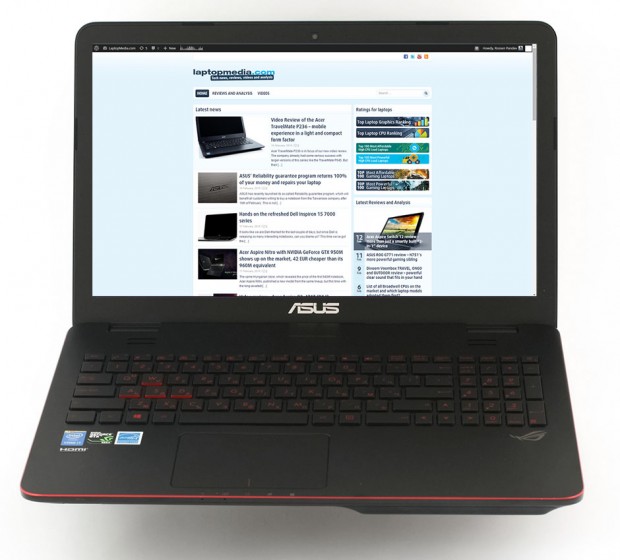 Surprisingly good result for a gaming notebook – 273 minutes (4 hours and 33 minutes).
Watching a movie
For every test like this, we use the same video in HD.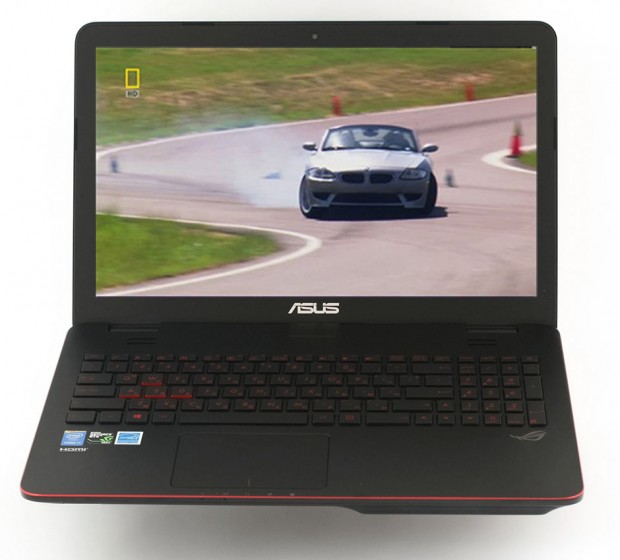 Similar result here – 235 minutes (3 hours and 55 minutes).
Gaming
For accurate simulation, we used the Metro Last Light benchmark running on a loop with graphic settings set to minimum.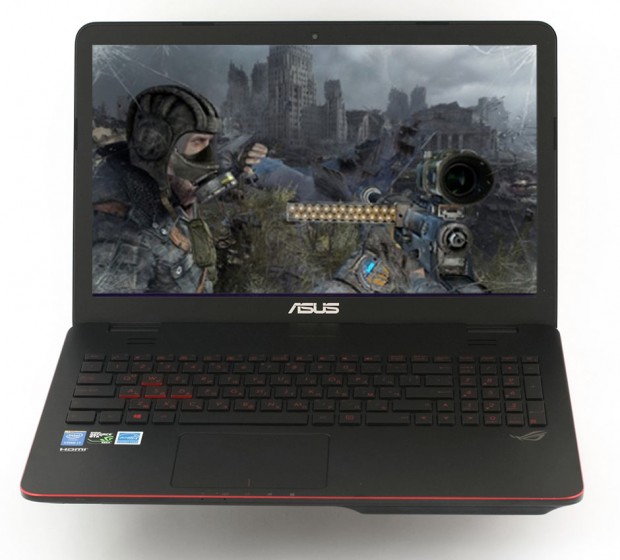 Surely the most demanding test got the most of the battery with a result of just 64 minutes. Yes, we know that this is a gaming machine, and it's not intended for gaming on battery, but fo evaluation reasons we run these sorts of tests.

CPU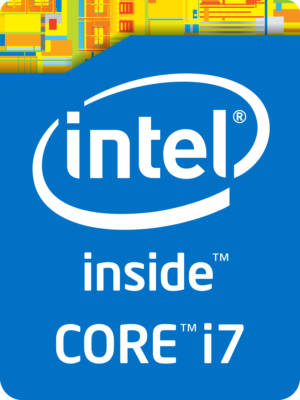 Although Intel Core i7-4720HQ debuts in Q1 of 2015, this high-end processor is part of the Haswell family, since the Broadwell generation represents only energy-efficient "U" series chips. The Core i7-4720HQ is a direct successor of the i7-4710HQ which is commonly used in gaming laptops due to its higher clock speeds and high power consumption for more raw performance boost. As usual, the Core i7-4720HQ uses the so-called HyperThreading technology, allowing the CPU to emulate one virtual core for each physical one, thus running 8 threads at the same time with only 4 physical cores. The CPU has a base frequency of 2.6GHz and Turbo Boost up to 3.4GHz for 4 active cores, 3.5GHz for two active cores and 3.6GHz for one active core. This makes the Core i7-4720HQ faster than the Core i7-4710HQ with only 100MHz.
The CPU is designed with 22nm manufacturing process (since it's part of the Haswell generation). The cache levels are high and are as follows: 256KB at level 1, 1024KB at level 2, 6144KB at level 3. The maximum operating temperature is 100°C and as for the maximum TDP – 47W and that includes the memory controller, VRMs, and integrated graphics. Speaking of which, the Core i7-4720HQ accommodates Intel HD Graphics 4600 with 20 EU (Execution Units) clocked at 400MHz and can go up to 1200MHz. The maximum supported memory of the chip is 32GB DDR3L 1333/1600 with two memory channels. Other notable features are HyperThreading, AVX, AVX2, Quick Sync, Virtualization, AES-NI.
You can browse through our top CPUs ranking: http://laptopmedia.com/top-laptop-cpu-ranking/
Here you will find other useful information and every notebook we've tested with this processor: http://laptopmedia.com/processor/intel-core-i7-4720hq/
Results are from our Photoshop benchmark test (the lower the score, the better)
Results are from the Fritz chess benchmark (the higher the score, the better)
Fritz
Fritz is a chess benchmark that tests the computing capabilities of the CPU with various chess moves. The Intel Core i7-4720HQ managed to get 13.001 million moves per second. For comparison, one of the most powerful PCs, Deep(er) Blue, was able to squeeze out 200 million moves per second. In 1997 Deep(er) Blue even beat the famous Garry Kasparov with 3.5 to 2.5.

GPU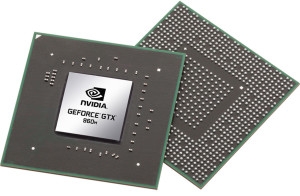 The GeForce GTX 960M (4GB GDDR5) is placed as a high-end graphics card, but used mostly in budget gaming laptops. It is part of the Maxwell family of GPUs. It features 640 CUDA cores or simply – shading units, along with 32 ROPs and 53 texture units. It has 4GB of dedicated VRAM and in this case GDDR5 type. The speed bandwidth of the memory is 80.2 GB/s and 128-bit bus width.
The GTX 960M uses the same GM107 GPU core that we've seen in last year's 860M, but this one is mainly oriented to bump the notebook's battery life and add some extra performance, but that's not stressed as much. However, the GM107 is clocked a bit higher than last year's model – 1097MHz of base clock and boost up to 1176MHz. It also supports 2048×1536 resolution through VGA port and 3840×2160 with DisplayPort and HDMI.
You can browse through our top GPUs ranking: http://laptopmedia.com/top-laptop-graphics-ranking/
Here you will find other useful information and every notebook we've tested with this GPU: http://laptopmedia.com/video-card/nvidia-gtx-960m/
Results are from the 3DMark: Fire Strike (Graphics) benchmark (higher the score, the better)
Gaming tests
All gaming tests were performed with the latest drivers from NVIDIA installed and in this case – 352.86 WHQL.

| Metro: LL (1080p, Low) | Metro: LL (1080p, Medium) | Metro: LL (1080p, Max) |
| --- | --- | --- |
| 62 fps | 47 fps | 17 fps |


| Tomb Raider (1080p, Low) | Tomb Raider (1080p, Medium) | Tomb Raider (1080p, Max) |
| --- | --- | --- |
| 134 fps | 64 fps | 33 fps |

| F1 2014 (1080p, Low) | F1 2014 (1080p, Medium) | F1 2014 (1080p, Max) |
| --- | --- | --- |
| 114 fps | 91 fps | 75 fps |


| Thief (1080p, Low) | Thief (1080p, Medium) | Thief (1080p, Max) |
| --- | --- | --- |
| 47 fps | 37 fps | 24 fps |

| GTA 5 (1080p, Low) | GTA 5 (1080p, Medium) | GTA 5 (1080p, Max) |
| --- | --- | --- |
| 99 fps | 39 fps | 20 fps |
Temperatures
Each notebook we get to test we perform this simple, yet important and efficient test. Nonetheless, our main goal is to check the overall stability and reliability of the system in the long run. We start off with a CPU stress test that brings 100% CPU load and this goes on for about an hour. At normal state the CPU operates at around 41-42°C, then it got up to 88-90°C for a few seconds and the fans cooled down the cores to 83-84°C. Interestingly, the CPU remained near its maximum operating frequency for four active cores during the first half of the test. To be exact, the CPU was ticking at 3.2GHz and the maximum operating frequency for four active cores is 3.4GHz. The hardware passed this test with flying colors. You can also see the results on the graph below (red line for temperatures and the green one for CPU load).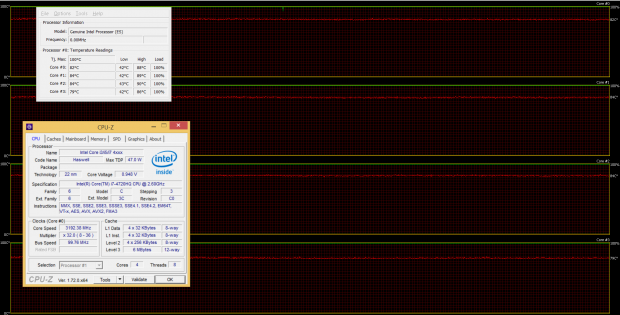 After this, we started a GPU burn in test alongside the CPU stress test. This way we can see if the cooling system is designed well and if the GPU and CPU share the heat. The CPU temperature went up a few digits reaching 88-90°C, but still far away from the maximum operating temperature of 100°C. The GPU, however, was working at 73°C without any signs of overheating. Also, the CPU's frequency remained at 3.0GHz, so not only we didn't see any throttling, but the processor was able to keep up the rate about 400MHz more than the base one.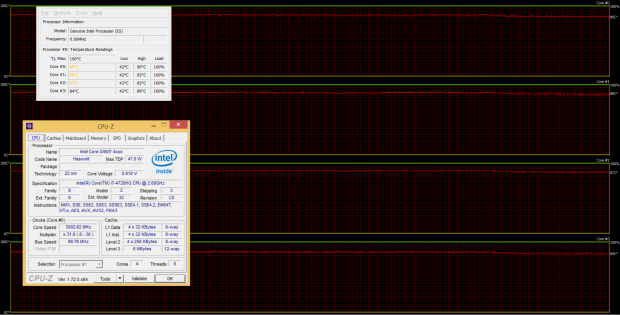 We've also provided a heat map below, so you can see how the inner temperatures affect user experience. We are happy with the cooling system and the only heat we felt was at the center of the keyboard, but even this didn't strike us as uncomfortable.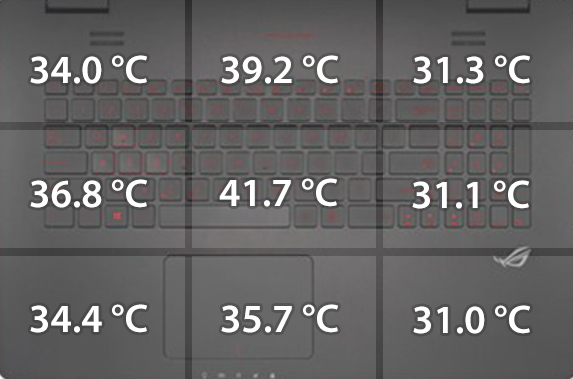 UPDATE: It has come to our attention that the GPU inside (GTX 960M) throttles during long gaming sessions or, if the load is near to 100%, the event occurs after just a couple of minutes. The sensor is set to underclock the graphics processor when it reaches 74°C leading to really low performance. We are talking about a big decrease – from 1176MHz (maximum operating frequency) to around 500MHz. So keeping the internals cool might be a challenge for you and the notebook will underperform. We would look more into the matter and will try to contact ASUS' customer support for comment.

Verdict
Despite our initial thoughts of the notebook, the G551 proved to be a much better choice than the G501 when it comes to screen quality and cooling system. Firstly, the cooling system maintained relatively high CPU temperature, but the frequency didn't drop a bit and even went way higher than expected. Also, the surface of the machine remained cool throughout the whole temperature tests. Secondly, the screen is much better when it comes to PWM (screen flickering) and this will assure comfortable long-hour usage without any fatigue.
The design is also nice if you are willing to clean your notebook more often due to the fingerprint magnet surface on the lid and interior. Nonetheless, the keyboard additionally provides the much-desired comfort along with the responsive touchpad. The price of the machine could also be considered as an advantage as it has the same hardware as some of its competitors, but keeping way better temperatures than the Y50 and Aspire V15 Nitro Black Edition. So if you are considering either the G501 or the G551, the G551 will be much more reliable while the G501 will provide better mobility due to its lightweight and thin profile.
Check the current price of ASUS ROG G551 here: Buy from Amazon.com (#CommissionsEarned)
Pros
Quality IPS panel without PWM
Good design
Comfortable touchpad and keyboard
Excellent heat management inside and out of the chassis
M.2 SATA SSD slot
Affordable price
Cons
The chassis leaves nasty smudges and fingerprints
Bulky (32.2 mm) and heavy (2.7 kg)
The GPU throttles during longer gaming sessions