ASUS X554LJ review – entry-level notebooks are getting better and better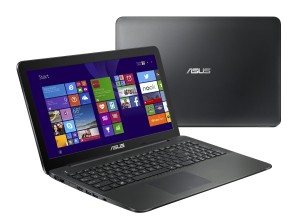 Not everyone has the luxury to spend a lot of money on a notebook that will be used mainly for day to day tasks and viewing multimedia content. And this is the main reason more and more people are aiming for a more affordable solutions on the market as manufacturers are seeing the trend. With competition comes better prices and better hardware and the new X554LJ is here to prove it. For a little under €500 you can get the notebook with Core i3-5005U CPU, discrete NVIDIA GeForce 920M GPU on the side and decent upgrade options making the machine almost ideal for multimedia. Yeah, almost, mainly because the notebook features 1366 x 768 TN panel that doesn't offer high-quality viewing experience.
Nonetheless, the notebook has a lot to offer for the price and the fact that the laptop packs a budget TN panel is quite acceptable. We've seen other way more expensive machines with TN panels, so we will let it pass. The hardware inside is what makes this notebook worth considering, especially if you already plan to use the notebook with an external display. Read on to find out more as we like to talk in digits.
You can check the current price of ASUS X554 here: http://amzn.to/1KTUDqz
Contents
Retail package
This is not the package we are used to seeing lately from ASUS, but this is expected given the notebook's class. Still, the usual AC charger, cable, DVD with drivers and user manuals are included in the box.

Design and construction
The X554L is entirely made of plastic, but different parts of the chassis feature various ornaments and finishes, due to which, the construction feels light and features a fairly thin profile – 37.2 mm or at least it doesn't look too bulky.
We begin with the top lid that's made of hard plastic with small ornaments on the surface. As usual, the ASUS logo is in the center. The corners are curved and the footprint looks just like most of ASUS' machines like the UX501 for example. Opening the cover on the other side reveals the 15.6-inch glossy display, built-in microphone and webcam, of course. Bezels aren't too big to cause a distraction which is good, but we were left with mixed feelings about the sturdiness of the machine. The surface on the lid bends really easy and even causes ripples on the display when the slightest pressure is applied on the back. So leaving heavy objects on top of the notebook might not be a really good idea.
Turning the notebook upside down reveals the bottom piece of the machine that's again made of hard plastic – nothing too special, feels rugged and somehow cheap. There's a small vent that can be used with external cooling pad and right next to it is a small plastic cover used for accessing the only RAM chip. More on this in the next "Disassembly and upgrade options" section.
Going around the sides you can see all the usual and needed ports and interfaces. The profile is part of the bottom piece of the machine and our opinion on the material remains the same. The left side holds the majority of ports – DC charging port, LAN, VGA, HDMI and two USB 3.0 ports. The other side, on the contrary, accommodates only the SD card reader, 3.5 mm jack and one USB 2.0 port. There's also extra space for an additional optical drive, but the configuration used for the writing of this review lacks the latter.
The interior strongly resembles the lid, but has smaller dots and doesn't leave nasty smudges. Nevertheless, the touchpad's material attracts fingerprints easily. Again, we see some bending when small pressure is applied on the keyboard, which again suggest of poor build quality. Some users might say we are getting pretty picky for the price, but we've seen sturdier machines for less money. The keyboard, on the other hand, feels just right. Maybe a little on the stiff side, but you can get used to it fairly easy. The most important thing here, however, is the long key travel offering good tactile feedback. Keys are also well-placed apart and reasonably sized. As for the touchpad – things here could have been better. It's stable and all, also responsive, but way too "clicky" and you will often press the right button instead of the left one. The area which the touchpad registers the left click is way too small to our taste.
To sum things up, we are somehow left with mixed feelings about the device's build quality and design. While the notebook has a strict and clean design, which is subjective to be honest, the overall construction left us with more to be desired. The easily bending lid and keyboard suggest of too "light" design and not offering enough sturdiness for travelers for example. However, no irregularities were found around the chassis – no dents, holes or cracks that shouldn't be there.
Disassembly and upgrade options
As expected from a budget-friendly notebook, you can't benefit from a lot of upgrade options – M.2 SATA SSD slot isn't available, but you can always swap your optical drive for another 2.5-inch HDD or an SSD. More information, however, can be found in this short article:
http://laptopmedia.com/news/inside-asus-x554l-disassembly-internal-photos-and-upgrade-options/
Display
ASUS X554LJ's display uses an HD (1366×768) TN panel with matte finish on top. The matrix has a model number of B156XTN04.2. With the resolution being HD and the diagonal measuring 15.6 inches the pixel pitch is 0.253 x 0.253 mm and a pixel density of 100 ppi. With that being said, the screen can be considered "Retina" when viewed from a distance equal or greater than 86 cm. It's important to note that the Lenovo ThinkPad E550 uses the very same panel – B156XTN04.1 manufactured by AUO.
We measured the maximum brightness – 238 cd/m2 with a deviation of only 6%. The color temperature measured on the surface of the screen is 6786K which is really close to the optimal one (6500K), but a bit colder than it should be. No unacceptable deviations whatsoever.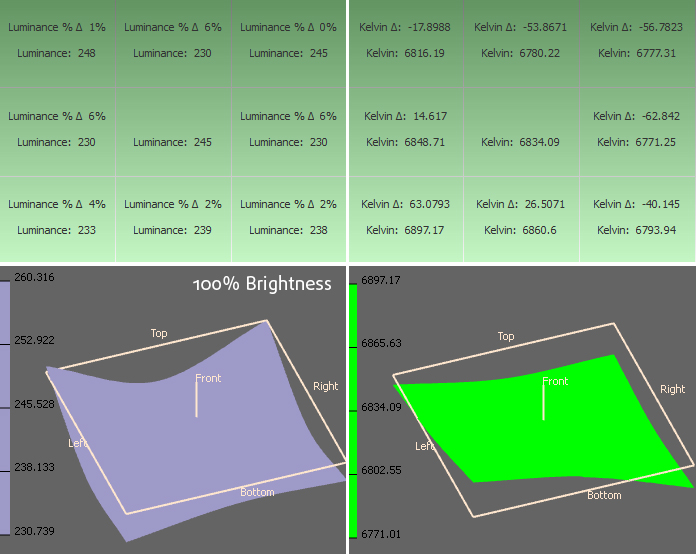 Color reproduction
With the help of X-Rite i1Display Pro we've calibrated the display at 140 cd/m2 and 6500K(D65) color temperature.
We've tested the color accuracy using 24 common colors representing dark and light human skin, blue sky, grass green, orange etc. After profiling the average DeltaE 2000 is 4.00.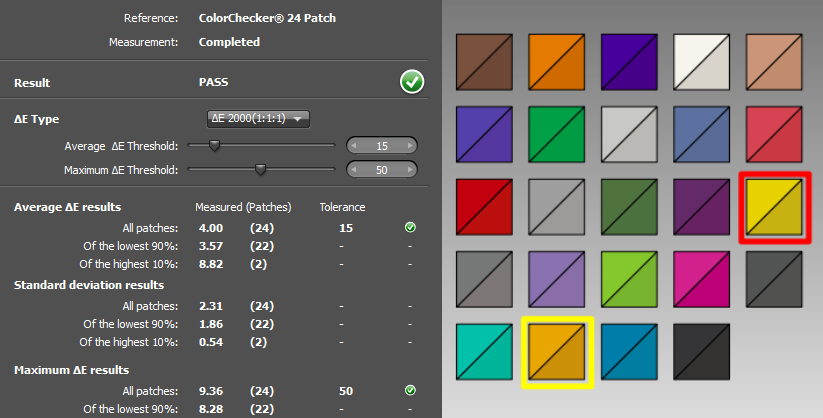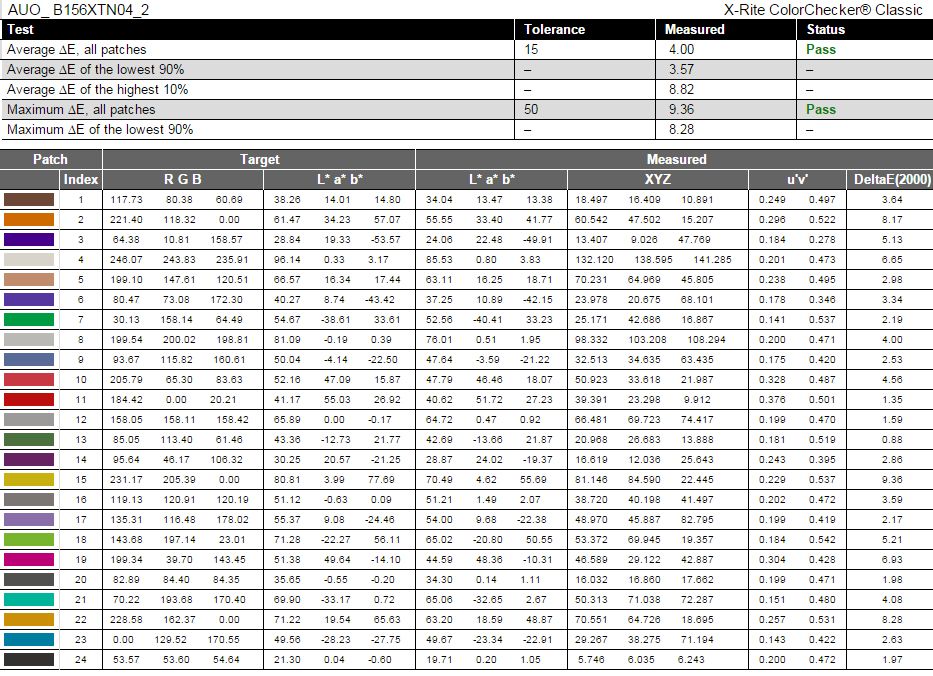 We did the same but this time without using custom profile, but results were good here as well.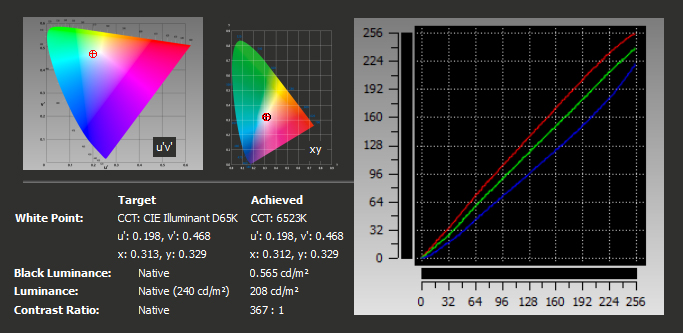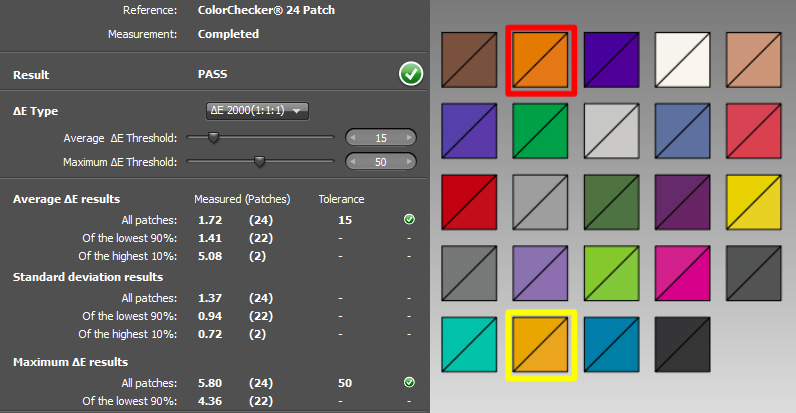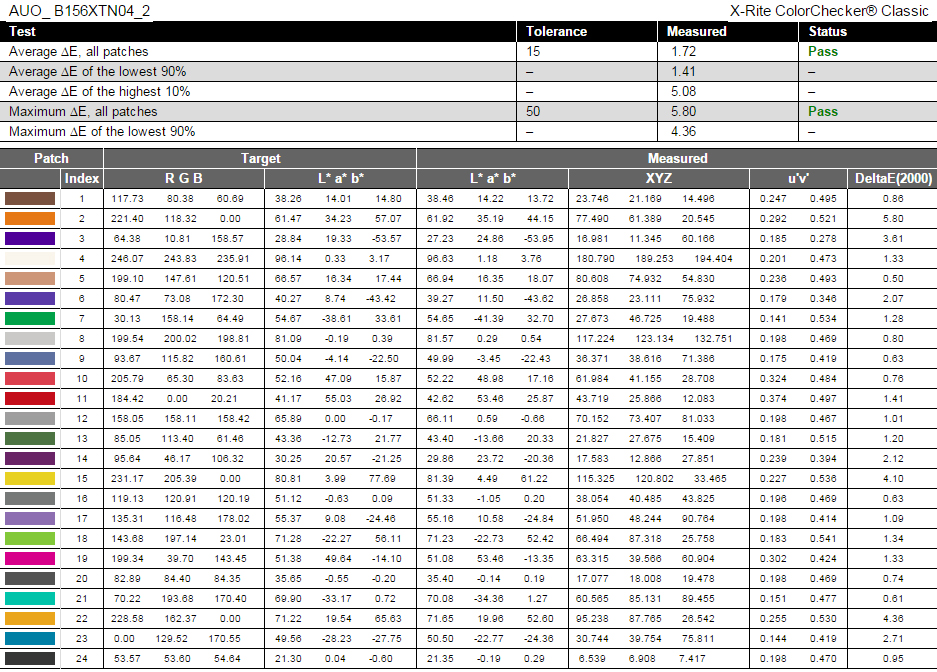 Conclusion
For a budget notebook like this one, we are overall satisfied with the results. The screen is energy-efficient due to the nature of the TN panels, but also inherits most of the cons a TN panel has – poor viewing angles, contrast, sRGB color gamut coverage etc. As for the PWM tests, they should align with the one we've conducted on the Lenovo ThinkPad E550, meaning there's PWM from 0 to 41% brightness. That's equal to 5 cd/m2 to 67 cd/m2 and we consider these levels of brightness too dim for normal usage and most probably won't end up using the screen at such settings.

Specs sheet
The specs sheet provided below is for the model used for the writing of this review. Hardware specification may vary depending on your region.
CPU
Intel Core i3-5010U (2-core, 2.10 GHz, 3MB cache)
RAM
4GB (1x 4096MB) – DDR3, 1600MHz
GPU
NVIDIA GeForce 920M (1GB DDR3)
HDD/SSD
1TB HDD (5400 rpm)
Display
15.6-inch HD (1366×768) TN panel, glossy
Optical Drive
–
Connectivity
LAN 10/100/1000 Mbps, Wi-Fi 802.11b/g/n, Bluetooth 4.0
Other features

2x USB 3.0
1x USB 2.0
built-in webcam
built-in microphone
built-in loudspeakers Sonic Master
3.5 mm audio jack
3-in-1 card reader (SD/ SDHC/ SDXC)
RJ-45 port
VGA/Mini D-sub 15-pin
HDMI

Battery
2-cell, 37Wh
Thickness
37.2 mm (1.46″)
Weight
2.6 kg (5.73 lbs)
ASUS X554LJ configurations
Software
The notebook has been tested with Windows 8.1 (64-bit version) with the latest drivers installed. If you are performing a clean install of the system, we suggest downloading the drivers from ASUS' official support page: http://www.asus.com/supportonly/X554LJ/HelpDesk_Download/

Battery
The one provided here doesn't strike as with big capacity, but we suspect the performance will be good considering the hardware that needs the juice. We've got ultra-low voltage CPU on our hands, not so demanding GPU and a small 15.6-inch screen with energy-efficient low-resolution TN panel. ASUS has rated the battery at 37 Wh and we tested it with the usual Wi-Fi browsing test, video playback and gaming. All tests were performed under the same conditions – Wi-Fi turned on, Bluetooth off, power saver on and screen brightness set to 120 cd/m2.
Web browsing
In order to simulate real-life conditions, we used our own script for automatic web browsing through over 70 websites.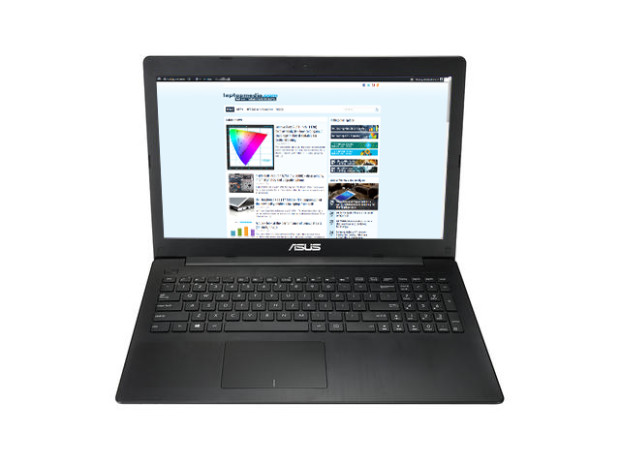 Very good result – 350 minutes (5 hours and 25 minutes).
Video playback
For every test like this, we use the same video in HD.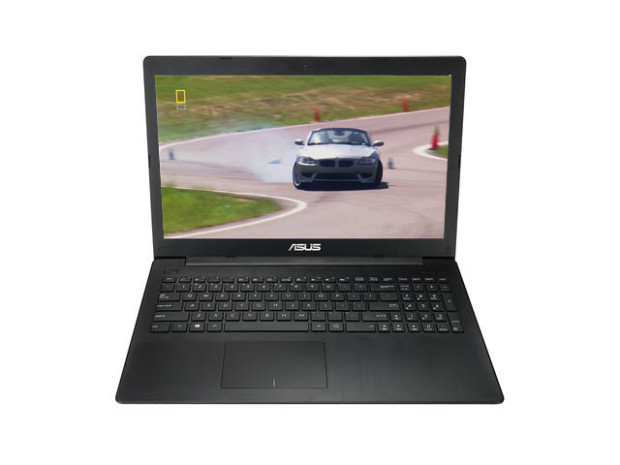 Similar result to the web browsing test, even with a few minutes more – 350 minutes (5 hours and 50 minutes).
Gaming
For accurate simulation, we used the Metro Last Light benchmark running on a loop with graphic settings set to minimum.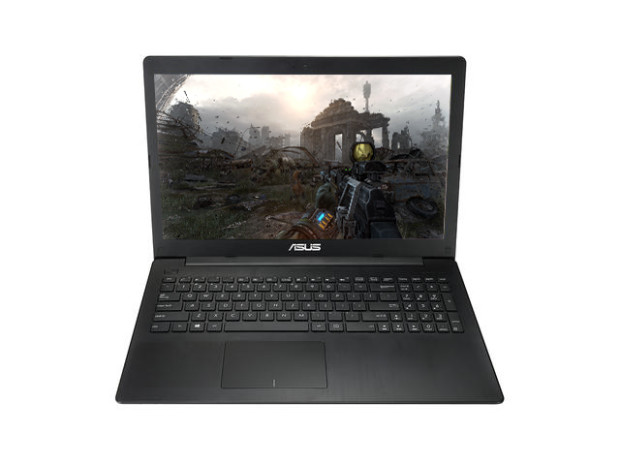 We doubt that you will leave your notebook away from the power source during a long gaming session, but for evaluation reasons we run this test – 94 minutes (1 hour and 34 minutes)

CPU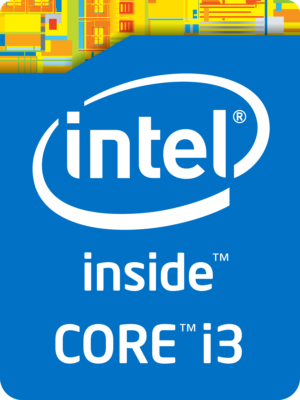 Intel Core i3-5005U is part of the Broadwell generation processors from the vendor and its considered as low-end. It has two energy-efficient cores supporting HyperThreading technology for emulating one virtual core for each physical. Unfortunately it doesn't support Turbo Boost function and it has base clock of 2.0GHz. The maximum cache size is 3072KB (3MB) with level 1 at 128KB, level 2 – 512KB and of course level 3 – 3072KB.
Maximum TDP is rated at 15W (or 10W cTDP Down), whic includes the integrated graphics card. Speaking of which, like all Broadwell CPUs, this one features Intel HD Graphics 5500, but with a little slower clock frequency – 300MHz base and 850MHz turbo. Notable features include DDR3(L)-1600 Memory Controller, HyperThreading, AVX, AVX2, Quick Sync, Virtualization, AES-NI.
You can browse through our top CPUs ranking: http://laptopmedia.com/top-laptop-cpu-ranking/
Here you will find other useful information and every notebook we've tested with this processor: http://laptopmedia.com/processor/intel-core-i3-5005u/
Results are from our Photoshop benchmark test (the lower the score, the better)
Results are from the Fritz chess benchmark (the higher the score, the better)
Fritz
Fritz is a chess benchmark which tests the computing capabilities of the CPU with various chess moves. The Intel Core i3-5005U managed to get 5.751 million moves per second. For comparison, one of the most powerful PCs, Deep(er) Blue, was able to squeeze out 200 million moves per second. In 1997 Deep(er) Blue even beat the famous Garry Kasparov with 3.5 to 2.5.

GPU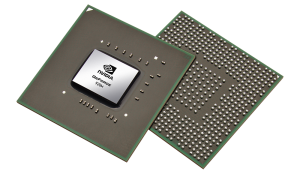 The NVIDIA GeForce 920M is a low-range GPU that's included in budget notebooks or multimedia-oriented ones. It was released in March of 2015, and it is based on last year's GeForce 825M with a GK208 GPU. We expect the GPU to be marginally faster than its predecessor since Maxwell generation GPUs mostly improve power consumption and don't emphasize performance as much. However, the TDP is rated at 33W. Furthermore, GeForce 920M offers 4GB of DDR3 memory, 8 ROPs, 16 texture mapping units and 384 shaders. The graphics processor runs at 575MHz with the Boost clock being 954MHz, which should be enough to run most new games at lower settings or use other graphics software that isn't that demanding. Memory speed is 1800MHz with a 64 bit bus. Notable features include DirectX 12, NVIDIA Optimus support, OpenGL 4.5 and CUDA cores.
You can browse through our top GPUs ranking: http://laptopmedia.com/top-laptop-graphics-ranking/
Here you will find other useful information and every notebook we've tested with this GPU: http://laptopmedia.com/video-card/nvidia-geforce-920m-4gb-ddr3/
Results are from the 3DMark: Fire Strike (Graphics) benchmark (higher the score, the better)
Temperatures
This section is aimed to provide enough useful and relevant information regarding the cooling system and the overall stability of the machine in the long run. However, these tests do not represent real-life usage and are unlikely to occur under normal usage. We start off with 100% CPU load for at least an hour to see the maximum temperatures the chip will reach. Under normal usage, the Core i3-5005U didn't surpass 40 °C, but after an hour of CPU torture test, temperatures went up to 60 °C, yet again far away from the maximum operating temperature of 105 °C. Also, no throttling occurred because the chip maintained a frequency of around 2.0 GHz which is the maximum operating frequency of the processor. You can see the results on the image below – the red line represents temperatures while the green one stands for CPU load.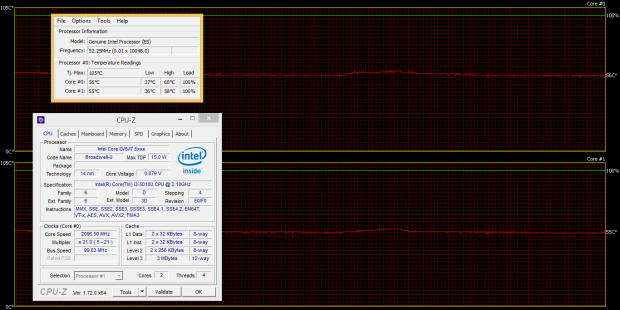 We left the machine running for another hour in this state, but this time with another stress test simulating 100% GPU load. The temperatures of the CPU didn't rise much – 76 °C and no throttling occurred. As for the GPU, things went perfectly smooth without any problems as the graphics processor reached 73 °C again with no signs of throttling.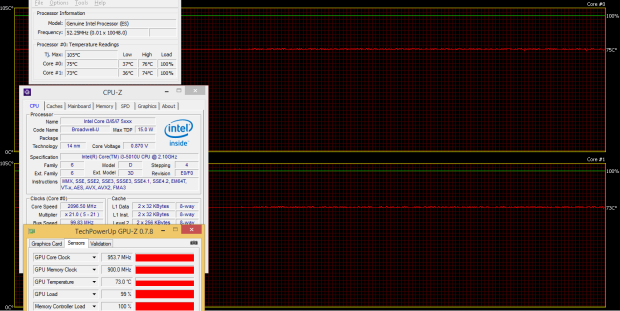 For the final part of of our stability test, we recorded the temperature on the surface of the chassis to see if any excessive heat will affect user experience and as you can see from the heat map below, again no issues here whatsoever.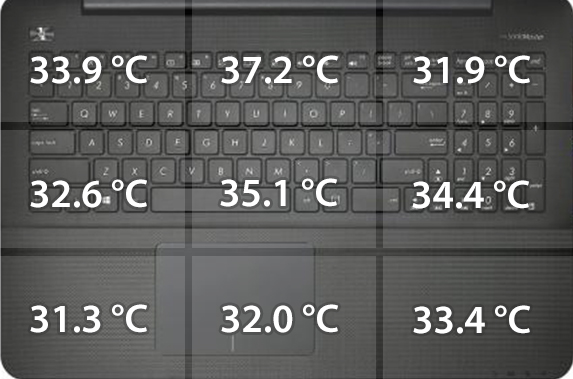 Verdict
While the design is mostly a subjective opinion and it's hard to make a good assessment on the matter, we kind of liked how the notebook looks. It's clean, strict and features the usual design signature we're used with seeing on an ASUS machine. On the other hand, the build quality left us with mixed feelings due to the not so sturdy lid and keyboard. Both sink a lot under pressure so leaving heavy objects on top of the laptop isn't advisable.
As for the hardware, we liked that ASUS has managed to include a higher-tier CPU (Intel Core i3-5010U) and GPU (GeForce 920M) – both part of the new Broadwell and Maxwell families given the price. Some notebooks are even shipping with Pentium processors, so better all-around hardware than the competition is at hand here. As for the battery life, we are more than satisfied. The readings we got from the battery tests indicate that you can rely on the notebook to keep running for longer periods of time without the need of charging.
You can check the current price of ASUS X554 here: http://amzn.to/1KTUDqz
Pros
Good all-around hardware for the price
Excellent battery life
Appealing design
Better keyboard and touchpad than most competitors
Cons
Build quality could have been better