ASUS ZenBook Flip 15 UX563 review – don't let the ULV processor fool you, this is a very powerful machine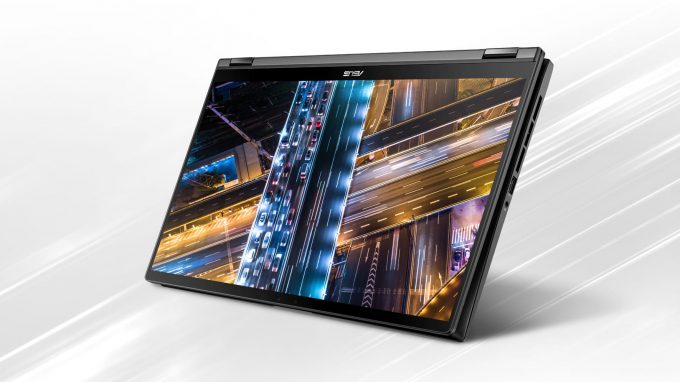 Okay guys, how many people of you are interested in a 15-inch convertible? Since we can't really see if anyone has risen a hand or two, we are going to suggest that if you are reading this, you have some interest. ASUS is becoming the strong boy when it comes to ultrabooks and the ZenBook Flip 15 UX563 brings all of their expertise to the 2-in-1 device market.
Quite frankly, this notebook looks like a ZenBook 15 UX534 that had some swing classes. Of course, this is not a bad thing in this case, especially thanks to the 4K display option that has Pantone validated color accuracy. Undoubtedly we are going to test these claims, because what is a content creator-oriented laptop without a superb color accuracy.
In addition to the supposedly brilliant screen, this notebook packs a lot of power inside. What is more important is that this power is disguised with efficiency, thanks to the 10th Generation Comet Lake processors by Intel and the GeForce GTX 1050 Max-Q graphics card.
You can check the prices and configurations in our Specs System: https://laptopmedia.com/series/asus-zenbook-flip-15-ux563/
Contents
Specs Sheet
ASUS ZenBook Flip 15 UX563 review – don't let the ULV processor fool you, this is a very powerful machine - Specs
BOE NE156QUM-N64 (BOE07D9)
HDD/SSD
up to 1000GB SSD
OS
Windows 10 Home, Windows 10 Pro
Dimensions
356 x 229 x 19.9 mm (14.02" x 9.02" x 0.78")
2x USB Type-A
3.2 Gen 1 (5 Gbps)
1x USB Type-C
3.2 Gen 1 (5 Gbps)
Speakers
2x Speakers, Harmon Kardon
What's in the box?
We were equally impressed by the packaging of this device, as we were by the one of the ZenBook Flip 14 UX463. The laptop comes wrapped in a plastic bag. Beneath it, you will find a USB Type-A to RJ-45 dongle, as well as a 120W power adapter and two optional gifts. The one is a super sleek protective carrying bag, and the other is a stylus (yay).
Design and construction
This device uses aluminum for its body and lid material. It also has a brushed finish, which has fewer reflections. Similarly to its predecessor, most of the material is made out of the aforementioned material, while the backside of the device (and the hinge covers) has a glossy finish. Additionally, the ZenBook Flip 15 UX563 retains the 1.90 kg body weight of the yester-year laptop but is 1mm thinner at 19.9mm.
Now, obviously, as a 2-in-1 this laptop has several positions it can stay at – upright, tent, and tablet. The latter activates a software keyboard input rejection, so you don't press a key that blows up your house involuntarily. Despite all these capabilities, ASUS still hasn't figured out how to open the lid with a single hand. On the bright side, the ErgoLift mechanism is back and there is an optional IR face recognition system.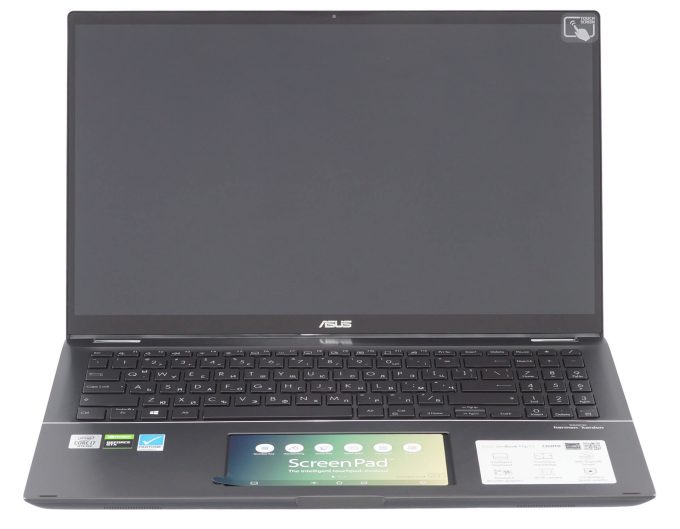 Now, when you look at the base, the laptop looks just like an enlarged version of the Flip 14 UX463. Same shiny stripe in the middle, same feel on the material. It is just the keyboard that features the NumberPad section (although with smaller keys). By the way, we found the comfortability on this unit to be great – the key travel is decent, feedback is rather clicky and the spacing is on point.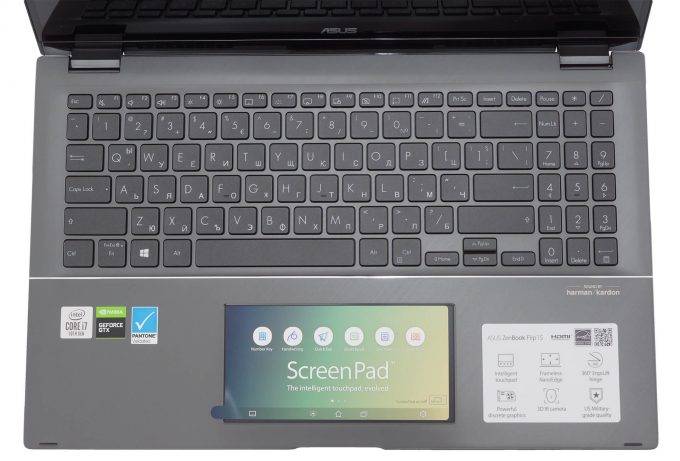 Frankly, all of this is tech from yesterday, when you compare it to the ScreenPad 2.0. You can learn everything you need to know about it on ASUS' official web page. Nevertheless, you still need to try it out, to know why is all the fuss about it. Not only does it work great as a traditional touchpad, but it also can double as a second display, used for toolbars, timelines and all of the goodies that come to your mind.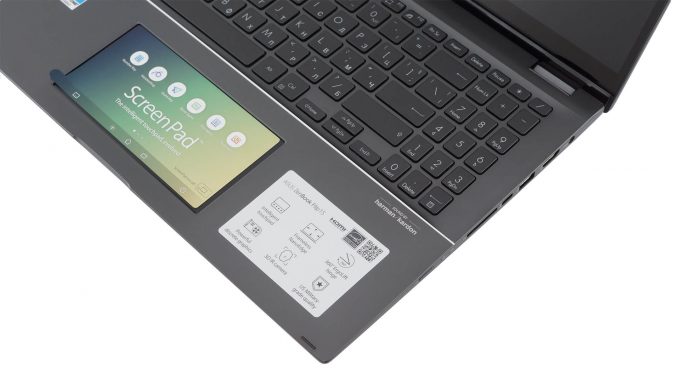 Ports
On the left side, there is a single USB Type-A 3.1 (Gen. 1) port and an audio combo jack, while on the right you will find the power plug, an HDMI connector, a USB Type-A 3.1 (Gen 1) port as well as a Type-C 3.1 (Gen. 1) port. In addition to them, there is an SD card reader and the Power On/Off button, which is relatively easy to distinguish without looking.
Disassembly, upgrade options and maintenance
Thankfully, there are no hidden screws, which means you only need to remove the 10 visible Torx-head ones. After you do so, we would recommend starting the prying process from the hinges area and following along the edge.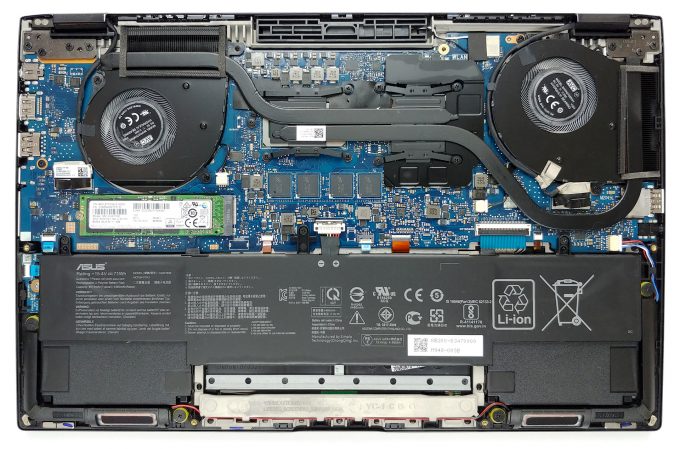 If you remember our ZenBook Flip 15 UX562 review, you would know that it used only one heat pipe to cool down both the CPU and the GPU simultaneously. However, ASUS has switched its philosophy and now uses two heat pipes, each of them going to a separate heat spreader.

As of recently, less and fewer ultrabooks come with a RAM expansion slot. This unit is not an exclusion from the trend and only offers you the preinstalled memory chips. On the bright side, there is a single M.2 PCIe x4 slot.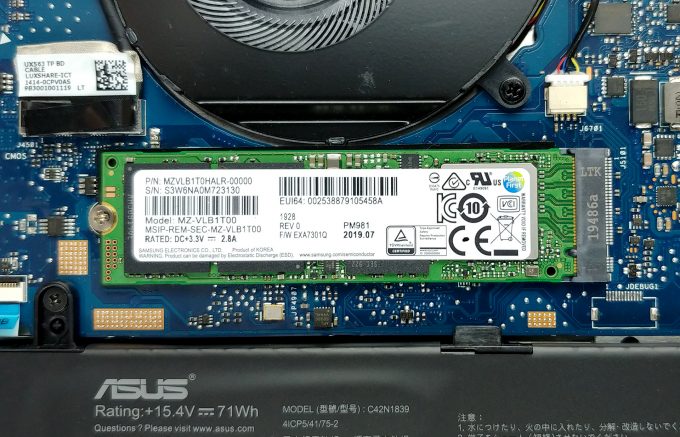 Battery-wise we are looking at a 71Wh package, which should easily deal with the UHD monitor option.

Display quality
ASUS ZenBook Flip 15 UX563's main display is equipped with a glorious UHD touchscreen panel. It bears a model number BOE NE156QUM-N64 (BOE07D9) and has a diagonal of 15.6″ (39.62 cm), and the resolution 3840 x 2160 pixels. The screen ratio is 16:9, and we are looking at a pixel density of – 282 ppi, and a pitch of 0.09 х 0.09 mm. The screen turns into Retina when viewed at distance equal to or greater than 30cm (12″) (from this distance one's eye stops differentiating the separate pixels, and it is normal for looking at a laptop).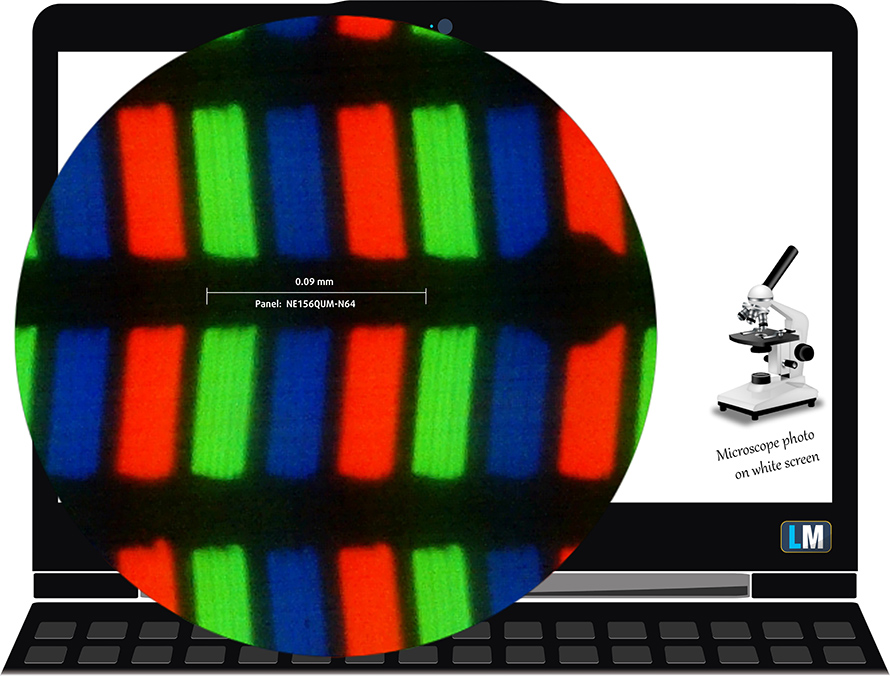 It has excellent viewing angles. We offer images at 45° to evaluate image quality.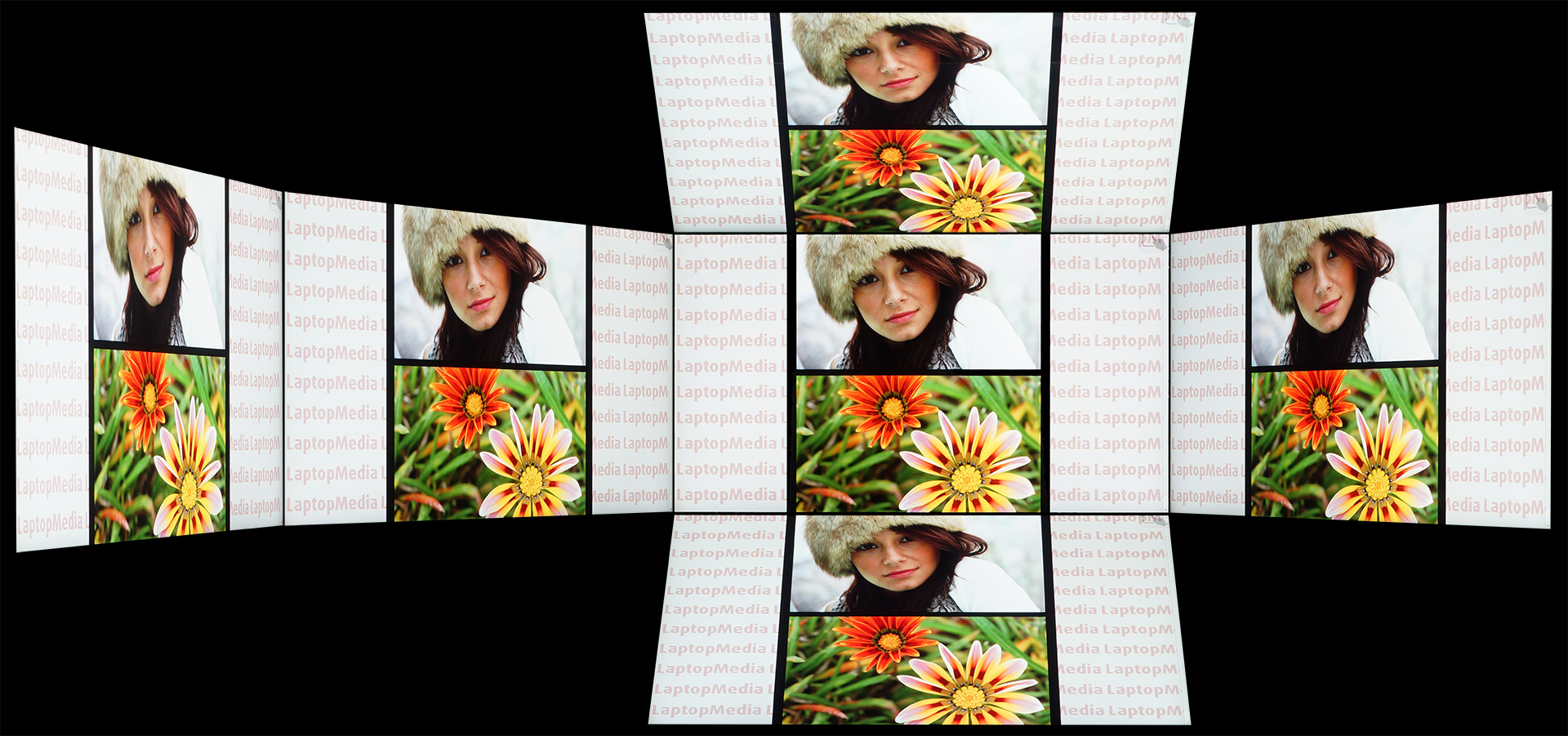 The measured maximum brightness of 422 nits in the middle of the screen and 400 nits as an average for the whole area, with a maximum deviation of 11%. The Correlated Color Temperature on a white screen is 6740K – slightly colder than the optimal for the sRGB standard of 6500K. The average color temperature through the grey scale before profiling is 6840K.
In the illustration below you can see how the display performs from a uniformity perspective. In other words, the leakage of light from the light source.
Values of dE2000 over 4.0 should not occur, and this parameter is one of the first you should check if you intend to use the laptop for color-sensitive work. The contrast ratio is astonishing – 1090:1 (1040:1 after profiling).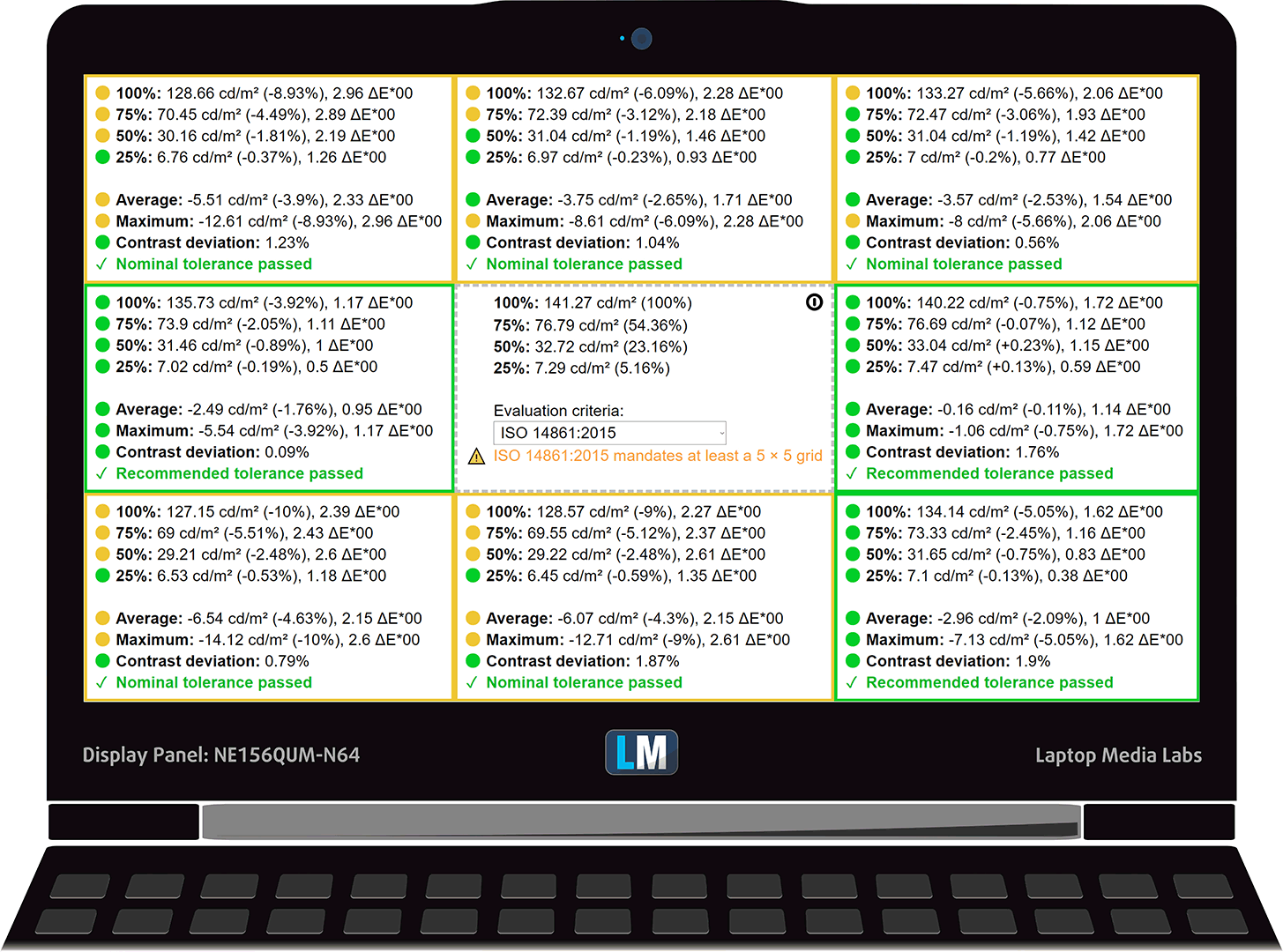 To make sure we are on the same page, we would like to give you a little introduction to the sRGB color gamut and the Adobe RGB. To start, there's the CIE 1976 Uniform Chromaticity Diagram that represents the visible specter of colors by the human eye, giving you a better perception of the color gamut coverage and the color accuracy.
Inside the black triangle, you will see the standard color gamut (sRGB) that is being used by millions of people in HDTV and on the web. As for the Adobe RGB, this is used in professional cameras, monitors, etc for printing. Basically, colors inside the black triangle are used by everyone and this is the essential part of the color quality and color accuracy of a mainstream notebook.
Still, we've included other color spaces like the famous DCI-P3 standard used by movie studios, as well as the digital UHD Rec.2020 standard. Rec.2020, however, is still a thing of the future and it's difficult for today's displays to cover that well. We've also included the so-called Michael Pointer gamut, or Pointer's gamut, which represents the colors that naturally occur around us every day.
The yellow dotted line shows ASUS ZenBook Flip 15 UX563's color gamut coverage.
Its display covers 90% of the sRGB/ITU-R BT.709 (web/HDTV standard) in CIE1976.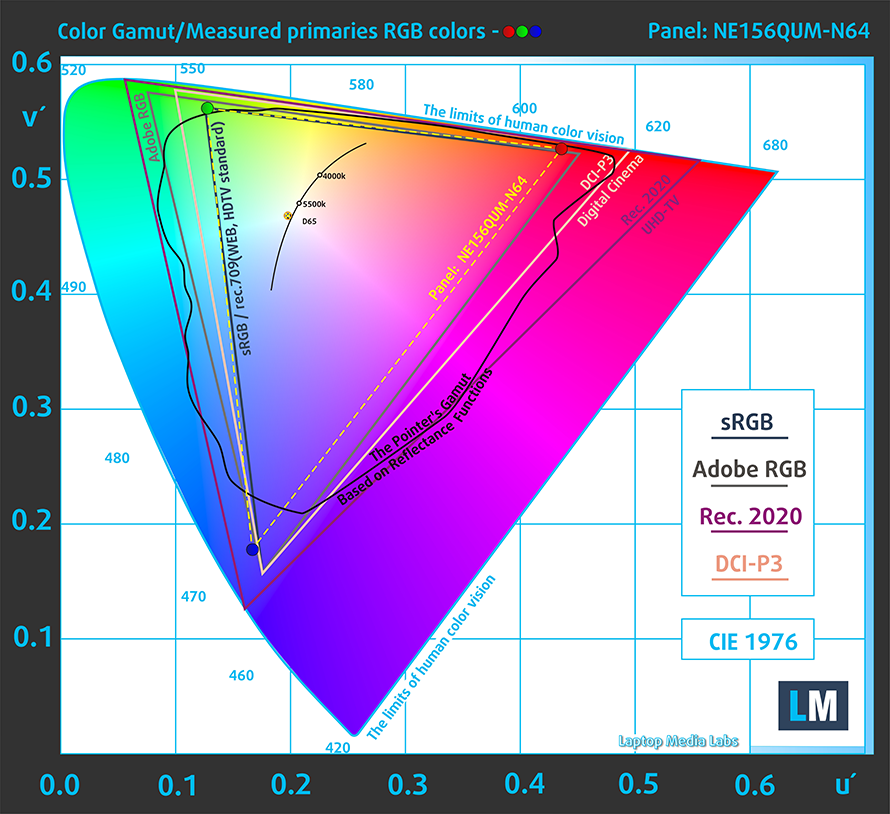 Response time (Gaming capabilities)
We test the reaction time of the pixels with the usual "black-to-white" and "white-to-black" method from 10% to 90% and vice versa.
We recorded Fall Time + Rise Time = 32 ms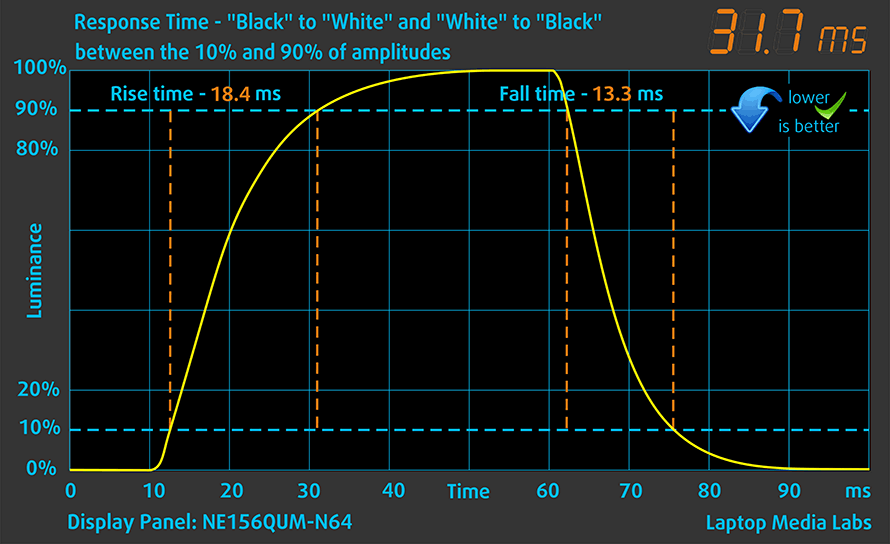 PWM (Screen flickering)
Pulse-width modulation (PWM) is an easy way to control monitor brightness. When you lower the brightness, the light intensity of the backlight is not lowered, but instead turned off and on by the electronics with a frequency indistinguishable to the human eye. In these light impulses, the light/no-light time ratio varies, while brightness remains unchanged, which is harmful to your eyes. You can read more about that in our dedicated article on PWM.
Thankfully, ASUS ZenBook Flip 15 UX563's display doesn't flicker at any brightness level. This makes it comfortable for use for extended periods of time.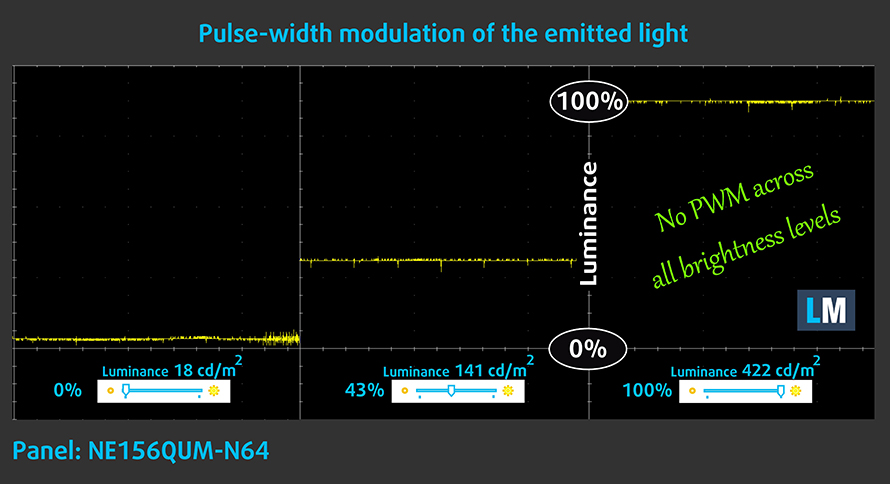 Blue light emissions
Installing our Health-Guard profile not only eliminates PWM but also reduces the harmful Blue Light emissions while keeping the colors of the screen perceptually accurate. If you're not familiar with the Blue light, the TL;DR version is – emissions that negatively affect your eyes, skin and your whole body. You can find more information about that in our dedicated article on Blue Light.

Conclusion
ASUS ZenBook Flip 15 UX563's display is touch-sensitive, has a super dense UHD resolution, comfortable viewing angles and decent maximum brightness and contrast ratio. Additionally, its default settings are adequate, while the backlight lacks PWM, which makes it comfortable for long periods of use.

Buy our profiles
Since our profiles are tailored for each individual display model, this article and its respective profile package are meant for ASUS ZenBook Flip 15 UX563 configurations with 15.6″ UHD IPS BOE NE156QUM-N64 (BOE07D9).
*Should you have problems with downloading the purchased file, try using a different browser to open the link you'll receive via e-mail. If the download target is a .php file instead of an archive, change the file extension to .zip or contact us at bg.laptopmedia@gmail.com.
Read more about the profiles HERE.
In addition to receiving efficient and health-friendly profiles, by buying LaptopMedia's products you also support the development of our labs, where we test devices in order to produce the most objective reviews possible.
Sound
ASUS ZenBook Flip 15 UX563's speakers produce a sound with decent quality. They are tuned by Harman Kardon and their tones are clear of deviation across the entire frequency range.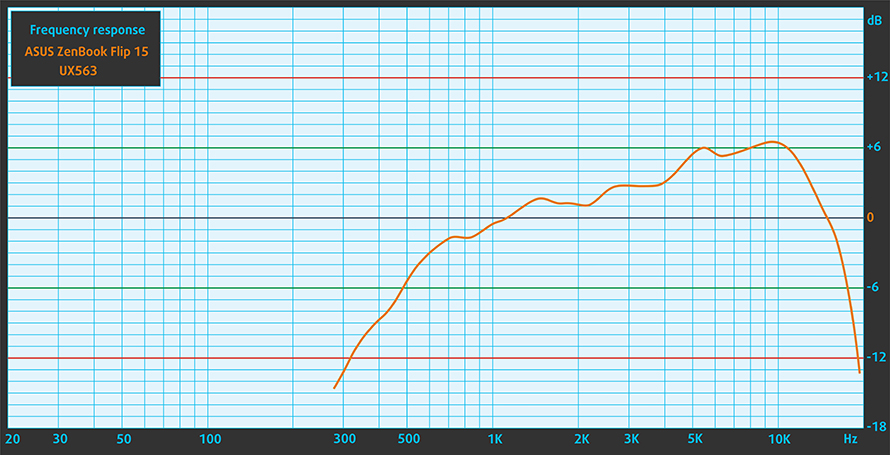 Drivers
You can get all of the drivers and utilities for this notebook from here: https://www.asus.com/2-in-1-PCs/ASUS-ZenBook-Flip-15-UX563FD/HelpDesk_Download/

Battery
Now, we conduct the battery tests with Windows Better performance setting turned on, screen brightness adjusted to 120 nits and all other programs turned off except for the one we are testing the notebook with. How long would the 71Wh battery last?
Well, during Web browsing we got 13 hours and 40 minutes while playing an HD video on loop set us back at 12 hours and 40 minutes.
In order to simulate real-life conditions, we used our own script for automatic web browsing through over 70 websites.
For every test like this, we use the same video in HD.
CPU options
As of the moment of writing this review, the ZenBook Flip 15 UX563 can be purchased with either the Core i5-10210U or the Core i7-10510U.
Results are from the Cinebench 20 CPU test (the higher the score, the better)
Results are from our Photoshop benchmark test (the lower the score, the better)
GPU options
In addition to the dedicated Intel UHD Graphics, you can opt for the GeForce GTX 1050 Max-Q, equipped with 4GB of GDDR5 memory.
Temperatures and comfort
Max CPU load
In this test we use 100% on the CPU cores, monitoring their frequencies and chip temperature. The first column shows a computer's reaction to a short load (2-10 seconds), the second column simulates a serious task (between 15 and 30 seconds), and the third column is a good indicator of how good the laptop is for long loads such as video rendering.

Average core frequency (base frequency + X); CPU temp.
| Intel Core i7-10510U (15W TDP) | 0:02 – 0:10 sec | 0:15 – 0:30 sec | 10:00 – 15:00 min |
| --- | --- | --- | --- |
| ASUS ZenBook Flip 15 UX563 | 3.59 GHz (B+99%) @ 83°C | 3.26 GHz (B+81%) @ 86°C | 2.89 GHz (B+61%) @ 85°C |
| ASUS ZenBook Flip 14 UX463 | 3.50 GHz (B+94%) @ 92°C | 2.97 GHz (B+65%) @ 95°C | 2.31 GHz (B+28%) @ 73°C |
| Dell Inspiron 14 5490 | 3.62 GHz (B+101%) @ 80°C | 2.39 GHz (B+37%) @ 74°C | 1.92 GHz (B+7%) @ 65°C |
| Dell Inspiron 13 7391 2-in-1 | 3.50 GHz (B+94%) @ 98°C | 2.27 GHz (B+26%) @ 82°C | 2.09 GHz (B+16%) @ 79°C |
| Dell XPS 13 7390 | 3.62 GHz (B+101%) @ 89°C | 3.16 GHz (B+76%) @ 99°C | 2.70 GHz (B+50%) @ 85°C |
| Dell Vostro 5490 | 3.57 GHz (B+98%) @ 90°C | 2.51 GHz (B+39%) @ 87°C | 2.10 GHz (B+17%) @ 66°C |
Well, ASUS has done a great job with their cooling solution this time. Not only it is able to maintain a frequency just 100 MHz shy of 3.00 GHz for all cores during extremely long periods of stress testing, but the temperature never passed 90C.

Real gameplay
| NVIDIA GeForce GTX 1050 Max-Q | GPU frequency/ Core temp (after 2 min) | GPU frequency/ Core temp (after 30 min) |
| --- | --- | --- |
| ASUS ZenBook Flip 15 UX563 | 1625 MHz @ 79°C | 1502 MHz @ 79°C |
| ASUS ZenBook Flip 15 UX562 | 1454 MHz @ 82°C | 1364 MHz @ 82°C |
| MSI PS63 Modern | 1613 MHz @ 84°C | 1439 MHz @ 84°C |
| ASUS ZenBook Pro 14 UX480 | 1441 MHz @ 80°C | 1358 MHz @ 80°C |
Although the GeForce GTX 1050 Max-Q was running pretty hot during this test, we were actually able to record the highest frequency and lowest temperature of all GTX 1050 Max-Q-equipped devices we've tested.

Comfort during combined load
Although the noise is pretty low during CPU load, during combined, it becomes like an average gaming notebook. As of the hottest spot, it was around 45C, which is not too hot, given the temperature on the inside.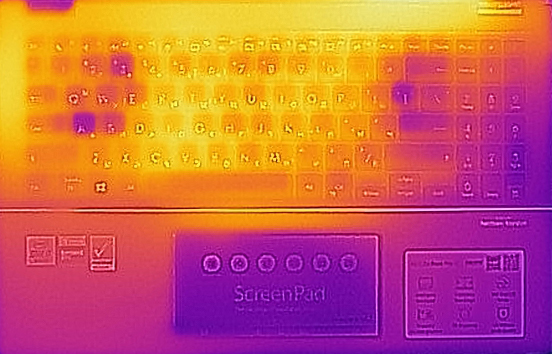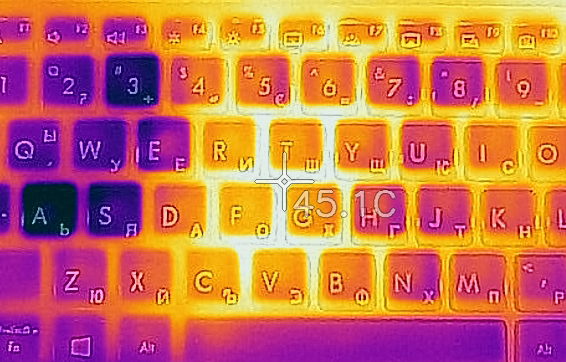 Verdict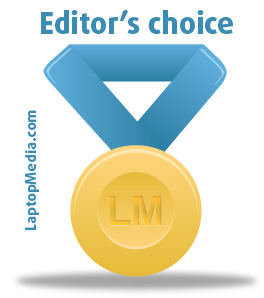 There are some things that we (and perhaps a lot of people) value more than the looks or how thin a laptop is – how well it is presented, and what extra do you get. People often say that the first impression is the most important.
This is exactly why ASUS left us with a good impression at the beginning. Keep in mind that we bought a retail unit from a local store, so no cheeky breaky is taking place here. What we found inside the box was a classy sleeve, a USB Type-A to RJ-45 dongle and a dedicated Pen. If we were designers, we would be very happy.
Since we are computer maniacs, we were more impressed by the performance output of this model. It truly maxed out the Core i7-10510U, being able to maintain just shy of 3.00 GHz during prolonged heavy load. On top of that, the noise level of the fans was very respectable. Battery life is also on point with 13 hours and 40 minutes of Web browsing and 12 hours and 20 minutes of video playback.
ASUS ZenBook Flip 15 UX563's display is touch-sensitive, has a super dense UHD resolution, comfortable viewing angles and decent maximum brightness and contrast ratio. Additionally, its default settings are adequate, while the backlight lacks PWM, which makes it comfortable for long periods of use.
Another thing we really enjoyed is the input devices. While the keyboard is comfortable thanks to its relatively long key travel and clicky feedback, the ScreenPad 2.0 is a very versatile tool that can become your best friend, whether you are a professional or just use it for media consumption.
Now, on the downside – it lacks any options to upgrade the RAM. Sadly, ASUS has fully committed to this terrible new trend. Additionally, the ZenBook Flip 15 UX563 lacks Thunderbolt support. Surely, for this price tag, one would expect something…
Not everything is lost, though! There is still the SD card reader and a PCIe x4 slot for super fast SSD drives.
So, it still lacks behind the HP Spectre x360 15 (15-df0000) in some scenarios, but definitely, performance is not one of them.
Pros
Its keyboard is backlit and great for typing
ErgoLift and ScreenPad 2.0 boost its versatility
4K IPS display option with a reasonably high maximum brightness and no PWM detected
Wide color coverage
Supports PCIe x4 SSDs, WiFi 6 standards
It has a very rigid structure
Great battery life
45W performance from a 15W chip
Cons
Lacks a Thunderbolt connector
No RAM upgradability post-purchase
You can check the prices and configurations in our Specs System: https://laptopmedia.com/series/asus-zenbook-flip-15-ux563/