ASUS ZENBOOK UX303LN review – a heavily armed beauty
It's not news that the ZenBook line is a symbol of high-class, elegant vision and the most cutting edge technology that ASUS is capable of. The Taiwanese company has decided that this series should be equipped with the latest components available, and the only machines which are better than the ZenBook in some way are from the ROG division. This is logical, of course, keeping in mind that ROG are for gamers and you can't just put an 80W GPU on a computer which is 20mm thin. Actually, the notebook which we are going to examine today, ZenBook UX303LN also sports a discrete card (a low-class one, though), so it will be interesting if the cooling system will manage to do its job, under high load.
The discrete card in this "ultrabook" is not the only impressive feature. UX303LN is also equipped with an Intel Core i7 ULV processor, 8GB RAM and a gorgeous IPS display with a resolution of 3200 x 1800 pixels. Don't expect an HDD in the specifications, because almost every configuration is SSD-based, although UX303LN even has a 2.5" module (which lies behind the M.2 slot).
Enough with the introduction, let the testing begin. But before that…
Contents
What's in the box?
Every ZenBook has a big entourage and UX303LN is not an exception. When you open the box, you're going to find a handy and elegant leather sleeve, 65W power charger, USB to EthernetLAN dongle, MiniDisplay Port to VGA dongle, some manuals and a cable tie.
Design and construction
We've already praised the looks of UX303LN – a model which is almost entirely built out of aluminum. The only plastic external elements are the keyboard and the display borders. The whole panel (including the borders) is covered by tempered glass, though, with Edge-to-Edge technology, which is convenient, given the fact that the display is touch sensitive and there are a lot of gestures in Windows 8.1, which require you to slide your fingers from the borders to the surface of the screen.
The keyboard has a three-level backlight and it's very comfortable to use, thanks to the well-built "Island Style" construction, with enough distance between the keys and long travel. The power button is in the top right corner of the keyboard and it's not different in any way from the other keys, except for its LED indicator, which is lit up, when the computer is working. Almost invisible, to the right of the power button, is another LED indicator, which notifies you about the HDD/SSD's activity.
The trackpad dimensions are 10.5 x 7.3 centimeters (4.1" x 2.87") which is enough for comfortable use and multitouch gestures.
You'll be nicely surprised when you remove the bottom cover, which can be done easily, just by loosening eleven screws (9x Torx T6). Maintenance is easy – you'll get instant access to the cooling system, RAM, HDD / mSATA / SSD modules (yes, you read that right!) and the battery. The storage options are three, but you can only use two of them – you have a 2.5" SATA III module, covered by 2280 SATA M.2 with B&M key and an mSATA slot, which, unfortunately, is half-size. Still impressive, though, having in mind that we are talking about a 20 mm thin notebook.
The speeds of the SATA M.2 are typical for this technology and, unfortunately, are a way lower than the PCIe M.2 variants. The sequential read reaches 486 MB/sec and the sequential write – 470 MB/sec.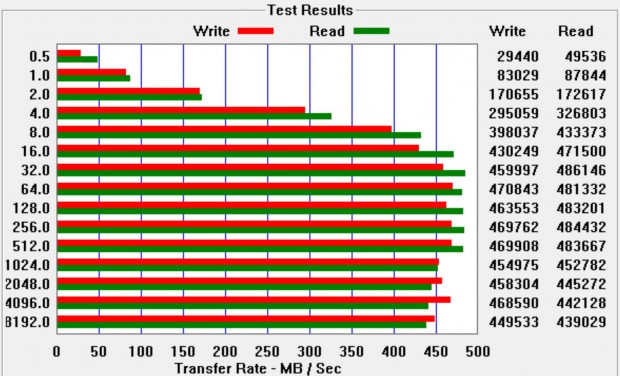 The battery is also user replaceable and requires the loosening of several screws.
On the left side, UX330LN is equipped with two USB 3.0 ports and an SD/MMC card reader. On the right side, there is an audio combo jack, HDMI out, another USB 3.0 port, mini DisplayPort and a power socket. The front and back sides are clear.

Display and Sound
ASUS UX303LN's display has a 13.3-inch (33.78 cm) touchscreen panel with a glossy finish and WLED backlight. It is made by Samsung and the exact model is YLLTN133YL01-L01.
The resolution is ultra-high – 3200 x 1800 pixels with 0.092 mm between them. That means a pixel density of 276 PPI, which is enough for a feeling of images with perfect details, when viewing from a distance of only 30 centimeters.
The screen technology is IPS, with a fourth sub-pixel, adding a white to the red, green and blue – the same as the ones used in models like Lenovo Yoga 3 Pro, Samsung ATIV Book 9 Plus, Toshiba Excite Pro and Lenovo Y50.
We have a perfect view when viewing at an angle of 45°.
The display's average brightness before calibration is 320 cd/m2, with a maximum deviation of 11%. The color temperature on a white screen and the aforementioned brightness is 6530K, which is almost the same as the D65 standard (6500K), without inappropriate deviations in different areas.
PWM (Pulse-Width Modulation)
The screen has PWM at all brightness levels. A bit of good news is that the frequency is relatively high.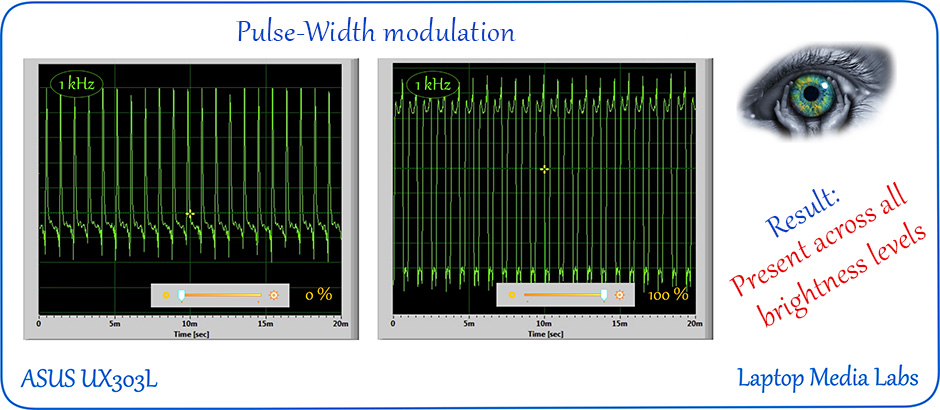 Color gamut coverage
ASUS UX303LN's display covers 93% of the sRGB color gamut and 71% of AdobeRGB, which is very good but not a perfect result.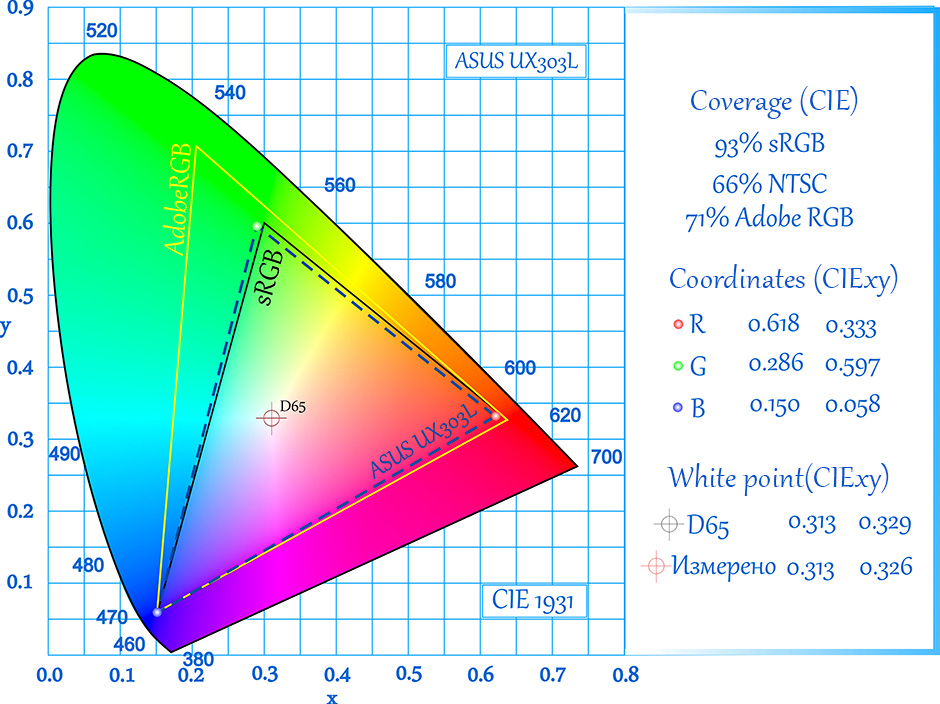 The measured gamma curve has a little deviation from the optimal 2.20 one.
Color reproduction
We've measured the accuracy of the colors at factory conditions, before the calibration profile.
We see not very high, but sufficient accuracy for normal work (not design related). The average Delta E is 5.51, and after calibration it was reduced to 4.12.
You can see a color reproduction map here.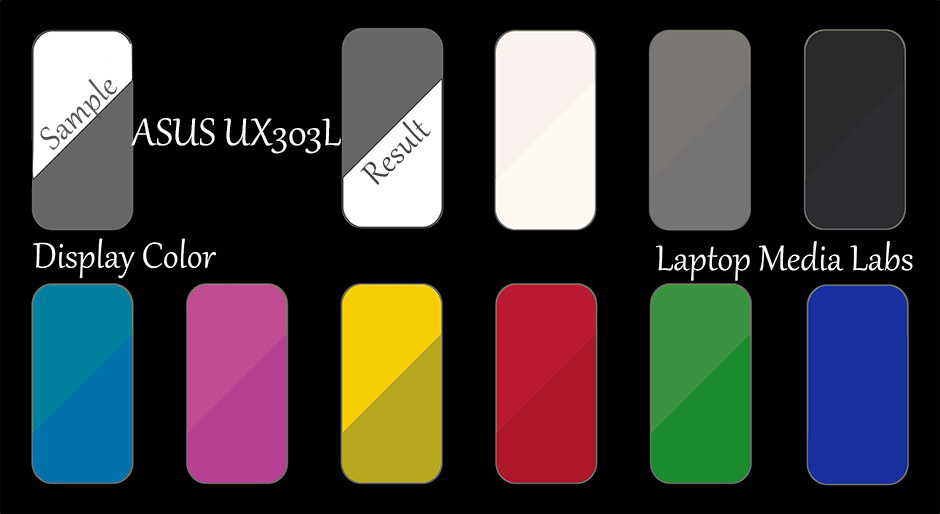 Display compare
If we assume a distance of 58cm (~23in) between the human eye and the notebook monitor, then normal (20/20) vision would require a pixel density of at least 150ppi in order to interpret an image as perfectly detailed.
Laptop
Results
Result
difference
Price
Price
difference
ASUS ZENBOOK UX303LN review – a heavily armed beauty -inch, pixels
-
Acer TravelMate P6 (P645) 14.0-inch, AU Optronics, 1920 x 1080 pixels
157
-
Toshiba Satellite Z30 (A-1D2) 13.3-inch, 1920 x 1080 pixels
166
-
Toshiba Tecra Z50 (A-11C) 15.6-inch, 1920 x 1080 pixels
141
-
Higher panel brightness is of key importance for visual comfort when working outside or in a brightly lit room.
Laptop
Results
Result
difference
Price
Price
difference
ASUS ZENBOOK UX303LN review – a heavily armed beauty -inch, pixels
-
Acer TravelMate P6 (P645) 14.0-inch, AU Optronics, 1920 x 1080 pixels
241
-
Toshiba Satellite Z30 (A-1D2) 13.3-inch, 1920 x 1080 pixels
334
-
Toshiba Tecra Z50 (A-11C) 15.6-inch, 1920 x 1080 pixels
325
-
Delta E is a CIE measurement unit of color difference. Higher values indicate that the display produces less accurate colors. (lower results are desirable).
Laptop
Results
Result
difference
Price
Price
difference
ASUS ZENBOOK UX303LN review – a heavily armed beauty -inch, pixels
-
Acer TravelMate P6 (P645) 14.0-inch, AU Optronics, 1920 x 1080 pixels
1.21
-
Toshiba Satellite Z30 (A-1D2) 13.3-inch, 1920 x 1080 pixels
0.90
-
Toshiba Tecra Z50 (A-11C) 15.6-inch, 1920 x 1080 pixels
1.36
-
The sRGB color gamut, introduced as a standard for the Web, shows the percentage of colors used on the Web that can be displayed on the screen of the device being tested (higher values are better).
Laptop
Results
Result
difference
Price
Price
difference
ASUS ZENBOOK UX303LN review – a heavily armed beauty -inch, pixels
-
Acer TravelMate P6 (P645) 14.0-inch, AU Optronics, 1920 x 1080 pixels
96
-
Toshiba Satellite Z30 (A-1D2) 13.3-inch, 1920 x 1080 pixels
96
-
Toshiba Tecra Z50 (A-11C) 15.6-inch, 1920 x 1080 pixels
91
-
Conclusion
ASUS UX303LN's display is multitouch, with ultra-high resolution, good brightness, good contrast, almost full sRGB coverage (it will accurately reproduce almost every Web color) and it has great viewing angles. The color reproduction is not so bad, but it's unsuitable for color related work.
Sound quality
The internal speakers have a loud sound and their frequency response is relatively uniform. There is a peak in the area of the frequency spectrum of the human voice. The lower frequency limit is 220 Hz for -12 dB (acquired with a measurement microphone, recording the sound tract, including the integrated speakers). The upper one is over 20 kHz. This description is typical only for notebooks with high-quality speakers. In brief, UX303LN's sound makes a good impression.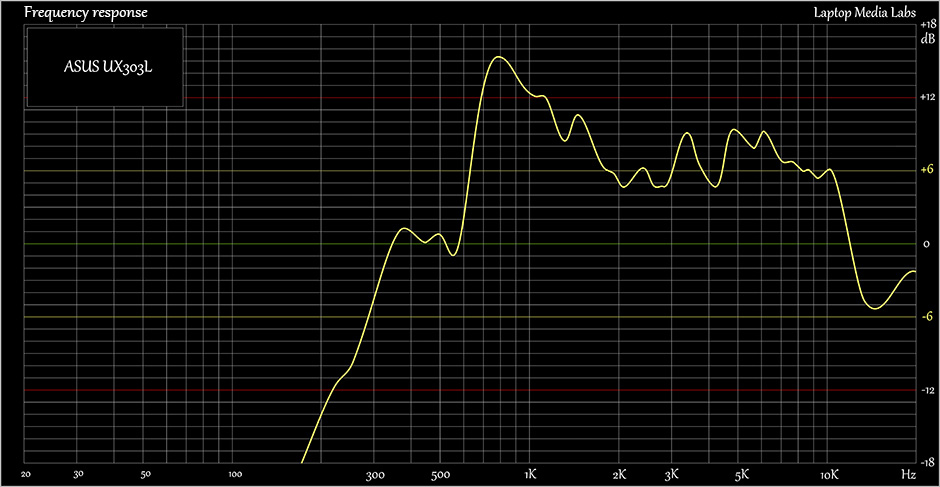 Technical specifications
These technical specifications refer only to the particular device being tested in this review. Laptops from the same series could have different characteristics and features.
| | |
| --- | --- |
| CPU | Intel Core i7-4510U (2-core, 2.00 – 3.10 GHz, 4MB cache) |
| RAM | 8GB (2x 4096MB) – DDR3, 1600MHz |
| GPU | NVIDIA GeForce 840M (2GB DDR3) |
| HDD/SSD | 256GB SSD SanDisk SD6SB1M256G1002 |
| Display | 13.3-inch (33.78 cm) – 3200×1800 (QHD+), IPS touchscreen |
| Optical drive | – none – |
| Communication | LAN 10/100 Мбит/sec, Wi-Fi 802.11ac, Bluetooth |
| Features | Card reader (SD, MMC), keyboard backlight, 3x USB 3.0, HD web camera, HDMI, Mini DisplayPort, Bang & Olufsen stereo speakers |
| Battery | 50 Wh (3-cell) |
| Height (it its highest point, without "крачетата") | 20.00 millimeters (0.79 inches) |
| Weight | 1513 grams (3.34 lbs) |
| Power charger weight | 214 grams (7.55 oz) |
ASUS ZenBook UX303LN configurations
Operating system and Software
This particular configuration, which we are testing, has a pre-installed Windows 8.1 operating system. If your ZenBook isn't equipped with that, you can download the latest approved drivers from the ASUS official support page:
http://www.asus.com/Notebooks_Ultrabooks/ASUS_ZENBOOK_UX303LN/HelpDesk_Download/

Battery life
ASUS ZenBook UX303LN's battery has a 50Wh capacity. We're going to put it to test by using our benchmark, which makes the browser surf the Web automatically. We use Power Saver mode, 120cd/m2 display brightness and Wi-Fi connectivity.
The result is 313 minutes – it's not a record, but it's pretty good performance.
CPU – Intel Core i7-4510U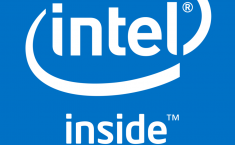 Intel Core i7-4510U is a low-voltage high-range processor announced on April 14, 2014. It is part of the "Haswell" generation and operates at a base frequency of 2.00GHz. If a higher frequency is needed, its two cores can overclock, and if they both operate in tandem, they go to 2.8GHz. The frequency goes up to 3.1GHz for only one core.
The chip is equipped with 128KB of first level cache, 512KB of second level cache, and 4MB of third-level cache. The Core i7-4510U has been developed using a 22nm process, allowing for the integration of the Intel HD Graphics 4400 controller. It operates at a base frequency of 200MHz, while Turbo Boost can increase that to 1100MHz. TDP consumption of the whole SoC (System on a Chip) is 15 watts with a maximum operating temperature of 100C.
Intel Core i7-4510U supports TurboBoost (increasing the clock frequency when necessary), HyperThreading (additional virtual core for every physical one), PCI Express 3.0, up to 16GB of DDR3/L/ 1333/1600 memory, AVX2.0 and the SSE4 instruction set.
You can find more information about Intel Core i7-4510U here:
http://laptopmedia.com/processor/intel-core-i7-4510u/
Results are from our Photoshop benchmark test (the lower the score, the better)
Results are from the Fritz chess benchmark (the higher the score, the better)
GPU – NVIDIA GeForce 840M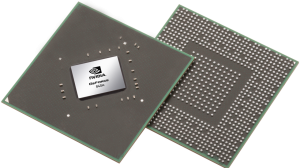 NVIDIA GeForce 840M, codenamed "N15S-GT", is a mid-range graphics chip, announced in Q1 of 2014. It is part of the Maxwell generation and relies on a GM108 core, constructed through a 28nm process. It consists of three shader blocks, known as SMM, and each of those has 128 smaller shader cores, also known as CUDA, for a total of 384 CUDA cores. The package also includes 24 texture cores and 8 raster cores.
All of them operate at 1029MHz, but NVIDIA's GPU Boost 2.0 can increase that frequency based on the laptop's cooling capacity.
The chip also has a 64bit bus and DDR3 memory. NVIDIA GeForce 840M supports DirectX 11.2, Pixel Shader 5.0, Optimus, SLI, PhysX, OpenCL 1.1, OpenGL 4.4, DirectCompute and CUDA. Memory bandwidth goes up to 15.4GB/sec. Max resolutions (WxH) are 2560×1600 digital and 2048×1536 analog.
You can find more information about NVIDIA GeForce 840M here:
http://laptopmedia.com/video-card/nvidia-geforce-840m-2gb-ddr3/
Results are from the 3DMark: Fire Strike (Graphics) benchmark (higher the score, the better)
Gaming Tests
*These tests are run with a resolution of 1366 x 768 pixels, with the aim of a fair comparison with GPUs located in laptops whose displays don't support higher resolutions.
As you see from the table above, although ASUS ZenBook UX303LN is a business machine you can still play some graphics intensive games. Some of them are Metro: Last Light and Tomb Raider can be played smoothly only at medium settings, though.
The driver used for this test is 344.75, WHQL.

Temperatures and comfort
As always, when we test an ultra-thin notebook, it's interesting to find how its cooling system will manage the high load and if it will cause overheating problems. At first, we measure the temperatures under light load – Web browsing, Document editing, etc. In this case, the temperatures vary around 45-50 C (113-122 F). Then we put the computer in 100% CPU load and we hold things like that for half an hour, when the temperatures rise to 68-70 C (154-158 F) and the clock rate – 2.3-2.4 GHz, which balances between the base clock (2.0GHz) and the maximum Turbo Boost (2.8 GHz) for two cores simultaneously.
We don't decrease CPU load but instead, we add 100% GPU load. We keep things like that for another two hours, when the discrete NVIDIA GeForce 840M reaches 77C (171 F), and the processor – 81 degrees C (178 F), at a frequency of 2.2 – 2.3GHz.
The green line shows the CPU load and the red one – the temperature (C).
We can qualify the performance of the ASUS UX303LN as very good, keeping in mind that the Tj.max for Core i7-4510U is 100 C (that is the limit above which would automatically turn off the system for protection).
We don't stop the torture test yet and measure the surface temperature of the front panel with an infrared thermometer. It's a nice surprise that UX303LN isn't even warm – the keyboard is cool and the highest measured temperature is 32.6 C (91 F) in its center.
Conclusion
ZenBook UX303LN is a computer which has cleverly balanced thin design and high-class components, as far as possible, without causing a negative effect of the internal and external temperatures. The Core i7 CPU and the GeForce 840M GPU are capable of almost any task, excluding/except for the newest, highly intensive 3D games. The IPS panel has ultra-high resolution, which is a great plus if you don't happen to stumble upon unoptimized software, whose graphic elements are absolute-sized, and without scaling its physical dimensions on the screen are small enough to make you stare from 10-15 cm, trying to understand what is written on the menus or on the buttons. On the other hand, the display's sRGB coverage, brightness and viewing angles are very good for a laptop. A problem is the presence of PWM, although the same have a high frequency.
At first sight, you'll be impressed by UX303LN's rich equipment in its package, and in the long-term you'll have one more surprise if you decide to upgrade your ZenBook – the big choice of storage options – M.2, mSATA and SATA 2.5".
Pros
Elegant design
Intel Core i7 processor
Discrete GPU
8GB RAM
IPS display with ultra-high resolution
Plenty of accessories in the box
Quality sound
Variety of storage options – M.2, mSATA, SATAIII 2.5"
Slim and lightweight body
Stability and cool surface temperatures under high load
Cons
Sometimes the high resolution isn't a pro
PWM across al brightness levels