Dell G3 17 3779 review – is this the best value 17-inch laptop for gaming?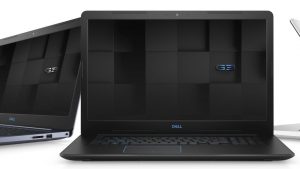 Many gamers, especially those who play strategies, MOBA, or RPG games, prefer 17-inch laptops instead of those with smaller screens. Although the resolution is not the same, 17-inch panels give a broader view of all controls, inventory, and options which facilitates one's gameplay and reduces the need to look closer at the screen. This is why it was somewhat strange that a company like Dell that has almost 200 different series in our catalog, did not have a single 17-inch gaming series. Of course, Alienware, which is part of the Dell corporation, has had machines with this size for a long time but this is not a viable option for people on a tighter budget.
This is where the status quo is shaken by the Dell G3 17 (3779) – a computer whose aim is to offer the best price/performance ratio on the market. Yes, it's quite a challenge that will certainly go hand in hand with some compromises – we harbor no illusions that there will be no cut corners. With the present review, however, we aim to inspect every component of this machine and decide if its really worth it as much as it looks on paper.
Other gaming machines that may very well surprise you with a wonderful price/performance ratio are the ASUS ROG GL702VS, Acer Predator Helios 300, HP OMEN 17, and  Acer Aspire 7 (A717-71G/72G). Actually, the best way to keep track of such notebooks is to browse through our chart "Top 100 Best Gaming Laptop Deals".
Contents
Specs sheet
Dell G3 17 3779 technical specifications table
Also known as G3779-5499BLK
Display
17.3", Full HD (1920 x 1080), IPS
HDD/SSD
1TB HDD, 5400 rpm
Dimensions
415 x 279 x 25 mm (16.34" x 10.98" x 0.98")
Ports and connectivity
1x USB Type-A 3.2 Gen 2 (10 Gbps)
1x USB Type-A 3.2 Gen 1 (5 Gbps)
1x USB Type-A 3.2 Gen 1 (5 Gbps), Sleep and Charge
HDMI 2.0
Card reader SD (UHS50) / MMC
Ethernet lan Gigabit Ethernet
Wi-Fi 802.11ac
Bluetooth 5.0
Audio jack combo audio / microphone jack
Features
Web camera HD 720p
Backlit keyboard
Microphone Dual-Array Microphone
Speakers Waves MaxxAudio Pro stereo speakers
Security Lock slotNoble lock
Spill-resistant keyboard
Dell G3 17 3779 configurations
What's in the box?
We didn't expect any accessories in the box of Dell G3 17, considering its budget nature and we were not surprised – its package only has some leaflets a 130 W power adapter for the GeForce GTX 1050 configurations or a 180 W one for the models with GTX 1060 Max-Q.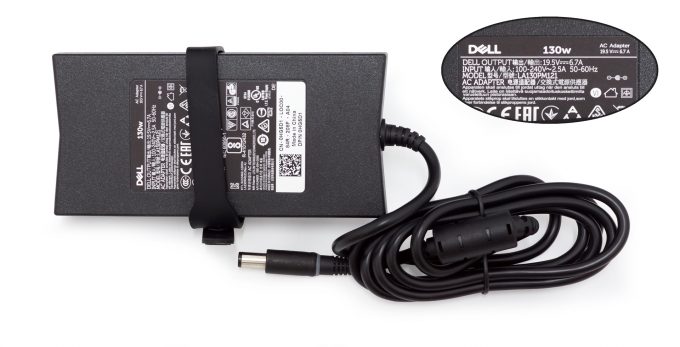 Design and construction
For the purpose of achieving the best possible price/performance ratio, Dell has not put great effort in selecting the materials for the construction of the G3 17 – the chassis is entirely plastic and does give in a bit when pressed – the large screen size does not help in the respect either. We don't find this as a particular problem, it's just that the machine looks way more stable than it actually is. The interior even imitates a carbon fiber finish.
The lid imitates aluminum and does not retain too many fingerprints, while the interior is a bit easier to get dirty than what we would prefer.
As it is characteristic of a 17-inch laptop, the keyboard is wide and comfortable – only the NumPad panel has a bit narrower keys. A good surprise is that its made so that in a case of an accidental spill of liquids over it, they would have a hard time getting to the internal components which will give you enough time (relatively enough) to save your work and switch the computer off. The trackpad has a big area – 4.13" x 3.15″ (105 x 80 mm), and the surrounding blue lining contributes to an aesthetically pleasing feel when working with the laptop.
We must note that the availability of a fingerprint reader is not that common in budget devices on the market. The model has a version without this reader, so if you need it, be sure to choose precisely when ordering.
Ports
On the left, Dell G3 17 has a DC jack, HDMI 2.0, 10/100/1000 Ethernet LAN port, two USB 3.0 ports, and a 3.5mm audio jack. This is something impressive – some configs even boast a Thunderbolt 3 (USB Type-C) port that supports USB 3.1 Gen 2 and DisplayPort 1.2.
On the right, we find an SD card reader, USB 2.0 port and a Noble lock slot.

Display quality
The display of Dell G3 17 3779 has a Full HD IPS panel, model number Dell G3 17 3779 LG LGD05B5 (01MJK-173WF4). Its diagonal is 17.3-inch (43.9 cm), and the resolution – 1920 х 1080p. Additionally, the screen ratio is 16:9, the pixel density – 127 ppi, their pitch – 0.2 х 0.2 mm. The screen can be considered Retina when viewed from at least 69 cm (from this distance, the average human eye can't see the individual pixels).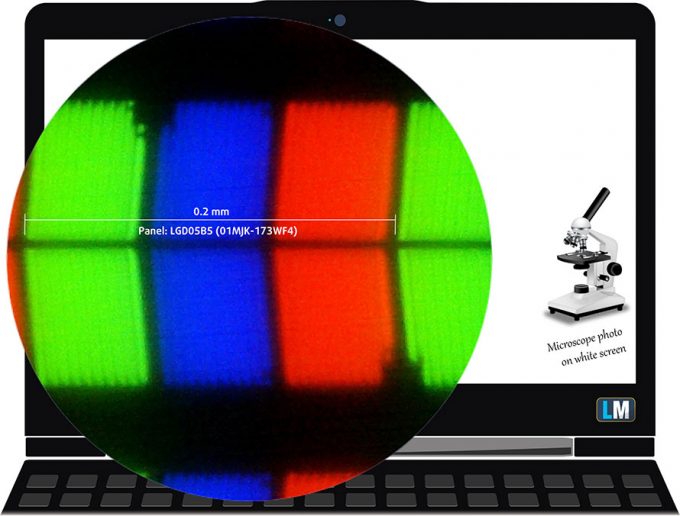 Viewing angles are good. We offer images at 45° to evaluate the quality.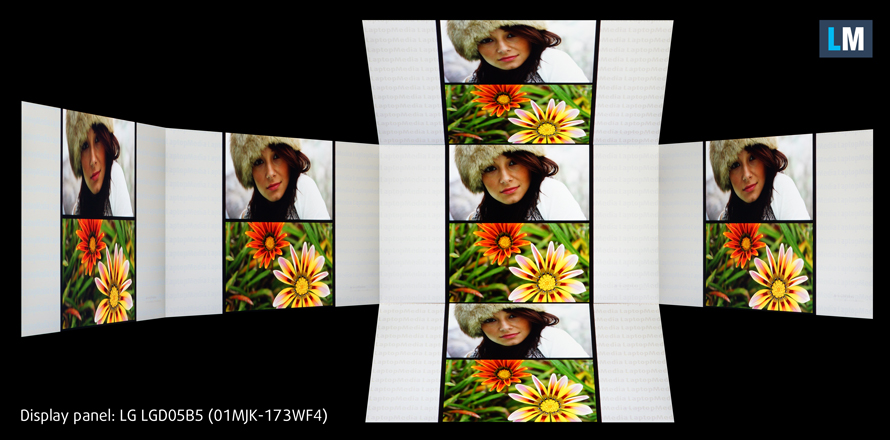 The maximum measured brightness is 324 nits (cd/m2) in the middle of the screen and 315 nits (cd/m2) average across the surface with a maximum deviation of 6%. The Correlated Color Temperature on a white screen and at maximum brightness is 6600K (average) – almost the optimal 6500K temperature for sRGB. The average color temperature through the grey scale before profiling is 6400K.
In the illustration below you can see how the display performs from uniformity perspective. The illustration below shows how matters are for operational brightness levels (approximately 140 nits) – in this particular case at 42% Brightness (White level = 139 cd/m2, Black level = 0.13 cd/m2).
Values of dE2000 over 4.0 should not occur, and this parameter is one of the first you should check if you intend to use the laptop for color sensitive work (a maximum tolerance of 2.0 ). The contrast ratio is very good – 1090:1 (1070:1 after profiling).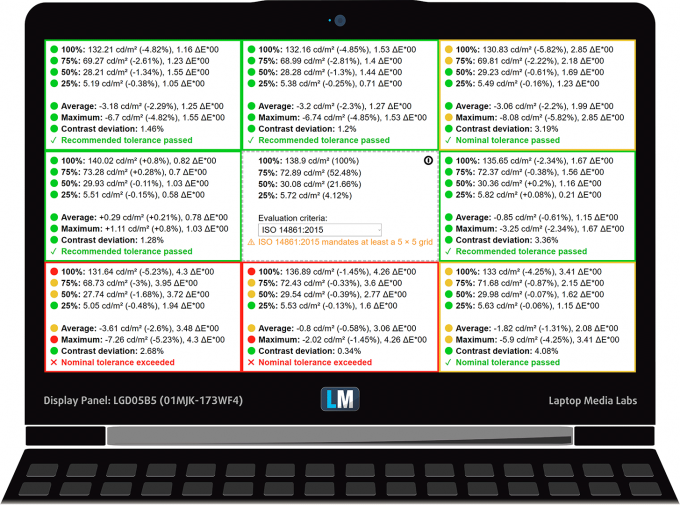 To make sure we are on the same page, we would like to give you a little introduction of the sRGB color gamut and the Adobe RGB. To start, there's the CIE 1976 Uniform Chromaticity Diagram that represents the visible specter of colors by the human eye, giving you a better perception of the color gamut coverage and the color accuracy.
Inside the black triangle, you will see the standard color gamut (sRGB) that is being used by millions of people in HDTV and on the web. As for the Adobe RGB, this is used in professional cameras, monitors etc for printing. Basically, colors inside the black triangle are used by everyone and this is the essential part of the color quality and color accuracy of a mainstream notebook.
Still, we've included other color spaces like the famous DCI-P3 standard used by movie studios, as well as the digital UHD Rec.2020 standard. Rec.2020, however, is still a thing of the future and it's difficult for today's displays to cover that well. We've also included the so-called Michael Pointer gamut, or Pointer's gamut, which represents the colors that naturally occur around us every day.
The yellow dotted line shows Dell G3 17 3779's color gamut coverage.
Its display covers 87% of the sRGB/ITU-R BT.709 (web/HDTV standard) in CIE1976.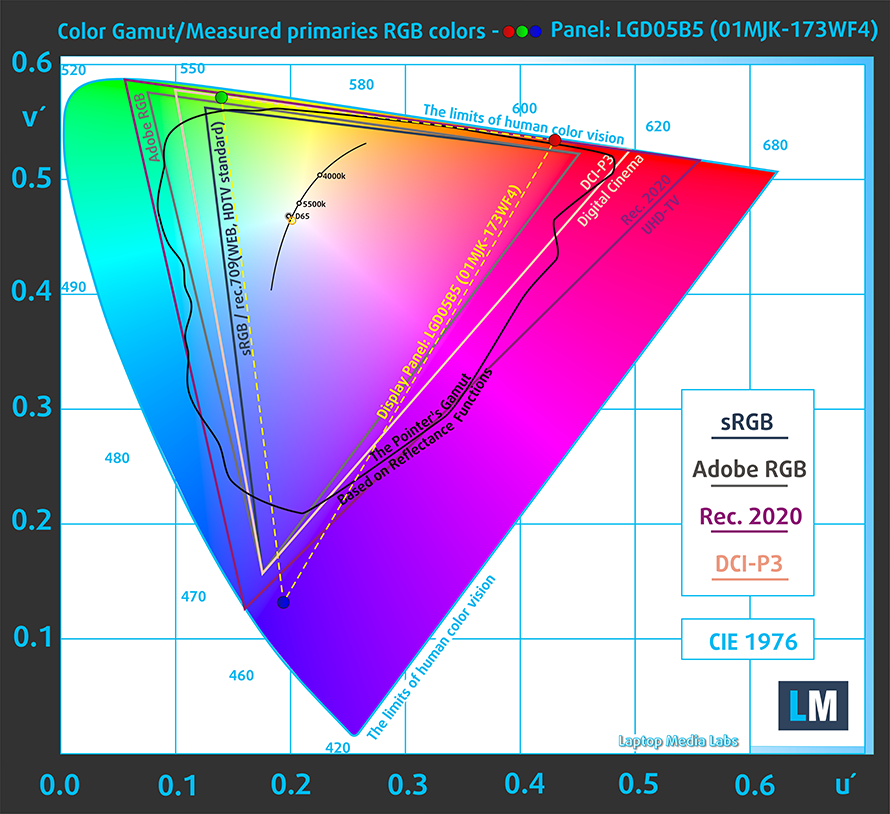 Our "Design and Gaming" profile delivers optimal color temperature (6500K) at 140 cd/m2 luminance and sRGB gamma mode.
We tested the accuracy of the display with 24 commonly used colors like light and dark human skin, blue sky, green grass, orange etc. You can check out the results at factory condition and also, with the "Design and Gaming" profile.
Below you can compare the scores of Dell G3 17 3779 with the default settings (left), and with the "Gaming and Web design" profile (right).
The next figure shows how well the display is able to reproduce really dark parts of an image, which is essential when watching movies or playing games in low ambient light.
The left side of the image represents the display with stock settings, while the right one is with the "Gaming and Web Design" profile activated. On the horizontal axis, you will find the grayscale and on the vertical axis – the luminance of the display. On the two graphs below you can easily check for yourself how your display handles the darkest nuances but keep in mind that this also depends on the settings of your current display, the calibration, the viewing angle and the surrounding light conditions.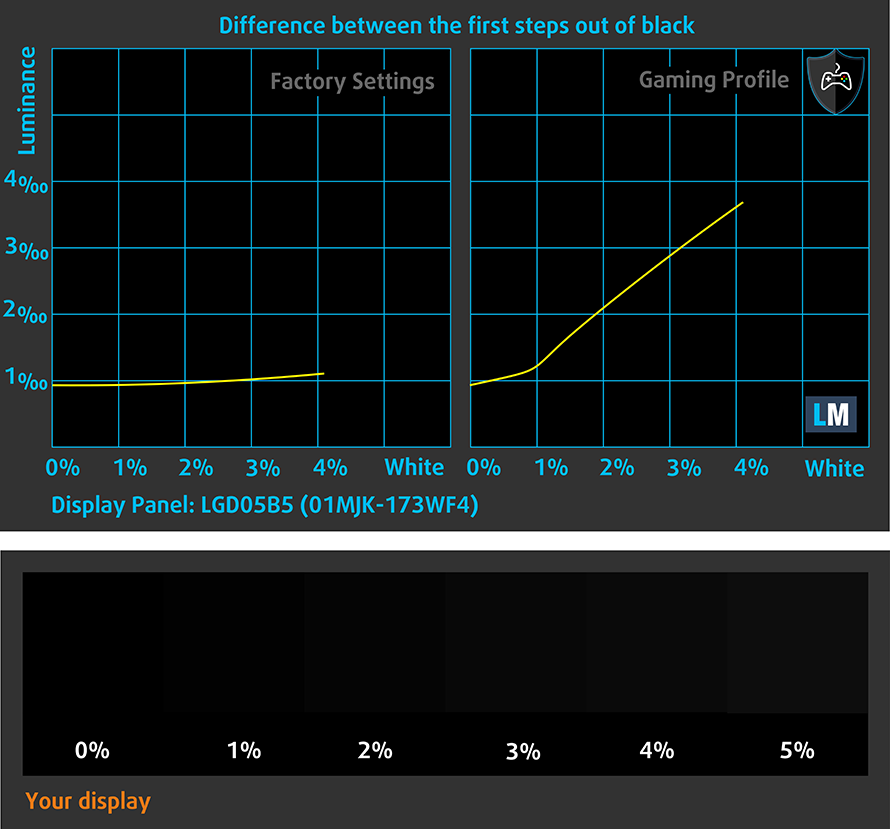 Response time (Gaming capabilities)
We test the reaction time of the pixels with the usual "black-to-white" and "white-to-black" method from 10% to 90% and vice versa.
We recorded Fall Time + Rise Time = 24 ms.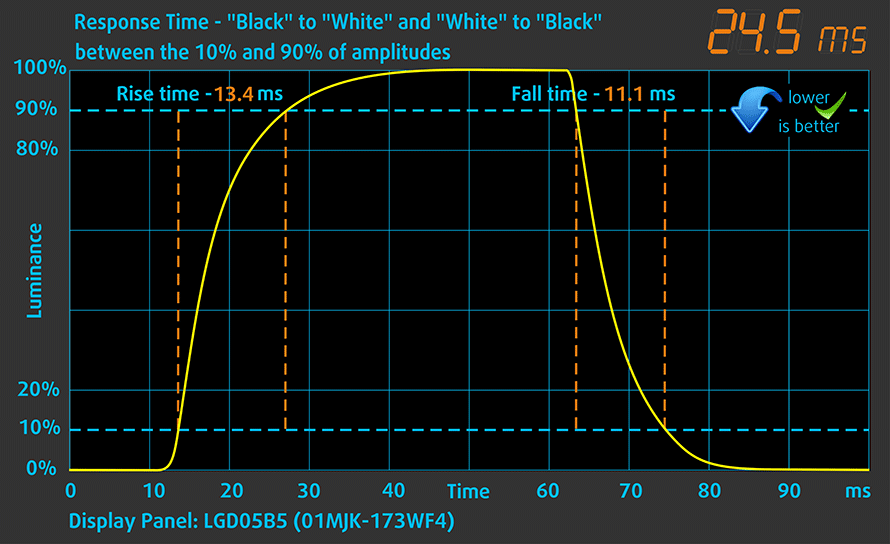 Conclusions
Dell G3 17 3779's display has a FullHD resolution, 17-inch diagonal, high maximum brightness, good contrast, comfortable viewing angles and lack of PWM.

Health impact
PWM (Screen flickering)
Pulse-width modulation (PWM) is an easy way to control monitor brightness. When you lower the brightness, the light intensity of the backlight is not lowered, but instead turned off and on by the electronics with a frequency indistinguishable to the human eye. In these light impulses, the light/no-light time ratio varies, while brightness remains unchanged, which is harmful to your eyes. You can read more about that in our dedicated article on PWM.
The light from Dell G3 17 3779's display does not pulsate, ensuring comfort for your eyes in this respect.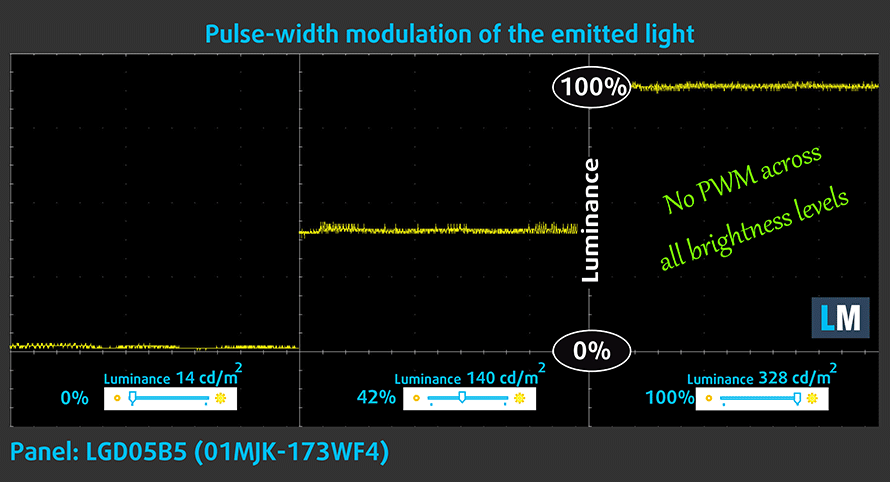 Blue light emissions
Installing our Health-Guard profile not only eliminates PWM but also reduces the harmful Blue Light emissions while keeping the colors of the screen perceptually accurate. If you're not familiar with the Blue light, the TL;DR version is – emissions that negatively affect your eyes, skin and your whole body. You can find more information about that in our dedicated article on Blue Light.
You can see the levels of emitted blue light on the spectral power distribution (SPD) graph.

Buy our profiles
Since our profiles are tailored for each individual display model, this article and its respective profile package are meant for Dell G3 17 3779 (G3779) configurations with 17.3″ LGD05B5-173WF4 (01MJK), (FHD, 1920 × 1080) IPS.
*Should you have problems with downloading the purchased file, try using a different browser to open the link you'll receive via e-mail. If the download target is a .php file instead of an archive, change the file extension to .zip or contact us at [email protected]
Read more about the profiles HERE.
In addition to receiving efficient and health-friendly profiles, by buying LaptopMedia's products you also support the development of our labs, where we test devices in order to produce the most objective reviews possible.
Sound
Dell G3 17 3779 has very good audio quality. Its low, mid and high frequencies are clear.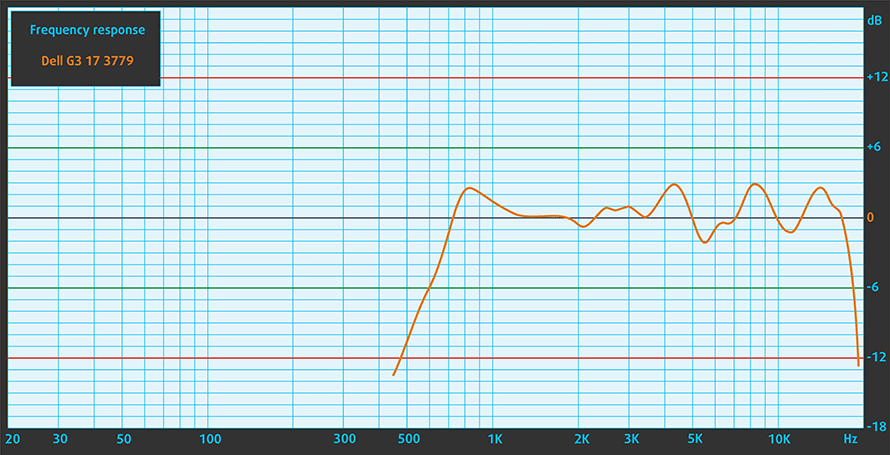 Drivers
You can find all the necessary drivers on Dell's official website G3 17:
https://www.dell.com/support/home/us/en/19/product-support/product/g-series-17-3779-laptop/drivers

Battery life
Now, we conduct the battery tests with Windows Better performance setting turned on, screen brightness adjusted to 120 nits and all other programs turned off except for the one we are testing the notebook with.
Dell G3 17 is offered with a 56Wh, 4-cell battery, which should cope with the big 17-inch IPS panel. As you can see from the graphics below, its performance is not remarkable.
In order to simulate real-life conditions, we used our own script for automatic web browsing through over 70 websites.
For every test like this, we use the same video in HD.
We use F1 2017's built-in benchmark on loop in order to simulate real-life gaming.
CPU
Dell G3 17 is offered with 8th gen Intel Core i5 and i7 processor, namely the i5-8300H and i7-8750H. If you are a gamer, you won't probably notice a difference between the two because even more demanding games because even heavier games cannot pose a problem even to the more modest option. If you will use Dell G3 for tasks related to CAD/CAM, Photoshop, video rendering or another type of computing tasks, the Core i7 config is the right choice for you.
You can check our Top Laptop CPU ranking here:
http://laptopmedia.com/top-laptop-cpu-ranking/
Results are from the Cinebench 20 CPU test (the higher the score, the better)
Results are from our Photoshop benchmark test (the lower the score, the better)
Results are from the Fritz chess benchmark (the higher the score, the better)
GPU
As for the graphics performance, Dell has picked three options – NVIDIA GeForce GTX 1050, GTX 1050 Ti, and GTX 1060 Max-Q. If your priority is gaming, this will be the most important choice for you. Our recommendation is, if your budget allows it, go for the GTX 1060 Max-Q, even at the expense of RAM and SSD as you can upgrade in these respects later on.
You can check our Top Laptop GPU ranking here:
http://laptopmedia.com/top-laptop-graphics-ranking/
Results are from the 3DMark: Fire Strike (Graphics) benchmark (higher the score, the better)
Results are from the Unigine Superposition benchmark (higher the score, the better)
Gaming tests
These tests have been conducted with GeForce drivers, ver 398.36. The table below shows what you can expect from the configs with GTX 1050 Ti and GTX 1060 Max-Q.


| CS:GO | Full HD, Low (Check settings) | Full HD, Medium (Check settings) | Full HD, MAX (Check settings) |
| --- | --- | --- | --- |
| GeForce GTX 1050 | 163 fps | 160 fps | 122 fps |
| GeForce GTX 1050 Ti (~) | 222 fps | 188 fps | 133 fps |
| GeForce GTX 1060 Max-Q (~) | 144+ fps | 144+ fps | 144+ fps |



| Grand Theft Auto V (GTA 5) | Full HD, Normal (Check settings) | Full HD, High (Check settings) | Full HD, Very High (Check settings) |
| --- | --- | --- | --- |
| GeForce GTX 1050 | 94 fps | 67 fps | 36 fps |
| GeForce GTX 1050 Ti (~) | 117 fps | 81 fps | 42 fps |
| GeForce GTX 1060 Max-Q (~) | 136 fps | 113 fps | 62 fps |


| Rise of the Tomb Raider (2016) | Full HD, Lowest (Check settings) | Full HD, Medium (Check settings) | Full HD, Very High (Check settings) |
| --- | --- | --- | --- |
| GeForce GTX 1050 | 81 fps | 53 fps | 25 fps |
| GeForce GTX 1050 Ti (~) | 108 fps | 64 fps | 32 fps |
| GeForce GTX 1060 Max-Q (~) | 157 fps | 93 fps | 48 fps |
Temperatures and comfort
We have a new way of torturing laptops, and for gaming machines, it comprises of 100% CPU load plus real gameplay test (Rise of the Tomb Raider).
Max CPU load
In this test we use 100% on the CPU cores, monitoring their frequencies and chip temperature. The first column shows a computer's reaction to a short load (2-10 seconds), the second column simulates a serious task (between 15 and 30 seconds), and the third column is a good indicator of how good the laptop is for long loads such as video rendering.
Average core temperature (base frequency + X); CPU temp.
| Core i5-8300H (45W TDP) | 0:02 – 0:10 sec | 0:15 – 0:30 sec | 10:00 – 15:00 min |
| --- | --- | --- | --- |
| Dell G3 17 3779 | 3.44 GHz (+50%) @ 98°C | 3.29 GHz (B+43%) @ 98°C | 3.11 GHz (+35%) @ 91°C |
The performance here is impressive but we can't say the same about the temperatures. The computer obviously prioritizes high frequency over reliability in the long run. We must note that you will rarely engage the CPU up to 100% for a continuous time period, but considering the figures above, one will have to make their own decision if it will be good or bad for the system.
Real gameplay
| | GPU frequency/ Core temp (after 2 min) | GPU frequency/ Core temp (after 30 min) |
| --- | --- | --- |
| Dell G3 17 3779 | 1683 MHz @ 77°C | 1670 MHz @ 88°C |
The GPU also works at high temperatures with continuous gaming, which can be noted as a minus because games continue for much longer than CPU processes.
Gaming comfort
Despite the high internal temperatures, the situation on the surface is not that striking – the hottest point is between the O and P keys – 53.2°C. The heat can be felt but does not cause discomfort.
Verdict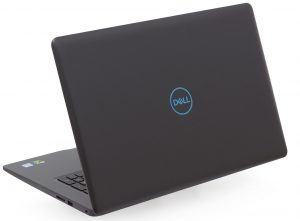 So, our opinion is that the compromises that Dell has made in order to reduce the price of G3 17 are not worrying perhaps with the exception of the high internal temperatures at high loads. We are not impressed by the build quality but we didn't expect anything different. Battery life is not great either, considering the fact that there is enough space in the chassis of a 17-inch laptop.
The positive aspects, on the other hand, are way more and more pleasant – the price/performance ratio is the best on the market, and the screen is perfect for professionals who do not seek high color accuracy. Our profiles fix the issues to an extent as the "Health-Guard" profile reduces Blue light emissions, preserving the colors perceptually accurate.
Despite the low price, Dell has made effort integrating a fingerprint scanner, keyboard backlight, and anti-spill protection. The most impressive thing is the available Thunderbolt 3 port in some configurations.
If you are looking for alternatives, you could consider ASUS ROG GL702VS, Acer Predator Helios 300, HP OMEN 17 and Acer Aspire 7 (A717-71G/72G). Also worth your attention are ASUS ROG GL703, MSI GP73 / GL73 or the upcoming ASUS TUF Gaming FX705 and Lenovo Legion Y730 17″.
Pros
Impressive price/performance ratio
IPS screen with 87% sRGB coverage (LG LGD05B5)
Lack of PWM
Thunderbolt 3 port (some configs)
Fingerprint scanner
Keyboard backlight + liquid spill protection
Cons
Not that high build quality
Mediocre battery life
High internal temperatures