HP Pavilion x360 15 (15-cr0000) review – can't fare with the competition
HP has a wide spectrum of convertible devices which they brand as "x360". No, XBOX is not an HP convertible laptop, but the new Pavilion x360 15 is. If you are familiar with the Spectre and Envy brands this may seem somehow similar. Probably because it is just a budget version of them – the overall design is a lower-quality copy of the older Spectre x360 15. Even the keyboard layout is the same.
In addition to the lower build quality though it is paired with the older Coffe-Lake CPUs and either GeForce MX130 GPU or AMD Radeon 530 (apart from the integrated UHD620, obviously). This, plus the choice of materials and other components is essential to the lower price of this convertible laptop. Despite that, it still has a Bang and Olufsen branding and HP Pen support.
You can check the prices and configurations in our Specs System: https://laptopmedia.com/series/hp-pavillion-x360-15-15-cr0000/
Contents
Specs Sheet
HP Pavilion x360 15 technical specifications table
HDD/SSD
256GB M.2 NVMe SSD
Dimensions
356 x 243 x 19.8 mm (14.02" x 9.57" x 0.78")
Body material
Plastic / Polycarbonate, Aluminum
Ports and connectivity
1x USB Type-C 3.2 Gen 1 (5 Gbps)
2x USB Type-A 3.2 Gen 1 (5 Gbps)
HDMI 1.4
Card reader SD, SDHC, SDXC
Wi-Fi 802.11ac
Bluetooth 4.2
Audio jack combo audio / microphone jack
Features
Fingerprint reader
Web camera
Backlit keyboard
Microphone
Speakers
Optical drive
What's in the box?
HP Pavilion x360 15 comes with a pretty modest packaging. Nothing more than the laptop itself, some manuals and a 65W power brick.

Design and construction
The Pavilion x360 15 has a silver-black combination color scheme with its outer shell being silver and the inside being black. It uses mostly plastic for its body with metal lid and base covers. Despite that, we can't pass to mention how bendy its body actually is. In fact, the lid (probably because of the glass covering the screen) is far sturdier than the body. It doesn't really need significant force as well – cheap execution, HP! At least it is fairly thin – 19.8 mm and weighs 2.08 kgs, which is great for a 15-incher.
At this price point, you can't even think of opening the lid with a single hand. However, what really annoyed us is how the hinges behave when you put the screen in an upright position. If you foolishly try using the touchscreen this way, it starts bouncing back and forth, quite reminiscent of a bellydancer.
Anyhow, let's drive our attention towards the base area of the device and hope things are better there. At first glance, everything looks good – we have every key we may ever need, despite some of them are a little too tiny – yes, you, arrow keys. Moreover – they are illuminated. Also, it feels tactile and has some nice travel for overall good typing experience. However, all of this is about to be wasted by the flimsiness of the base itself. The moment you press a key – it bends. Probably you should stick to using it in a tablet mode as the touchscreen itself is pretty responsive and accurate.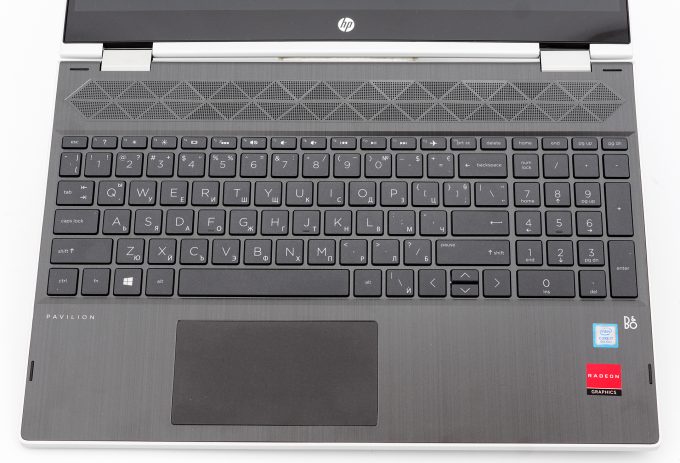 Furthermore to the bottom is located the touchpad which has some texture to the touch and is, of course, made of plastic. It is not the best touchpad on the market mainly because it's not very responsive at all. Everything else can be changed from the settings.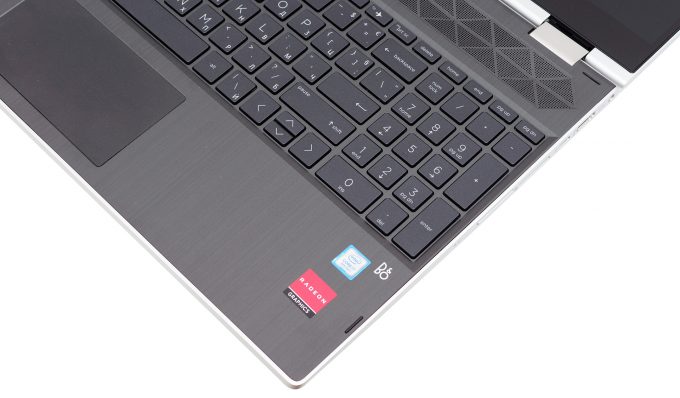 Last but not least we have the plastic bottom plate, which is extremely prone to scratches even from some miniature dust particles, found on every desk. This is due to the low-quality plastic and the short legs of the device. Thankfully, all of the speakers are firing towards the user (in laptop mode) and have Bang and Olufsen branding.
Width
Length
Height
Weight
HP Pavilion x360 15 (15-cr0000)
356 mm (14.02″)
2243 mm (9.57″)
19.8 mm (0.78″)
2.08 kg (4.6 lbs)
Lenovo Yoga 730 (15″)
360 mm (14.17″)
249 mm (9.80″)
17 mm (0.67″) (

-14%

)
1.89 kg (4.2 lbs) (

-9%

)
ASUS ZenBook Flip 15 (UX561UD)
365 mm (14.37″)
247 mm (9.72″)
21 mm (0.83″) (

+6%

)
2.10 kg (4.6 lbs) (

+1%

)
Ports
On the left side of the device, you'll find two USB Type-A 3.1 (Gen. 1), an audio jack and the power button, which is very hard to press and has no tactile feedback at all. When you turn to the other end you're going to see a barrel plug charger, an HDMI 1.4 port plus a USB Type-C 3.1 (Gen. 1) port, SD card reader and a volume rocker.
Disassembly, upgrade options and maintenance
HP has decided to play the find-the-screws game with us, as there are only three visible to the naked eye. Without any hesitation, we were able to find one of them – hidden just by a plastic cap. At this moment we found out that we underestimated HP. We needed something more. That's why we turned to our sixth sense, which unambiguously was telling us that we have to remove the top pseudo legs… and it was right. Thankfully, HP has put just 6 screws in total, probably to compensate for hiding half of them.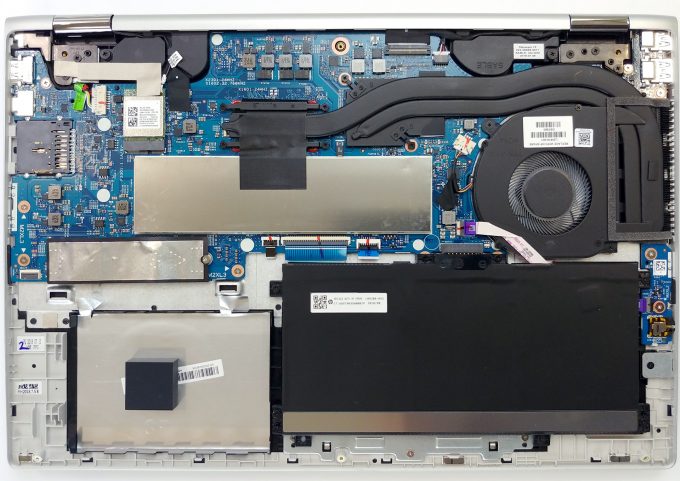 As soon as you lift the bottom plate, you can see even more mystery in HP Pavilion x360 15 (15-cr0000)'s design. It's RAM DIMMs are hidden, the M.2 SSD is hidden… and the battery is upside down. What are you up to, HP?!
Anyhow, let's throw our frustration away and discuss the cooling solution. It features classical two heat pipes, with a bigger one going from the CPU to the heatsink, taking some of the heat away from the GPU as well, while the smaller one only covers the GPU. This is usually not a good thermal solution, especially if you do graphically-intensive work since the heat from the CPU is transferred to the GPU via the heat pipe and vice versa. This fact is reinforced by the high TDP (50W) of the Radeon 530 in this unit, compared to the only 15W, used by the CPU.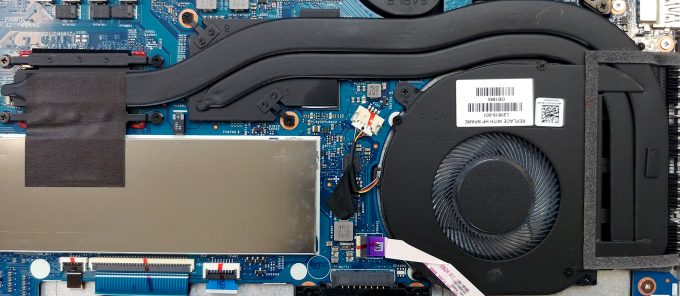 Next, we have the two RAM DIMMs, which are accessible by removing the plate, covering them. While we joked with it at first, we find that plate very useful in this scenario, especially given the low-quality plastic used to make the bottom plate of the laptop.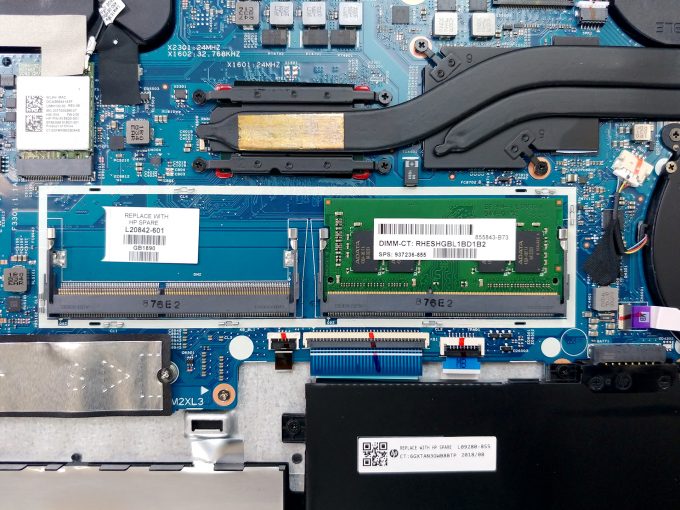 Further below, the bottom half of the notebook is shared between the storage devices and the battery.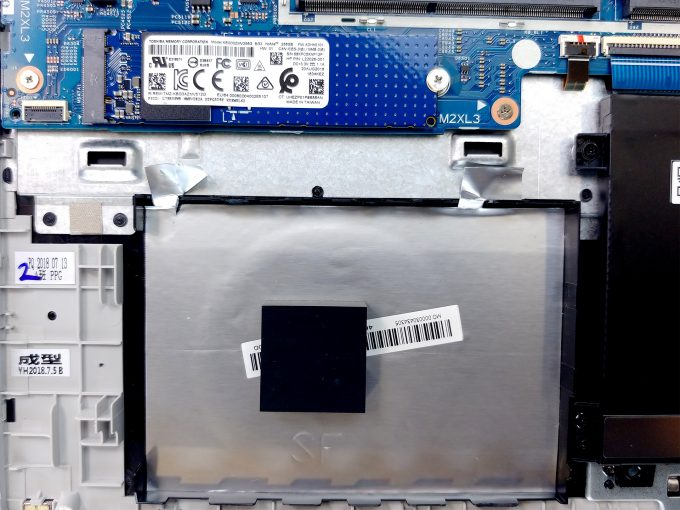 Its storage options comprise of an M.2 NVMe-enabled port as well as a SATA connector, while the battery is a 3-cell 48Wh unit.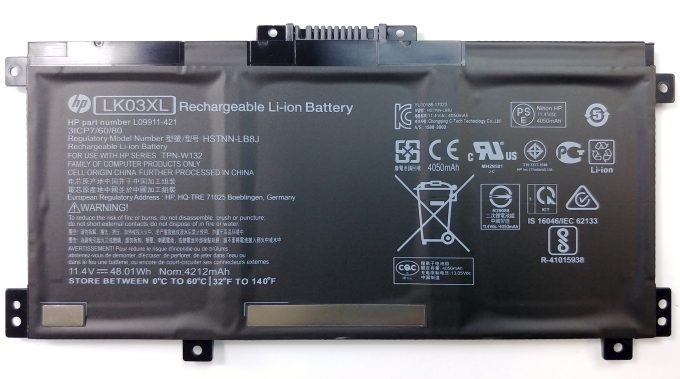 Display quality
HP Pavilion x360 15 (15-cr0000) has a Full HD touch screen IPS panel with a model number B156HAN02.2 (AUO22ED). Its diagonal is 15.6″ (39.62 cm), and the resolution 1920 х 1080 pixels. The screen ratio is 16:9, and we are looking at a pixel density of – 142 ppi, and a pitch of 0.18 х 0.18 mm. The screen turns into Retina when viewed at distance equal to or greater than 60cm (24″) (from this distance one's eye stops differentiating the separate pixels, and it is normal for looking at a laptop).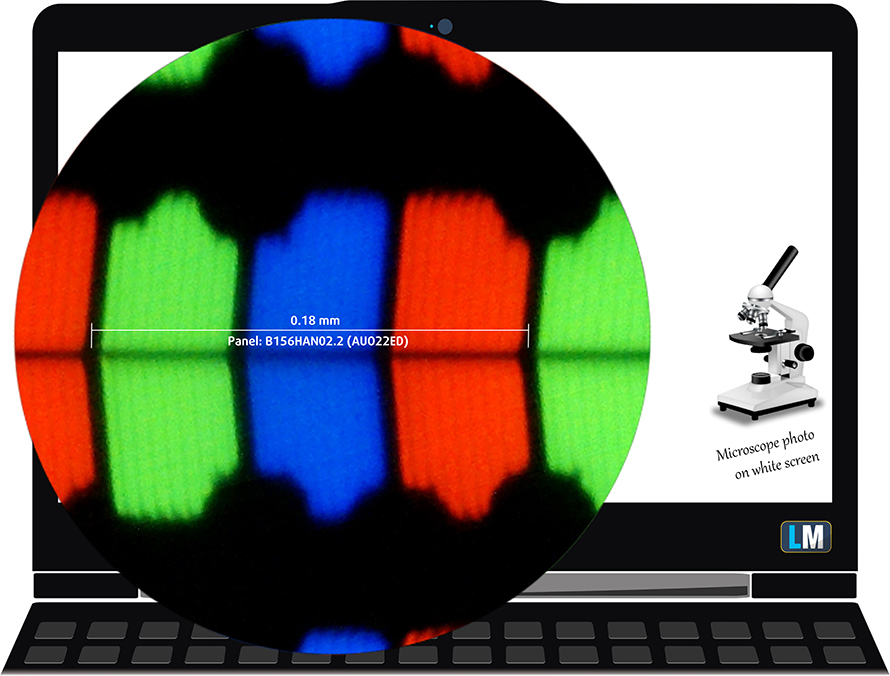 Viewing angles are comfortable. We offer images at 45° to evaluate image quality.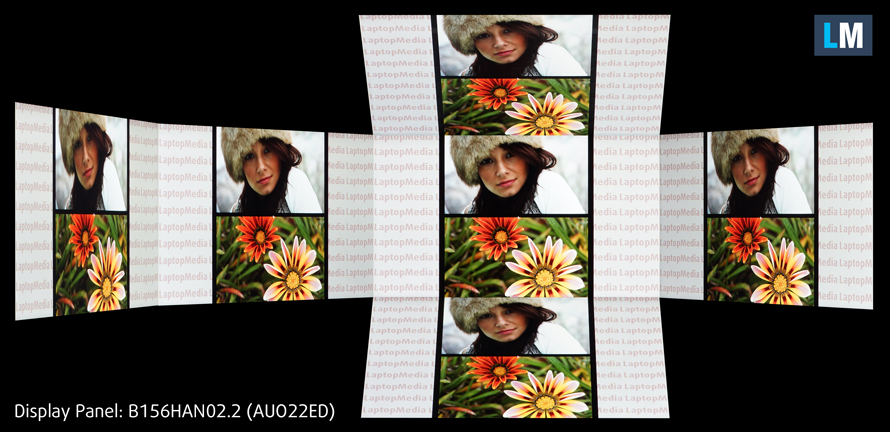 The measured maximum brightness of 224 nits in the middle of the screen and 220 nits as an average for the whole area, with a maximum deviation of just 4%. The Correlated Color Temperature on a white screen is 6070K – slightly warmer the optimal for the sRGB standard of 6500K. The average color temperature through the grey scale before profiling is even warmer – 5920K.
In the illustration below you can see how the display performs from a uniformity perspective. In other words, the leakage of light from the light source.
Values of dE2000 over 4.0 should not occur, and this parameter is one of the first you should check if you intend to use the laptop for color sensitive work. The contrast ratio is good – 1200:1 (1130:1 after profiling).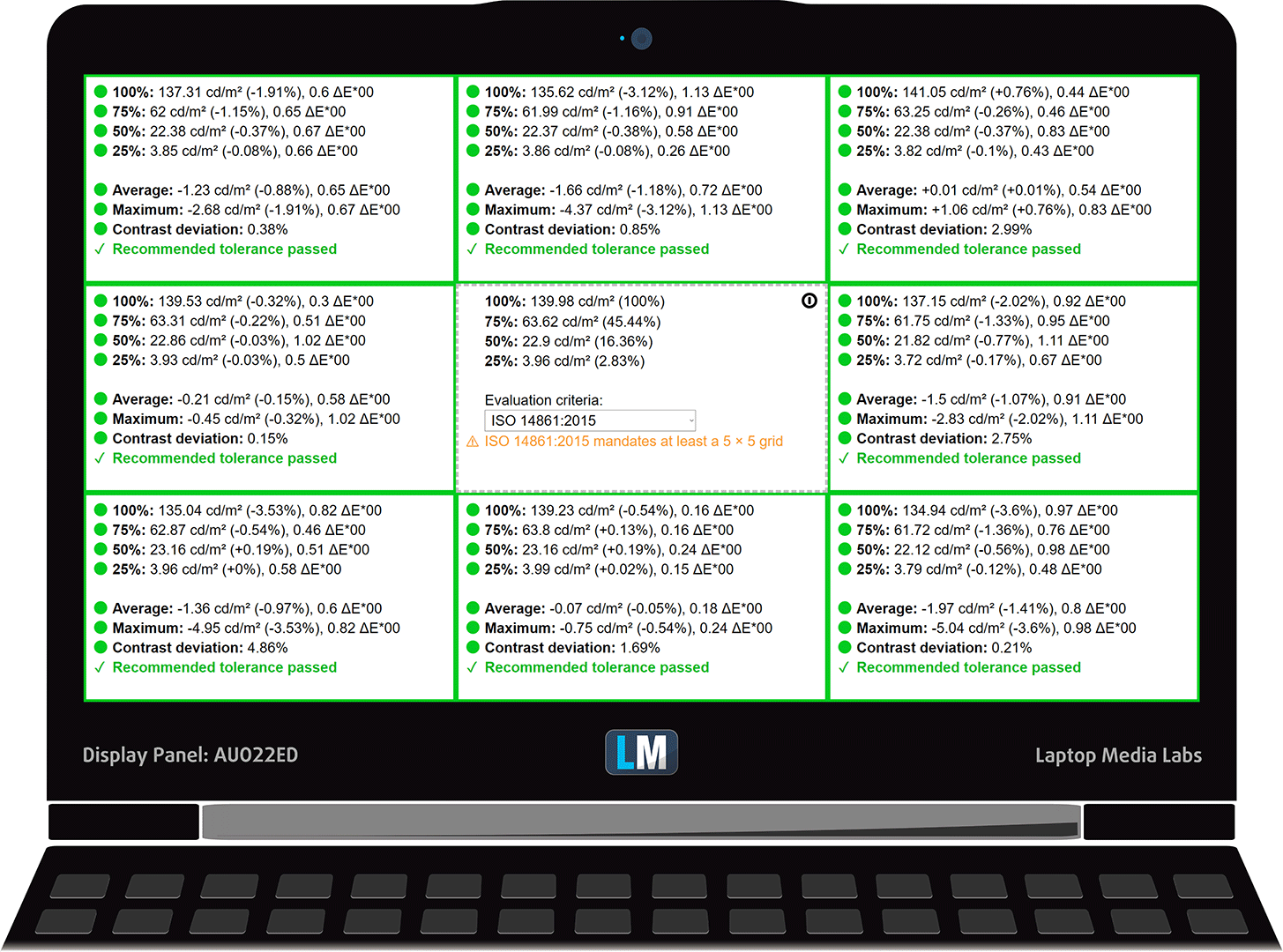 To make sure we are on the same page, we would like to give you a little introduction to the sRGB color gamut and the Adobe RGB. To start, there's the CIE 1976 Uniform Chromaticity Diagram that represents the visible specter of colors by the human eye, giving you a better perception of the color gamut coverage and the color accuracy.
Inside the black triangle, you will see the standard color gamut (sRGB) that is being used by millions of people in HDTV and on the web. As for the Adobe RGB, this is used in professional cameras, monitors etc for printing. Basically, colors inside the black triangle are used by everyone and this is the essential part of the color quality and color accuracy of a mainstream notebook.
Still, we've included other color spaces like the famous DCI-P3 standard used by movie studios, as well as the digital UHD Rec.2020 standard. Rec.2020, however, is still a thing of the future and it's difficult for today's displays to cover that well. We've also included the so-called Michael Pointer gamut, or Pointer's gamut, which represents the colors that naturally occur around us every day.
The yellow dotted line shows HP Pavilion x360 15 (15-cr0000)'s color gamut coverage.
Its display covers 53% of the sRGB/ITU-R BT.709 (web/HDTV standard) in CIE1976.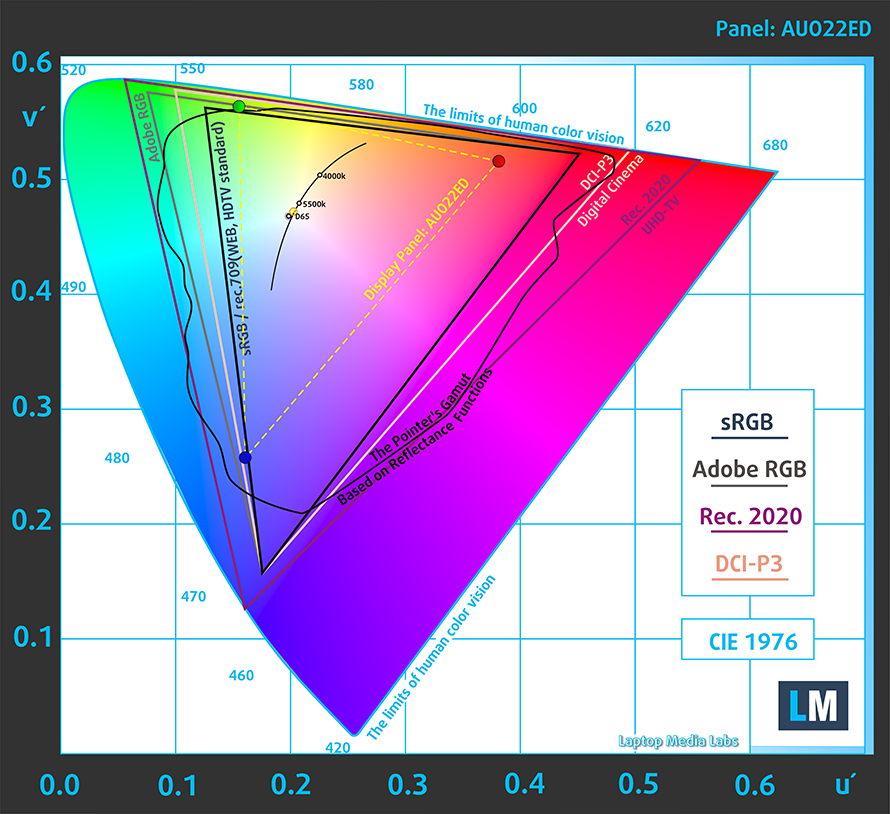 Our "Design and Gaming" profile delivers optimal color temperature (6500K) at 140 cd/m2 luminance and sRGB gamma mode.
We tested the accuracy of the display with 24 commonly used colors like light and dark human skin, blue sky, green grass, orange etc. You can check out the results at factory condition and also, with the "Design and Gaming" profile.
Below you can compare the scores of HP Pavilion x360 15 (15-cr0000) with the default settings (left), and with the "Gaming and Web design" profile (right).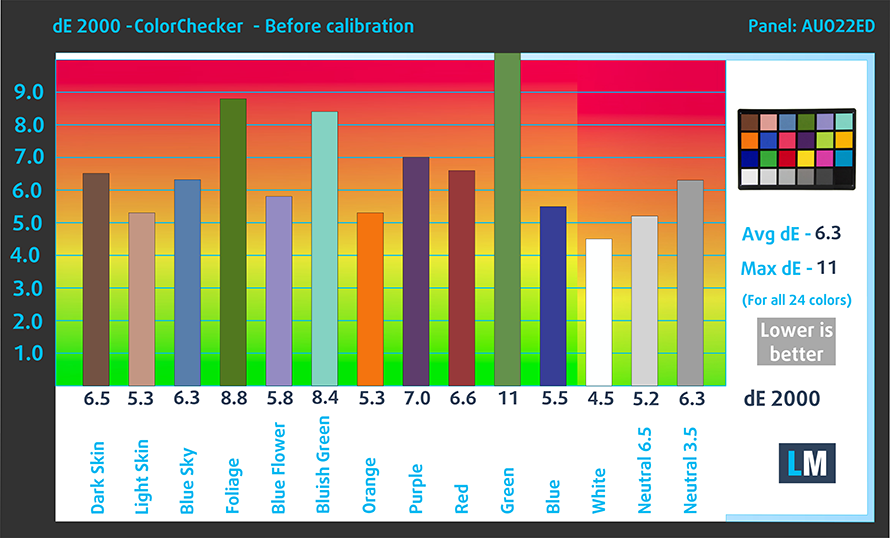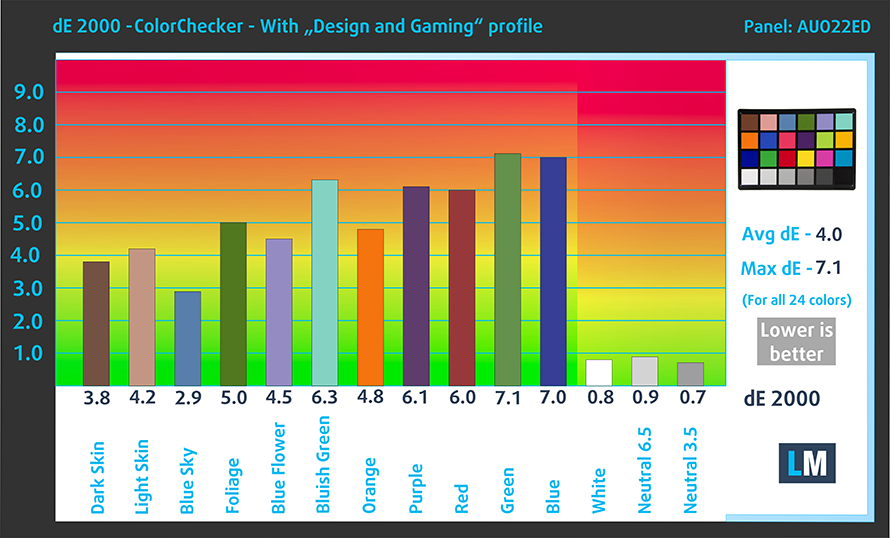 The next figure shows how well the display is able to reproduce really dark parts of an image, which is essential when watching movies or playing games in low ambient light.
The left side of the image represents the display with stock settings, while the right one is with the "Gaming and Web Design" profile activated. On the horizontal axis, you will find the grayscale and on the vertical axis – the luminance of the display. On the two graphs below you can easily check for yourself how your display handles the darkest nuances but keep in mind that this also depends on the settings of your current display, the calibration, the viewing angle, and the surrounding light conditions.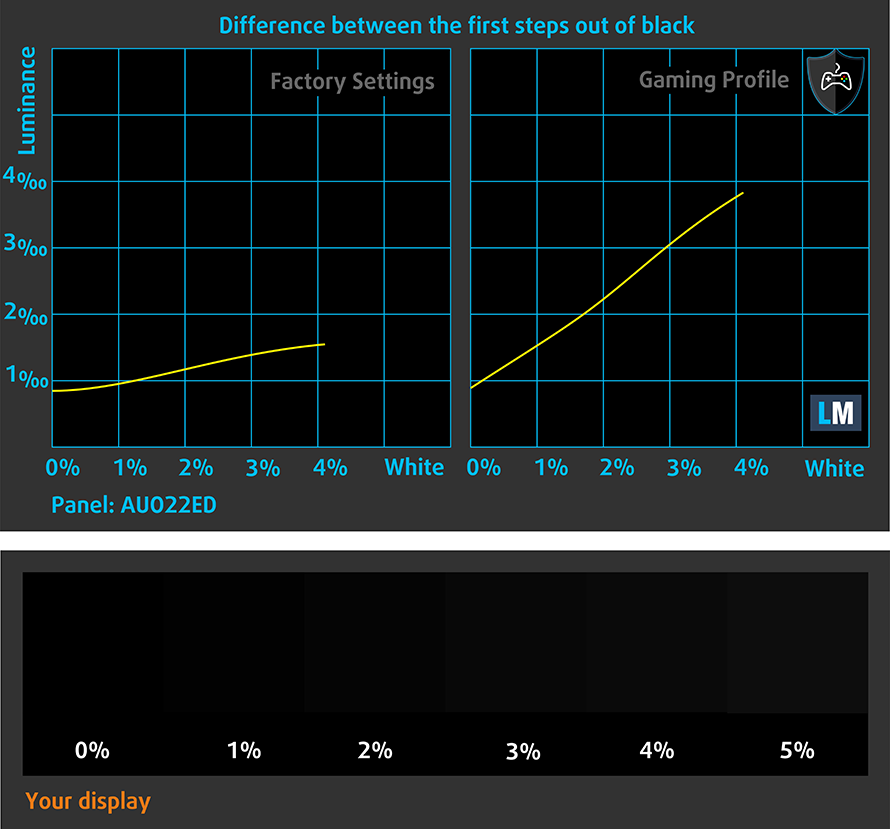 Response time (Gaming capabilities)
We test the reaction time of the pixels with the usual "black-to-white" and "white-to-black" method from 10% to 90% and vice versa.
We recorded Fall Time + Rise Time = 32 ms – a little slow even for 60 Hz.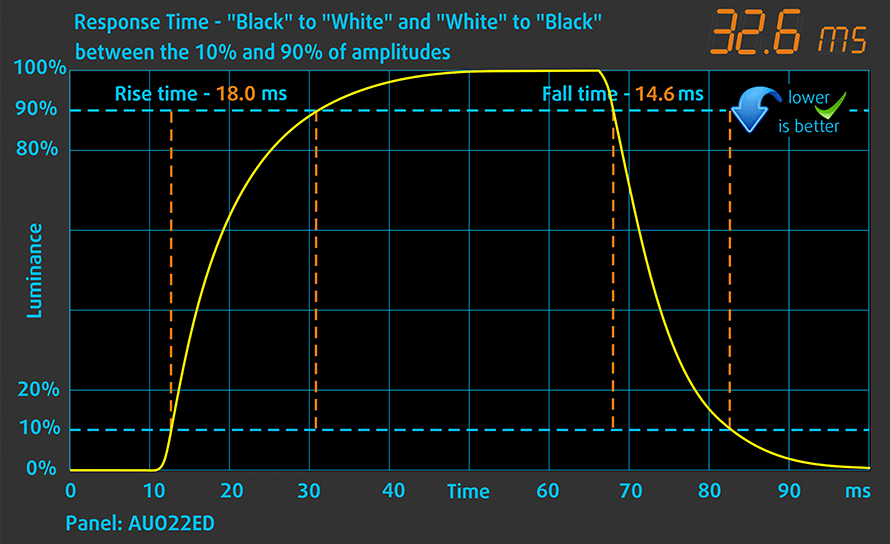 PWM (Screen flickering)
Pulse-width modulation (PWM) is an easy way to control monitor brightness. When you lower the brightness, the light intensity of the backlight is not lowered, but instead turned off and on by the electronics with a frequency indistinguishable to the human eye. In these light impulses, the light/no-light time ratio varies, while brightness remains unchanged, which is harmful to your eyes. You can read more about that in our dedicated article on PWM.
HP Pavilion x360 15 (15-cr0000)'s AUO22ED panel doesn't use PWM to adjust its screen brightness. This ensures comfortable usage without excessive strain to your eyes even in long periods of use.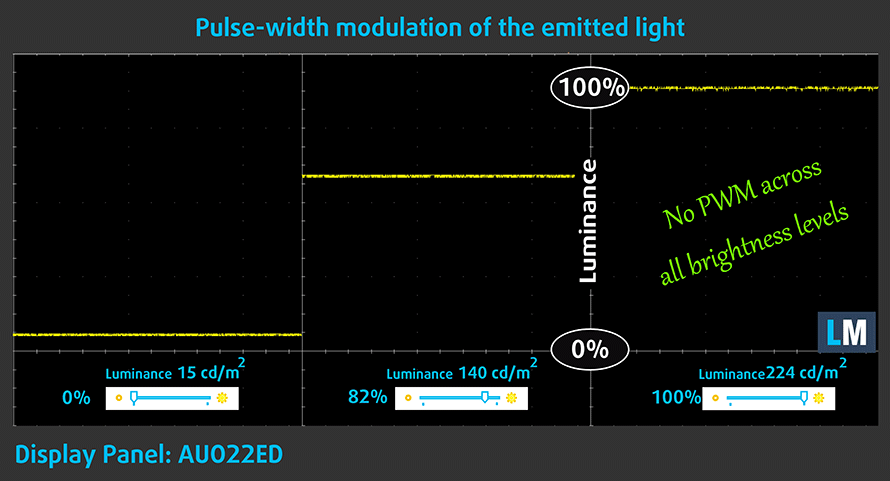 Blue light emissions
Installing our Health-Guard profile not only eliminates PWM but also reduces the harmful Blue Light emissions while keeping the colors of the screen perceptually accurate. If you're not familiar with the Blue light, the TL;DR version is – emissions that negatively affect your eyes, skin and your whole body. You can find more information about that in our dedicated article on Blue Light.

Conclusion
HP Pavilion x360 15 (15-cr0000)'s Full HD touchscreen panel has good contrast and comfortable viewing angles, thanks to its IPS panel. In addition to that its backlight doesn't flicker and has somewhat adequate default settings. However, it is set back by its poor color coverage and dim maximum brightness.

Buy our profiles
Since our profiles are tailored for each individual display model, this article and its respective profile package are meant for HP Pavilion x360 15 (15-cr0000) configurations with 15.6″ FHD IPS B156HAN02.2 (AUO22ED).
*Should you have problems with downloading the purchased file, try using a different browser to open the link you'll receive via e-mail. If the download target is a .php file instead of an archive, change the file extension to .zip or contact us at bg.laptopmedia@gmail.com.
Read more about the profiles HERE.
In addition to receiving efficient and health-friendly profiles, by buying LaptopMedia's products you also support the development of our labs, where we test devices in order to produce the most objective reviews possible.
Sound
HP Pavilion x360 15 (15-cr0000)'s speakers produce good quality sound. Tones are clear, throughout the entire spectrum of frequencies.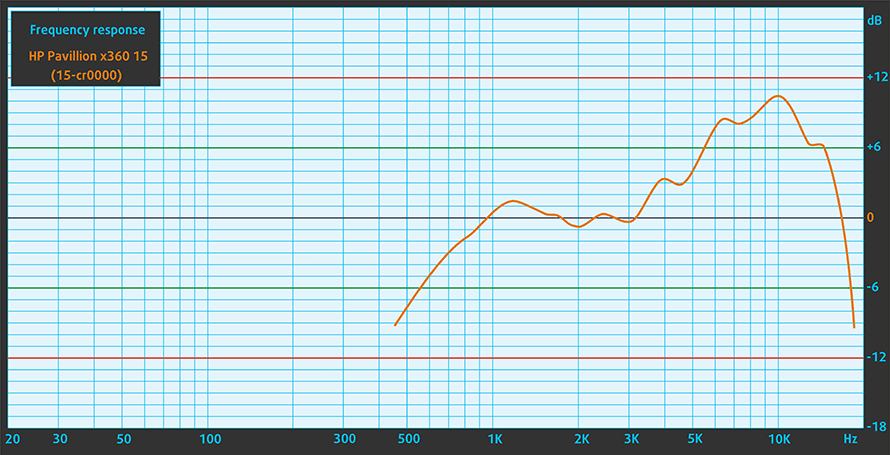 Drivers
All of the drivers and utilities for HP Pavilion x360 15 (15-cr000) are available at HP's service page: https://support.hp.com/us-en/drivers/selfservice/hp-pavilion-15-cr0000-x360-convertible-pc/20283994

Storage performance
In this configuration, HP Pavilion x360 15 (15-cr0000) is equipped with a Toshiba KXG50ZMV256G 256GB NVMe SSD unit. With speeds of 1.53 GB/s and 0.79 GB/s of sequential Read and Write respectively, this Toshiba drive is miles away from SSDs like the Samsung PM981 and WD PC SN720 for example. However, we shouldn't forget that the Pavilion x360 15 (15-cr0000) doesn't cost a ton of cash, so the choice of a budget NVMe drive is forgiven. Bear in mind that SSD choice of manufacturers depends on the region so it is better to inform yourself in advance.
| | | | | | | |
| --- | --- | --- | --- | --- | --- | --- |
| SSD model (240-256GB variants) | Max.Seq.Read (GB/s) | Max.Seq.Write (GB/s) | IOPS 4K Read | IOPS 4K Write | Latency Read (ms) | Latency Write (ms) |
| Toshiba KXG50ZMV256G NVMe | 1.53 | 0.79 | 12187 | 28625 | 0.053 | 0.243 |
| Toshiba KBG30ZMS256G | 1.48 | 0.24 | 8091 | 19820 | 1.564 | 0.309 |
| LITE-ON CA3-8D512-Q11 | 3.18 | 1.66 | 9864 | 25136 | 0.171 | 0.041 |
| Intel Pro 6000p Series | 1.83 | 0.59 | 7792 | 28266 | 0.075 | 0.033 |
Battery
Now, we conduct the battery tests with Windows Better performance setting turned on, screen brightness adjusted to 120 nits and all other programs turned off except for the one we are testing the notebook with. HP has put a 48Wh battery inside the Pavilion x360 15 (15-cr0000).
This is enough for 8 hours of Web browsing and video playback – not bad given the screen size and not very big battery. However, if you try gaming on battery (highly not recommended) the Radeon 530 will diminish the charge for just over 80 minutes.
In order to simulate real-life conditions, we used our own script for automatic web browsing through over 70 websites.
For every test like this, we use the same video in HD.
We use F1 2017's built-in benchmark on loop in order to simulate real-life gaming.
CPU options
HP Pavilion x360 15 (15-cr0000) is being sold with the older Coffee Lake CPU range. You can get it with basically any of the Core i3 to Core i7 range, depending on the price. We tested a unit equipped with the quad-core Intel Core i7-8550U processor which has a base clock speed of 1.80 GHz and reaches a maximum of 4.00 GHz on a single core.
Results are from the Cinebench 20 CPU test (the higher the score, the better)
Results are from our Photoshop benchmark test (the lower the score, the better)
Results are from the Fritz chess benchmark (the higher the score, the better)
HP Pavilion x360 15 (15-cr0000) CPU variants
Here you can see an approximate comparison between the CPUs that can be found in the HP Pavilion x360 15 (15-cr0000) models on the market. This way you can decide for yourself which HP Pavilion x360 15 (15-cr0000) model is the best bang for your buck.
Note: The chart shows the cheapest different CPU configurations so you should check what the other specifications of these laptops are by clicking on the laptop's name / CPU.
Results are from the Cinebench 20 CPU test (the higher the score, the better)
Results are from our Photoshop benchmark test (the lower the score, the better)
Results are from the Fritz chess benchmark (the higher the score, the better)
GPU options
Depending on the region you live in, the available graphics options except the onboard Intel UHD Graphics 620, comprise of NVIDIA GeForce MX130 and AMD Radeon 530. Our unit was equipped with the latter and has the larger – 4GB GDDR5 VRAM.
HP Pavilion x360 15 (15-cr0000) GPU variants
Here you can see an approximate comparison between the GPUs that can be found in the HP Pavilion x360 15 (15-cr0000) models on the market. This way you can decide for yourself which HP Pavilion x360 15 (15-cr0000) model is the best bang for your buck.
Note: The chart shows the cheapest different GPU configurations so you should check what the other specifications of these laptops are by clicking on the laptop's name / GPU.
Gaming tests
Running our gaming tests, showed us that the only upside of the Radeon 530 is its 4GB of dedicated GDDR5 memory.






Temperatures and comfort
Max CPU load
In this test we use 100% on the CPU cores, monitoring their frequencies and chip temperature. The first column shows a computer's reaction to a short load (2-10 seconds), the second column simulates a serious task (between 15 and 30 seconds), and the third column is a good indicator of how good the laptop is for long loads such as video rendering.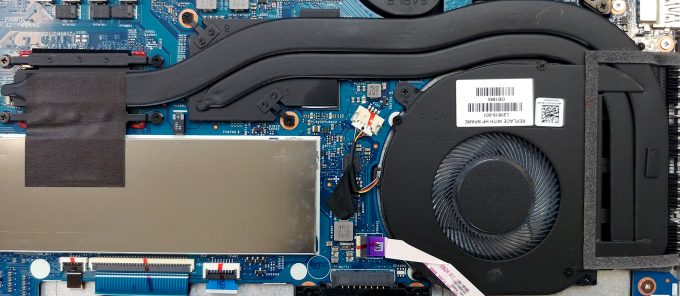 Average core temperature (base frequency + X); CPU temp.
Intel Core i7-8550U (15W TDP):
0:02 – 0:10 sec
0:15 – 0:30 sec
10:00 – 15:00 min
HP Pavilion x360 15 (cr0000)
2.96 GHz (B+52%) @ 73°C
1.93 GHz (B+46%) @ 57°C
1.97 GHz (B+5%) @ 63°C
Lenovo Yoga 730 (13″)
2.73 GHz (B+52%) @ 85°C
2.63 GHz (B+46%) @ 97°C
1.89 GHz (B+5%) @ 71°C
Intel Core i5-8250U (15W TDP)
Lenovo Yoga 730 (15″)
3.19 GHz (B+99%) @ 93°C
3.00 GHz (B+88%) @ 92°C
2.64 GHz (B+65%) @ 82°C
Here we've put the similarly sized convertible Yoga 730 (15″) Core i5-8250U clock speeds for reference. Since the benchmark scores we got from the Pavilion x360 15 were nothing special at all, we were a little questioned as a 15-inch laptop should have sufficient enough cooling. First of all – looking at the frequencies speaks a lot about the results, while the temperature is a good indicator of the cooling potential. This leads us to think that HP has picked a more conservative relation between throttling and temperature tolerances.

Real gameplay
| AMD Radeon 530 (4GB GDDR5) | GPU frequency/ Core temp (after 2 min) | GPU frequency/ Core temp (after 30 min) |
| --- | --- | --- |
| HP Pavilion x360 15 (15-cr0000) | 870 MHz @ 72°C | 854 MHz @ 78°C |
From our experience with the Radeon 530, we know that it is a pretty hot GPU. We saw that at its furthest extent in the Dell Inspiron 15 5570 where it reached the scorching 90C. In the case with HP Pavilion x360 15 (15-cr0000), however, temperatures were a lot lower – around 78C at the end of the test, while the frequency was 854 MHz.

Gaming comfort
As you can tell from the images below, the heat is relatively evenly spread across the base of the Pavilion x360 15 (15-cr0000), except the palm-rest area which, thankfully is kept cool. We measured a maximum external temperature of around 48C between the "F7" and "F8" keys.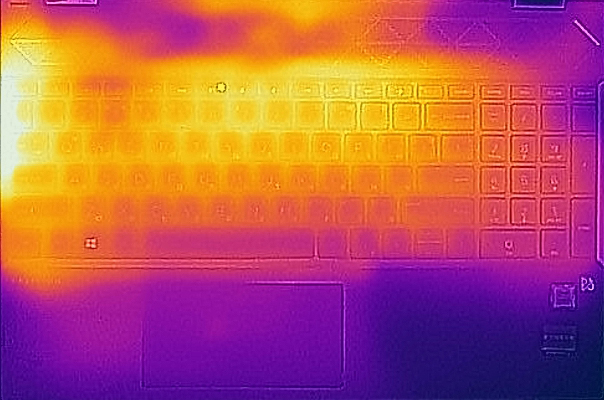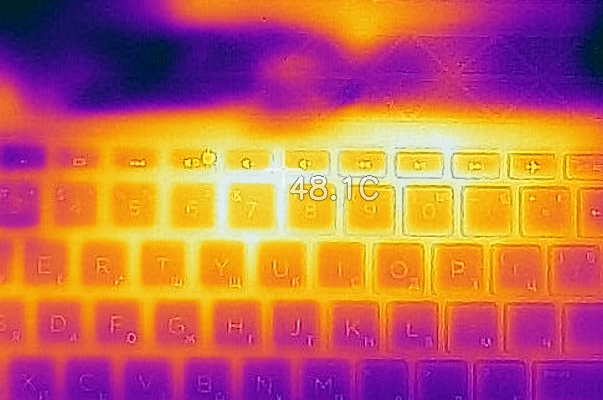 Verdict
HP Pavilion x360 15 (15-cr0000) is a very unusual device. Both positively and negatively. If you factor only a few of the features it has – good processor, adequate battery life and obviously – the fact it is a 15-inch convertible for a very good price – this would be a gem in the world of laptops. However, it would all be too good to be true.
Despite the good contrast ratio and lack of PWM-adjustment in the brightness, the display is too poor to be placed in this device – it barely covers 53% of sRGB and reaches up to 220 nits at maximum brightness. That's way too dim if you want to use this notebook outside of a mildly lit student dorm. On the bright side, it supports Pens and styluses so, it can be utilized by designers.
Although we are not really fans of the display, it is not the area we hate the most in this device. Compared to it, the screen is a genius of engineering design. The part we were most annoyed about this laptop was its build quality which said with one word is – crap. We usually avoid using words with this strength, but here we had to. At first, you think it looks good because it resembles yesteryears Spectre design, but when you take a closer look all the little imperfections start twinkling into your eyes. Some negligible misalignments on the chassis and its panels, the poor choice of materials and the lack of actual feet (the ones present on the body are almost flush with the surface). This result in a highly scratchable, fingerprint magnet of a surface.
Again, questionable is the performance output of the notebook. While it is available with the unquestionable ULV king – the Intel Core i7-8550U, it can't really use its performance reserve. If you add the poorly optimized AMD Radeon 530 to the equation, the only thing you get is heat. Honestly, we can't think of a reason to pick a configuration with this GPU, since if you need a laptop for games or for GPU-heavy content creation, you should certainly look the other way.
However, all of the former doesn't mean that we don't like the way HP Pavilion x360 15 (15-cr0000) looks. Quite the opposite, in fact, we just hate the way HP pulled it off. We would strongly recommend spending a little bit more on something like the Lenovo Yoga 730 (15″) for example.
Pros
Great price for a 15-inch convertible
Supports M.2 SSD and 2.5-inch HDD
The screen doesn't use PWM at any brightness level (B156HAN02.2 (AUO22ED))
Cons
Unsatisfactory build quality
Dim display with narrow sRGB coverage (B156HAN02.2 (AUO22ED))
The material around the keyboard bends under the slightest pressure
GPU with high heat output, for the performance it offers
Rubber feet are shorter than some dust particles
You can check the prices and configurations in our Specs System: https://laptopmedia.com/series/hp-pavillion-x360-15-15-cr0000/