Samsung Odyssey G4 25BG400 quick review – A breath of fresh air
Contents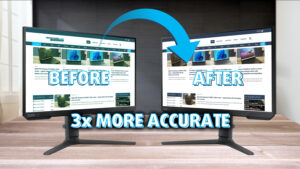 Samsung's gaming monitors deserve recognition. The Odyssey G4 25BG400 model that we have here really blew us away with all of the engineering and the thought that was put into creating it.
While not the most affordable, retailing at around $349.99 dollars in the US, it's currently on sale for $269.99, which makes for a pretty great deal, once you learn what type of monitor you're dealing with. The Odyssey brings functionality for more than just gaming; with our Display profiles, we make it even better.
So, a very high refresh rate, paired with one of the best tear-free technologies on the market, and an IPS panel that becomes simply great with just a few tweaks. You'd be making a big mistake not considering the Samsung Odyssey G4 25BG400 if you're in the market for a new monitor and it happens to fall within your price range.
Read more about our display profiles here. As for the specific profiles for the Samsung Odyssey G4 25BG400, they can be found right here.
You can check the current price of the Samsung Odyssey G4 25BG400 here: Buy from Amazon.com (#CommissionsEarned)

Specs sheet, What's in the box?, Drivers, Design, Connectivity, OSD menu
Screen size
25 inch (63.50 cm)
Refresh rate
240Hz
Response time
1ms
Panel type
IPS
Backlight type
LED
Screen finish
Matte
Resolution
1920 x 1080 (FHD)
Technologies

Contrast ratio: 1 000:1(Static); Mega DCR (Dynamic)
Brightness: 400cd/m²
Viewing angles: H/V° 178/178
VESA mount: 100×100
Tilt: -3 to 22°
Pivot: -92 to 92°
Swivel: -15 to 15°
Height adjustment: 0 – 120mm
Measurements (with stand): 558.5 x 552.9 x 244.8 mm

I/O

2x HDMI 2.0
1x DisplayPort 1.2
1x PC audio input jack
1x USB service port
What's in the box, Assembly
In the monitor box, there's the monitor, power cables, as well as the stand and base.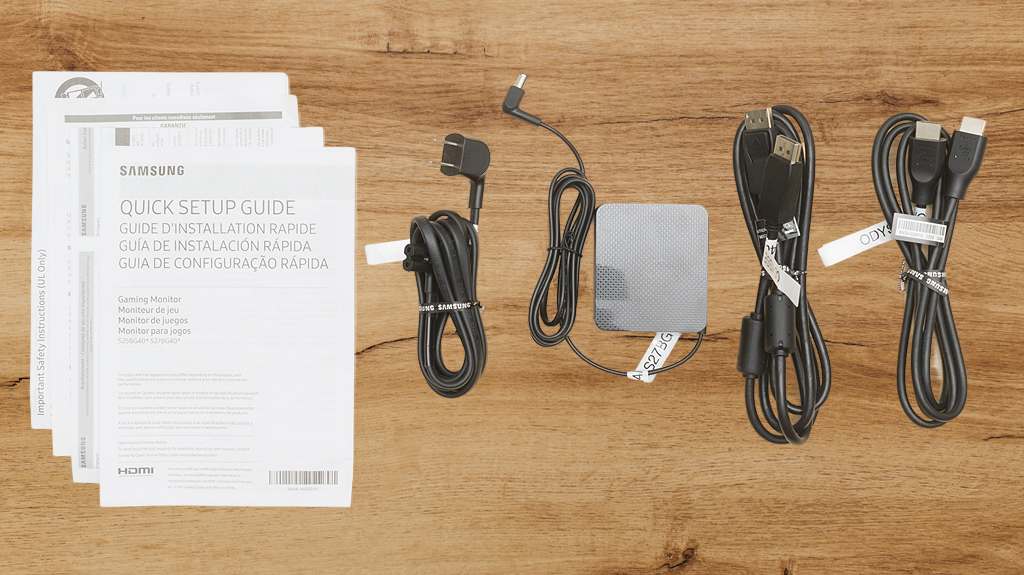 There's also a blue translucent ring, which goes on the back. You screw the base to the bottom of the stand. Next, you click the assembled stand into the back of the monitor, while following the arrow on the back. Finally, the translucent ring splits into two halves, with which you secure the stand to the back of the monitor. Then you turn it clockwise to lock everything in place, after which the monitor can safely be taken out of the box and put to use.



Drivers and software
Samsung provides drivers for its monitors as well as something called the Easy Setting Box, which helps you with partitioning the screen into various layouts, in order to make the monitor a better field for your multitasking. While Windows has pretty good multitasking capabilities, having a separate tool made specifically for your device feels good and shows commitment from Samsung. With this tool, you can choose from a lot of different layouts, as well as make presets, which you can switch to with just a mouse click.
What's puzzling, is that Samsung doesn't provide any software to replace the OSD menu and introduce a mouse and keyboard into the equation. Nearly all gaming monitors bring something similar, so it's weird to see Samsung not try to improve the quality of life of its consumers. For example, their software support for the SSDs is top-notch, with the Data Migration Software and the Magician, so we would like to see this attention to detail in their monitors too.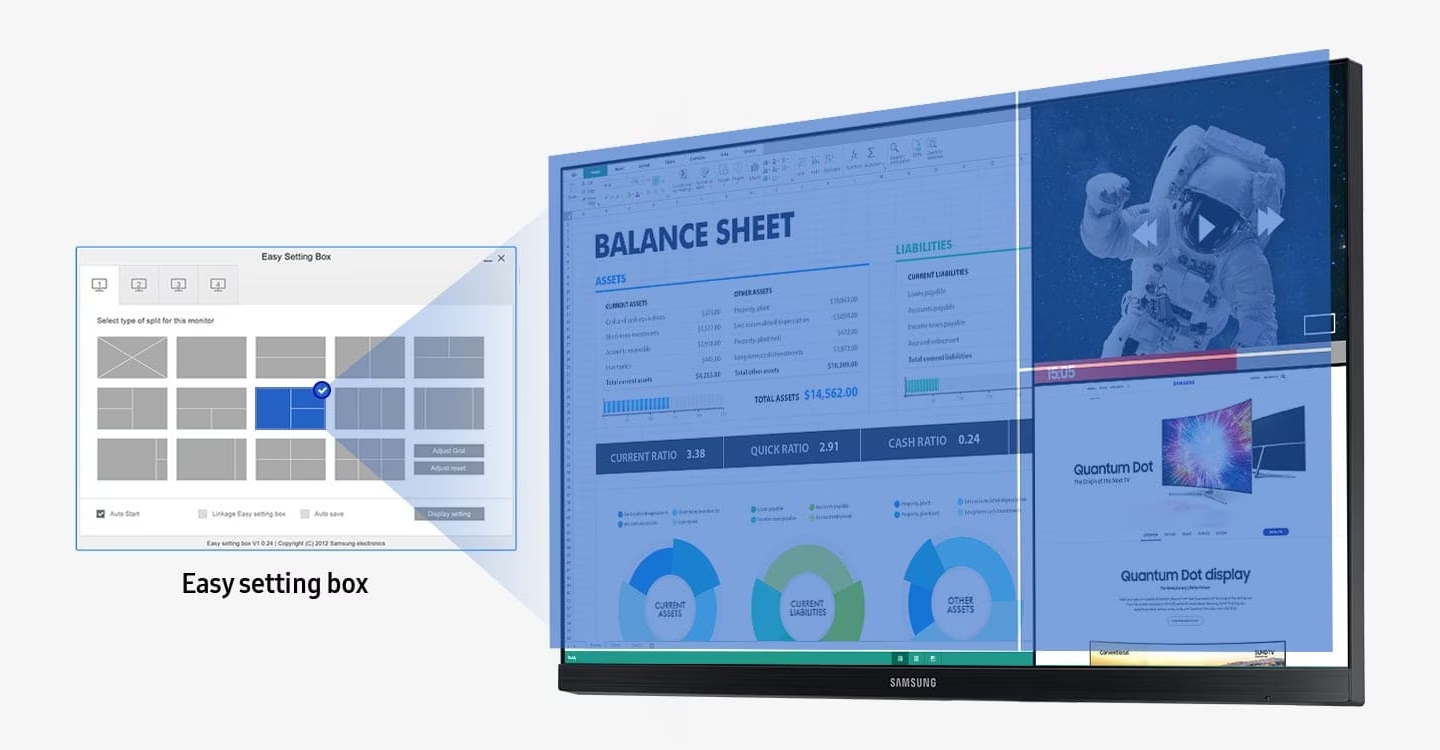 Both the drivers and the Easy Setting Box can be downloaded from here: https://www.samsung.com/us/support/downloads/?model=N0055046&modelCode=LS25BG402ENXGO
Design
The design of the Samsung Odyssey G4 25BG400 is very refreshing, with a totally black exterior and very thin bezels on the top and the sides. Understandably, the chin is thicker, with two protruding pieces on the left and right sides of the chin. So far, we feel like it's purely a design choice, which does make the monitor feel more like a gaming device.
One thing that we were very surprised about was the functionality of the stand, and how much adjustability it offers. It has Tilt, Pivot, and Swivel movements, as well as height adjustment, which gives you a lot of versatility. Developers sometimes like to have vertically positioned monitors on the left and right as well as two more horizontal screens on top of each other, and with four of these babies, you can pull off incredible setups that even NASA would be jealous of.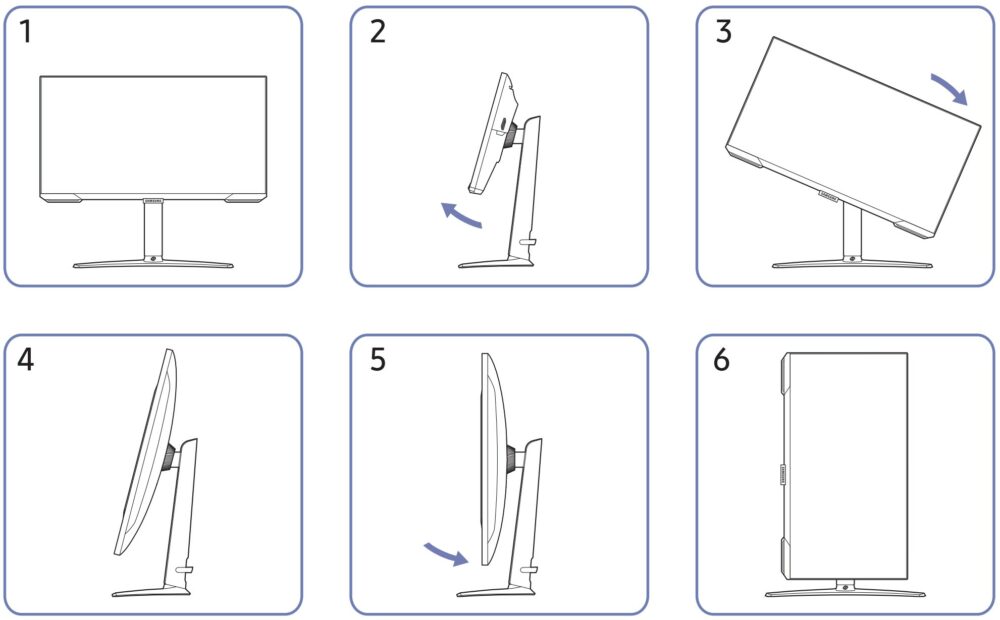 Connectivity
In terms of ports, you get two HDMI ports, a single DisplayPort, an audio jack, as well as a USB service port (aka firmware updates). There's also a DC power plug, which comes with its own power brick.