Toshiba Satellite C55-C review – a nice choice for those who want a good looking machine at a budget price

The budget-friendly, compact notebooks have always been the most popular on the market, since their main auditory is not only the young people who don't have much money to spend on their next computers but everyone who doesn't use games or demanding applications and needs a machine that can be brought everywhere. This is exactly what we're trying to find and it seems that we have a good contender here – the new Toshiba Satellite C55-C.
C55-C is one of the two new 15.6-inch "C" series, accompanied by C55D-C (AMD based). Its bigger sibling are C70-C and C70D-C which are basically the same as C55 but offer 17.3" HD screens.
For our test, we chose an entry-level C55-C equipped with Intel Core i3-4005U and HD Graphics integrated GPU. This, in our opinion, is the optimal student configuration given the affordable price and the long (expected) battery life. Yes, the battery is just 2800 mAh, but there aren't great energy drainers to supply.
You can check the current price of Satellite C55 here: http://amzn.to/1KcybrK
Contents
What's in the box?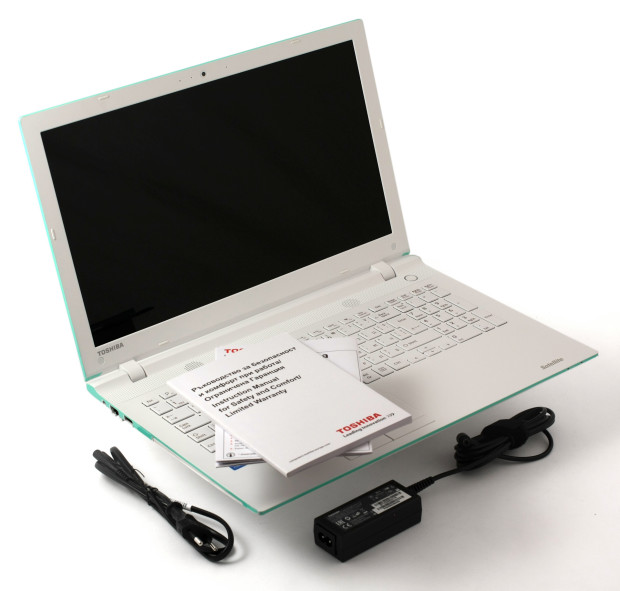 Since we're talking about an entry-level notebook, we can't expect a great set of accessories. Here's a surprise – in some countries the laptop comes with a backpack which makes Satellite C55 an even more student friendly offer. Additionally, in the box you'll find a bunch of manuals and an ultra-compact 45W (2.37A, 19V) charger – PA-1450-59.

Design and construction
We already mentioned that Toshiba Satellite C55-C looks quite beautiful for a budget laptop. It's less than an inch thick (23.5 mm) and weighs just 1969 g (4.36 lbs). Actually, that's a surprise too, because it's 12% less than the "up to" 2.2 kg indicated by the manufacturer.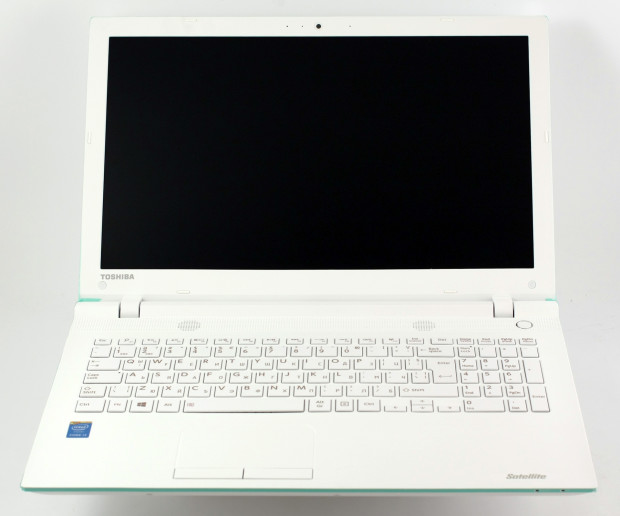 The chassis doesn't look very sturdy and bends a little when pressed, but that's not something unusual for this class and doesn't necessarily mean that the notebook won't last for years. However, it's quite evident that Toshiba has done a lot to provide the new C55 with a stylish body – we chose the white matte color which has a hairline finish that not only looks nice but doesn't collect fingerprints despite our efforts.
The sufficiently strong looking hinges can bring the lid back up to 131 degrees, which is a lot more than you'll actually need in normal working conditions. When you open the lid you'll find a classy white interior which also suffers from some bending (which don't occur in typical everyday use), but definitely not to the point of making you feel uncomfortable.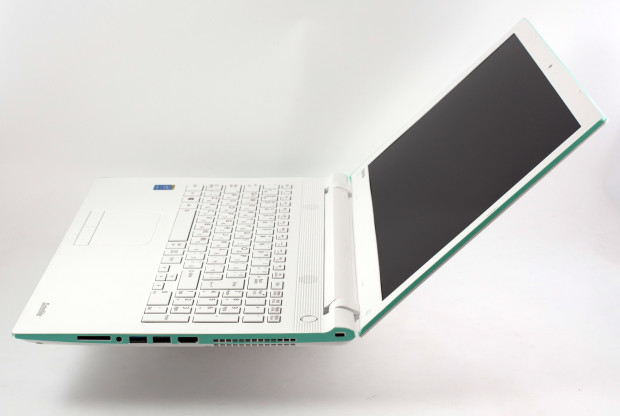 *The green elements aren't part of the design but just nylon tapes instead.
We should note that the display borders are relatively thin, which leaves one with a good impression.
The keyboard has Island Style keys, separated by enough space for easy error-free typing. There is a NumPad section as well, where the buttons are slightly smaller but it's still a good addition for users who often work with numbers and calculations. Just above it is the Power button – when the computer is working an LED ring surrounding the key glows white.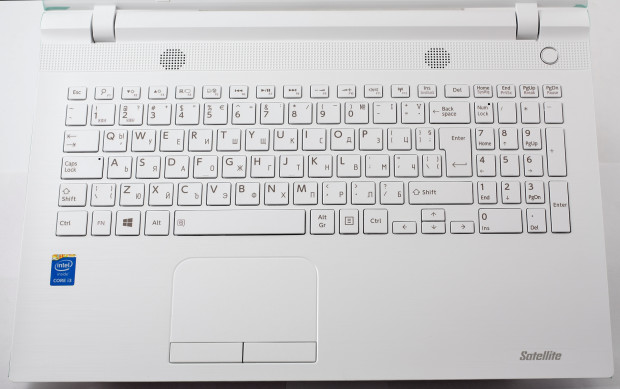 The multi-touch trackpad in our unit is made by Synaptics and has an area of ~50 cm2 (91 x 55 mm) – it's not very big, but its buttons aren't integrated below the surface. Rather, they are outside of the trackpad area, so it's comfy enough for everyday use.
Most of the ports are located on the right side, which isn't very convenient given the fact that most probably, that's the place where your mouse will be, and you wouldn't want to fight for territory with your USB devices. We would have definitely sacrificed the optical drive on the left, where some ports would fit perfectly, instead of being on the right, which is now populated by an SD/MMC card reader, 3.5mm audio jack, USB 3.0, USB 2.0, HDMI, cooling vents and a Kensington lock slot. Beside the DVD, on the left, you'll also find the DC-in jack, LAN port and one more USB 2.0 port.
On the front, C55 just has the battery and Wi-Fi indicators.
Display
Toshiba Satellite C55's display consists of a HD TN panel with matte coating, manufactured by CHI MEI – N156BGE-E42 REV.C1. It has a 15.6-inch diagonal (39.62 cm) and a resolution of 1366 x 768 pixels. That equals to pixel density of 100 ppi, 16:9 ratio and pixel pitch of 0.253 x 0.253 mm. With these characteristics, N156BGE-E42 REV.C1 becomes "Retina" (the human eye stops distinguishing individual pixels) when viewed from distance equal to, or greater than 86 cm. The typical distance is around 60 cm so the result isn't great but is more than common, not just for the most budget models.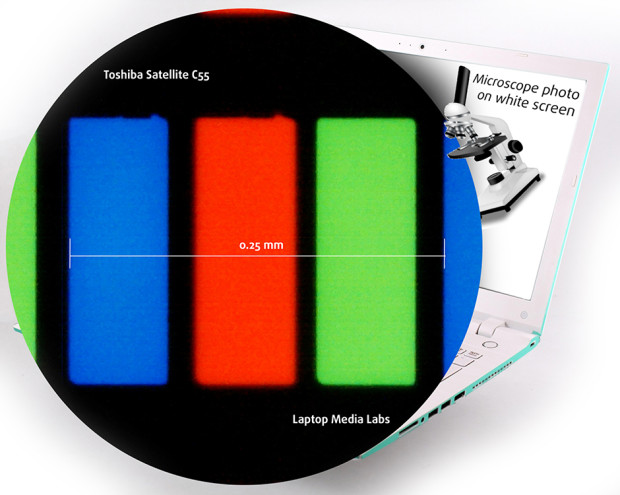 Since N156BGE-E42 REV.C1 is a TN panel, we can't expect good viewing angles. Take a look at some photos, taken at 45C°.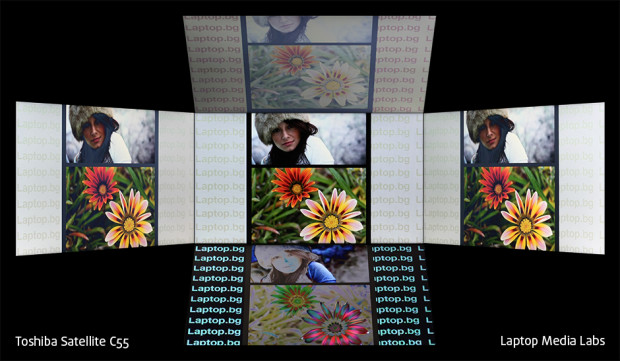 The measured maximum brightness before profiling is 236 cd/m2 with a maximum deviation of 10%. The average color temperature is 7100K slightly colder than the optimal 6500K (daylight type). There are no unacceptable deviations.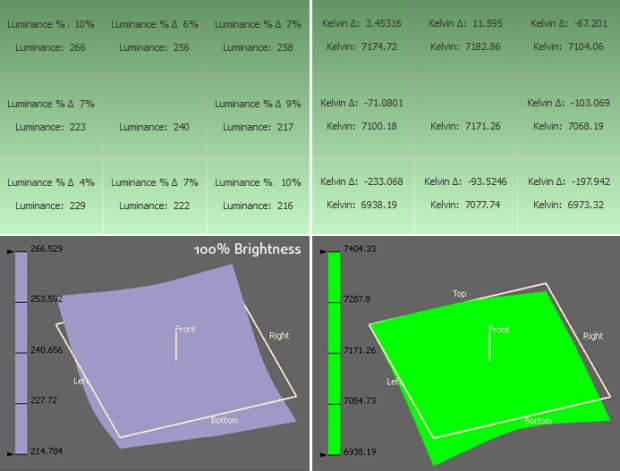 Color reproduction
To put things into perspective, we would like to give you a little introduction into the sRGB and Adobe RGB color gamuts. The CIE 1976 Uniform Chromaticity Diagram represents the spectrum of colors visible to the human eye, thus giving you a better perception of color gamut coverage and color accuracy. Inside the black triangle you will see the standard color gamut (sRGB), used by millions of people in HDTV and on the Web. As for Adobe RGB, it is used to work with professional cameras and monitors when preparing print. Basically, colors inside the black triangle are used by everyone, and so reproducing them accurately is key in a quality display.
The yellow triangle represents the area of the color gamut that Toshiba C55's display covers – just 53% of sRGB and 41% of Adobe RGB. This isn't enough for vivid colors.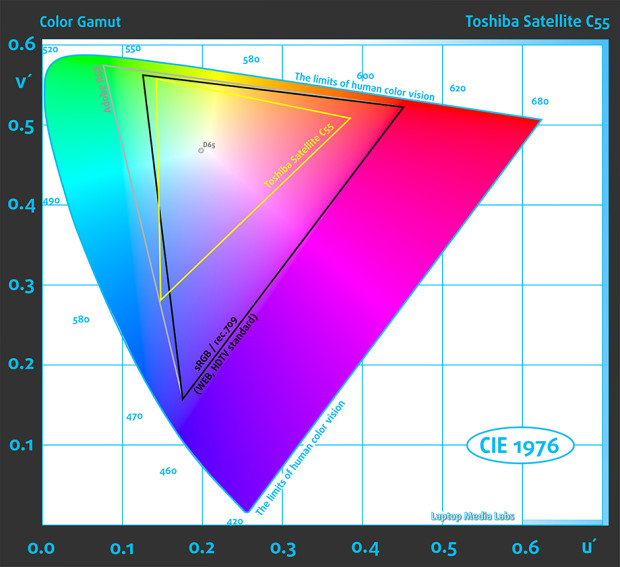 The image below is practically the same, but with the recorded results – the one on the left is pre-calibration, while the one on the right is after. The colored circles represent the reference colors, the white circles being the result. You can see the main and additional colors with 100% and 50% saturation inside the sRGB gamut.
We tuned the display at maximum brightness and 6500K color temperature. For this calibration we used X-Rite i1Display Pro. We tested the colors before and after saving the profile in Windows. Due to the reduced sRGB gamut some of the 100% saturated colors (red and purple) are replaced with the closest possible which leads to a bit pale picture.
We got a contrast ratio of 450:1 before profiling and 290:1 after.
After profiling the display has near to the optimum white level distribution.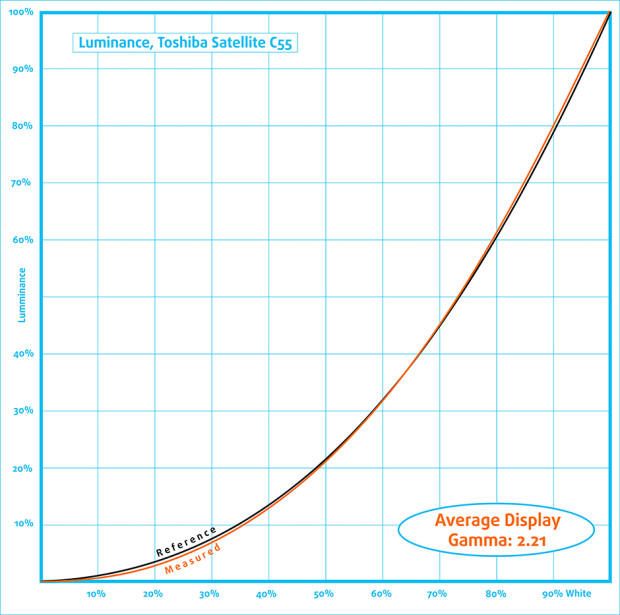 With the help of 24 commonly used colors we checked the color accuracy of the panel. Colors that we used represent skin tones, grass, blue sky, orange etc. Most of them are in the middle of the color gamut, and after calibration their accuracy was really high – average DeltaE 2000=0.9. A lower score is desirable, and deviations under 1.0 can be detected only with lab equipment.
We got average DeltaE 2000 = 3.29 which is a good result.
Gaming capabilities – Response time
The image below is mostly useful for gamers. It illustrates the response time of the pixels in modes from "Black" to "White", plus "White" to "Black" for levels from 10% to 90% and back.
We measured Fall Time + Rise Time = 12.6 ms.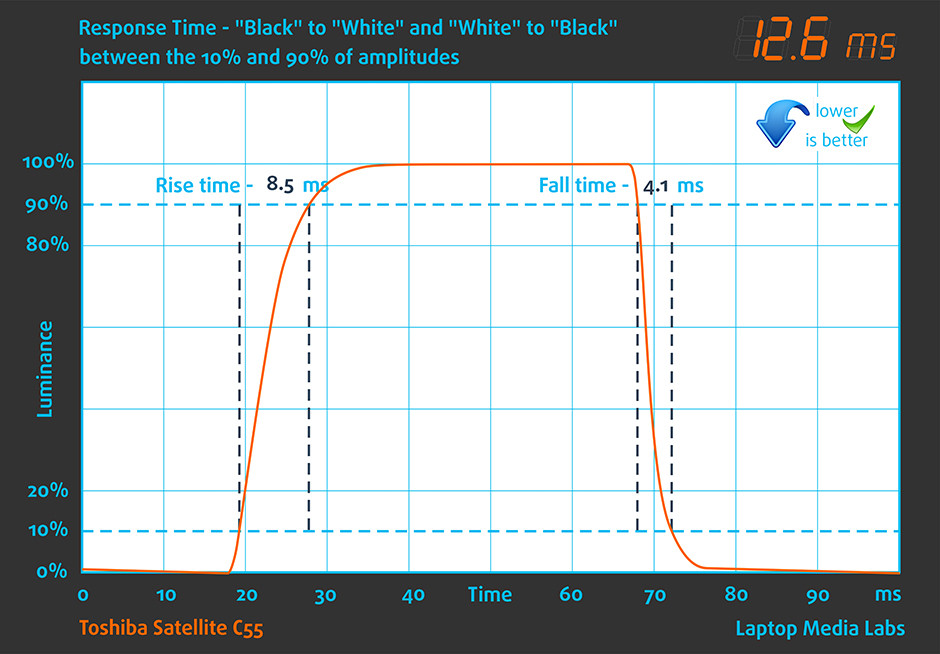 Pulse-width modulation (PWM, Screen flickering)
Toshiba Satellite C55's display uses pulse-width modulation with a frequency of 200Hz – it could cause eye fatigue after prolonged use if you don't set the brightness at 100%.

Display Conclusion
Satellite C55's display is suitable for gaming, Web browsing, Video and not related with accurate colors business activities.
Sound
Toshiba Satellite C55 has average sound quality. The whole range of low to high tones is not clean enough and you can hear resonance sometimes. The sound is stereo with good maximum power.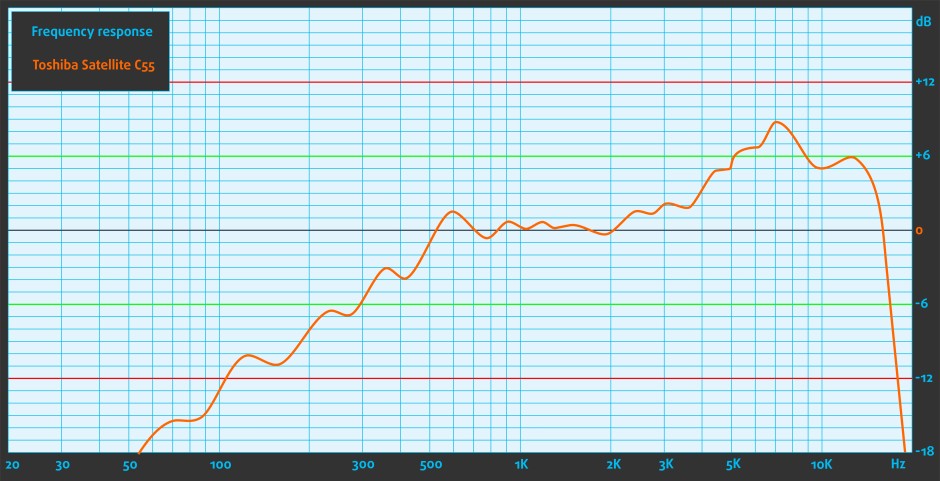 Specs sheet
These technical specifications refer only to the particular device being tested in this review. Laptops from the same series could have different characteristics and features.
| | |
| --- | --- |
| CPU | Intel Core i3-4005U (2-core, 1.70 GHz, 3MB cache) |
| RAM | 4GB (1x 4096MB) – DDR3, 1600Mhz |
| GPU | Intel HD Graphics 4400 (shared memory) |
| HDD/SSD | 1TB, 5400 rpm |
| Display | 15.6-inch (39.62 cm) – 1366 x 768 pixels (HD), TN matte |
| Optical Drive | – |
| Connectivity | LAN 10/100/1000 Mbit/sec, Wi-Fi 802.11n, Bluetooth 4.0, Wireless display ready |
| Features | 2-in-1 card reader (SD, SDHC, SDXC, MMC with UHS-1), 1x USB 3.0 ports, 2x USB 2.0 ports, Web Camera, HDMI (Ultra HD 4K support) |
| Battery | 44Wh (4-cell) |
| Height | 23.90 mm (0.94") |
| Weight (with the battery) | 1969 g (4.34 lbs) |
The UHS-1 (UHS-I) support is a nice surprise – it means that C55 can read this type of cards at "Ultra High Speed Class 1" performance or with up to 104MB/s transfer speed.
Drivers
The configuration we tested didn't came with a pre-installed Windows OS but you can download 8.1 / 10 drivers from the official support page:
http://www.toshiba.eu/innovation/download_drivers_bios.jsp?service=EU
Battery Life
Toshiba Satellite C55 has a 44Wh Li-Ion battery made by Panasonic (PA5186-1BRS). It's energy should be enough for pretty good battery life given the integrated graphics card, TN screen and ULV processor. We're going to run all our tests to show you the exact endurance time under different scenarios – Web Surfing, Video Playback and 3D Gaming. In order to put all machines in same conditions, we set the brightness level at 120cd/m2 and we use Power Saver mode.
Web Surfing
As usual, we start with the Web browsing test, which uses a custom script to automatically load various popular pages.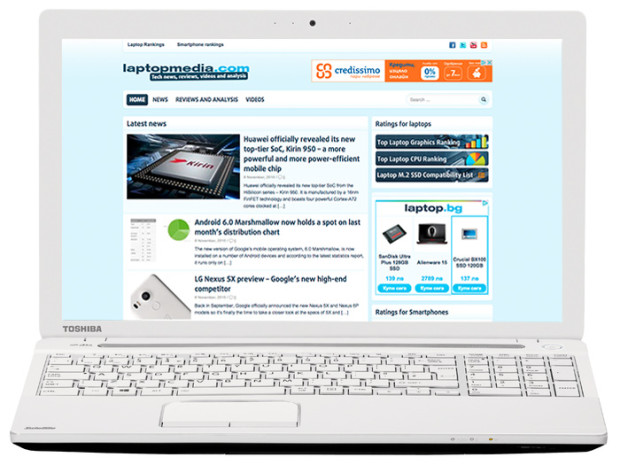 350 minutes (5 hours and 50 minutes) of Web surfing on one charge is a very good result, especially for a budget laptop.
Video Playback
For our Video playback test we use a 720p HD movie.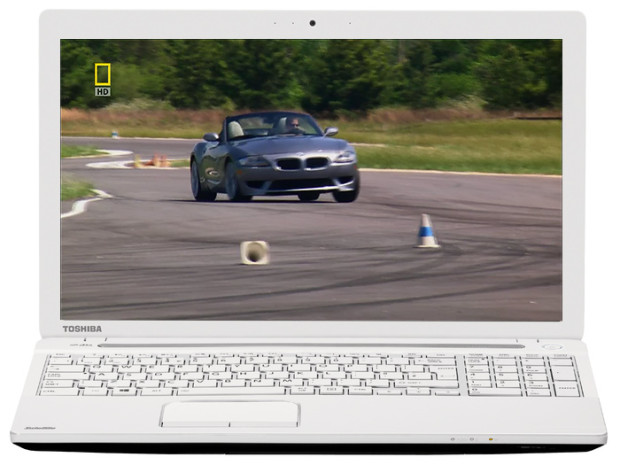 342 minutes (5 hours and 42 minutes) should be enough for watching two or three movies on one charge, with even some spare juice left.
3D Gaming
To achieve accurate simulation, we used the Metro Last Light benchmark running on loop with graphics set to minimum.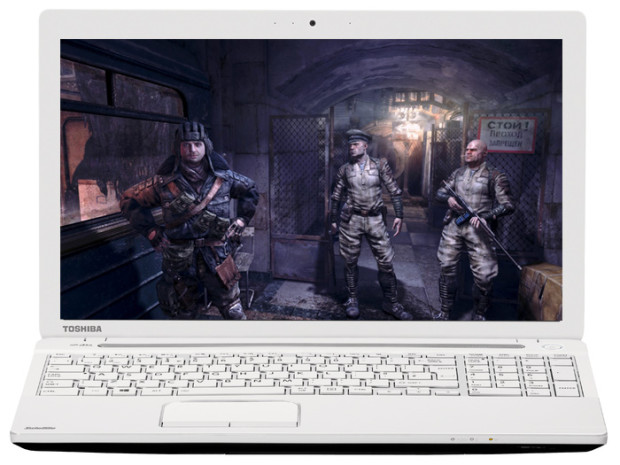 We can't say that C55 managed to run Metro:LL at playable condition but the battery lasted for 121 minutes (2 hours and 1 minute), which is another good result.
CPU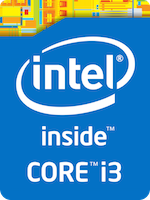 Intel Core i3-4005U is a low-voltage, integrated (soldered onto the motherboard), low mid-range processor announced in Q3 of 2013. It is part of the "Haswell" generation and operates at a base frequency of 1.7GHz. Unlike its "bigger brethren" of the Core i5 and Core i7 families, i3-4005U does not sport the TurboBoost functionality, prohibiting it from overclocking its cores during periods of higher loads.
The chip is equipped with 128KB of first level cache, 512KB of second level cache, and 3MB of third level cache. The Core i3-4005U has been developed using a 22nm process, allowing for the integration of the Intel HD Graphics 4400 controller. It operates at a base frequency of 200MHz, while Turbo Boost can increase that to 950MHz. Power consumption of the whole system on a chip is 15 watts, with a maximum operating temperature of 100C.
Intel Core i3-4005U supports HyperThreading (additional virtual core for every physical one), PCI Express 2.0, up to 16GB of LP/DDR3L 1333/1600 memory, AVX2.0 and the SSE4 instruction set.
You can take a look at our CPU rating system, to see where  the Intel Core i3-4005U ranks:
http://laptopmedia.com/top-laptop-cpu-ranking/
Here you can find more information about Intel Core i3-4005U:
http://laptopmedia.com/processor/intel-core-i3-4005u/
Results are from our Photoshop benchmark test (the lower the score, the better)
Results are from the Fritz chess benchmark (the higher the score, the better)
Fritz
Fritz is a chess benchmark which tests the computing capabilities of the CPU with various chess moves. The Intel Core i3-4005U managed to get 3.40 million moves per second. In comparison, one of the most powerful PCs, Deep(er) Blue, was able to squeeze out 200 million moves per second. In 1997 Deep(er) Blue even beat the famous Garry Kasparov with 3.5 to 2.5.
GPU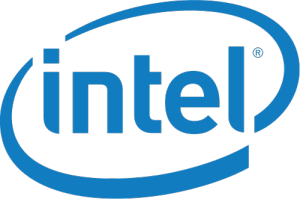 Intel HD Graphics 4400 is an integrated, GT2 graphics controller in the Core i-series of processors from Intel's Haswell generation. Announced on June 5, 2013, its goal being to successfully fend off the lowend dedicated memory graphics by AMD and NVIDIA.
HD 4400 has 20 'Execution unit' blocks, four more than the HD 4000's sixteen blocks. The graphics chip supports DirectX 11.1, Pixel Shader 5.0, OpenCL 1.2, OpenGL 4.0, a Quick Sync encoder and a similar 4K video decoder. Intel HD 4400's base frequency is 200MHz, but Turbo Boost can increase it up to 1110MHz, depending on the processor in which the 4400 is integrated.
HD 4400 supports up to three individual displays with a max resolution of 4096×4086. Power consumption is lower when compared to NVIDIA and AMD's discreet solutions, which is why integrated GT2 controllers are a must-have for the Ultrabook class of portables.
See where the HD Graphics 4400 is placed in our Top Laptop Graphics Ranking page:
http://laptopmedia.com/top-laptop-graphics-ranking/
Here you can find detailed specs and more information on the model:
http://laptopmedia.com/video-card/intel-hd-graphics-4400-2/
Results are from the 3DMark: Fire Strike (Graphics) benchmark (higher the score, the better)
Results are from the Unigine Heaven 3.0 benchmark (higher the score, the better)
Results are from the Unigine Heaven 4.0 benchmark (higher the score, the better)
Gaming Tests
Toshiba C55 is far from a gaming machine but we'll conduct our usual tests, in order to check if there are games that could be played, even at low settings, in your free time.

| Metro: LL (768p, Low) | Metro: LL (768p, Medium) | Metro: LL (768p, Max) |
| --- | --- | --- |
| 12 fps | 11 fps | 4 fps |


| Tomb Raider (768p, Low) | Tomb Raider (768p, Medium) | Tomb Raider (768p, Max) |
| --- | --- | --- |
| 25 fps | 9 fps | 5 fps |

| F1 2014 (768p, Low) | F1 2014 (768p, Medium) | F1 2014 (768p, Max) |
| --- | --- | --- |
| 38 fps | 27 fps | 15 fps |


| Thief (768p, Low) | Thief (768p, Medium) | Thief (768p, Max) |
| --- | --- | --- |
| 12 fps | 9 fps | – |
It's not something we didn't expect – HD 4400 fares well against games like FIFA and F1 2014. Even Tomb Raider is playable at low graphics settings. Graphics intensive games like Metro:LL and Thief can't be played on C55.
Temperatures, Comfort and Stability
In order to test computer stability under high load, we put the systems under 100% CPU and GPU load for prolonged periods. We remind you that our configuration uses the Intel Core i3-4005U processor with Tj.max of 100°C and Intel HD Graphics 4400 GPU.
100% CPU load
Core i3-4005U has two cores, clocked at 1.7GHz, and after continuous 100% CPU load the frequency stays the same as if nothing were happening. Furthermore, you can barely hear the fan, only if you place your ear close to C55. The CPU temperature is 47°C which is nowhere near the aforementioned Tj.max.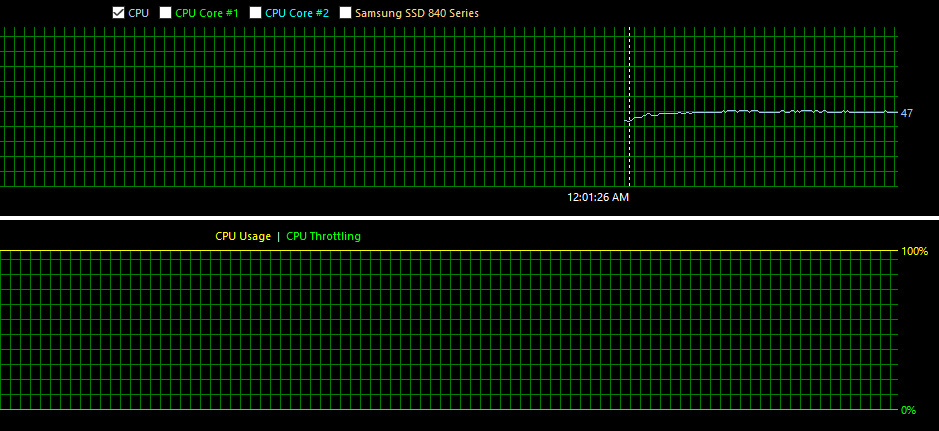 100% CPU + 100% GPU load
It's time to torture the system even more, adding 100% GPU load as well. The CPU temperature immediately rises to 62°C and the most noticeable difference is that now you can hear the fan which spins at 3300 RPM. The CPU cores frequency drops to 1.6GHz. Things look pretty well for now, but we leave the processes running like that for an hour.
We couldn't say that anything has changed much at the end of the most intensive torture test. The CPU temperature rises and remains steady at 67-68°C and the frequency goes back to 1.7GHz, but the cooling fan runs at 4100 RPM. In other words, Toshiba C55 passed our torture test with a great result.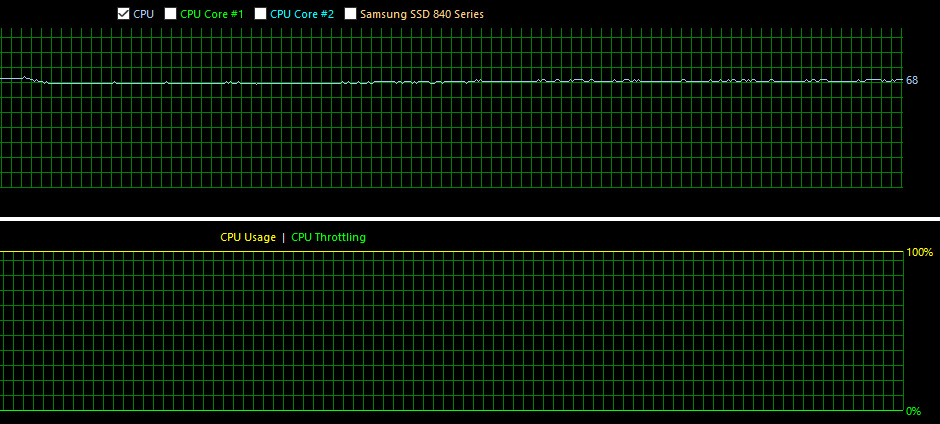 Comfort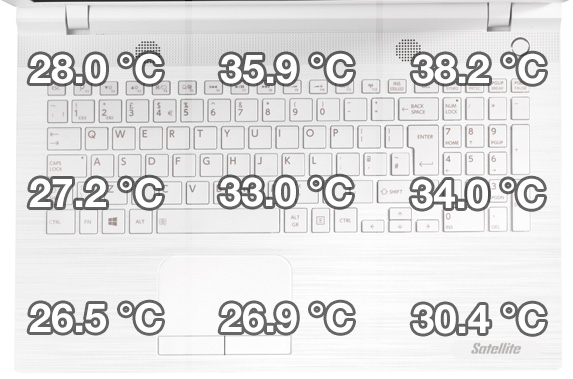 Good news, Toshiba C55's palm rest remains cool even after continuous 100% load.
Conclusion
We're satisfied with the results of Satellite C55's, having in mind that we're looking at a budget-friendly, thin and light notebook. It's no surprise that this laptop is among the best-sellers on Amazon – it could be used as an everyday machine for everyone that needs a notebook for office work, watching movies, surfing the Web, listening to music or light gaming (on low settings). If you travel a lot, you'll be pleased with the battery life – almost six hours.
The only thing we didn't like about the design is that most of the ports are located on the right side. However, we've got a comfortable keyboard and touchpad, thin display bezel and nice looks (especially the white version).
You can check the current price of Satellite C55 here: http://amzn.to/1KcybrK
Pros
Stylish design
Relatively thin and light body
Comfortable keyboard and trackpad
Good battery life
Great temperature stability
Cons
Most of the ports are located on the right side
Narrow sRGB coverage