LG Watch Urbane review – a more classical view into the latest technology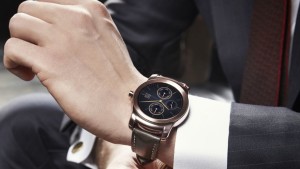 The emerging smartwatch market is growing, but mostly because the concept of these devices is quite new and everyone wants to get their hands on it. Unfortunately, though, there is still a lot of ground to cover and it seems that neither Google nor Apple is able to offer something truly remarkable that would lure more users into buying the smart wearables. However, it's good to know that more than one or two companies are on a mission to bring the ultimate smartwatch experience to the general user by looking for a bigger cut of this market segment. It's simple competition you know.
But where does LG stand in this competitive market? The Korean company shares 3rd place with several other manufacturers falling behind Samsung and Motorola. LG's smartwatches, in our opinion, are a bit underrated and hopefully you will find out why in this review on their flagship wearable.
Contents
Retail package
The small white box contains the circular charging dock, USB cable, and the usual user manuals. Unlike some of the smartwatches we've reviewed, this one offers fairly easy attachment to the dock due to the magnets inside that keep the device intact.
Design and construction
Maybe this is the key selling point of this watch over the more reasonably-priced LG G Watch R. Its classical look will appeal to users who will use it as a daily driver, but it's not so suitable for the physically active ones. That's where the G Watch R steps in.
Let's begin with the main body made of metal with chrome finish. It has no physical buttons around except for the crown that serves only as a back button or for locking and unlocking the screen. Around the back are located the five pins used for charging the device and the heart rate sensor. Nonetheless, the show stealer here is the full circle P-OLED display with thin bezels around it.
The device also comes with "genuine" 22 mm leather straps that can be changed with silicone ones for example, but you should purchase them as an additional accessory. Actually, the leather ones align with the design signature way better, but appear to be a bit "rough", which brings us to our main concern about the design. LG's flagship wearable offers questionable comfort when wearing it throughout the day. The main body is a bit thick measuring 10.9 mm proving to bigger for smaller wrists, especially a girl's hand. While we didn't find the design uncomfortable and even forgot about its "presence" most of the users will disagree. It really depends on what type of watches you like to wear, but maybe this is the main problem for most Android Wear gadgets to be fair. Also, the 1.3-inch screen will look huge on extra small wrists no matter what.
Display
As usual, LG chose P-OLED technology to power up the circular display. The panel offers 320 x 320 resolution in a 1.3-inch diagonal and images appear vibrant, clear with punchy colors. The most important thing here, though, is the screen brightness which is enough for a relatively comfortable view outdoors. However, under direct sunlight you might find it a bit hard to operate with. In addition, the battery life should be further improved due to the power-saving nature of the OLED technology of the panel and this is backed up by our real-life battery testing results, but more on that later. Also, it's important to note that the touch panel sometimes failed to record a touch or indicates a touch instead of swipe. We are more likely to think that this is a software related issue rather than a hardware problem.
Sensors and usability
Just like almost every Android smartwatch out there, this one includes the usual accelerometer, gyro, proximity sensor, heart rate sensor and barometer that help augment the user experience with useful features and functionalities. Thanks to the integrated sensors, the watch supports some "wrist gestures" such as locking the display when covered with one palm or automatically turning on the display when you bring your arm up to look at the time. Nonetheless, the last one doesn't work very well so we found that it reacts better when you shake your wrist a bit. This way almost all of our attempts were successful. Another useful feature is the so-called "Theater mode". By activating it, the screen stays locked and the only way to "wake it up" is to use the hardware button on the side. This will prove useful when sleeping with the watch on or in the cinema or meeting for example.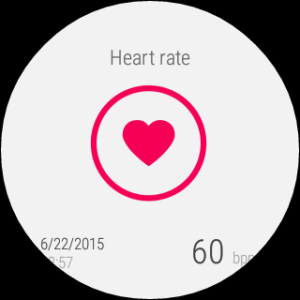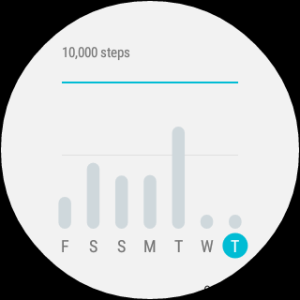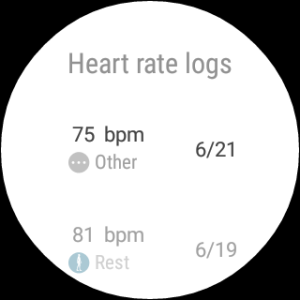 The heart rate sensor, on the other hand, is quite accurate and can be used with the built-in LG Pulse app or Google Fit. Both apps offer a fairly good amount of information about your activity throughout the day but nothing we haven't seen so far. We are really missing the ambient light sensor for automatic adjustment of the screen brightness because going out in the morning with settings set to minimum and not being able to see anything on the display is a struggle. It also lacks GPS so using Google Maps is allowed only when connected to your phone, speaking of which, you can sync both devices not only with Bluetooth, but with Wi-Fi as well. This is a neat feature that preserves battery life, so the only thing you have to take care of is connecting your phone and watch to the same Wi-Fi network and turn off the Bluetooth. This way of synchronizing is way more battery-friendly than the constantly draining Bluetooth alternative.
Software
As expected, the newly announced and still unpolished Android Wear 5.0 Lollipop doesn't deliver a fluent user experience. Small lags and hangs are quite frequent, unfortunately, and we doubt that the powerful SoC is responsible for that. It looks like it needs more software optimization.
However, good navigation and accessibility are at hand. You just have to get used to the swiping patterns (up, down, left, right) for dismissing, bringing the drop-down menu, opening the menu and etc. The watch also supports single and double tap at locked screen. One tap just wakes the screen while two taps will bring you directly to the main menu. There you can open the installed apps, use Google Now and dial people from your contact list. But since the watch doesn't have built-in microphone and loudspeaker, the only time you will use this option is when using headphones or a Bluetooth headset. The platform also supports different types of music and video players taking control of the volume, play/pause, and next/previous track.
The Android Wear app on your phone offers more customization features like downloading other watch faces, apps, tools and etc. Still, the store isn't offering a lot of variety of apps supporting the platform so we might have to wait a while.
We are mostly happy with the features and the ease of access, but there's still a lot to be desired in terms of fluidity and functionality. The Android Wear platform is still used to augment user's experience rather than making smart wearables a must-have accessory.
Battery
The battery provided inside LG Watch Urbane is significantly bigger than some of its competitors (the Moto 360, for example) – 700 mAh, but only if you get the LTE variant. Otherwise, you have to settle for 400 mAh battery. However, the battery left us with little to be desired. Full two days (depending on your usage) on a single charge is quite possible and the battery charges relatively fast. The Wi-Fi synchronization also helps to keep the device running for longer periods of time, but since the charger is really small and easy to use, you can bring it along wherever you go.
Tech specs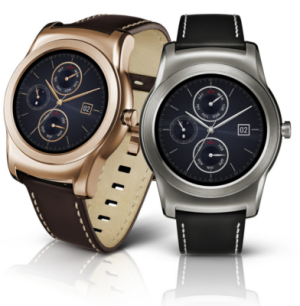 Screen: P-OLED 1.3″, 320×320 full circle

Voice control

Wireless charging, stand included

Display: 1.56 inch LCD capacitive touch with backlight, Corning Gorilla Glass 3, 320 x 290 screen resolution (205ppi)
CPU: Qualcomm Snapdragoon 400 (4-core [email protected])
Memory: 4GB + 1GB RAM
Connectivity: Bluetooth 4.0, A2DP, LE, Wi-Fi 802.11 b/g/n
Battery: 400 mAh

Sensors: Pedometer, gyro, proximity, heart rate, barometer

Dust and water resistance: IP67

Compatibility: smartphones running

Android 5.1
Verdict
All Android Wear devices still have a long way to go. The OS needs more polishing and optimization as well as more intuitive navigation and during the last Google I/O conference we were pleasantly surprised by the ideas that Google is going to implement in their newly born OS. For now, however, we need to settle for what's on the market and quite frankly LG has been more or less closer to the to bringing a more usable watch than its competitors. The stylish looks and design are the key selling points of this device, but the screen and relatively longer battery life come as a huge bonus. Unfortunately, the fluidity of the experience isn't what we've expected, the brightness of the display is insufficient at times and the high price tag are a big drawbacks to consider. Yet, LG brought one of the best-looking and durable smartwatches on the market.
Pros
Great build quality and classic design
Beautiful P-OLED full circle display
Relatively good battery life
Changeable straps
Overall compact design (for most wrists)
Syncing over Wi-Fi instead of Bluetooth to preserve battery life
Cons
Lacks ambient light sensor
The OS needs more polishing
High price tag
Needs more brightness at times