Samsung Galaxy S6 review – a bunch of innovations in a beautiful body

Samsung had some troubles recently, so it was in need of an urgent and cardinal strategy change. Galaxy S5 turned out to be a huge disappointment and, despite the good start and great expectations, the phone ended up with ~40% fewer sales than its predecessor Galaxy S4. At the same time iPhone 5s marked great success in the high-class, and some budget models grabbed a big piece of the Samsung pie in the low-end market. Even the widely considered as a failure iPhone 5c surpassed the S5 in market share, making it the third best-selling handset in UK. The failure led to the firing of some major people in Samsung's headquarters like Lee Don-joo, Kim Jae-kwon and Lee Chul-hwan.
They had no other choice but to undertake an "All-in" strategy against all of Samsung's rivals and the Korean company definitely have some big weapons. It doesn't sound as fancy as 3 megapixels more in the camera sensor resolution, but Samsung is a world leader in advanced memory technology and has huge innovations in the production of lithium-ion batteries, semiconductors and displays, so this is the time for the manufacturer to take advantage of all that…And Samsung did it with the new Galaxy S6.
The latest flagship product sports the industry's first 128GB Universal Flash Storage (ultra-fast embedded memory), the industry's first LPDDR4 Mobile DRAM (ahead of the transfer rate of LPDDR3 by a factor of two) and an outstanding 5.1-inch Super AMOLED screen with pixel density of 577 ppi.
This is just the start of the feature list and we can't wait to get our hands on the new S6, so let the testing begin.
Samsung Galaxy S6 edge review:
http://laptopmedia.com/reviews/samsung-galaxy-s6-edge-review-is-this-the-most-innovative-smartphone-in-the-world/
Contents
Video Review
Before the detailed tests, you could watch this Galaxy S6 video review to get a sneak peek at the main features from our colleague George Dobrikov.
What's in the box?
Samsung Galaxy S6 comes with a 15W wall charger (9.0V, 1.67A), USB cable, SIM card eject tool and high-quality Samsung EO-EG920BW stereo headset.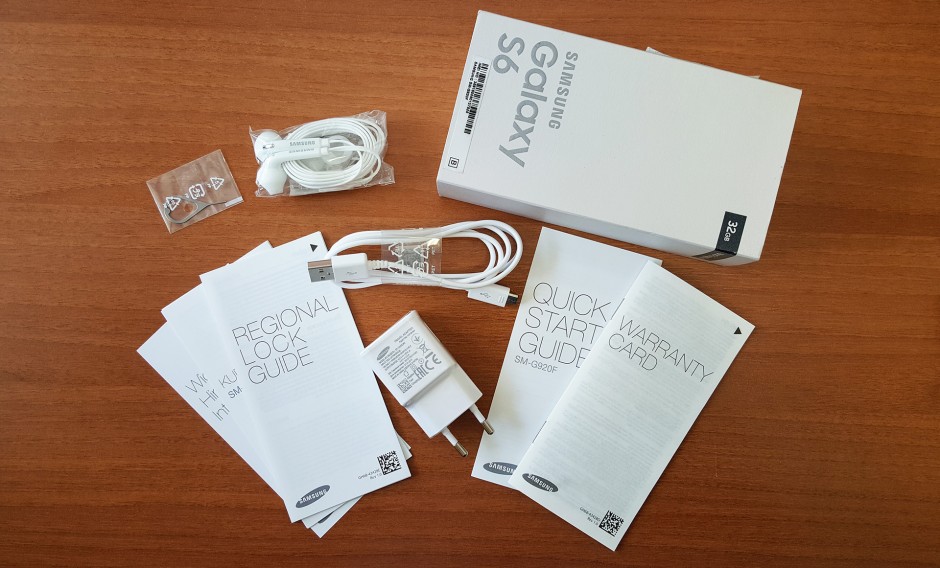 Design and Construction
Glass and Metal. That's how a flagship phone should look. Some say that the phone looks like iPhone or Xperia and we can't disagree, but so what – we, the users, are the victors from all these battles at the end of the day. "Great artists steal", right – it was Steve Jobs himself who liked to proclaim "Great artists steal", indicating his thorough belief of that approach. However, Samsung's recognizable design DNA has been retained in some of the main elements and motifs.

If we leave that aside, we've got a great-looking phone with thin borders, thin body and sturdy construction. The front side is simplified as much as possible, leaving only the Samsung logo, home button, earpiece and the 5MP front camera as the only prominent elements. You forget about them, of course, as soon as the 5.1-inch display lights up your face. By the way, the screen covers 72% of the front panel, so you could have a very good one-handed grip given the nearly borderless design and the body thickness of 6.8 mm (0.27 in).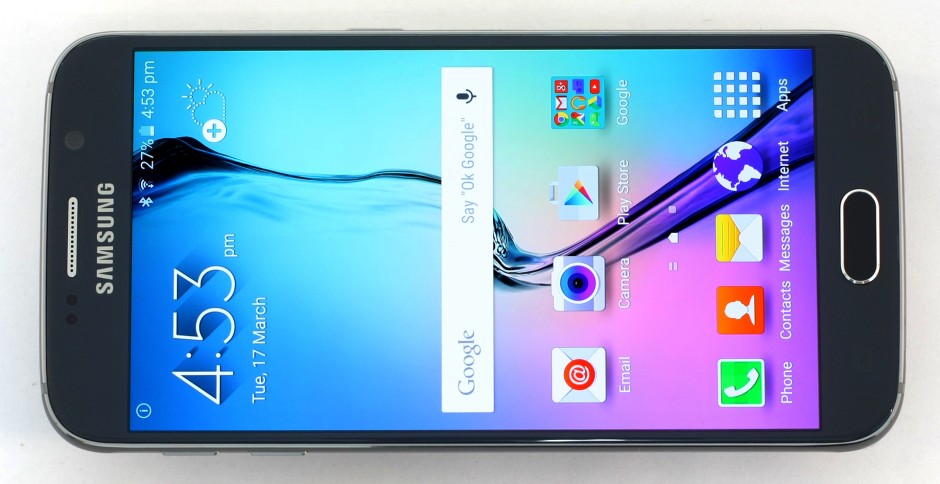 This is the second phone, after Note 4, we're testing with the latest Gorilla Glass 4 protection, which is implemented not only on the display, but on the back as well. Corning has put some thinking into it, achieving up to "2X better drop protection" than "competitive glass designs". This means next to nothing, but you could go through the official product information sheet.
You can also watch these two videos, which shed some light on the lab testing and the real sturdiness you could expect.
One of the main disadvantages of Galaxy S6 compared to its predecessor is the lack of water and dust protection, which in our opinion was one of the best S5 features. After you get a better feel for the overall design, you'll notice another major change – the back cover isn't user-removable and you can't access the battery. Also, you won't find a MicroSD slot in the specs sheet, which will force you to buy the much more expensive (+130 EUR at the moment) 64GB version if the 32GB one isn't enough for you media library.
If you didn't like the protruding camera in iPhone 6, you're out of luck once again. The one in Galaxy S6 protrudes even more and the thickness goes up to 8.79 mm, which is the thickest point of the smartphone. The heart rate sensor and the LED flash are placed beside it.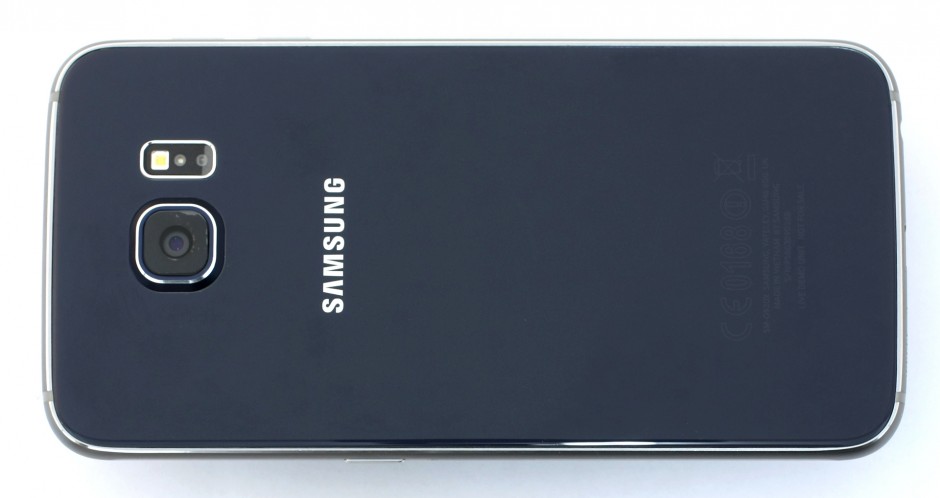 The weight of Galaxy S6 is 138 g (4.87 oz), which is pretty good for a 5.1-inch smartphone. The 5.5-inch LG G3, for example, weighs 149 grams (5.26 oz) and the 4.7-inch iPhone 6 weighs 129 grams, but it has a 4.7-inch screen. Below you can see what they look like placed side by side.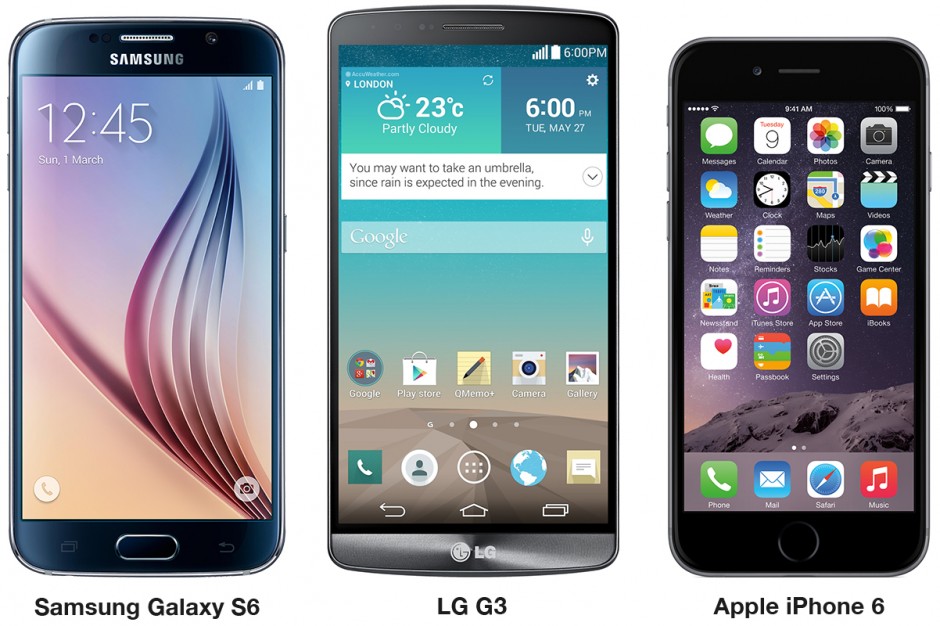 The sides look a lot like iPhone 6's – they are made of metal and have rounded edges with plastic dividers.
Actually, all of them are part of the base aluminum construction, which keeps in place all the components inside the phone.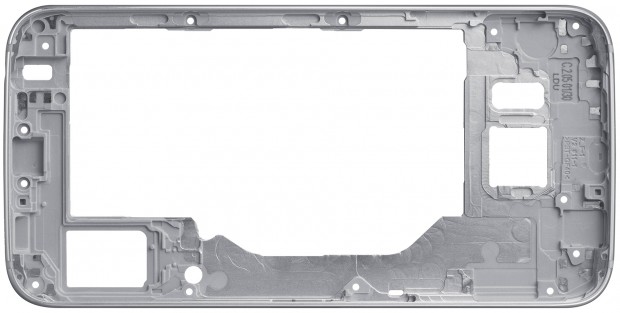 This design makes the S6 the first unibody Galaxy S device ever, and we're sure that this will be another key feature in the eyes of all Sammy fans.

Display
Samsung Galaxy S6 has a Quad HD Super AMOLED display with a capacitive multitouch (up to 10 points at the same time) panel. It's covered by the aforementioned Gorilla Glass 4 protection and the resolution is 2560 x 1440 pixels. Samsung kept the medium-sized diagonal (5.1" – the same as the one in S5), leaving the Galaxy Note line as the only Samsung warrior in the high-end phablet market. Instead of the Full HD resolution of S5, the new S6 has Quad HD, and this means that the screen gets an outstanding pixel density of 576 ppi with 0.0441 х 0.0441 mm between the pixels.
To interpret an image as perfectly detailed, you should keep a minimum distance of 21 cm (for normal 20/20 vision) between the screen and your eyes. It's very unlikely that someone would keep the display that close to their eyes.
All tests are conducted in "Adaptive display" mode.
You can see the pixel order in our microscope photo.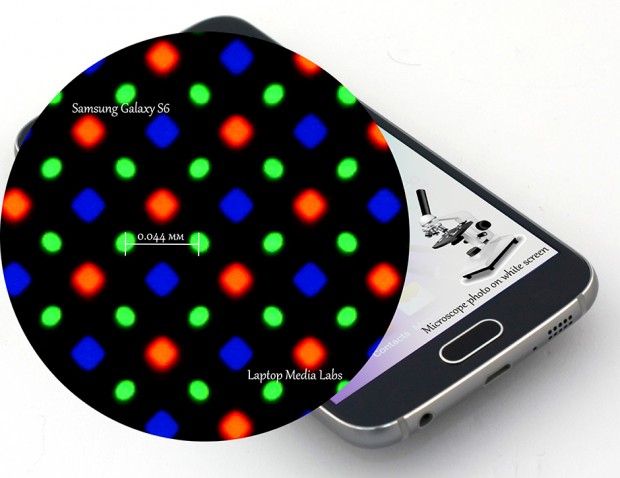 Galaxy S6 has wide viewing angles, with unnoticeable image difference at 45°.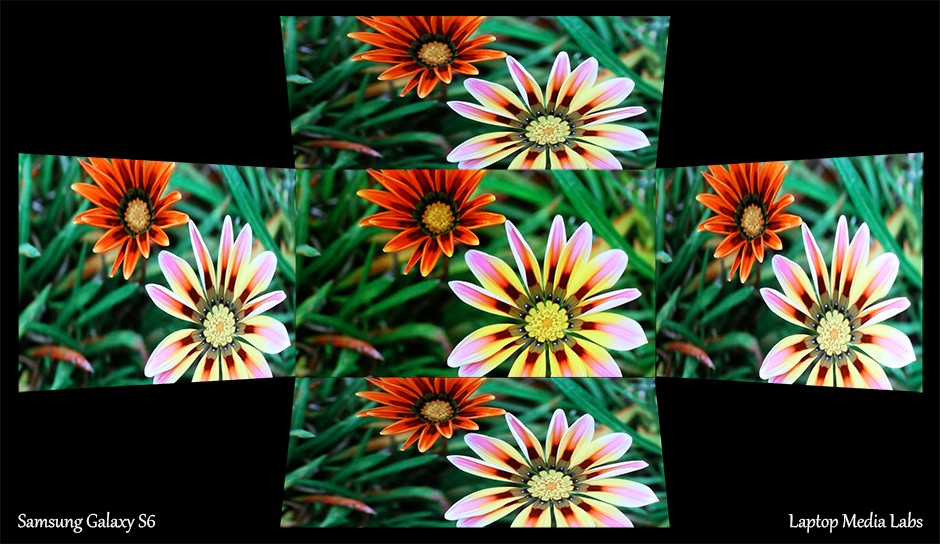 The measured average maximum brightness (at 100% white screen fill) is very high, but that depends on several factors. Apart from the chosen display mode, the ambient light and the fill percentage matters, too. We measured the maximum brightness at extremely high ambient light – over 80 000 Lx (the sun in its zenith). We added the measurement result at 10% fill just to illustrate the display capabilities, but we won't use it for comparisons, in order to juxtapose the displays in equivalent conditions. The Super AMOLED contrast levels are unmatched, as always.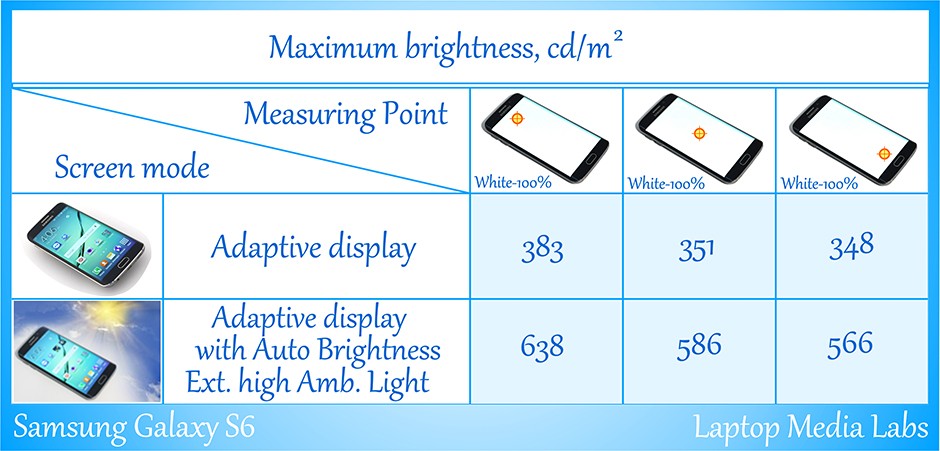 Color Gamut Coverage (CIE)
Galaxy S6's display covers 99% of the sRGB and 98% of the Adobe RGB color gamuts. There is only one percent of the Internet colors that is not reproduced, but the display will show the closest colors possible. This is a great result.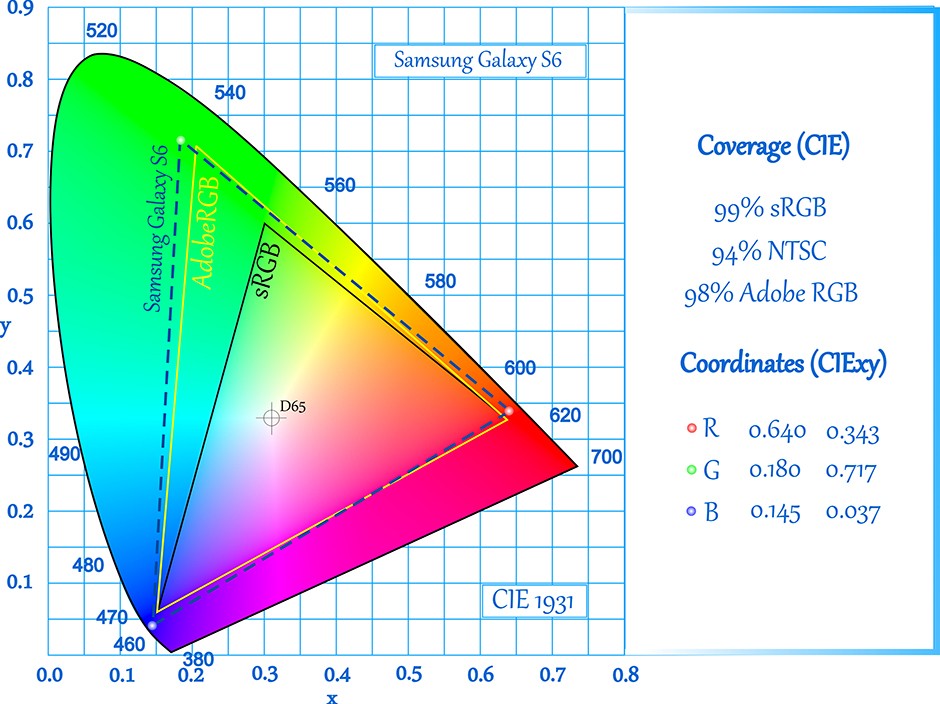 The gamma curve deviates slightly from the optimal one – the medium brightness levels will be shown as a little darker.
Color Reproduction
Galaxy S6 has pretty accurate colors. The average DeltaE(76) deviation is 1.20. Deviation results below 1.00 are unnoticeable to the naked eye. DeltaE of 2.0 is the limit for monitors, aimed at professional image editing. In other words, S6 showed great performance once again.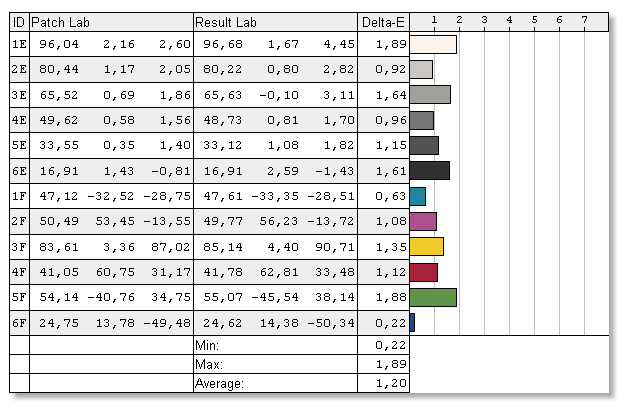 You can see a color reproduction map below.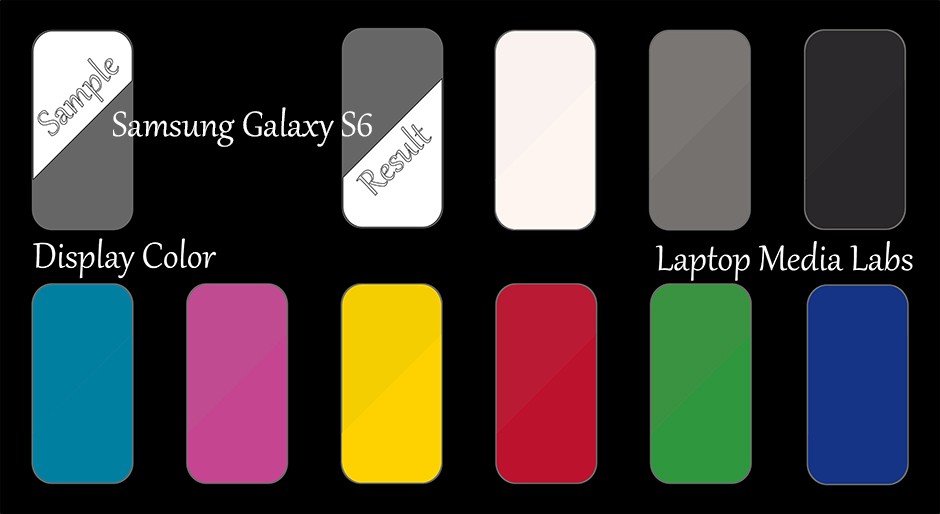 PWM
Although Samsung Galaxy S6's display doesn't have a backlight, the emitted light pulsates. In this particular case, there's a difference between the S6 screen and the displays, which emit typical PWM-type flickering light. Those very same displays have a constant light intensity and the brightness change affects only the fill correlation of the impulses (light phases / dark phases), which changes as a fluent of the brightness slider position.
In Galaxy S6, when you move the brightness slider to 50% for example, the pixels are less bright (around 80%), and the dark phase increases to nearly one-third of the period. This is the preferred scenario, because that way the negative pulsation affect is reduced. However, the low frequency of 240 Hz is a disadvantage.

Comparison to competitor model results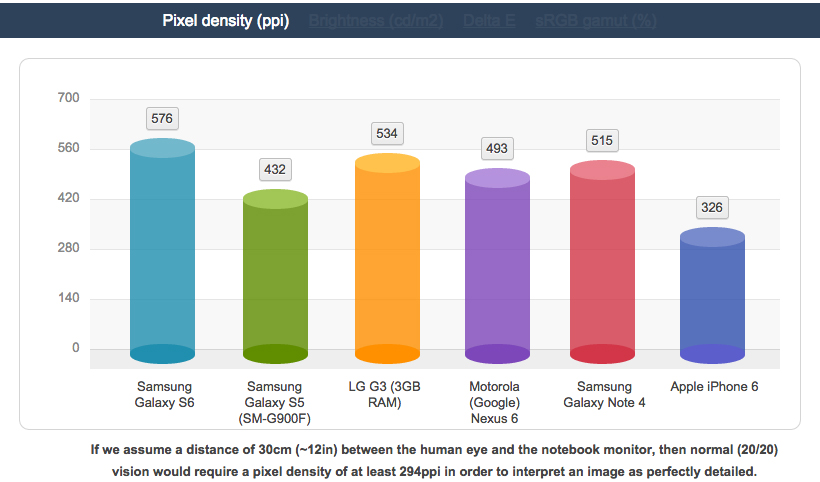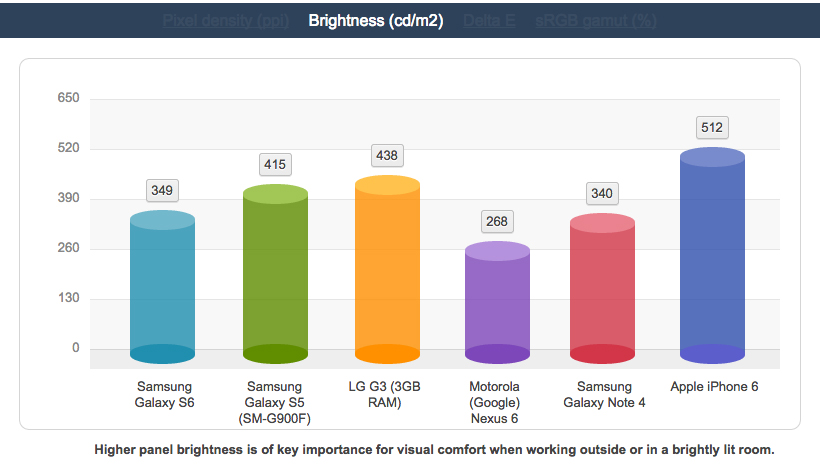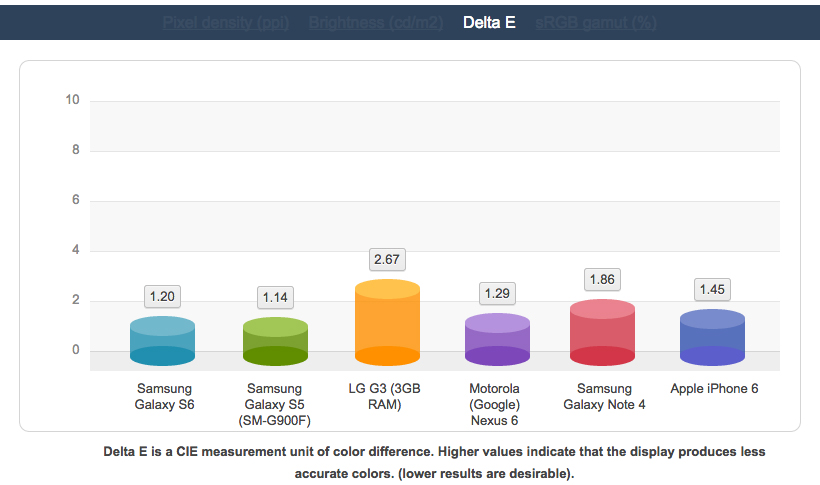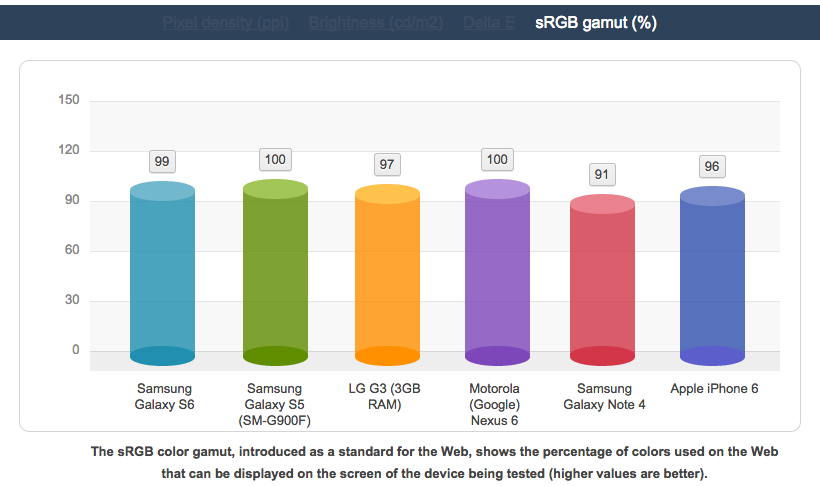 Conclusion
Galaxy S6's display has a great resolution, accurate colors, outstanding contrast and wide color gamut coverage. The pulse-width modulation is a bit of a disappointment, but our overall impression is very good.

Battery Life
As always, we test the phone in several different scenarios. We tested the endurance of the new Galaxy with Wi-Fi and 3G Web Surfing, 3D gaming, Talk Time and Video playback.
The last year's model, Galaxy S5 has a battery with 10% higher capacity – 2800 mAh vs 2550 mAh for S6. On the performance side, Galaxy S6 stands out when compared to its predecessor by virtue of the new 3GB LPDDR4 RAM (instead of 2GB LPDDR3), QHD screen (instead of Full HD) and Exynos 7420, which is built through Samsung's 14nm FinFET process. Actually, this is the first SoC, which uses the new technology, and we have high expectations, given the improvements in power consumption that Samsung claims to have made. Yes, Galaxy S6 is more powerful, has a smaller battery (and it's ~20% thinner), but we hope that it will manage to at least maintain the good results achieved by S5.
We run all tests at 120cd/m2 brightness, turned on Wi-Fi and turned off 3G.

Talk Time
The 5.1-inch QHD Super AMOLED screen won't be to blame if you're not satisfied with the talk time outcome, since the proximity sensor turns it off during phone calls.
18 hours and 2 minutes (1082 min.) is much less than the S5 result (1500 min.), but it's still good. You can see how Galaxy S6's battery fares against the competition.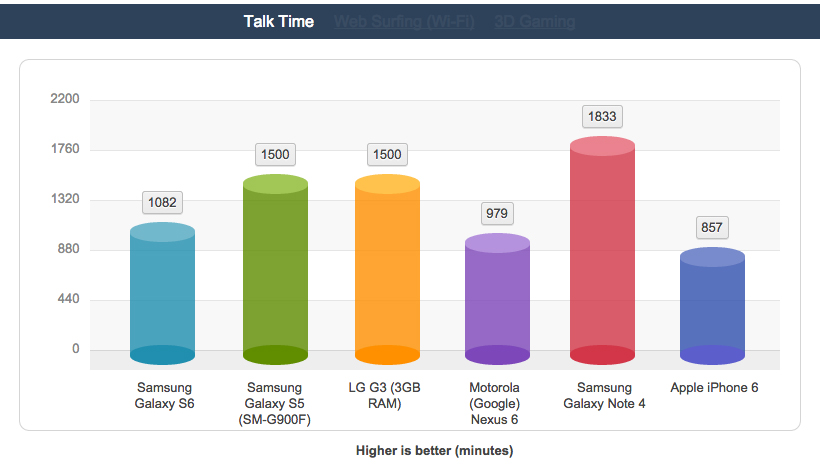 Web Surfing (Wi-Fi)
We run our Web surfing test with a custom-made script, which browses through 70 popular web pages.
S6's battery manages to keep its juice for 620 minutes (10 hours and 20 minutes) or just 8 minutes less than Galaxy S5.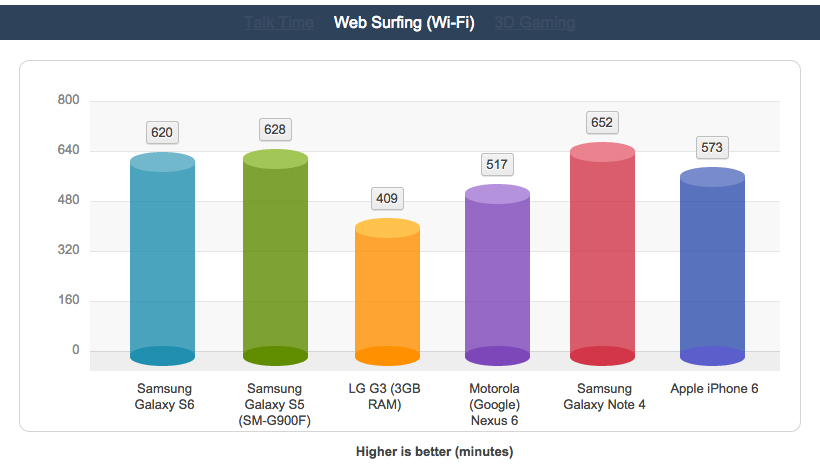 3D Gaming
In order to simulate 3D gaming, we use Epic Citadel cycles.
Galaxy S6 stopped our timer at exactly 300 minutes (5 hours), which is a little better than S5's achievement of 278 minutes.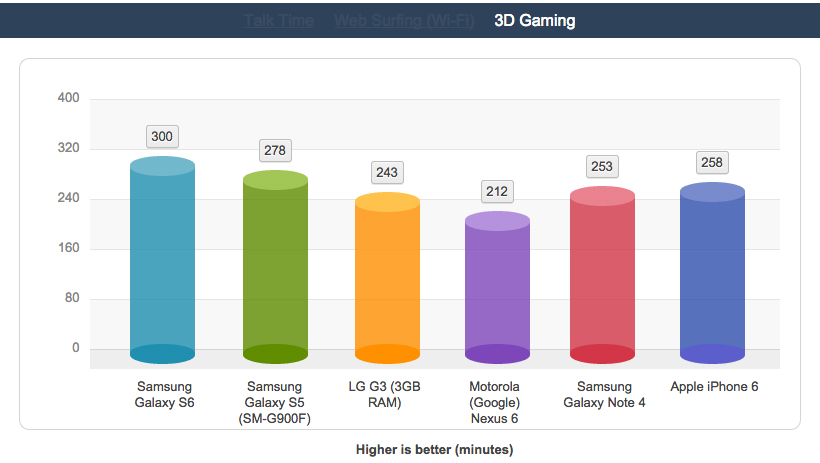 Ultra Power Saving Mode
Chances are you've already heard of the UPSM (Ultra Power Saving Mode), which extends the battery life by changing your theme colors to grayscale, restricts app usage and turns off Wi-Fi, Bluetooth and other connectivity options.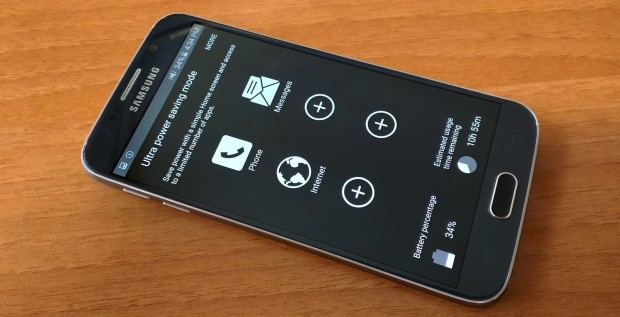 Specs sheet
The specs listed here refer to this particular model, and configurations may differ depending on your region.
Software – Android 5.0 Lollipop + TouchWiz
Galaxy S6 comes with Android 5.0 Lollipop OS pre-installed, with Samsung's own TouchWiz interface on top. Samsung has promised that S6 will be free of bloatware, or that at least you'll have the option to remove it.
In the process of activating your device, you can set up a wake-up command, add your fingerprint (so you can lock your phone, pay with PayPal, sign in the Web or verify your Samsung account with just a slide of your finger) and choose between standard and an "easy mode" interface. The latter makes display elements bigger and reduces the functionality, which is convenient if you're planning to gift the phone to an older or a very young person.
This is how your phone will look like at first boot.
You have 43 pre-installed applications, so we can't say that we've gotten rid of the bloatware, but we'll try uninstalling the apps to see how many of them could be removed.
Okay, you can't uninstall them, but we're still glad that you can "disable" almost everything, including the Play Store. In that way, the apps you don't need won't take up space in your menus, but if you change your mind, you can still bring them back from Settings > Applications > Application Manger. Disabled or not, they stay in your storage memory and cost you 8 GB along with the OS and its interface, leaving 23GB of free space for your files in the 32GB Galaxy S6 variant.
Pre-installed apps
As Samsung like to say, S Health is the most advanced personal fitness coach – it can help you set and follow targets, track the calories you've taken, note the cups of coffee and water cups you've had, record your bedtime and even measure heart rate, SpO₂ and ultraviolet using your Galaxy's built-in sensors.

S Voice is a voice recording software with a useful interview feature which reduces the ambient noise and keeps focus on your voice (at the main microphone) as well as the voice of your conversation partner (at the microphone on the top of the device). You can also make voice memos with a maximum recording time of 5 minutes.
Smart manager is an app which keeps your device clean by removing unnecessary and temporary files, increases your free RAM and secures your device.
Settings Menu and FDE
In the main Settings menu, you have some quick settings (Data usage, Sounds and Notifications, Display, Themes, Lock screen and Security and User manual), along with all the features that Samsung have prepared for you.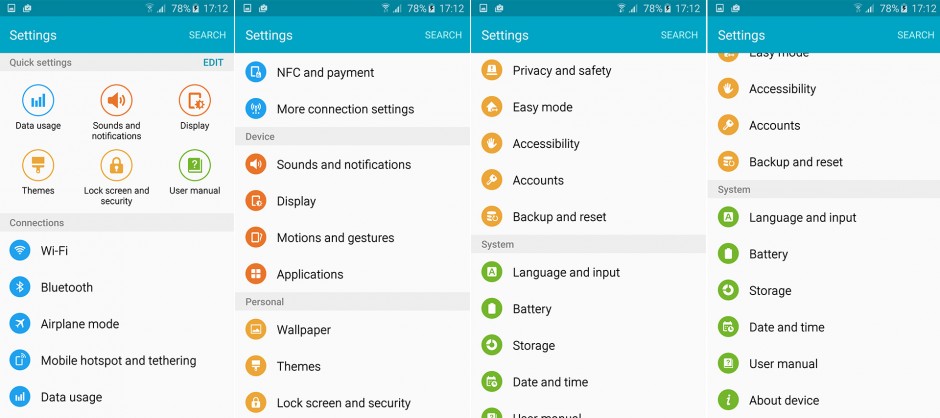 We would like to take a moment to emphasize one very useful feature which Samsung has put it in their TouchWiz UI, but unfortunately, as of now things in the stock Android are slightly different. As we noted in the Nexus 6 review, Google has turned on the FDE (Full Disk Encryption) by default, which substantially reduces the storage speeds and isn't useful if you don't lock your device with password. In Galaxy, it's turned off by default and you have the option to use it.
Performance
Samsung Exynos 7420
The new Exynos 7420 is one of the greatest new features in Galaxy S6. It has four Cortex-A53 cores working at 1.5 GHz and four 2.1GHz Cortex-A57 cores. The GPU is a high-end Mali-T760, which provides a superb performance. Exynos 7420 is the first smartphone which uses a 14-nm-FinFET-SoC LPE (Low Power Enhanced) process. This time there is no Snapdragon version or anything of the sort, just an Exynos model. Samsung claims that, thanks to the 14-nm FinFET technology, their Exynos chip is 20% faster, 30% more powerful and 35% more energy-efficient than its 20nm predecessor.
Here is a little comparison to the most popular 7420 competitor – Snapdragon 805, which can be found in current flagship phones as LG G3 (Prime/LTE-A), Galaxy Note 4, Galaxy S5 (LTE-A) and Motorola Nexus 6.
| Benchmarks | Samsung Exynos 7420 | Qualcomm Snapdragon 805 |
| --- | --- | --- |
| Geekbench 3 (Multi-Core) | 4604 | 3332 |
| AnTuTu 5 | 68913 | 53296 |
| 3D Mark Ice Storm Unlimited | 22007 | 23594 |
| GFXBench 3 T-Rex (offscreen) | 52.7 | 38.8 |
| GFXBench 3 Manhattan (offscreen) | 24.6 | 18.6 |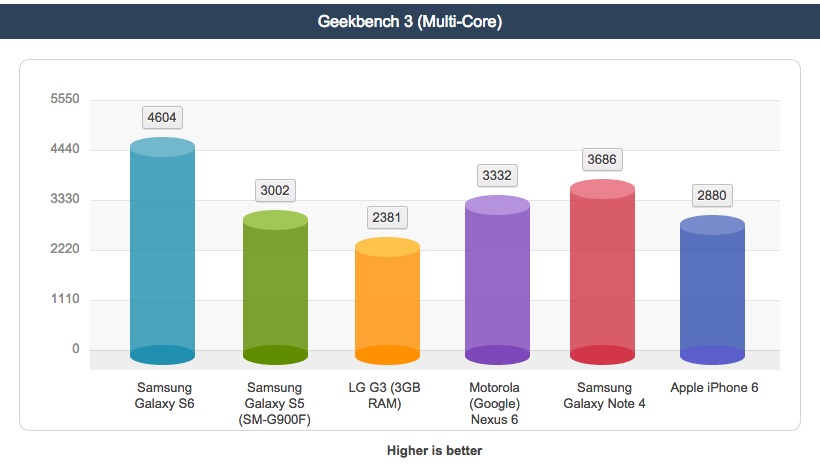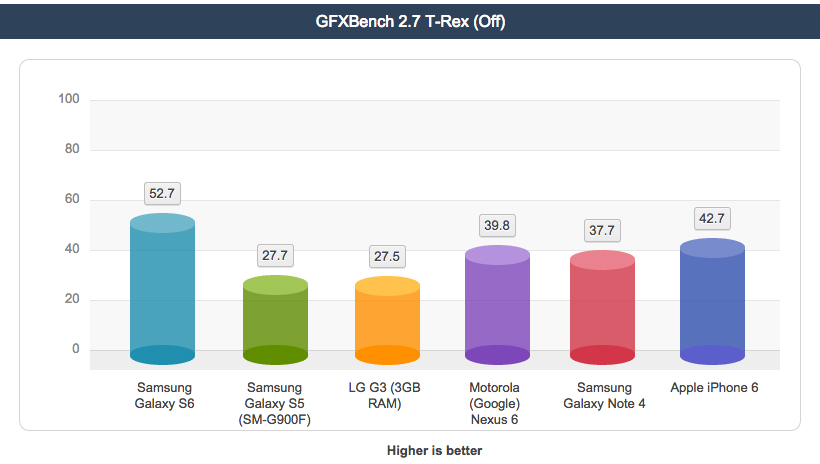 Epic Citadel
Epic Citadel is an application which shows the Unreal engine capabilities. Our idea here is not to compare S6's results against other devices because the benchmark doesn't have an Offscreen version – the rendered resolution is the one of device's screen.
At high quality, Galaxy S6 achieved 59.5 fps and at Ultra High Quality – 54.2 fps.
Real games
Mali-T760 MP8 shows great performance in the synthetic benchmarks, but the more important question is how it handles the actual games. We've already revealed that in a quick "gaming battle" between the S6 and Nexus 6, and we can say that Exynos 7420 does its job very well.
We test the graphic capabilities with four games – Asphalt 8, Brothers in Arms 3, Overkill 3 and Despicable Me: Minion Rush. All of them run smoothly – the average FPS in Asphalt 8 is 60, and the quirky-looking-but-not-so-optimized Despicable Me: Minion Rush runs at 31 frames per second.
Overkill 3 is definitely overkill for most of the mobile GPUs on the market, but you won't witness any lag when using the S6 and its Exynos 7420 – the average FPS is 29. Brothers in Arms 3 turned out to be even more demanding – the new S6 will get you an average of 23 fps in that.
Temperatures and comfort
Sometimes, the overheating is a big problem for some companies (we're looking at you, HTC, and we hope that M9 won't give us any headaches), but that's one of the disadvantages you won't find in the specs sheet. Usually, users stumble across this issue weeks after they have bought their new phone, when it's already late to bring it back to the store. That's why we decided to include tests of this type in our reviews.
First, we measure the battery temperature in the following everyday tasks – Web Browsing, Video Playback, Writing and Photo Editing. In the graph below, you can also see the CPU clock and usage.

4K video recording
The 4K video recording is one of the best "real-world" system stability tests. Some manufacturers even restrict the maximum recording duration on their devices to 5 minutes. Galaxy S6 is one of the restricted phones, though we haven't come across temperature problems during our performance tests.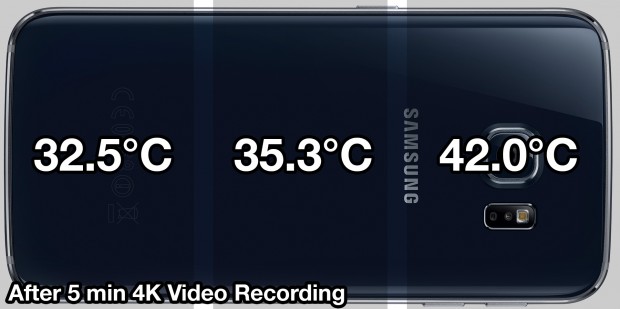 After 5 minutes of video recording, the Galaxy S6 reached 42.0°C at its warmest point – it is far from being a concern and just as a comparison, Nexus 6 hit almost 44°C in the same test (and it doesn't have a 5 min restriction).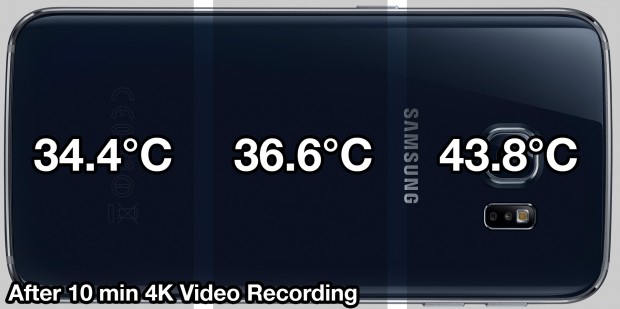 After 10 minutes of 4K video recording, the temperatures rises to 43.8°C near the SoC – not a bad result.
Camera

The Galaxy S6 camera has a 16MP sensor (5312 x 2988 pixels), f/1.9 aperture and Optical Image Stabilization. Actually, this is the same Sony IMX240 Exmor RS sensor as the one in Galaxy Note 4, but Samsung has improved the optics and has added some cool features like the White Balance detection (using the IR sensor), object tracking autofocus and improved PDAF (phase detection autofocus) system. A very handy feature, which we liked a lot, is the quick camera shortcut, with double click of the home button. It turned out that in some units, Samsung have used their own ISOCELL sensor, whose quality isn't very different from that of Sony's.
The front camera has also underwent some refinement. It's boosted to 5MP and its aperture is f/1.9, so your selfies will be better than ever, even in low-light conditions. The sensor is Samsung S5K4E6.
Camera settings
The Camera app has a pretty simple interface, but this doesn't mean that the more advanced features have been ditched. You have access to them in the "Pro" mode, where you can manage the ISO level, White balance, Metering modes and apply some nice effects to your photos.
Resolution
We measure the camera's resolution in LPH (Lines per Picture Height), which is affected by both the lens and the sensor. To conduct our test, we use the ISO 12233 test chart.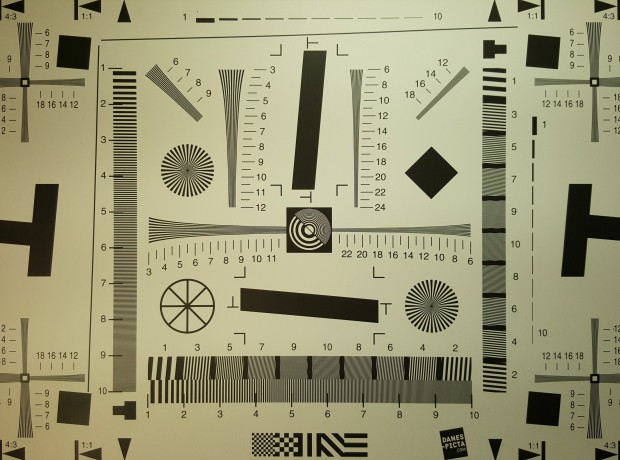 Galaxy S6's camera achieved maximum resolution of 2700 LPH at the center, exceeding the range of the chart, and this is a good indicator for the reproduced details.
Using our test composition, we can gain a subjective but fairly accurate view of the resolution, sharpness, color noise and chromatic aberrations.
The result was one of the highest-quality test photos that we've ever made with a smartphone camera.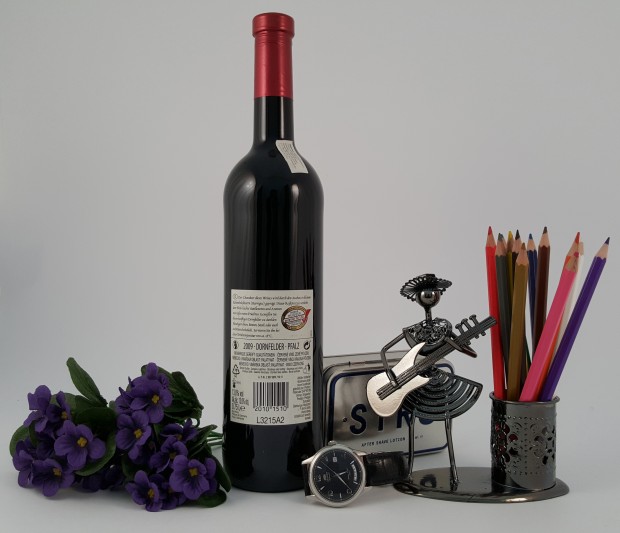 The text is very easy to read.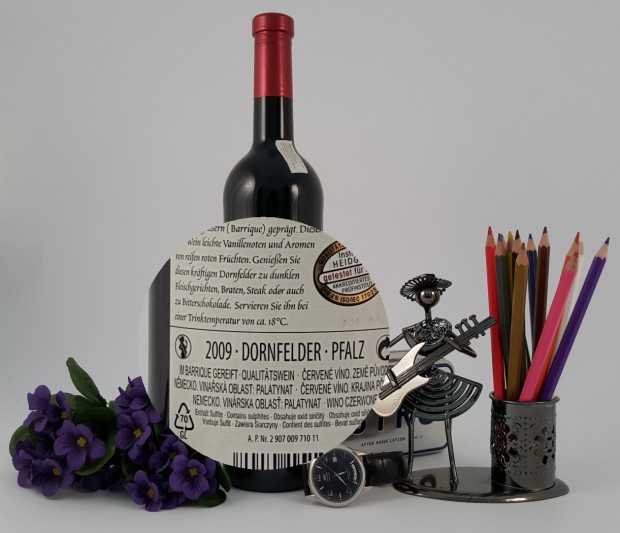 Color noise and aberrations
There are no apparent signs of chromatic aberrations at all.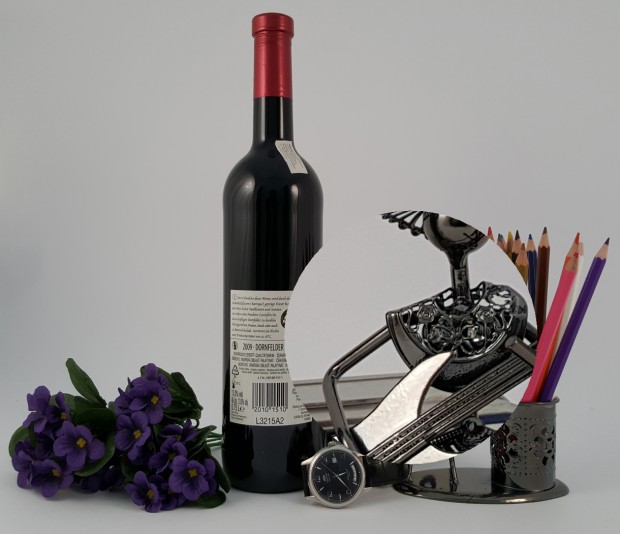 The areas of the photo featuring shadows are perfectly reproduced (for a smartphone camera), with low levels of color noise.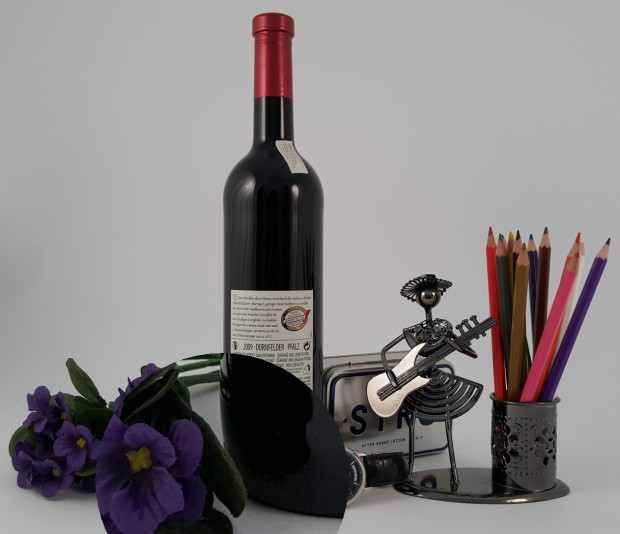 Color reproduction
The S6 camera reproduced the color map in a relatively accurate way, but there is some over-saturation. We have to note that we experienced some trouble with the auto white balance.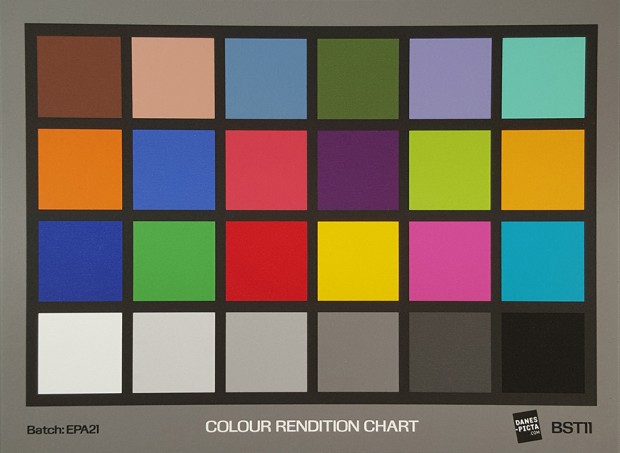 | | |
| --- | --- |
| Blue | very good |
| Green | good |
| Red | acceptable |
| Yellow | excellent |
| Magenta | very good |
| Cyan | good |
| White | very good |
| Gray | very good |
We give it 7.0 out of 10.0.
You can see the color differences in the digital color map below.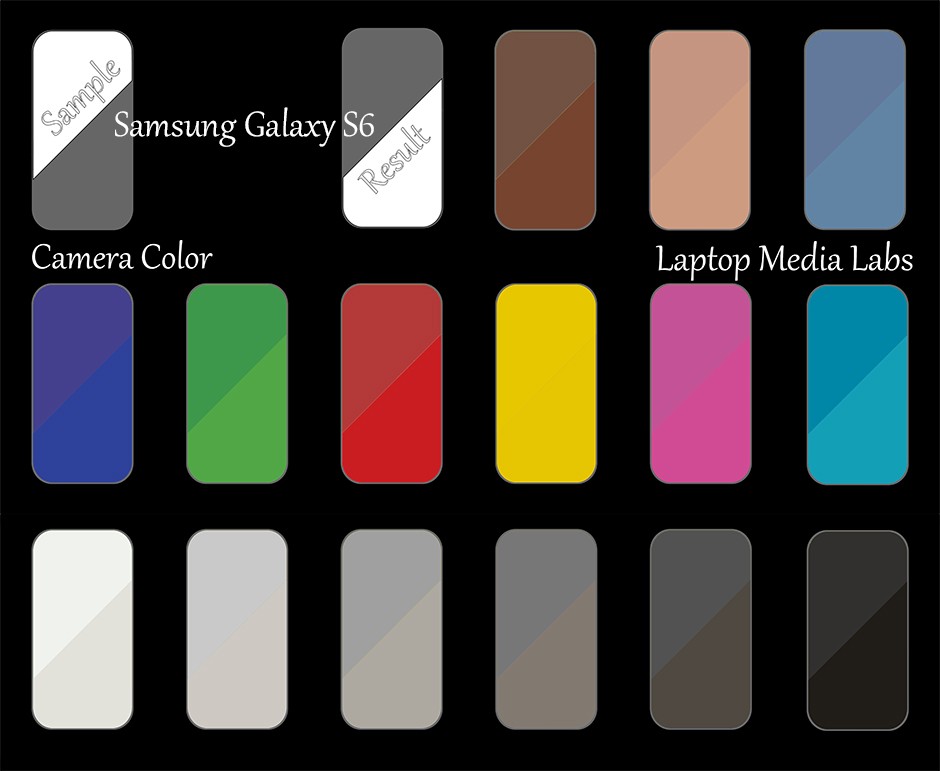 Sample Photos
We made some sample photos in different scenarios. The camera is most impressive during nighttime.
Sample photos in brightly lit conditions
Sample photos in reduced light conditions
Comparing Samsung Galaxy S6…
… vs Motorola Nexus 6
Take a look at some of the scenes above, taken with the Nexus 6 camera instead:
4K Video Recording
To see the videos in their actual quality, click on the gear (lower right) and choose the highest resolution.
Some final camera thoughts
The S6 camera is one of the best we've tested so far. The photos are clear, detailed and some of them can be difficult to distinguish from ones taken with a standalone camera. The resolution of 2700 LPH is great and the f/1.9 aperture allows you to take quality shots in low-light conditions. The white balance leaves something to be desired in some situations, but it's possible that this issue could be fixed with a software update. The colors are slightly over-saturated, but this can be an advantage in everyday use because the photos look prettier.

Conclusion
We didn't have the chance to conduct all the tests on the S6 we wanted, as it's an engineering sample, but you can be sure that once we receive the final unit (which will happen very soon), we're going to share everything you might be interested in (feel free to leave a comment if you want us to test something specific). We've managed to learn a lot about it, though, and what we saw definitely impressed us. Galaxy S6 has an awesome screen with ultra-high resolution, accurate colors, wide color gamut coverage and unmatched contrast. The f/1.9 camera allows you to take great photos in low-light conditions, and the Exynos 7420 SoC in tandem with the ultra-fast UFS 2.0 storage and the 3GB of LPDDR4 RAM get you anywhere in the Android Lollipop OS in a snap.
S6's battery life is another key feature – although the battery is smaller than the one in S5, and the new S6 has much more powerful internal components, the consumption optimizations allow the phone to be one of the most enduring flagship products on the market. We're extremely impressed by the design, too – this is the first Galaxy to use a unibody construction. S6 has a great look, and we're sure that the Android audience will fall in love with it at first sight.