ADATA D8000L Power Bank video unboxing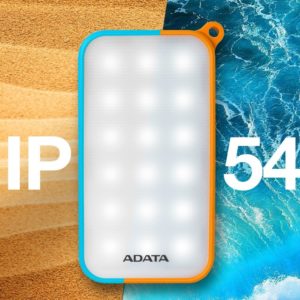 Hey there, folks! It's been quite a while since we last uploaded a video as we're working hard on our laptop catalog. However, we found some time to prepare a short unboxing video of a very intriguing ADATA product. This time we are talking about the power bank D8000L.
This model has a capacity of 8000 mAh (as you may have guessed by the name) and several more peculiar features that make it really attractive. One of them is the Dual USB fast charging (2.1A) support, allowing you to charge more than one device at a time. Additionally, the device is IP54 waterproof and dustproof making it great for those of you who lead a very active lifestyle. Probably the most characteristic aspect of this external battery is that it boasts a 200 lumen LED panel light with 4 lighting modes.
Check the current price of ADATA D8000L here: Buy from Amazon.com (#CommissionsEarned)
The goal of this short article is to present to you the most important characteristic features of the given product, so that you can make an informed decision in case you want to purchase. If you like this video, you can subscribe to our YouTube channel, share, comment, and hit the thumbs up button.