AMD Ryzen 7 4800U vs Ryzen 7 3700U – dead end for Zen+, the new one is 2x faster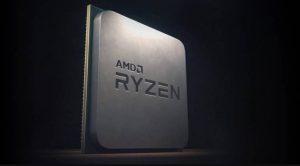 We've already written a lot of articles regarding AMD Ryzen 7 4800H vs its Intel Coffee Lake or Ice Lake competitors. Now, it's time to see the Ryzen 7 4800U with 15W TDP and its performance gains over the Ryzen 7 3700U which has a 15W TDP too.
The ULV chips are very important for the whole mobile market because they offer lower power consumption, which leads to better heat dissipation, better battery life, cooler machines, and all those things allow thinner laptops. That is the main purpose of those devices – easy portability, long battery life, decent performance, and comfort during work. That's why the low voltage CPUs are the "main event" when it comes to power alongside battery life.
Specs-wise, the 4800U is a beast – it has a 75% higher score (3D rendering) than i7-1065G7. From our previous comparisons, we know that the i5-1035G4 is on par with 3700U and i7-1065G7 is faster than its smaller sibling. This is a doomed battle for Ryzen 7 3700U but let's see how much it'll fall behind 4800U.
Of course, as soon as we get our hands on the new Ryzen CPUs, we'll update this article with results from our own lab.

Quick Specs
Long-time ago, Serious Sam said "double the gun double the fun" – and he is absolutely right. It's really pleasant to see that the next-gen Zen 2 ULV processors have double the core count when compared to Zen+. The 4800U has 8 cores and 16 threads while 3700U has just 4 cores and 8 threads. The Zen 2 CPU has two times bigger cache size when compared to 3700U (8MB to 4MB). The 4800U has an advantage with is DDR4-3200MHz; LPDDR4-4266MHz supported memory frequencies while 3700U is so shy in this section with just a standard DDR4-2400MHz RAM frequency.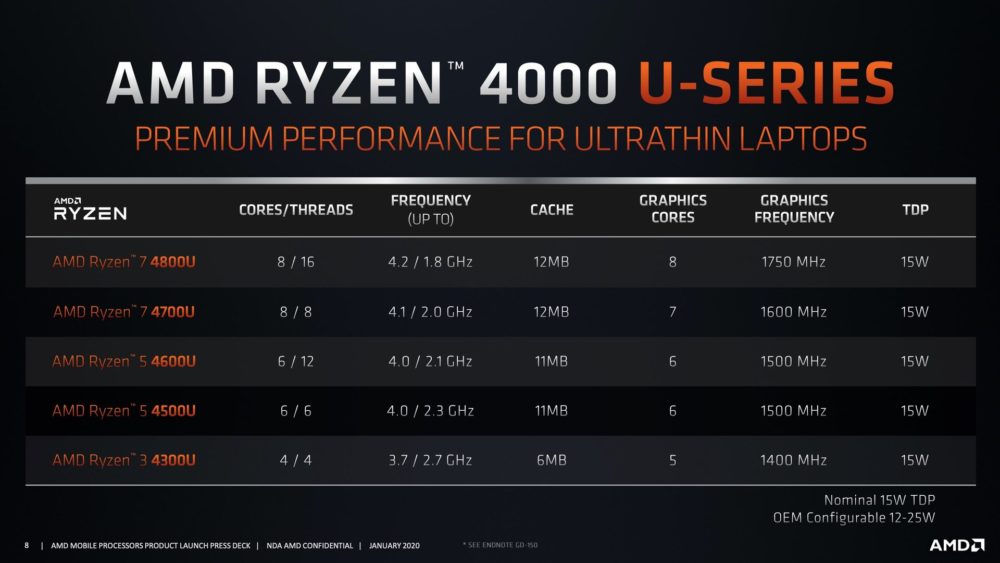 Interesting things are happening when comparing the clocks and the TDPs of both CPU. First of all, expectedly, the 4800U has a higher boost clock than 3700U (4.20 GHz vs 4.00 GHz), while the latter stands its ground with a higher base clock than the 4800U one (1.80 GHz vs 2.30 GHz). Second, the 3700U is a 3750H with reduced TDP, it has the same frequencies and TDP up and TDP down values as its "H" sibling. Because of the 35W TDP up spec, the 3700U can maintain decent frequencies during heavy loads. The 7nm 4800U CPU is probably more efficient because of its newer architecture – it has the same default 15W TDP as 3700U, but it has much lower up and down values.
More detailed specs here – AMD Ryzen 7 4800U / AMD Ryzen 7 3700U

Specs table:
| | AMD Ryzen 7 4800U | AMD Ryzen 7 3700U |
| --- | --- | --- |
| Cores / Threads | 8 / 16 | 4 / 8 |
| Base / Max frequency | 1.80 – 4.20 GHz | 2.30 – 4.00 GHz |
| Cache | 8 MB L3 Cache | 4 MB L3 Cache |
| TDP / up / down | 15W / 25W / 10W | 15W / 35W / 12W |
| Memory support | DDR4-3200MHz; LPDDR4-4266MHz | DDR4-2400MHz |
CPU Benchmarks
Thank you, AMD, the 4800U is so much faster than 3700U – it was about time to have a decent "red" CPU performer with a 15W TDP (because 3700U isn't fast enough).
Results are from the Cinebench 20 CPU test (the higher the score, the better)
GPU Benchmarks
That new Vega 8, that performance – a whopping 167% better score than Vega 10 (with slower CUs).
AMD RX Vega 8
AMD RX Vega 10
3DMark Firestrike
6110

(+167%)

2288
Verdict
Until now, 4800H was under the spotlights – the bigger one always gets more attention because of its power. At the end of the day, a lot of people will prefer the more practical choice – the 4800U instead of the hungry beast (4800H). The performance of the ULV Zen 2 CPU is more than enough for everything – from the usual every-day tasks such as YouTube and browsing to photo/video editing or data compression. In addition, the ULV one will get the fastest iGPU – the new Vega 8 with 8 CUs while the "H" Zen 2 CPUs have RX Vega iGPUs with 7 CUs or less. Nice overall package – powerful and efficient CPU with super fast iGPU.
When compared to 4800U, the AMD Ryzen 7 3700U looks like an old product. It lacks too much speed, its iGPU is much slower, and it's not that efficient anymore. This is good, the AMD processors are getting better and better.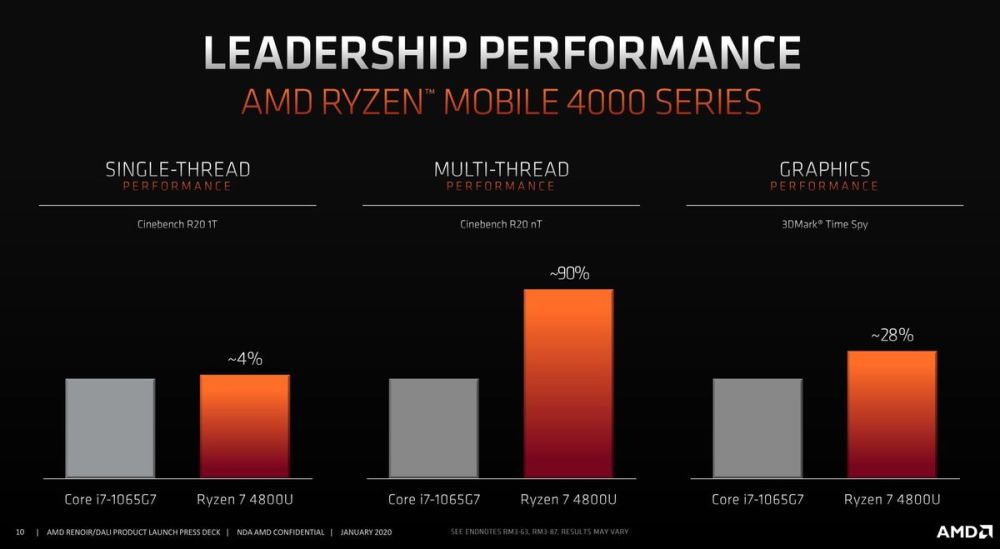 Of course, as soon as we get our hands on the new Ryzen CPUs, we'll update this article with results from our own lab.

All laptops with AMD Ryzen 7 4800U:
All laptops with AMD Ryzen 7 3700U: