ASUS Zephyrus GX501 vs Zephyrus M GM501 (GM501GM / GM501GS) – what are the differences?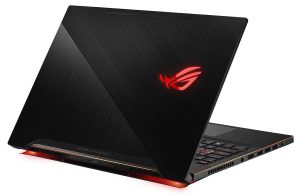 We return with yet another laptop battle which will most probably catch the attention of all gaming enthusiasts out there. What we have in mind are two of the latest additions to the well-known "Republic of Gamers" family that stand out among the competition with a mighty performance packed in premium design. Keep reading to find out the major aspects in which ASUS Zephyrus GX501 differs from Zephyrus M GM501.
Starting off with the hardware, both notebooks can be configured with an 8th gen Intel Core i7-8750H processor. ASUS Zephyrus GX501 also offers a 7th gen Intel Core options to choose from. One of the most essential difference, however, comes in terms of the graphics card. While ASUS Zephyrus GX501 is equipped with an NVIDIA GeForce GTX 1080 Max-Q or GTX 1070 Max-Q, Zephyrus M GM501 packs the standard NVIDIA GeForce GTX 1060/ 1070. Basically, the aim of Max-Q GPUs is to reach a balance between performance and cooling allowing higher-end graphics cards to fit into thinner chassis. In addition, Zephyrus M GM501 provides you with larger memory amount – up to 32 GB of DDR4-2666 SDRAM vs up to 24 GB of DDR4-2666 SDRAM in GX501.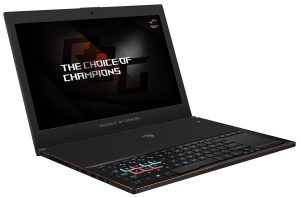 Moving on, both laptops accommodate a 15.6-inch display with Full HD (1920 x 1080) resolution, although the GX501 provides an IPS-level panel, whereas Zephyrus M GM501 comes with a regular IPS one. Additionally, the more portable gaming device happens to be Zephyrus GX501 measuring at 17-18 mm in height and weighing 2.2 kg. We find another difference in the audio side of things as GX501 incorporates 2x 2W speakers, whereas its opponent features 2x 3.5W ones. Connectivity-wise, both models boast 4x USB Type-A ports, 1x USB 3.1 Type-C port, HDMI, combo audio jack, as well as a Kensington lock slot.

Specs sheet
Series
OS
CPU

Intel Core i7-7700HQ
Intel Core i5-7300HQ
Intel Core i7-8750H

RAM

up to 24 GB of DDR4-2666 SDRAM

up to 32 GB of DDR4-2666 SDRAM

Internal storage
GPU

NVIDIA GeForce GTX 1080 Max-Q
NVIDIA GeForce GTX 1070 Max-Q

NVIDIA GeForce GTX 1070
NVIDIA GeForce GTX 1060

Display

15.6", Full HD (1920 x 1080), IPS-level

15.6", Full HD (1920 x 1080), 144 Hz, IPS

Connectivity
Wi-Fi 802.11ac
Bluetooth 4.1
Wi-Fi 802.11ac
Bluetooth 4.2
Features

4x USB Type-A
1x USB 3.1 Type-C
HDMI
combo audio jack
Kensington lock slot

4x USB Type-A
1x USB 3.1 Type-C
HDMI
combo audio jack
Kensington lock slot

Battery
Weight
2.22 kg (4.9 lbs)
2.45 kg (5.4 lbs)
All ASUS Zephyrus GX501 configurations
All ASUS Zephyrus M GM501 configurations