[Exclusive] Intel Core i5-10300H vs Core i5-9300H – 10th Gen Intel Core, LaptopMedia's first hands-on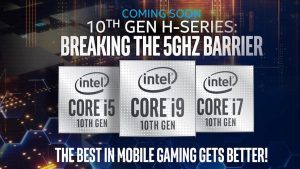 As tradition dictates, LaptopMedia will uncover for you the next-gen Intel CPUs in advance.
Expecting from the upcoming Zen 2 launch, Intel is going to unleash the refreshed Coffee Lake processors based on the 14nm+++ tech process. Yes, those are a lot of pluses but (as you will see a bit down below) the performance gains are clearly visible. We'll start our 10th Gen Intel coverage with tests of our own computer equipped with the unreleased Core i5-10300H. Of course, given to us by a random man on the street.
From our previous comparison between i5-1035G4 and i5-9400H (which is virtually the same CPU as 9300H with a bit boosted clocks), we saw that Coffee Lake still has good performance thanks to the high base and boost clocks, alongside big cache sizes and 45W TDPs (which leads to more sustained frequencies during heavy loads). The i5-10300H is the successor of i5-9300H, so let's compare them and we'll show to you what the actual performance gains are, thanks to a bit higher clock frequencies and a refined 14nm process.

Quick Specs
You don't expect anything totally new, right? The i5-10300H and i5-9300H have 4 cores and 8 threads, 8MB cache size, and a 45W TDP. The new one has higher base and boost clocks (2.50 GHz – 4.30 GHz to 2.40 GHz – 4.10 GHz) when compared to i5-9300H. We almost forgot to inform you that the i5-10300H has one more advantage when compared to 14nm++ Coffee Lake processors – it supports DDR4 memory with a much higher frequency – 3200MHz. The CPU and the iGPU (which is again the UHD 630) are additionally boosted thanks to the faster memory). Speaking of the UHD 630 – yes, no changes here, the refreshed chips use the same iGPUs as every other Coffee Lake 8th or 9th gen processor.
More detailed specs here – Intel Core i5-10300H / Intel Core i5-9300H

Specs table:
| | Intel Core i5-10300H | Intel Core i5-9300H |
| --- | --- | --- |
| Cores / Threads | 4 / 8 | 4 / 8 |
| Base / Max frequency | 2.50 – 4.30 GHz | 2.40 – 4.10 GHz |
| Cache | 8 MB Intel Smart Cache | 8 MB Intel Smart Cache |
| TDP / up / down | 45W / – / 35W | 45W / – / 35W |
| Memory support | DDR4-3200 | DDR4-2666, LPDDR3-2133 |
CPU Benchmarks
Not bad at all, 11% higher result that comes from frequencies and memory boost.
Intel Core i5-10300H
Intel Core i5-9300H
Cinebench 20 – CPU score
1924

(+11%)

1730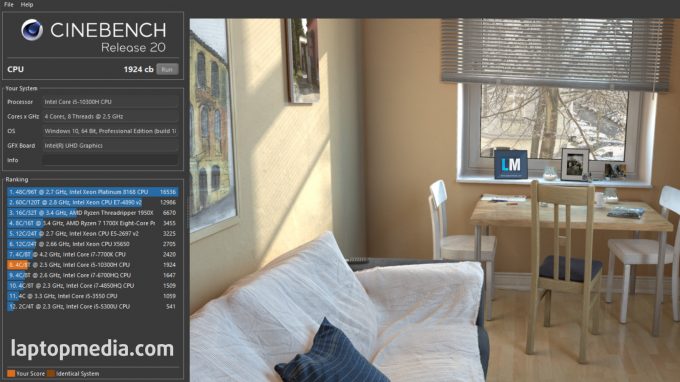 GPU Benchmarks
As we already said, the iGPU is the same UHD 630 that is ticking inside of the i5-9300H.

Verdict
So, at least there is some decent performance boost. We will see what's the heat dissipation during heavy loads compared to the 8th and 9th gen Coffee Lake CPUs. We don't expect miracles because this is the same (good old) 14nm tech process, ok, a bit refined. The good news is that Coffee Lake will finally take advantage of higher memory frequencies as DDR4 3200 MHz. Shortly, we have a 100 MHz higher base clock, a 200 MHz higher boost clock, and DDR4 3200 MHz support. That's why the Cinebench score of i5-10300H is 11% higher than i5-9300H one.
The Core i5-9300H is faster than Ryzen 7 3750H but this year the Zen 2 CPUs will be meaner and badder than their Zen+ predecessor and that is bad news for Intel (and for i5-10300H). As you may know, from our previous CPU comparisons, the 4800H is a bit faster (or almost on par) with i9-9980HK (which is the fastest Coffee Lake processor at the moment). Additionally, the 4800H beats i7-9750H, and i7-1065G7. The 4800U which is a Zen 2 CPU with just 15W TDP just smashed the i7-1065G7 (which has a 15W TDP too). It will be really hard for Intel to fight with AMD with refreshed CPUs like Coffee Lake because 11% better Cinebench 20 result looks good in the first place but it's not enough against the upcoming Zen 2 beasts.
No matter how much additional coffee Intel puts in their cup they will need something extra against Zen 2.

All laptops with Core i5-10300H:
All laptops with Core i5-9300H: