GTX 1050 Ti Battle: HP Omen 15 vs ASUS ROG Strix GL553VE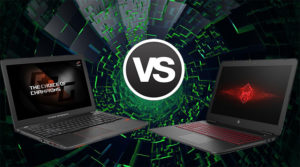 Hello and welcome to our last comparison from the series of GTX 1050 Ti battles. We are left to take a look at the HP Omen 15 and the ASUS ROG Strix GL553VE – both great budget devices that have their ups and downs. It is time to see which one is better.
If you have read our previous battles then you will have a pretty good idea about the advantages and disadvantages of the most popular budget gaming notebooks at the moment. This article will complete your knowledge about the entry-level class.
HP Omen 15 (GTX 1050 Ti): Full review / Check price
ASUS ROG Strix GL553VE: Full review / Check price
Contents
Design and construction
First of all, let's note the dimensions of both notebooks. AS it tends with most other devices, the Omen 15 has a significantly thinner and lighter chassis – only 24 mm and 2.19 kg while the GL553VE is 30 mm thick and weighs 2.5 kg.
In terms of construction, the two models differ a bit but build quality is not very good at neither of them. The Omen 15 is completely made out of plastic while the GL553VE offers an aluminum lid. Unfortunately, both the patterned matte black plastic lid of the Omen and the brushed aluminum plate of the GL553VE are easily bent. If you apply a bit more force you can even create ripples on the LCD screens. Contrary to that, both models have sturdy, perfectly tightened and stealth hinges that allow opening the notebook with one hand.
Whether you like the design of something or not is absolutely up to you but we could say that the brushed aluminum lid with orange LED-illuminated ROG logo and two stripes on the GL553VE would catch more looks and definitely feels more like a gaming device. On the other hand, Omen 15 provides a slimmer chassis which is always a plus and the patterned lid also looks nice.


Connectivity options are better on the GL553VE. You get an RJ-45, HDMI, two USB 3.0 and one USB 2.0, 3.5 mm jack, one USB Type-C, SD card reader, and an optical drive – something that we rarely see nowadays. The Omen 15 too has two USB 3.0 ports and one USB 2.0, an HDMI and RJ-45 as well as an SD card reader but a USB Type-C port it nowhere to be found which we consider as a big disadvantage in 2017 since most budget gaming notebooks already feature one.
Another advantage of the GL553VE over the Omen 15 is its input devices. While its touchpad feels wobbly it is quite responsive and has a good gliding surface. HP Omen's touchpad also feels wobbly but does not offer such responsiveness. Unlike Omen's keyboard which offers a shallow key travel suitable for typing but not for gaming, GL553VE's keyboard surprises us with 2.5 mm of key travel and a clicky feedback. They are both illuminated but GL553VE provides highly-customizable RGB LEDs.

Display
The display is one of the best features of the GL553VE. This is probably the only budget gaming notebook that comes with a high-quality display. It is manufactured by BOE model number NV156FHM-N43. Omen 15's screen is made by LG Phillips model number LGD0532. They are both IPS panels with Full HD (1920 x 1080p) resolution which translates into a pixel density of 142 ppi and have a 0.18 x 0.18 mm pixel pitch but that is not of such importance as the following specs.
Of course, viewing angles are good on both models due to the nature of the IPS panels. Brightness levels are the first area where the GL553VE beats the Omen 15 with a maximum brightness of 336 cd/m2 in the center vs 252 cd/m2 respectively. The color temperature on both devices is very close to the optimal 6500K – 6400K (a bit warmer) on the GL553VE and 6700K (a bit colder) on the Omen 15. The contrast ration of the Omen 15 is good – 780:1 but better on the GL553VE where it measures 1060:1.
We finally got to the interesting part – color reproduction. As expected for a budget device, the Omen 15 does not have a good gamut coverage – it displays only half (51%) of the sRGB colors. However, Omen 15 comes with a bit higher price tag than its competitors which sadly does not translate into a better display. On the other hand, GL553VE surprises us with almost full coverage (92%) of the sRGB gamut which is more than enough for an excellent multimedia experience and even some color sensitive work. Color accuracy is also very important especially if you are a photographer or designer. We are happy to say that GL553VE's display is quite accurate – the average dE before calibration with our custom-tailored profile is 2.9 and after calibration, the value is slightly lowered to 2.9 (lower is better). On the other hand, Omen 15's average dE is 6.5 before calibration and even after it remains higher at 3.9.
Both panels use PWM to regulate the screen brightness which is none of a surprise for budget devices. Fortunately, the frequency used is quite high (21 kHz on the Omen and 20.7 kHz on the GL553VE) which greatly reduces the harmful impact. With such high frequencies, some users may not even experience eye strain. However, we strongly advise using our custom-tailored Health-Guard profile which eliminates the unwanted PWM and reduces the harmful Blue Light emissions.
Our display profiles
Here at LaptopMedia, we create a set of custom-tailored profiles for every notebook we review. They boost the productivity of display and reduce negative effects such as blue light emissions and PWM. You can read more about them here.
Buy our profiles from here:
HP Omen 15 (GTX 1050 Ti): Profiles
ASUS ROG Strix GL553VE: Profiles

Specs sheet comparison
Both notebooks are running on a seventh generation Intel Core i7-7700HQ. IT has four hyper-threaded cores running at 2.8 GHz base frequency. The TDP of the chip is 45W and it has 6 MB of Smart Cache. The maximum operating temperature is 100 Celcius.
More information about Intel Core i7-7700HQ and its position in our Top CPU Ranking you can find HERE.
Both notebooks also feature the same graphics processors. They rely on the 128-bit Pascal-based NVIDIA GeForce GTX 1050 Ti with 4 GB of GDDR5 video memory and 768 CUDA cores.
More information about the GTX 1050 Ti and its place in our Top GPU Ranking you can find HERE.
–
ASUS ROG Strix GL553VE
HP Omen 15
CPU
Intel Core i7-7700HQ (4-core, 2.80 -3.80 GHz, 6MB cache)
Intel Core i7-7700HQ (4-core, 2.80 -3.80 GHz, 6MB cache)
RAM
8GB (1x 8096MB) – DDR4, 2400MHz
16GB (2x 8096MB) – DDR4, 2400MHz
GPU
NVIDIA GeForce GTX 1050 Ti (4GB GDDR5)
NVIDIA GeForce GTX 1050 Ti (4GB GDDR5)
HDD/SSD
 1TB HDD (7200 rpm)
256GB M.2 PCIe NVMe SSD + 1TB HDD (5400 rpm)
Display
15.6-inch Full HD (1920×1080) IPS, matte
15.6-inch Full HD (1920×1080) IPS, matte
Features

2x USB 3.0
1x USB 2.0
1x USB 3.1 Type-C
SD card reader
3.5 mm audio jack
HDMI
RJ-45
customizable RGB keyboard LED backlight
optical drive

2x USB 3.0
1x USB 2.0
3.5 mm combo audio jack
RJ-45
HDMI
SD card reader
keyboard backlight

Battery
48Wh
63.3Wh
Profile thickness
30 mm (1.18″)
24 mm (0.94″)
Weight
2.5 kg (5.51 lbs)
2.19 kg (4.83 lbs)
Price
Check price
Check price
Battery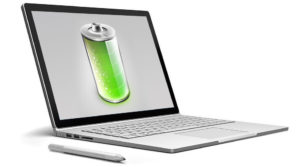 Both models are equipped with the exact same hardware (CPU and GPU) so power consumption is identical. However, Omen 15 is equipped with a larger capacity battery – 63.3 Wh vs a 48 Wh unit on the GL553VE. We are happy to say that both devices have above average battery life for gaming notebooks but Omen 15 is just unbeatable it this category.
We run a few test on our devices. The first one is the Web browsing test where our own script browses automatically trough over 70 websites. GL553VE scored 369 minutes (6 hours and 9 minutes) which is a great result but the Omen 15 blows it away with more than 50% more battery life – 567 minutes (9 hours and 27 minutes).
The second test is for Video playback where we put an HD video on loop. Again GL553VE  scored very well – 338 minutes (5 hours and 38 minutes) but the Omen 15 manages 403 minutes (6 hours and 43 minutes). This time the difference is just one hour.
And finally, our Gaming test using F1 2015. GL553VE's battery lasted for 110 minutes (1 hour and 50 minutes) while the Omen 15 delivered just above two hours – 127 minutes (2 hours and 7 minutes).

Performance
Both notebooks are equipped with the same hardware and as expected the performance is very similar too. However, the Omen 15 tends to pull off a few extra frames. Interesting to say, Tom Clancy's The Division did not even run on maxed settings on the GL553VE but this is not that big of a deal, the Omen 15 barely pushed 14 frames per second which is not playable. The GTX 1050 Ti graphics card is suitable for low to medium settings.




Temperatures
We start our temperatures test with an hour-long 100% load on the CPU. GL553VE handled the CPU stress test very well – it managed to utilize the full potential of the chip at 3.3 GHz and kept temperatures at the reasonable 79-80 °C. It's a different story for the Omen 15. Surprisingly its chip ran at very low temperatures of around 65 °C but utilization was poor – just 2.7-2.8 GHz which is the chip's base clock.
Even though the Omen 15 did not handle the CPU stress test as well as the GL553VE things took a turn when we added 100% GPU utilization too. Omen's CPU frequency dropped by just 100 MHz, however, temperatures were about 95 °C. The GPU temperature was also high – 84 °C but it ran at maximum capacity. GL553VE's too ran at around 82 °C and maximum frequency but the CPU took a hit – even though temperatures were about 10 °C lower than on the Omen 15, it severely throttled at 1.5-1.8 GHz.
Although the rather high inner temperatures, the surface of both laptops remained cool to the touch with maximum temperatures of around 35-40 °C near the vents and where the CPU is and around and below 30 °C for the palm rest area.
Verdict
HP Omen 15 is an overall good device. Due to the not very good touchpad and screen and shallow keyboard, it is more suitable for office work rather than gaming but the powerful hardware inside gives you the opportunity to play every game on low to medium settings if you wish to. As for every comparison until now, the Omen 15 beats its competitor in two major aspects – battery life and portability. It is lighter and slimmer than most of its rivals and the astounding battery life has no match in its category. It also appears to have a slightly more reliable cooling system than the GL553VE, however, you won't push it so hard in a real life scenario.
ASUS ROG Strix GL553VE, on the other hand, provides another great feature that most budget notebooks including the Omen 15 lack – a high-quality display. We can safely say that it is one of the best in its class. With 92% sRGB coverage and accurate colors, you can use it not only for gaming but for photo and video editing too which makes the GL553VE a solid all-rounder. And when it comes to gaming, GL553VE presents an excellent keyboard with long key travel and highly-customizable RGB illumination. Let's not leave out the addition of a USB Type-C port which is a must in 2017. You also get an optical drive which you will probably not use but it's a good thing to have one in case you ever need it.
HP Omen 15 (GTX 1050 Ti): Full review / Check price
ASUS ROG Strix GL553VE: Full review / Check price
Why choose HP Omen 15 (GTX 1050 Ti)?
more reliable cooling system
slightly better performance
better battery life
thinner and lighter
Why choose ASUS ROG Strix GL553VE?
far better display
better keyboard with long key travel and RGB illumination
USB Type-C port and optical drive