[Video] 7 reasons (not) to buy Lenovo Flex 5 (Yoga 520)!
The aim of this article is to summarize the advantages and disadvantages of Lenovo Flex 5 (Yoga 520). You can read its full review over HERE.
All Lenovo Flex 5 (Yoga 520) configurations
5 reasons to buy Flex 5 (Yoga 520)
1. Good build quality
Although the exterior is made of plastic, the build is quite firm and solid. Even when you put strong pressure to the lid, it is resistant to torsion. In addition, the hinges are slightly too tightened which means you cannot open the laptop with one hand. However, this has a positive side as the unnecessary sway is eliminated to a certain extent in laptop mode. The bottom is also made of plastic and features one long grill for cool air intake. The interior, on the other hand, gives the notebook a premium look as it receives anodized aluminum treatment.
2. Great input devices
Lenovo Flex 5 (Yoga 520) comes with amazing input devices. The keyboard is comfortable to use, has good key travel and it is also clicky. Furthermore, the touchpad also doesn't disappoint with its silky-smooth surface and light clicks.

3. Decent IPS display for the more budget-oriented configurations
Even if you opt for a more affordable configuration, you will still be presented with a relatively good 14-inch Full HD (1920×1080) IPS display. Also, the contrast ratio is pretty high – 1350:1. Overall, the display will get the job done for work and web browsing.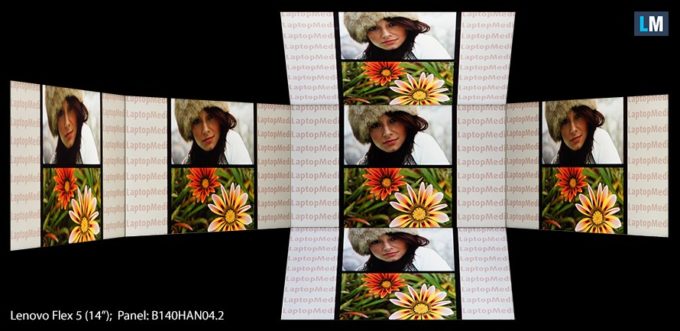 4. The panel doesn't use PWM for regulating screen brightness
A great advantage of the Lenovo's Flex 5 panel is that it doesn't use PWM at any brightness level meaning you can comfortably use the device for many hours without experiencing any harmful effects on your eyes.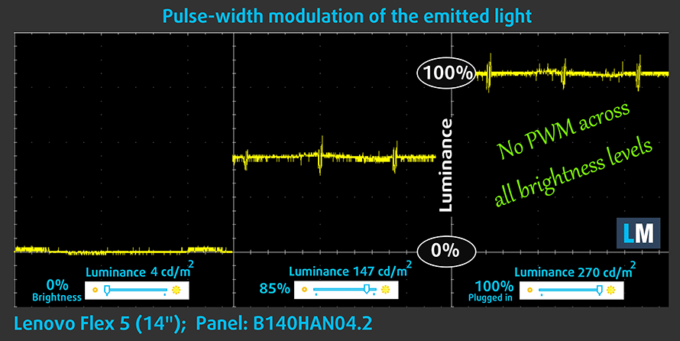 5. A lot of upgradability options for a 14-inch device (2.5-inch HDD + M.2 SSD slot + RAM slot)
The Lenovo Flex 5 (Yoga 520) offers a great amount of upgrade options – you are presented with an M.2 SSD slot and a 2.5-inch HDD bay, as well as one RAM chip slot.
2 reasons NOT to buy Lenovo Flex 5 (Yoga 520)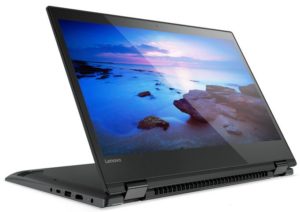 1. Subpar battery life
With a capacity of 35Wh, it is quite expected that the notebook falls short to other competitors in the same price range in terms of endurance. You will get an average of 5 hours and a half for video playback and web browsing and 1 hour and 45 minutes for gaming.
2. The display appears to be a bit dim and color-deficient for the more expensive configurations with Core i5 and i7
If you go for configurations powered by Core i5-7200U and Core i7-7500U you will notice that the image quality drags behind other competitors in the same price range as the colors appear slightly dull. This is because of the limited sRGB coverage (50%) and the relatively low maximum brightness making the outdoor use quite uncomfortable.

The best competitors
The laptops in the same price range that are better in terms of image quality and endurance are Lenovo Ideapad 720s, ASUS ZenBook UX410 and the Acer Aspire Swift 5. In addition, another great alternative is the Lenovo Ideapad 520s which is on the more affordable side.
You can read the full Lenovo Flex 5 (Yoga 520) review over HERE.

All Lenovo Flex 5 (Yoga 520) configurations