[Video Review] Acer Swift 3 (SF314-512) – A big win for Acer
Acer Swift 3 (SF314-512) in-depth review
Acer has Swiftly announced a lot of laptops this year. Now, we finally have the opportunity to take the Swift 3 (SF314-512) ourselves, and it aspires to be one of the biggest improvements of a laptop in its class. Well, truth be told, there is no big difference in the exterior of this machine. It is very similar to the entire Swift 3 lineup of devices. However, Acer made sure that the Swift 3 (SF314-512) will be on top of its competitors, by choosing the 12th Gen Intel family. Not only that, but it picked 28W chips in the face of the Core i5-1240P, and the Core i7-1260P. If cooled prope[...]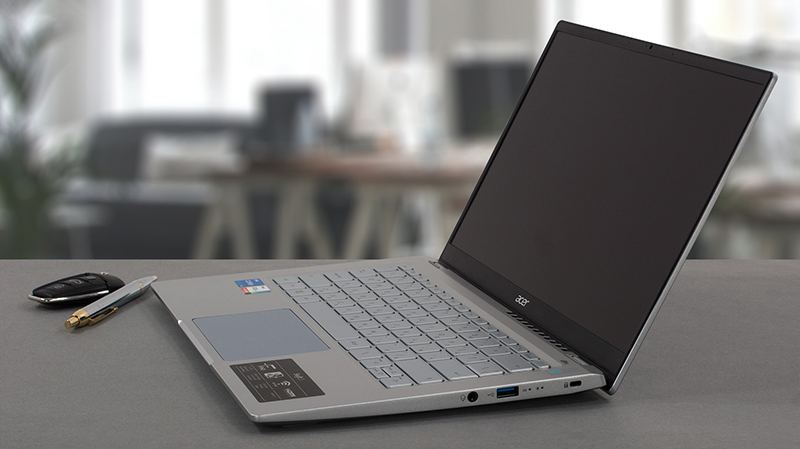 Pros
Great performance
Doesn't use PWM for brightness adjustment (AUO B140HAN06.8 (AUO683D))
Light and thin metal build
Thunderbolt 4 and HDMI 2.1
Fingerprint reader
Covers 98% of sRGB colors and offers accurate color representation thanks to our Gaming and Web design profile (AUO B140HAN06.8 (AUO683D))
Good battery life
Cons
Not the best input devices
Memory is soldered to the motherboard (although it works in quad-channel mode)
AUO B140HAN06.8 (AUO683D)
HDD/SSD
up to 1000GB SSD
Dimensions
320.04 x 210.82 x 16 mm (12.60" x 8.30" x 0.63")
1x USB Type-A
3.2 Gen 1 (5 Gbps)
1x USB Type-A
3.2 Gen 1 (5 Gbps), Sleep and Charge
2x USB Type-C
4.0, Thunderbolt 4, Power Delivery (PD)
Audio jack
3.5mm Combo Jack
Microphone
2x Microphones
Speakers
2x Stereo Speakers
Security Lock slot
Kensington Lock
Acer has been making a resurgence in 2022. All of their recent laptops look good and perform well, including the Acer Swift 3 (SF314-512), which we have here today. It's powered by the Alder Lake P-series, which allows for both efficiency and performance, as there's a good amount of P-cores, as well as E-cores.
[Intro]
Starting on the outside, the Swift 3 has an all-metal construction, which weighs only 1.25 kg and has a profile of just 16mm. Albeit there is some flex from the lid and base, it comes with the territory of a compact machine. Still, the lid opens easily with one hand, while remaining wobble-free. It also lifts up the rear end by a reasonable amount, which is good for both ergonomics and cooling.
[Input devices]
Moving to the base, we see a decently-sized vent in the upper right corner. The keyboard and touchpad aren't that great, as the keys feel mushy, while the pad is a bit smaller than we would prefer.
[Ports]
The I/O is split between the left and right. The left gets two Thunderbolt 4 ports that can be used for charging, an HDMI 2.1 port, and a full-sized 10-gigabit USB port. On the other side, sits one more USB port of the same speed, as well as a 3.5 mm audio jack.
[Display]
On the front, we get an FHD IPS display which is excellent for both general uses as well as color-sensitive work. It reaches 360 nits of brightness while sporting an amazing contrast ratio of 1920:1. It covers 98% of the sRGB gamut while providing excellent accuracy both with and without our Design and Gaming profile. Still, the profile does improve on it by a little bit. We have a link for you to purchase it in the video description.
[Battery]
With a Core i5-1240P and a 54.6Wh battery pack, we squeeze out 12 hours and 26 minutes of Web browsing, or 9 hours and 10 minutes of video playback. Very good result.
[Performance]
This is one of the better-performing i5-1240P CPUs that we've seen. It gets outperformed by the Ryzen 7 5800U and the Ryzen 7 Pro 6850U in 3D Rendering, however, its 2D Rendering capabilities are unmatched, surpassing both chips with leads of more than a second.
[Cooling]
The Core i5 is cooled by two heat pipes and two fans, which turns out to be enough for a 28W CPU. In the stress test, the CPU maintains a higher TDP, recording 34W at the 15-minute mark, while temperatures are low and the clock speeds are alright.
Comfort is decent as well, as the base reaches only 40 degrees Celsius. Noise isn't an issue as well, as the two fans remain relatively quiet.
[Teardown and upgradeability]
Smaller laptops rarely get expandable RAM, and such is the case with the Swift 3, as all 16GB of high-speed LPDDR4x memory are soldered onto the motherboard. In terms of storage, there is a single M.2 slot for the super fast Gen 4 SSDs.
If you want to see how to take apart the Swift 3, go over to our teardown video, which shows a step-by-step approach.
[Verdict]
The Swift 3 is undoubtedly one of the best Alder Lake laptops that we've seen. It has a good design and a fully aluminum build. Acer has also included a great display and a lot of performance while maximizing battery life. The only caveat about it is the input devices, but it feels like a decent sacrifice, considering the rest of the package that you're getting.
If you feel like we missed anything, you should go over to our website, where we have a much more detailed review of the laptop.