[Video Review] HP EliteBook 840 G9 – quiet and powerful
HP EliteBook 840 G9 in-depth review
One of the more premium business offerings by HP, the EliteBook 840 G9 has to justify its rather high price tag. True business people are placed in front of a difficult choice since there is a ton of great 14-inch premium office solutions. HP aims to win you with a large roster of processors. Including devices from both the Alder Lake-U and Alder Lake-P lineups, you can get exactly what works best for you. It may be the Core i5-1235U if you need something fast on the go. And if you can take advantage of more power for your 3D projects, or large data crunches, then, pretty much anything fro[...]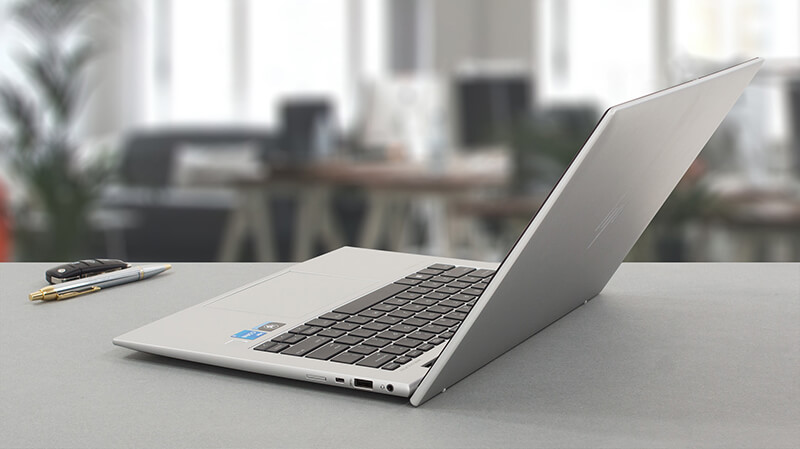 Pros
Good battery life
PCIe x4 Gen 4 support + 64GB of DDR5 memory in dual-channel
Two Thunderbolt 4 connectors, Wi-Fi 6, and optional 5G support
97% of sRGB coverage and great color accuracy with our Gaming and Web design profile (AUO AUOA49A)
No PWM (AUO AUOA49A)
Spill-resistant keyboard
IR face recognition and fingerprint reader
Cons
No SD card reader
Crippled performance in long runs
HDD/SSD
up to 2000GB SSD
OS
Windows 10 Pro, Windows 11 Pro, Windows 10 Home, Windows 11 Home
Battery
51Wh, 3-cell, 38Wh, 3-cell
Dimensions
316 x 224 x 19.2 mm (12.44" x 8.82" x 0.76")
1x USB Type-A
3.2 Gen 1 (5 Gbps), Sleep and Charge
1x USB Type-A
3.2 Gen 1 (5 Gbps)
2x USB Type-C
Thunderbolt 4
Audio jack
3.5mm Combo Jack
Fingerprint reader
optional
Backlit keyboard
optional
Microphone
Dual Array Microphones
Speakers
2x Stereo Speakers, Bang & Olufsen
Security Lock slot
Nano K-Lock
The EliteBook 840 G9 is one pretty and expensive business device that has to justify its price tag by offering a broad set of features and good performance. The laptop is highly configurable, with both P-series and U-series CPUs from Intel, while the display on the front is perfectly selected in terms of resolution, fitting the 14-inch form factor like a glove.
[Intro]
When we say that the laptop looks good, we mean it. The EliteBook has a thin and portable chassis that weighs only 1.36 kg and is just 19.2 mm thick. It's also built entirely from metal, which provides a rigid structure. In terms of the design, we see a combination of round edges on the front and sharp edges on the back.
[Input devices]
Undoubtedly, the lid lifts up with one hand, from where we can see the base. It's got a keyboard and touchpad, as the speaker grills are found at the bottom. There's also a fingerprint reader on the palm rest. Typing is great, as HP squeezed out as much key travel as humanly possible while keeping the feedback clicky. With the added bonus of spill resistance and a backlight, there's really nothing to complain about. The touchpad is made from glass and is well-sized. While very smooth, we would like to see improvements as far as the responsiveness is concerned.
[Ports]
As far as the I/O is concerned, the EliteBook 840 G9 has one HDMI 2.0 port, one full-sized 5-gigabit USB port, two Thunderbolt 4 ports, and an optional SmartCard reader all on the left. On the opposite side, we see one more USB port of the same type, an audio jack, and a SIMcard tray.
[Display]
On the front, we have a FHD+ IPS display. The 16:10 aspect ratio is becoming more and more common, offering extra space while not increasing the dimensions of the laptop by much, if at all. It reaches 422 nits of brightness and a contrast ratio of 1560:1. The panel is ripe for Creator work, covering 97% of the sRGB gamut and showing excellent accuracy with our Design and Gaming profile, which lowers the dE value down to 1.4.
We'll have links to all of our profiles in the description below.
[Battery]
With a 51Wh battery pack and a Core i5-1235U, the laptop lasts for 14 hours and 27 minutes of Web browsing, or 11 hours and 40 minutes of video playback, which is totally enough for a whole day of uninterrupted work.
[Performance]
While this isn't the best-performing Core i5-1235U laptop that we've tested in 3D Rendering, it still outclasses a large part of last year's Intel offerings with a Cinebench 20 score of 2540. The CPU is very quick in Photoshop, finishing the benchmark in just 4.84 seconds.
[Cooling]
The CPU is cooled by a modest setup with one pipe and one fan. The stress test shows that the Core i5 spikes up for a few seconds, going as high as 3.09 GHz and 46W. After the quick burst, the speeds and wattage drop by about 50%. There is room for more performance, as the CPU runs at only 61 degrees at the last stage.
In terms of comfort, the laptop is great, as it runs really cool, with a hotspot of only 37 degrees, while being very quiet.
[Teardown and upgradeability]
To our big surprise, the EliteBook is an upgradeability champ, offering two SODIMM slots that can fit up to 64GB of DDR5 RAM, along with one M.2 slot for Gen 4 SSDs.
We have a separate teardown video, which shows how to access the RAM and SSD slots of the device.
[Verdict]
While the EliteBook 840 G9 can perform better, even in this state, it's a great option, thanks to its screen and cool work during full loads. What's more, is the compact chassis and the excellent keyboard, you can take it anywhere with you and feel comfortable as if you're when working.
For more tests, you can check out our review on our website. We'll have it linked in the description box below.