Acer Predator Helios 300 with GTX 1060 and 256GB SSD + 2TB HDD for $1139 is the perfect gaming solution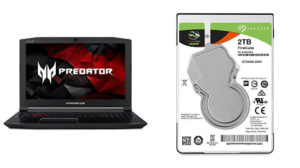 Not long ago, Acer Predator Helios 300 was released. It's a budget gaming notebooks featuring the GeForce GTX 1060 which steps up a bit from most other budget machines. It offers a fairly good screen which doesn't use PWM and most importantly it comes at a perfect price. About two weeks ago, we saw that Acer sells it on Amazon for just $1049.99 which makes it one of the best deals currently available as it costs less than some GTX 1050 Ti configurations.
You can check our detailed review over here: http://laptopmedia.com/review/acer-predator-helios-300-g3-571-gtx-1060-review-acers-affordable-gtx-1060-powered-notebook/
Now Acer has bundled up the already affordable Predator with a 2 TB 2.5-inch Seagate FireCuda SSHD for just $1139.98. Even with this add-on it still competes in terms of price with notebooks like ASUS ROG Strix GL553VE. The fast 256 GB SSD main storage on the Helios 300 is enough to house your operating system and valuable applications that you want to run as fast as possible while the 2 TB HDD will let you store all your movies, pictures, music and presumably games as it is a gaming notebook before all.
What is even better is that the Seagate FireCuda is actually a hybrid SSHD. The flash-enhanced technology used will ensure better performance and speeds than regular HDDs, in fact, Seagate claims to be up to five times faster than the regular ones.
Check out this amazing deal over here: http://amzn.to/2u6I7qU