Dell 15 7000 (7577) refreshed with a GeForce GTX 1060 and Thunderbolt 3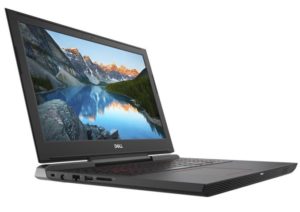 Earlier this year Dell released the Inspiron 7567 -a budget gaming notebook that featured great battery life. Now the company has revisited the model and touched it here and there to provide us with a better product. Let's see what the new Inspiron 7577 has packed for us.
You can check all currently available Dell models over here: http://amzn.to/2grgvXY
The most important feature is the upgraded graphics card. Now you will be able to equip your configuration with up to a GeForce GTX 1060 GPU. This is a solid upgrade over the GTX 1050 Ti and a step up from the budget class. Of course, you will still be able to configure yours with a GTX 1050 or GTX 1050 Ti if you like to.
We really like the addition of an IPS panel even in the lowest tier configuration as this will provide a much better viewing experience. One of the main drawbacks of the previous version was the poor viewing angle TN panel. The resolution will be Full HD (1920 x 1080p) but there is an option to opt for a 4K (3840 x 2160p) display. Speaking of displays, the Inspiron 7577 now features a USB Type-C port with support for Thunderbolt 3 which means you can connect up to a 5K external display.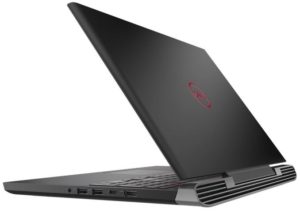 Another change is the battery. The Inspiron 7567 was one of the best in terms of battery performance. It even outperformed some low power notebooks. However, the 74Wh 6-cell battery is now gone and replaced by a smaller 56 Wh 4-cell unit. We hope that the battery life isn't too compromised. Despite its smaller capacity, the new battery has quick charge technology which can juice up 80% of your battery in 60 minutes. Dell claims a battery life of up to seven hours.
Most other specs are the same. You still rely on the 7th gen Intel Core i5 or i7 processors, you get up to 16 GB of DDR4 RAM which can be expanded up to 32 GB. Storage options include a combination of HDD and SSD. The best configuration features a 512 GB PCIe SSD. An addition to the Inspiron 7577 is the inclusion of multiple antennas support 2×2 Wi-Fi.
And finally, there is a bit of a design change. Now we have restyled back and front grills which look more premium. The starting price of the Inspiron 7577 is $999 and it will be available on September the 12th in the US.
Meanwhile, you can check all currently available Dell models over here: http://amzn.to/2grgvXY
Dell Inspiron 7577 configurations