Dell Inspiron 15 3567 is PWM-free only at maximum brightness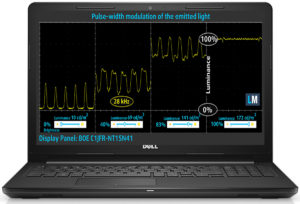 We put Dell Inspiron 15 3567 to several tests the results of which were a mixed bag. Starting with the bad news – the light emitted from the panel pulsates from 0 to 99% screen brightness which may cause fatigue or discomfort to users with sensitive eyes.
On a more positive note, however, the display flickers at high frequencies (28 kHz) which reduces the negative effect to a huge extent making the device relatively comfortable for a prolonged period of time. However, if this is an issue for you, we have a solution to the problem and it is our Health-Guard profile, which eliminates PWM and also reduces the negative blue light emissions.
You can check prices and configurations: Buy from Amazon.com (#CommissionsEarned)
Still, if the Dell Inspiron 15 3567 is not right up your street, we suggest browsing our PWM ranking for laptops with similar or better PWM rating.
For more detailed information about Dell Inspiron 15 3567, you can read our full review.