Five of Intel's mobile Coffee Lake-H processors confirmed – specifications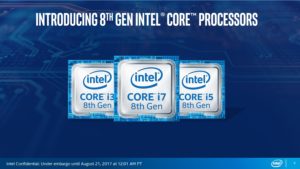 Intel's 8th generation got announced back in the summer and the first mobile processors from the new line are on the market almost ever since. These are the Kaby Lake Refresh ULV chips that excited and surprised us with their extraordinary performance and low power usage.
However, it is time to see some true Coffee Lake processor too and it seems that the wait might soon be no more. We already have five models in our database with unofficial information but now the specs are sort of confirmed by a user from the Chinese forum Chiphel. Things are not 100% official yet but it looks like these are going to be the final specifications.
First, there are two Core i5 models. Both have four cores and eight threads and 8MB of L3 cache. These are the Core i5-8300H and Core i5-8400H. The first one has a base frequency of 2.3GHz and a boost frequency of 3.9GHz for all active cores and 4.0GHz on one core. It is interesting to see that the boost frequency for all cores is almost the same as for one active core. The Core i5-8400H has its clock speeds increased by 200Mhz to 2.5, 4.1 and 4.2GHz respectively.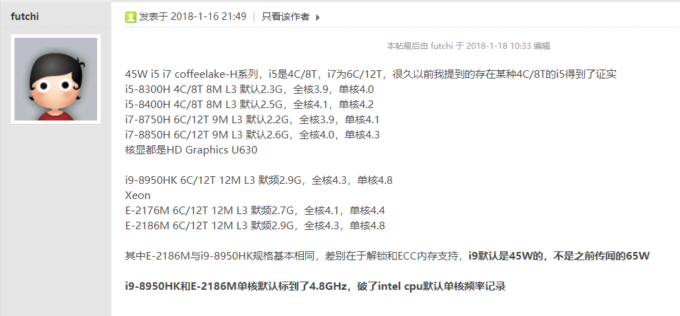 The second couple consists out of the Core i7-8750H and Core i7-8850H. They feature six cores and twelve threads which is never seen before on an Intel-based mobile device. The L3 cache is also bumped to 9MB. The Core i7-8750H has a base clock of 2.2GHz and boost frequencies reach 3.9GHz for all cores and 4.1GHz for only one. The Core i7-8850H's base clock speed is 400MHz higher at 2.6GHz and the boost frequency for all cores goes up to 4.0GHz. For one active core, the Core i7-8850H can squeeze out 4.3GHz.
All processors above have a TDP of 45W. The last of the five processors is the Core i9-8950HK which uses up to 65W. The Core i9-8950HK remains with the six core/twelve thread configuration but features 12MB of L3 cache. The base frequency is 2.9GHz which goes up to 4.3GHz on all cores and up to 4.8GHz on one core. This CPU is also overclockable.
All the processors share the same integrated graphics chip – the UHD Graphics 630 with 300-1150MHz frequency.
The forum thread also reveals two Xeon E processors with six cores and twelve threads – the Xeon E-2176M and E-2186M.
We have an upcoming notebook from Dell in our database which is dubbed to come with the Core i7-8750H. It is the Dell XPS 15 (9570) which is also expected to come with a Max-Q version of the GeForce GTX 1060 and a 5K (5120 x 2880p) display.