The Acer Aspire V5 series all support the latest M.2 PCIe NVMe SSD standard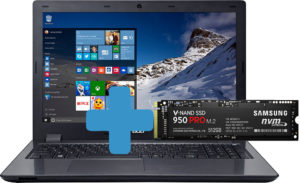 The new NVMe standard for M.2 SSD sticks is taking the market by a storm and everyone's looking for an NVMe-capable machine but not everyone can afford one. Fortunately, the new "meta" is making its way into affordable notebooks as well so you can have a device with blazingly fast storage without breaking the bank. In the search of affordable NVMe-enabled laptops, we found out that the ASUS N752 and N552 feature the super-fast SSD standard but they can also be a bit over your budget. Luckily, the new Lenovo Ideapad 700 and the entire Acer Aspire V15 lineup are here for you.
If you are interested in buying the Acer Aspire V5-591G, check the following link: http://amzn.to/1Tum7Y0
You might have already read our piece on cheap NVMe-enabled laptop alternatives on the market but since then, we were able to confirm that the V15 Nitro Black Edition laptops aren't the only ones that can get the speedy M.2 SSD sticks but also the more affordable Aspire V5-591G solutions with various configurations starting from around $750 – 800. Basically, the V5-591G is the same as the Ideapad 700 minus the IPS panel.
Stay tuned for more laptops coming with PCIe NVMe support as we continue to dig for more laptops to add to our M.2 compatibility list.