The Acer's Spin 5 (SP513-52) battery scores impressive runtimes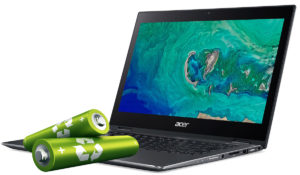 Essentially, the Acer Spin 5 (SP513-52) is a premium business convertible which apart from sleek design and compelling hardware also happens to pack a hefty battery. Those of you who have already come across our detailed review may be familiar with the battery life of the ultrabook which you can also check in our battery life ranking table.
The Acer Spin 5 (SP513-52) currently takes the 34th place in our battery ranking table and it is positioned just below the Acer Aspire F 15 (F5-573G) and Acer Aspire S 13. For the asking price, you are presented with a 53.9 Wh battery unit that provides very good performance – we got 9 hours and 31 minutes of Web surfing time, and 9 hours and 8 minutes of video playback.
If you wish to check other laptops with similar or better battery life, we suggest visiting our battery ranking and also reading our in-depth review of the Acer Spin 5 (SP513-52) to see what more the notebook has to offer.

Acer Spin 5 (SP513-52) configurations