Acer Aspire Vero (AV14-51) review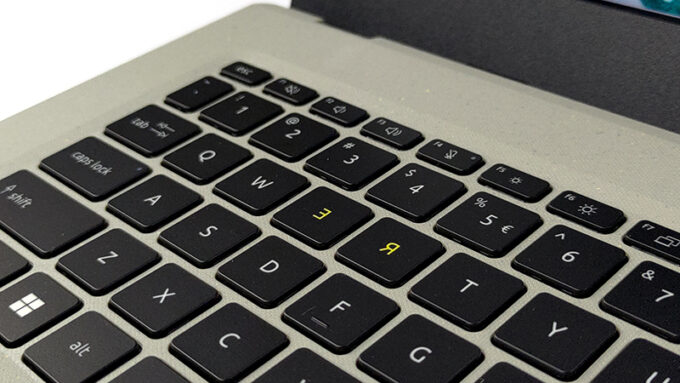 Every once in a while we should stop and think about the environment. Most of the time when you come across a piece of junk on the ground, you pick it up and throw it in the nearest trash can. However, throwing it in the trash is not always the best solution. This is where recycling comes in. You will be surprised by the number of products that can be reused. And Acer decided to take full advantage of that.
It is no longer that expensive to make one product out of materials from another. This is why it now makes sense to build an entire laptop using post-consumer-recycled plastics. Interestingly, it is used for both the body and the keycaps. Not only that but the touchpad is now made from ocean-retrieved plastic. This means that despite the name of the material (Ocean Glass) the unit does not contain glass.
Furthermore, Acer didn't apply any paint to the surface of the device. What is interesting is that the company decided to use upgradability to promote a lower carbon footprint. And they are absolutely right to do so.
Anyways, the Aspire Vero (AV14-51) is a laptop in the first place and only then an Avenger of the Earth. This means that you need to be conscious of its technological capabilities too. Well, you will be glad to hear that it uses Alder Lake-U processors, which are plenty fast, and pretty efficient. You can also expect to see only 1080p IPS panels, which is actually good news.
So, let's not waste any more time, and see what Acer created for the environmentally-conscious user.
You can check the prices and configurations in our Specs System: https://laptopmedia.com/series/acer-aspire-vero-av14-51/
Contents
Specs Sheet
HDD/SSD
up to 1000GB SSD
Body material
Plastic / Polycarbonate
Dimensions
328.67 x 223.57 x 17.90 mm (12.94" x 8.80" x 0.70")
2x USB Type-A
3.2 Gen 1 (5 Gbps)
1x USB Type-C
Thunderbolt 4
Audio jack
3.5mm Combo Jack
Microphone
Dual Microphones with Acer Purified Voice
Speakers
2x Stereo Speakers, Acer TrueHarmony
What's in the box?
Inside the package, you will see some paperwork, as well as a 65W charger.

Design and construction
As we saw with the 15-inch model from last year, the plastic body has a green tint and is covered with thousands of speckles. The laptop weighs 1.5 kg and has a profile of 17.9mm, which makes it pretty thin and light in our opinion.

It sports sharp corners and a pretty boxy design. The surface is rough, but quite surprisingly it is comfortable to rest your wrists on. Unfortunately, the rigidity of the lid is not very good, but the base handles twists pretty well.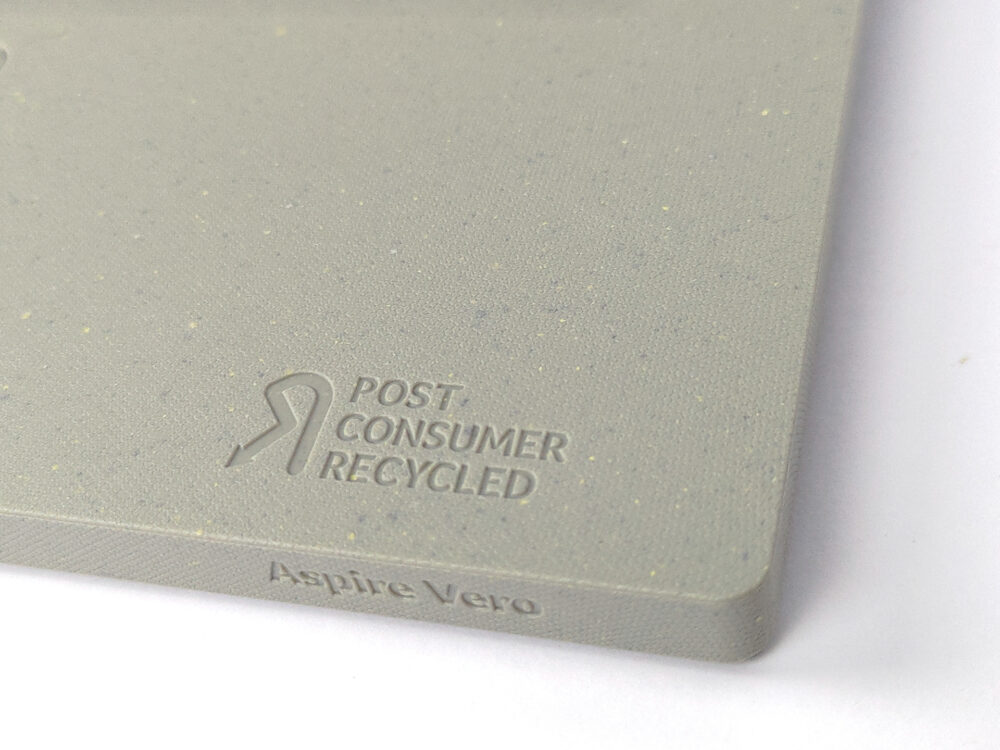 Thankfully, the lid opens easily with a single hand. Furthermore, once you open it, the backside of the base lifts from the ground, which provides more airflow to the fan. On the other hand, the old-school look is further enhanced by the thick bottom and top bezels. Yet, the top one houses a Web camera, which is good.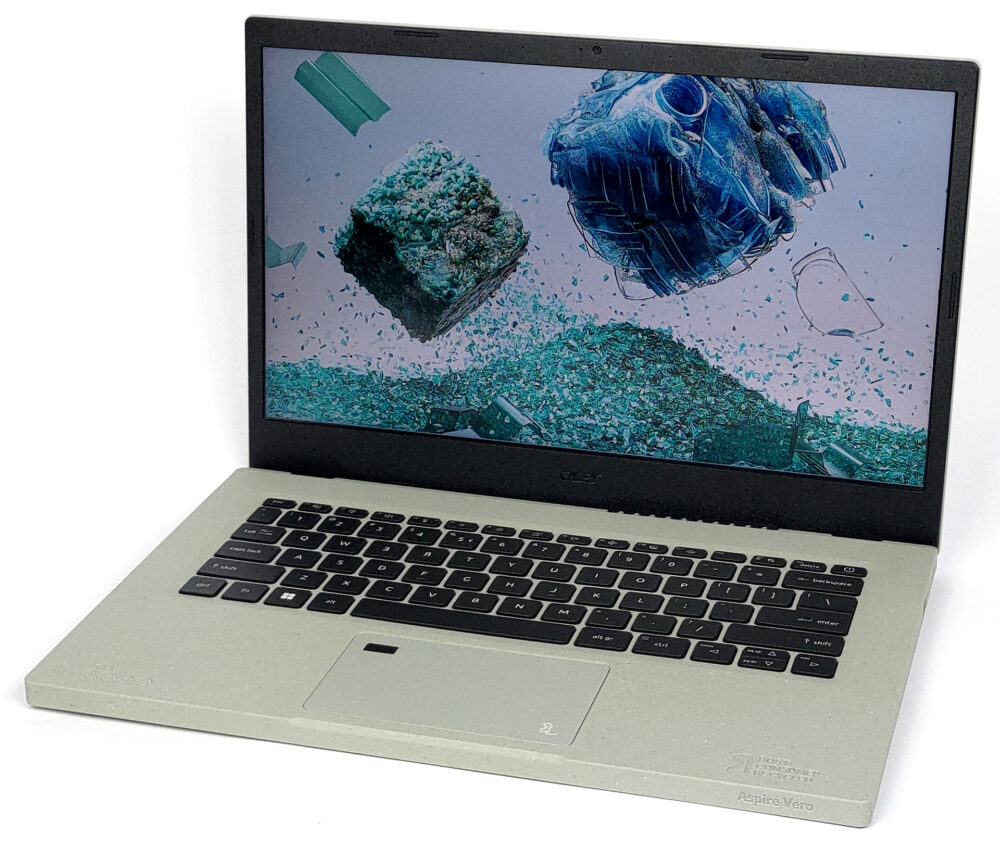 Moving to the base, we see a backlit keyboard, which sports decent key travel and clicky feedback, which makes it a comfortable unit for long typing sessions. You can see that the "R" and "E" buttons are mirrored to reflect the REcycling nature of the machine. Additionally, you can toggle performance modes by pressing the Function and "F" buttons simultaneously.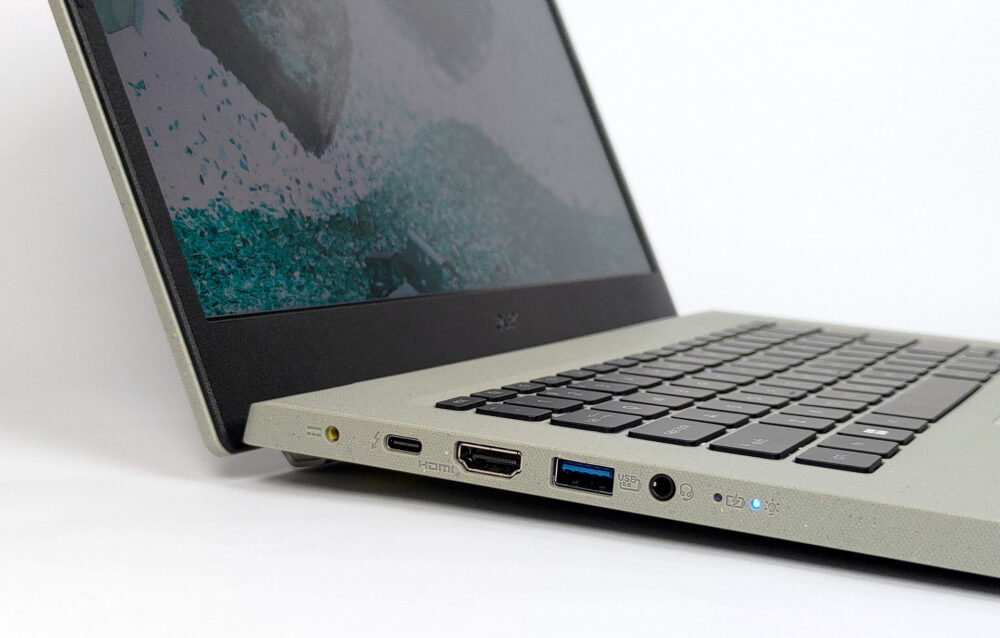 Below the keyboard, you will find the "OceanGlass" touchpad. As we mentioned it is made out of ocen-retrieved plastic. It offers smooth gliding, and you get a fingerprint embedded into it. Moreover, the fingerprint reader doesn't interfere with the touch sensitivity of the touchpad.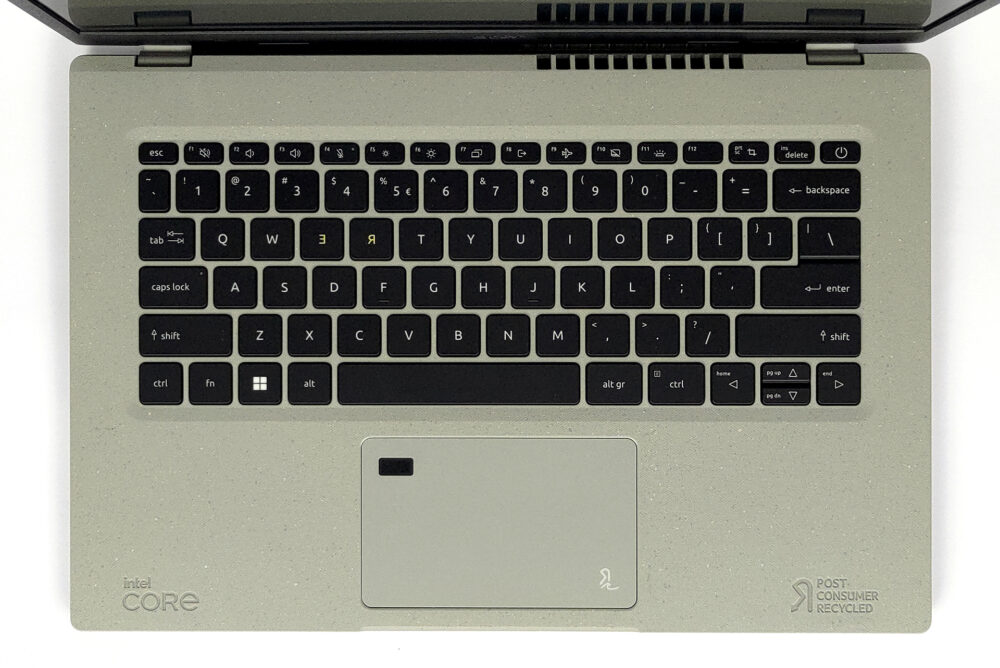 On the bottom panel, you can obviously find the speaker cutouts, as well as the ventilation grill. The hot air is then exhausted through a gap in between the base and the lid.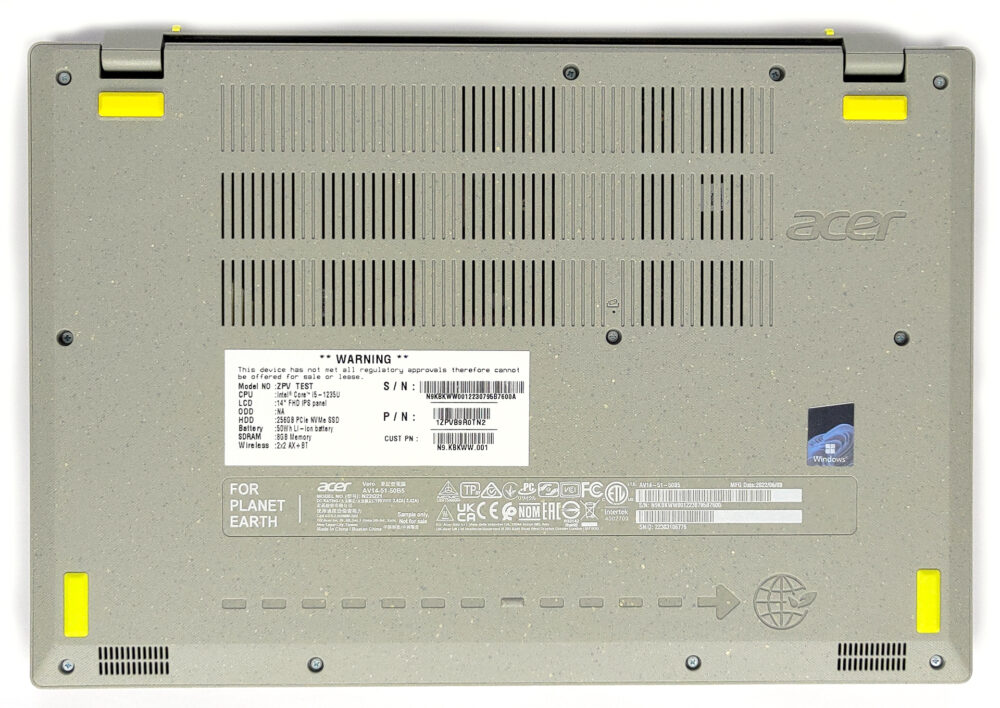 Ports
On the left side, there is the charging plug, a Thunderbolt 4 port, an HDMI connector, a USB Type-A 3.2 (Gen. 1) port, and an Audio jack. Switch sides, and you will find a Kensington lock slot, and a USB Type-A 2.0 port.
Disassembly, upgrade options and maintenance
The first thing you need to do is to remove the bottom panel. To do so, you need to undo 11 Phillips-head screws. Then, pry the panel with a plastic tool and lift it away from the chassis.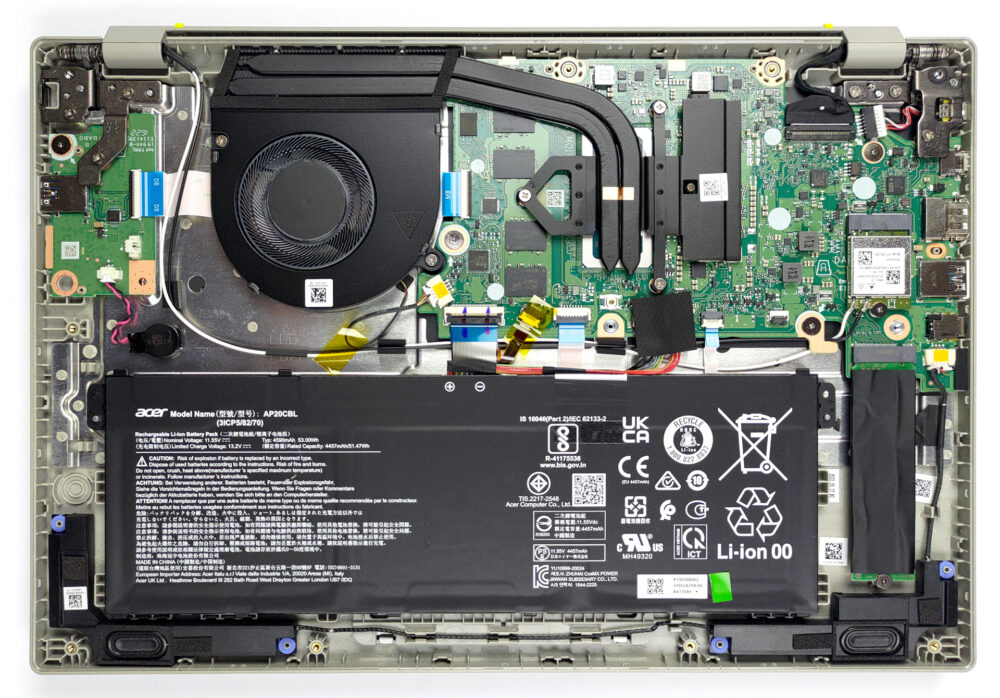 Inside, you will see a 53Wh battery pack. It lasts for about 11 hours of either Web browsing or video playback. To remove it, just unplug the battery connector from the motherboard. There might be some Phillips-head screws too.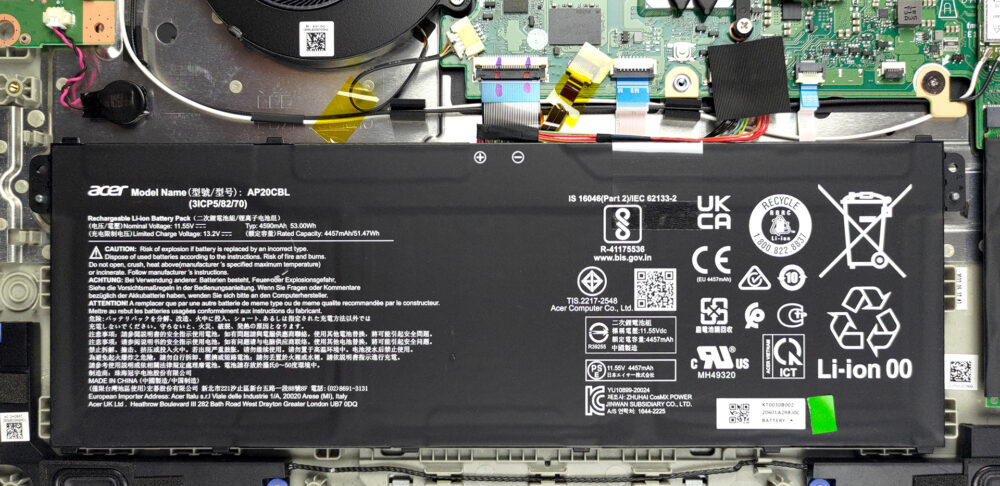 Unfortunately, the memory here is soldered to the motherboard. On the other hand, there is one M.2 PCIe x4 slot for storage.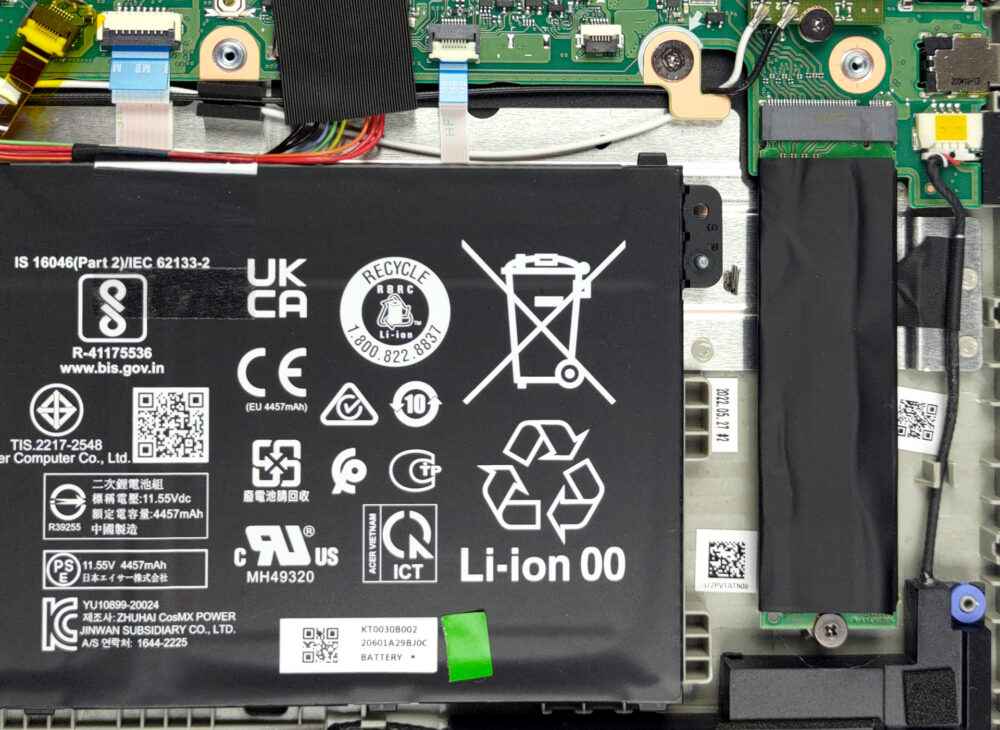 The cooling comprises two heat pipes, a medium-sized heat sink, and a fan. Furthermore, the VRMs have a heat spreader, which manages their thermals.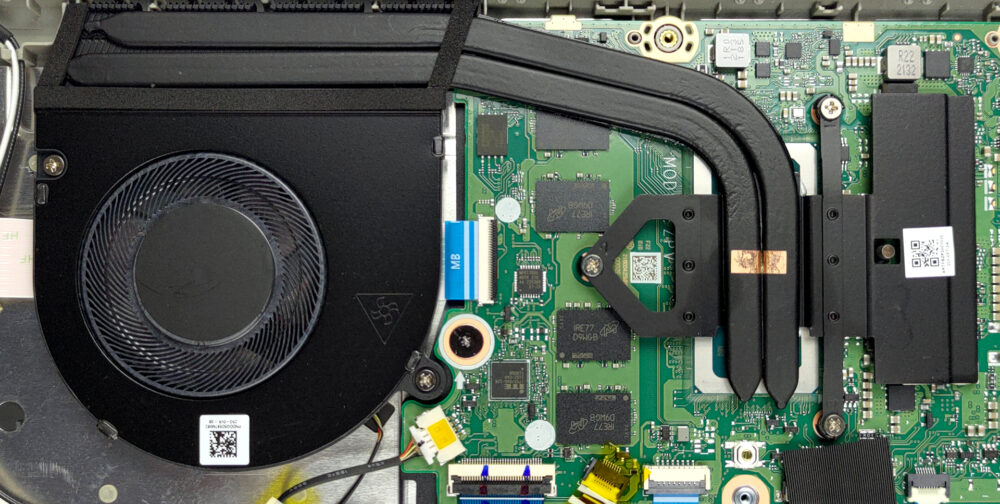 Display quality
Coming soon!

Battery
Now, we conduct the battery tests with Windows Better performance setting turned on, screen brightness adjusted to 120 nits and all other programs turned off except for the one we are testing the notebook with. This notebook's 53Wh battery pack lasts for 11 hours and 11 minutes of Web browsing, or 10 hours and 56 minutes of video playback on a single charge.
In order to simulate real-life conditions, we used our own script for automatic web browsing through over 70 websites.
For every test like this, we use the same video in HD.
CPU options
This device should be available with a Core i3-1215U, Core i5-1235U, or Core i7-1255U.
Results are from the Cinebench 20 CPU test (the higher the score, the better)
Results are from our Photoshop benchmark test (the lower the score, the better)
GPU options
The only available graphics option is the integrated GPU inside of your processor.
Results are from the 3DMark: Fire Strike (Graphics) benchmark (higher the score, the better)
Results are from the Unigine Superposition benchmark (higher the score, the better)
Gaming tests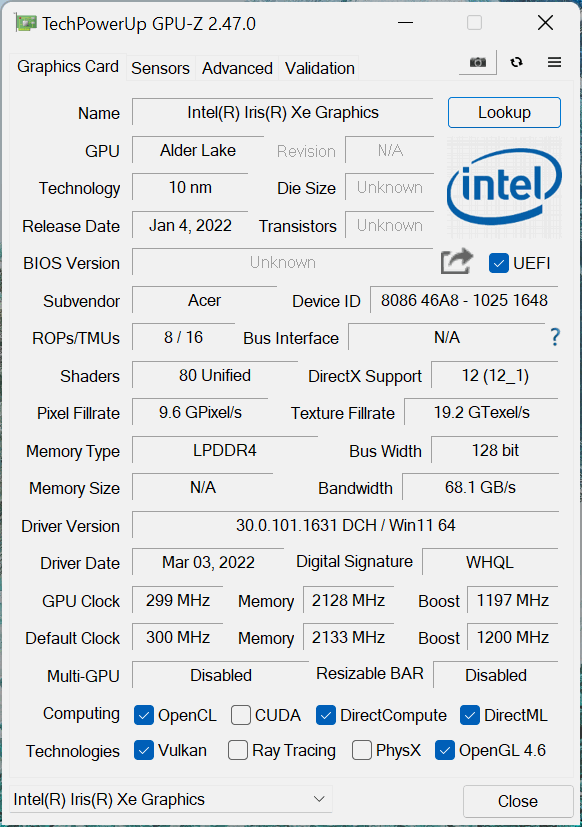 Temperatures and comfort
Max CPU load
In this test we use 100% on the CPU cores, monitoring their frequencies and chip temperature. The first column shows a computer's reaction to a short load (2-10 seconds), the second column simulates a serious task (between 15 and 30 seconds), and the third column is a good indicator of how good the laptop is for long loads such as video rendering.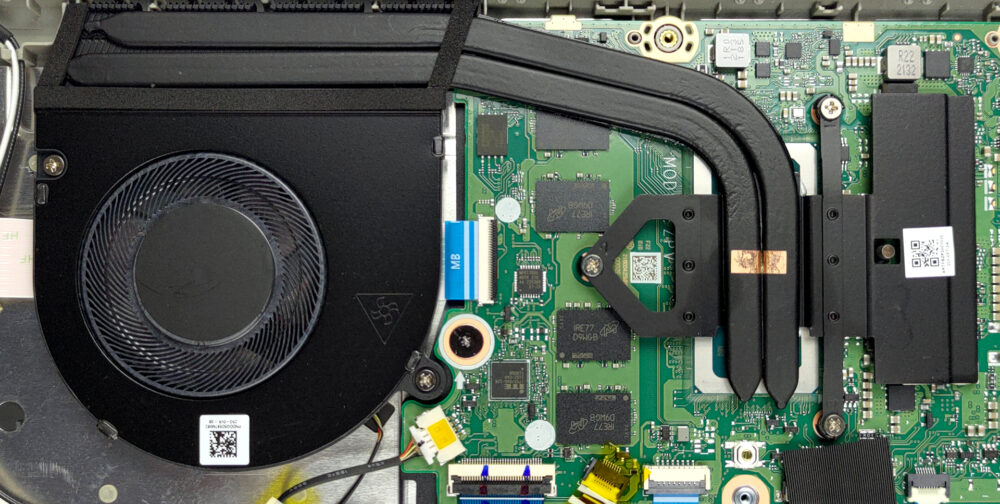 Average P-core frequency; Average E-core frequency; CPU temp.; Package Power
| Intel Core i5-1235U (15W TDP) | 0:02 – 0:10 sec | 0:15 – 0:30 sec | 10:00 – 15:00 min |
| --- | --- | --- | --- |
| Acer Aspire Vero (AV14-51) | 3.63 GHz @ 2.87 GHz @ 84°C @ 55W | 2.73 GHz @ 2.36 GHz @ 81°C @ 33W | 2.49 GHz @ 2.23 GHz @ 79°C @ 28W |
| MSI Modern 14 (C12M) | 3.17 GHz @ 2.69 GHz @ 77°C @ 45W | 3.10 GHz @ 2.61 GHz @ 81°C @ 45W | 2.69 GHz @ 2.45 GHz @ 78°C @ 35W |
| Dell Latitude 15 5530 | 3.57 GHz @ 3.02 GHz @ 94°C @ 52W | 2.03 GHz @ 2.09 GHz @ 76°C @ 21W | 2.24 GHz @ 2.19 GHz @ 64°C @ 23W |
The Aspire Vero (AV14-51) performs pretty well with the Core i5-1235U. Indeed, the MSI Modern 14 (C12M) manages slightly higher results, but we are happy nonetheless.

Comfort during full load
Moreover, the noise levels are not too high, nor are the external temperatures.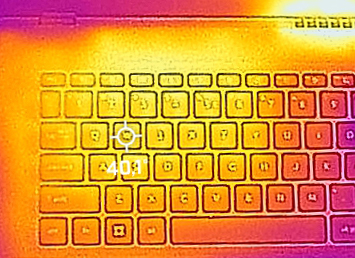 Verdict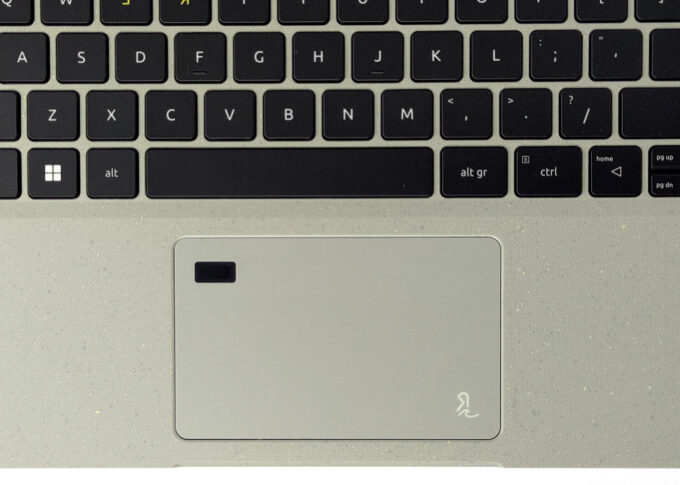 Taking care and becoming one with your surroundings is a high form of intelligence. Being interested, and investing in the Aspire Vero basically means that you want to make a difference. Interestingly, it is not perfect in terms of "laptopness", but at the same time, it is very good for what it represents.
In the beginning, we said that upgradeability is something, which helps a laptop be sustainable. By letting the user upgrade the memory or the storage, you basically prolong the life cycle of the device. Unfortunately, the RAM of this machine is soldered to the motherboard. On the bright side, it does use quad-channel LPDDR4 memory, which has a good impact on the graphics department.
Speaking of performance, we are pretty happy with what we saw. Both in terms of computing and graphics. In fact, the 12th Gen Core i5-1235U completely obliterates every ULV CPU Intel had up its sleeve last year. We were especially impressed by the Photoshop times. We are yet to test the display, but we have a good feeling that you can do professional work with this machine.
What we have tested, however, is the battery life. We got about 11 hours of either Web browsing or video playback on a single charge, which makes us pretty confident that you won't need a charger during the day. Of course, this depends on your workflow, but if you are generally working with Web content, and nonintensive software, you should be good.
In addition, you get an okay I/O selection, which includes a Thunderbolt 4 connector, an HDMI port, and two USB Type-As, one of which runs at 3.2 (Gen. 1) speeds, while the other is 2.0 (slow). You don't get an SD card reader, nor a LAN port, which is unfortunate, but not too bad either.
Generally, the experience of using this laptop is pretty good, its input devices are comfortable, and we are very impressed by the touchpad, which is as smooth as glass, but actually uses plastic, recovered from the ocean.
Undoubtedly, Acer has done a great job in helping the environment and making an effort to become carbon neutral. We will be heavenly happy if all manufacturers go this way with most if not all of their notebooks. Until then, reuse, reduce, and recycle.
You can check the prices and configurations in our Specs System: https://laptopmedia.com/series/acer-aspire-vero-av14-51/
Pros
Environment-friendly
Good performance
Comfortable keyboard and touchpad
Body and touchpad are made out of recycled plastic
Decent cooling
Thunderbolt 4 + fingerprint reader
Good battery life
Cons
One out of the two USB Type-As work at 2.0 speeds
Soldered memory