Acer Predator 15 (G9-593, with GTX 1070) review – the second attack

The last Predator generation with GTX 9xx GPU was a great hit and this was the laptop which proved that Acer can build one of the best gaming notebooks on the market. Several months after that we were in New York where the Taiwanese company announced Predator 17X (detailed review) – the ultimate gaming beast with a desktop GTX 980 under the hood and industry leading cooling system. The only drawback was the price (it costs around $2300) but we know that if we want cutting-edge, we have to prepare our wallets. Anyway, 17X turned out to be short-lived because NVIDIA hurried with its GTX 10xx series. And as you  may guess…it's a big deal.
The even better news – the GTX 10xx's notebook versions are very close to their desktop siblings in terms of raw performance. The leap from GTX 9xx to 10xx is huge and that makes the gap between GTX 9xxM and their successors even bigger. Although we were recommending 17X as a good choice, now the game has changed, in a big way. The latest Predator 15 (G9-593) with GTX 1070 will wipe the floor with its bigger and (not much) older brother, and moreover – its price will be lower.
In addition to the GTX 1070, Predator 15 (G9-593) is also equipped with a high-end Core i7-6700HQ processor, up to 64GB RAM, M.2 NVMe, HDMI 2.0 and G-Sync IPS display with up to 4K resolution. What more could gamers want?
You can check the current price of Acer Predator 15 (G9-593) here: http://amzn.to/2ccAYet
Contents
Video Review
If you like this video, you can subscribe to our YouTube channel, share, comment, and hit the thumbs up button.

What's in the box?
In addition to the notebook, its box also contains a powerful charger (Chicony A12-230P1A) which delivers 230W (19.5V, 11.8A), and the traditional FrostCore fan. The latter can be swapped for the DVD optical drive which you probably won't need (like ever). It will be interesting to see if (and how much) the FrostCore module can reduce the internal temperatures during high load. We'll check that a bit further in the review.
Design and construction
G9-593's predecessor, Acer Predator 15 G9-591 (there was a minor upgrade named G9-592) had almost the same design as the latest model that we're looking at today. If you're in front of the two laptops, chances are you won't find any difference. Actually, the most notable one is on the back side – the main exhaust vents have been massively redesigned and now are much more aggressive.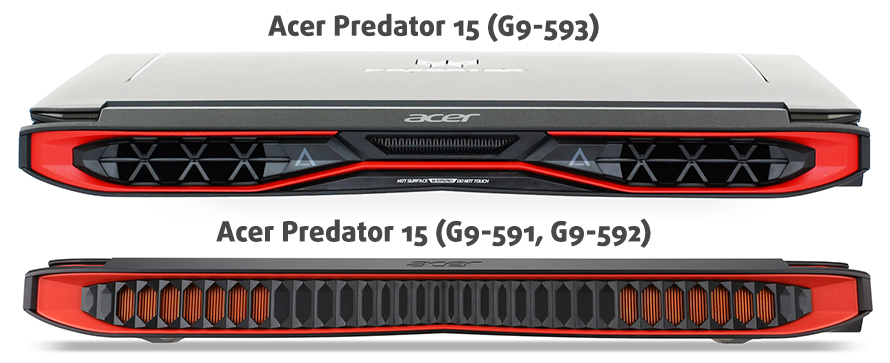 Except for the rear side, the G9-593 looks pretty much the same as its predecessor and that's not bad at all – both of them have awesome looking and functional design.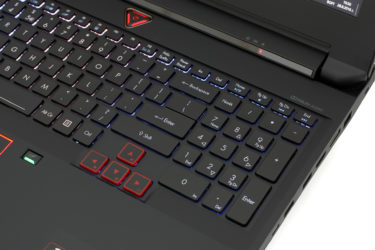 The keyboard is "Island Style" (chiclet) with long key travel, distinct feedback, three backlight color zones and large area – 15.5 x 15.5 mm (0.61" x 0.61"). The arrow keys have enough empty space around them so you can comfortably play racing games if you don't have a wheel.
Just the first row, where the F1-F12 keys are, is narrower – 10.0 x 13.00 mm (0.39" x 0.51"), but you won't need it much, since there are 5 special function keys which will do anything of your choice (you can assign their duties in the Predator Sense software), and moreover – every one of them could run up to 3 different actions, depending on its color. You can switch the colors with the upper left "P" key. For example, by default the first group (Red) activates the following: "Always use discrete graphics", "Disable sticky keys", "Maximum fan speed", "Multimedia Mode Settings", and "Game Bar".
The power button is in the center, above the keyboard and it's backlit by a red LED light when the computer is working.

The trackpad features a special button which disables it to prevent accidental touches while typing. There is enough area for easy interaction with gestures (~70cm2; 105 x 66 mm) and a red glowing edge. The left and right buttons are dedicated and just below the trackpad.
Acer Predator 15 (G9-593) has a 2.1 audio system with two front facing speakers and a subwoofer on its bottom. Speaking of the base of the notebook, it makes a good impression that Acer's designers have made efforts to make it good looking even though we don't turn our laptops around every day. Despite the big air vents, one little detail grabs our attention – the notebook sports two tiny outputs for its DustDefender system.
On the left, Predator 15 has two USB 3.0 ports, two audio jacks for a microphone and headphones, memory card reader and the optical drive / FrostCore. On the other side we have three more USB ports, one of which is USB 3.1, while the second has a "Power-off charging" feature which lets you charge your mobile devices even when the notebook is turned off. We also have full sized HDMI and DisplayPort, RJ-45 (Ethernet) and Kensington lock slot. Good news – the notebook doesn't have air vents on the right side so your right hand (holding the mouse) won't feel the hell even after hours of gaming.
We can also say only good things about the materials used – Predator 15 is rock solid and its lid structure includes 40% fiberglass, making the layer 1.8 mm thick. We have already told you that fiberglass is used as a main material for elevator spools which hold their steel wire ropes. Mechanics choose glass fiber because it doesn't rust and has great durability. This is how the material compares against Aluminum and PC+ABS+Talc, which are widely used in today's laptops.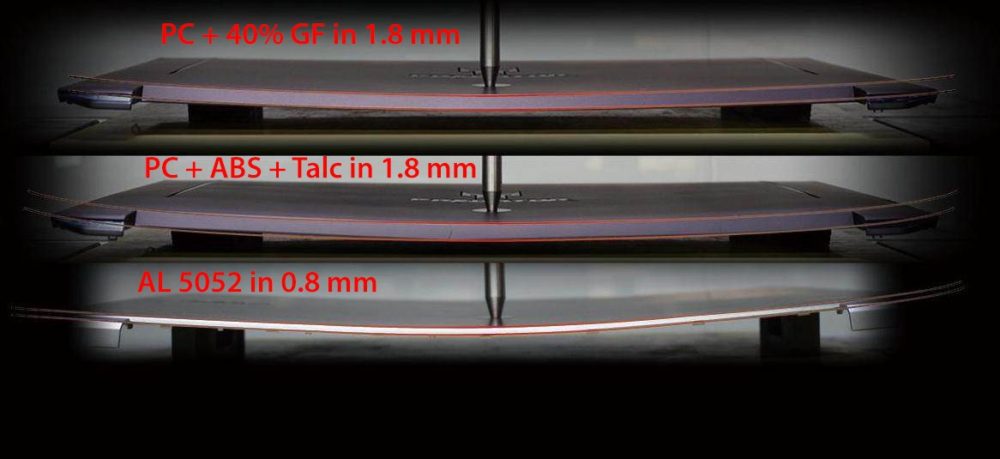 Oh, here's a drawback (fitness maniacs could skip that part)…Predator 15 weighs 3742 g (8.25 lbs)! And yes, this is a 15-inch notebook. Also, it's 38.3 mm (1.51") thick at its backside and 37.6 mm (1.48") at the front side. It should really impress us in the temperature tests so that we could overlook this.
Let's see what we have on the inside…

Disassembly, maintenance and upgrade options
Disassembling the Predator 15 is a relatively easy task – check out the video below or read our detailed instructions article.
Storage upgrade options – 2.5-inch HDD, M.2 slot
Our Predator 15 came with one 2.5″ HDD and one M.2 NVMe SSD. You also have an additional free M.2 slot. The taken one is "M" key, size 2280. The free one is "B" key, 22110.
| Slot | Unit | Upgrade price |
| --- | --- | --- |
| M.2 slot (1) | Toshiba THNSN5256GPU7, 256GB (NVMe, 2280, M key) | Upgrade options |
| M.2 slot (2) | Free (NVMe, 22110, B key) | Upgrade options |
| 2.5-inch HDD/SSD | Hitachi Seagate HTS721010A9E630 (1TB, 7200 RPM, 32MB cache) | Upgrade options |
RAM
Acer Predator 15 (G9-593) has four RAM slots – two below the service lid and two below the motherboard. The latter are taken by 2x 16GB DDDR3 memory, so you can easily upgrade the Predator to 64GB RAM.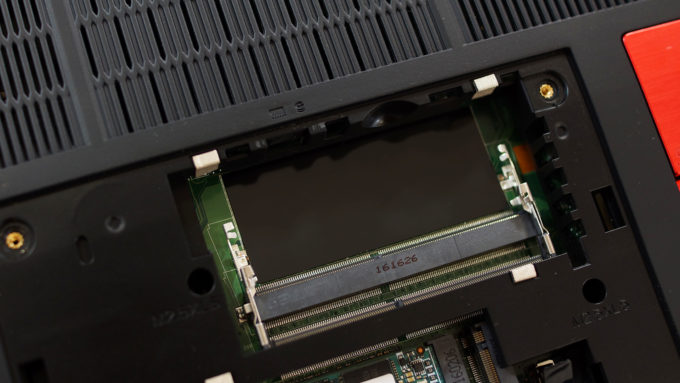 Other components
Our Predator 15 configuration came with Hon Hai T77H643.01 Wi-Fi module and a user-replaceable battery rated at 88Wh (6000 mAh). The latter weighs 425 g (0.94 lbs).
Display quality
Acer Predator 15 (G9-593)'s display features an IPS matte touch panel with Full HD (1920 x 1080 pixels) resolution in a 15.6-inch diagonal, made by LG Philips, LP156WF6-SPP1 model. It has a pixel density of 142 PPI with 0.18 x 0.18 mm pixel pitch. SPP1 can be found in the updated version of the old Predator 15 (G9-591) – G9-592.
Predator 15's display supports G-Sync for fluent gaming without tearing. In case you're not familiar with G-Sync, check out this article:
What is NVIDIA's G-Sync and does it really make a difference?
The screen can be considered as "Retina" when viewed from a distance equal to or greater than 60 cm – that's the distance above which human with "standard" 20/20 vision will stop distinguishing the individual pixels.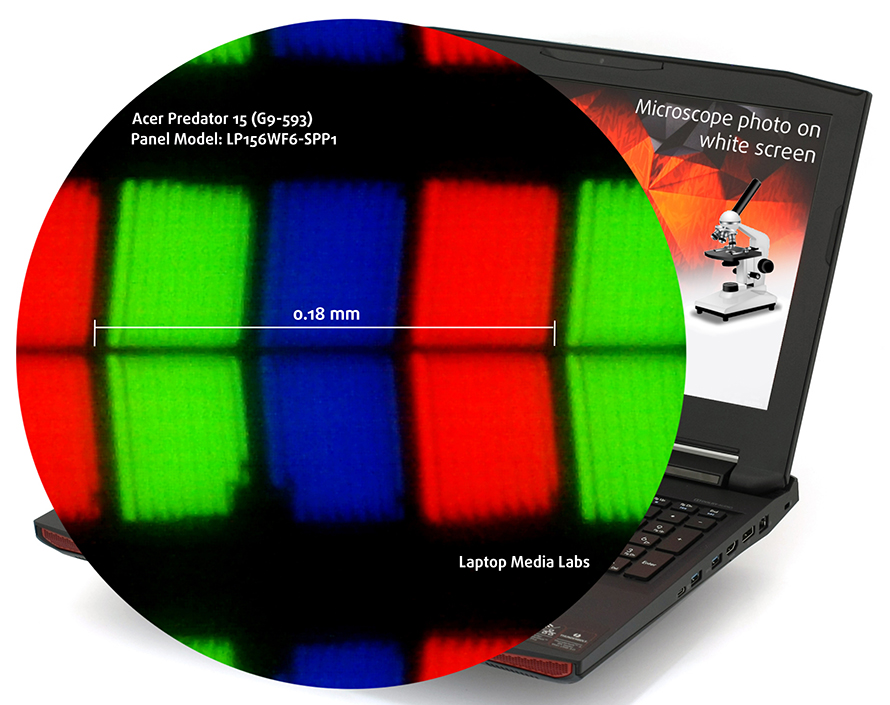 Acer Predator 15 (G9-593) has comfortable viewing angles. Here you can see how the screen looks like when viewed from 45°.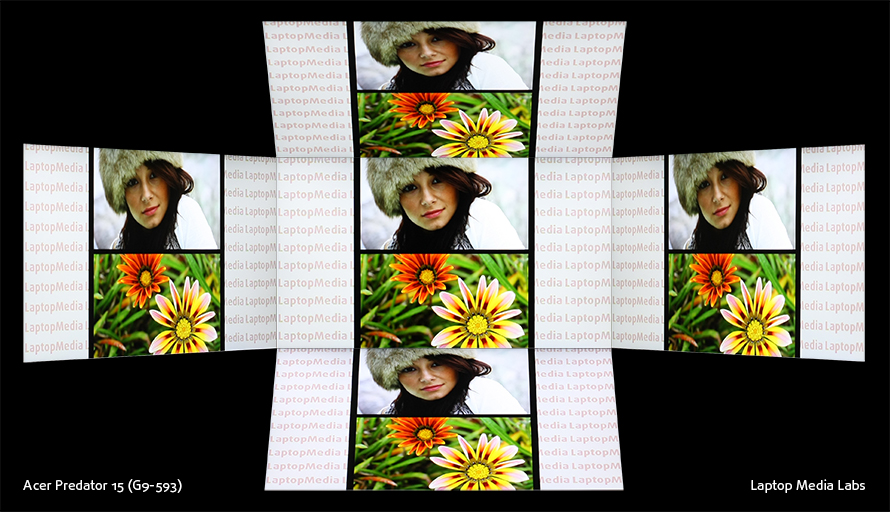 The maximum brightness of the panel is 343 cd/m2 and 316 cd/m2 is the average value across the surface. The maximum deviation is 12%. We also measured the color temperature which is 7500K at max brightness and white screen. This is a bit colder than the typical sRGB 6500K and colors may appear slightly blue-ish. The contrast ratio is 1000:1.
The maximum color deviation dE 2000 (compared to the center of the screen at 100% RGB and 100% brightness) is 3.2. Values over 4.0 are undesirable. This is a very important characteristic if you intend to work with colors.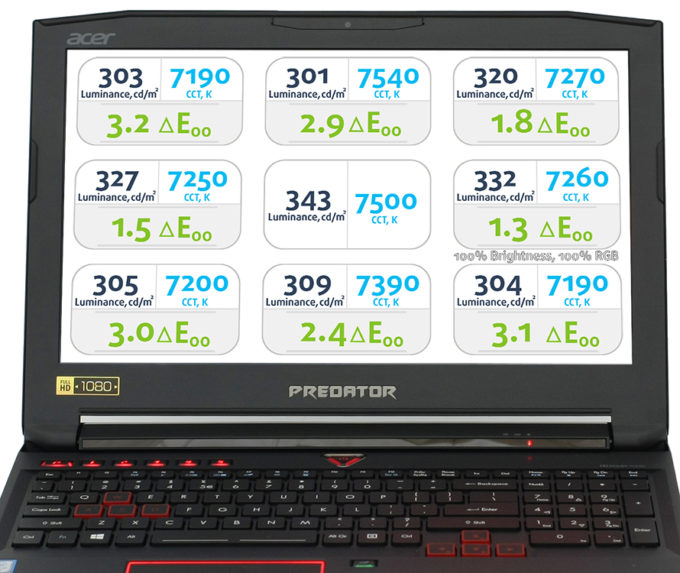 Color reproduction
To make sure we are on the same page, we would like to give you a little introduction of the sRGB color gamut and the Adobe RGB. Starting with the CIE 1976 Uniform Chromaticity Diagram that represents the visible specter of colors by the human eye giving you a better perception of the color gamut coverage and the color accuracy.
Inside the black triangle, you will see the standard color gamut (sRGB) that has been used by millions of people in HDTV and on the web. As for the Adobe RGB, this is used by professional cameras, monitors and etc. for printing. Basically, colors inside the black triangle are used by everyone and this is the essential part of the color quality and color accuracy of a mainstream notebook.
Still, we've included other color spaces like the famous DCI-P3 standard used by movie studios and the digital UHD Rec.2020 standard. Rec.2020, however, is still a thing of the future and it's hard to be covered by today's displays. We've also included the so-called Michael Pointer gamut, or Pointer's gamut, which represents the colors that naturally occur around us every day.
The yellow dotted line shows the Predator 15's coverage. The screen can represent 89% of sRGB/ITU-R BT.709 (web/HDTV standard) in CIE1976. In other words, it can show almost all colors used in Internet and HDTV. Good result.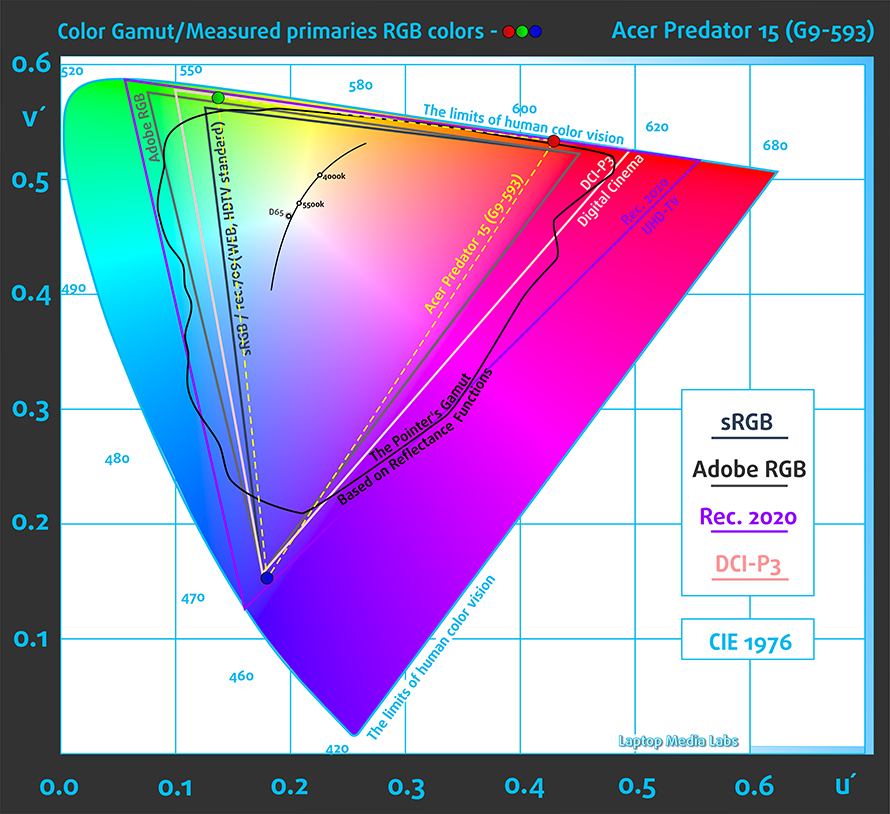 Below you will see practically the same image but with color circles representing the reference colors and white circles being the result. You can see main and additional colors with 25%, 50%, 75% and 100% saturation inside the sRGB gamut before and after calibration.
You can also compare the results with and without the Office & Web Design profile, which can be bought here.
The profile is created at 140cd/m2 luminance, target illuminant white point 6500K (D65) and sRGB gamut.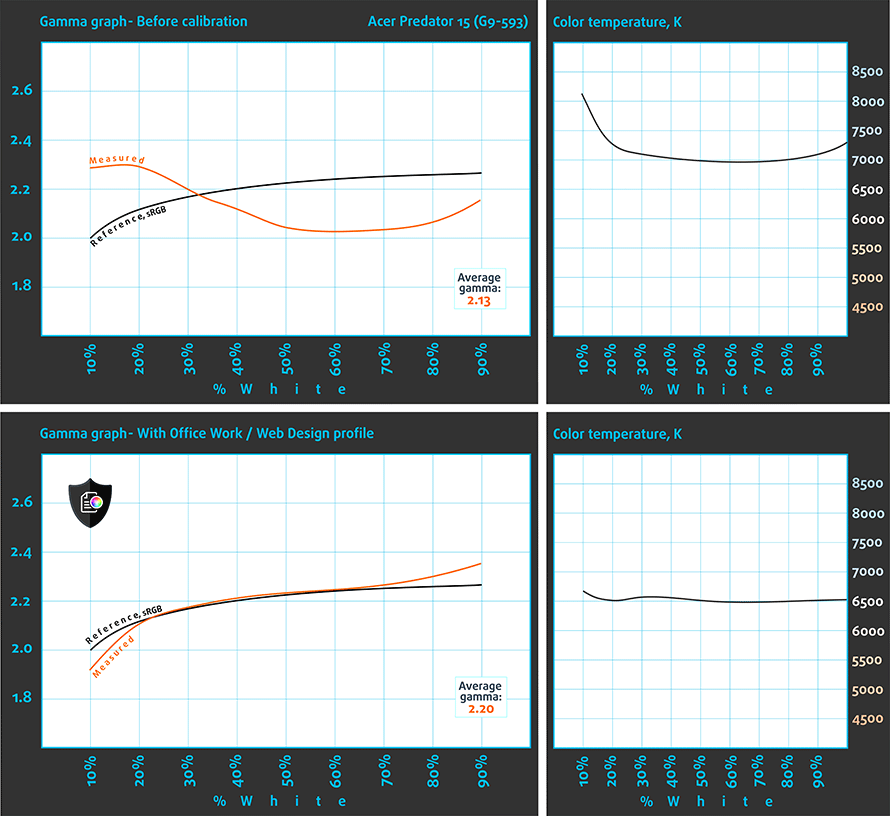 We tested the accuracy of the display with 24 commonly used colors such as light and dark human skin, blue sky, green grass, orange etc. You can check out the results at factory condition and also, with the Office & Web Design profile.
The Office & Web Design profile offers much better DeltaE – 2.4, although even that isn't an excellent result.
The next figure shows how well the display is able to reproduce really dark parts of an image, which is essential when watching movies or playing games at low ambient light.
The left side of the image represents the display with stock settings while the right one is with an activated Gaming & Movie Nights profile. On the horizontal axis, you will find the grayscale and on the vertical axis the luminance of the display. With the two graphs below you can easily check for yourself and see how your display handles the darkest nuances, but keep in mind that this also depends on the settings of your current display, the calibration, the viewing angle and the surrounding light conditions.
Predator 15 doesn't show the dark areas well and as you can see the difference between 1% and 4% white is very subtle. Our Gaming & Movie Nights profile greatly improves that.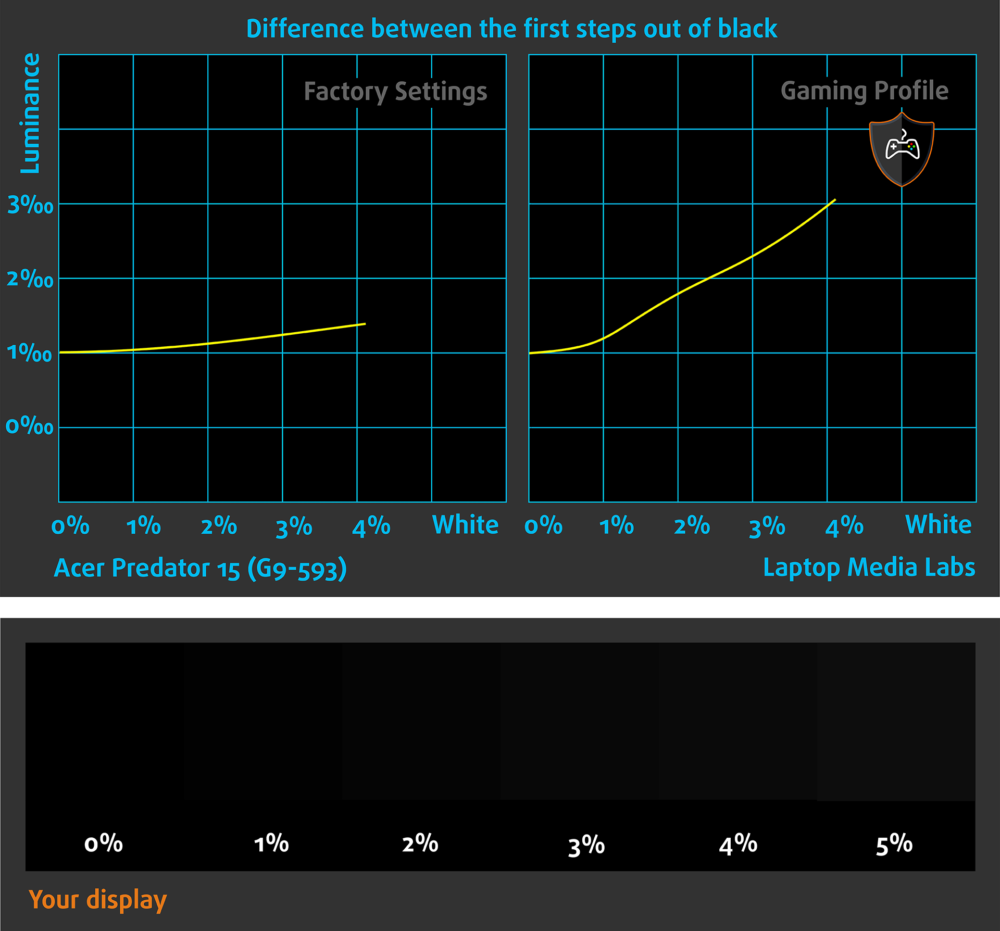 Gaming capabilities (Response time)
We test the reaction time of the pixels with the usual "black-to-white" and "white-to-black" method from 10% to 90% and vice versa.
We recorded Fall Time + Rise Time = 18.0 ms. An excellent result for an IPS screen and while the TN matrix, for example, is much faster, you won't see any difference or unwanted lag.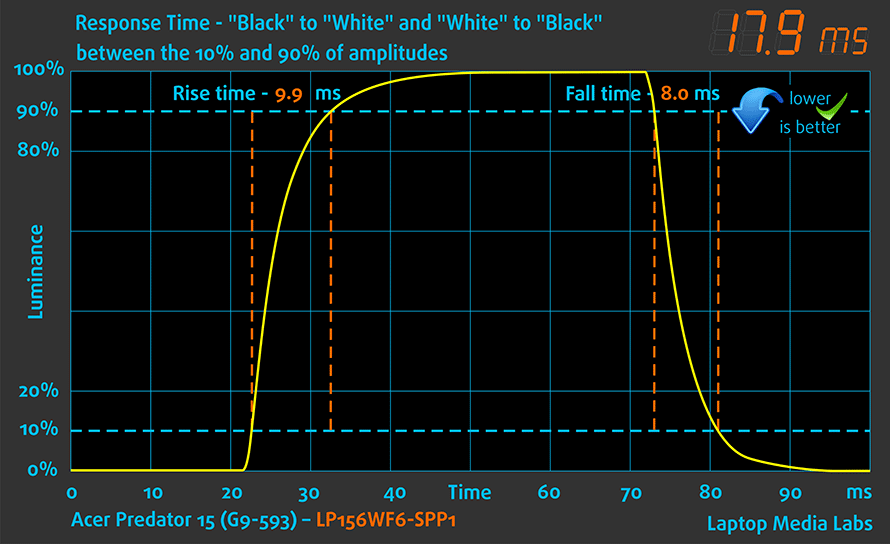 PWM (Screen flickering)
Pulse Width modulation (PWM) is an easy way to control monitor brightness. When you lower the brightness, the light intensity of the backlight is not lowered, but instead turned off and on by the electronics with a frequency indistinguishable by the human eye. In these light impulses the light/no-light time ratio varies, while brightness remains unchanged, which is harmful to your eyes. You can read more about that in our specialized article on PWM.
Acer Predator 15 (G9-593) uses Pulse-Width Modulation for all brightness levels below 100% but at a very high frequency – 20 000 Hz, which greatly reduces the negative impact. Nevertheless, the Health-Guard profile eliminates it and that's not the only advantage…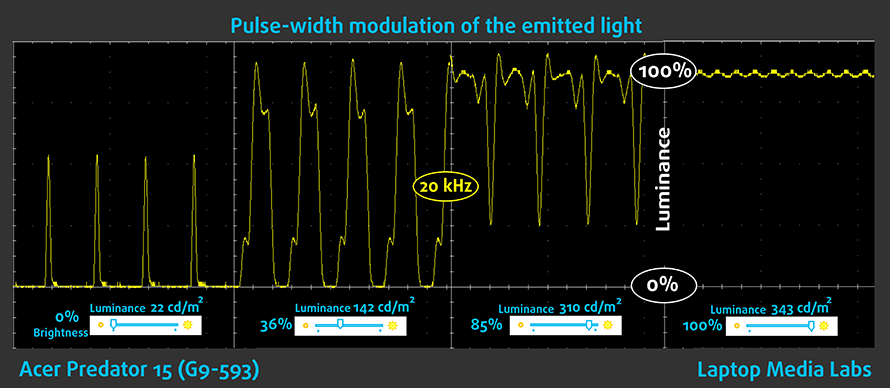 Blue light emissions
The installation of our Health-Guard profile not just eliminates PWM but also reduces the harmful Blue Light emissions while keeping the colors of the screen perceptually accurate. If you're not familiar with the Blue light, the TL;DR version is – emissions that affect negatively your eyes, skin and your whole body. You can find more information about that in our specialized article on Blue Light.
You can see the levels of emitted blue light on the spectral power distribution (SDP).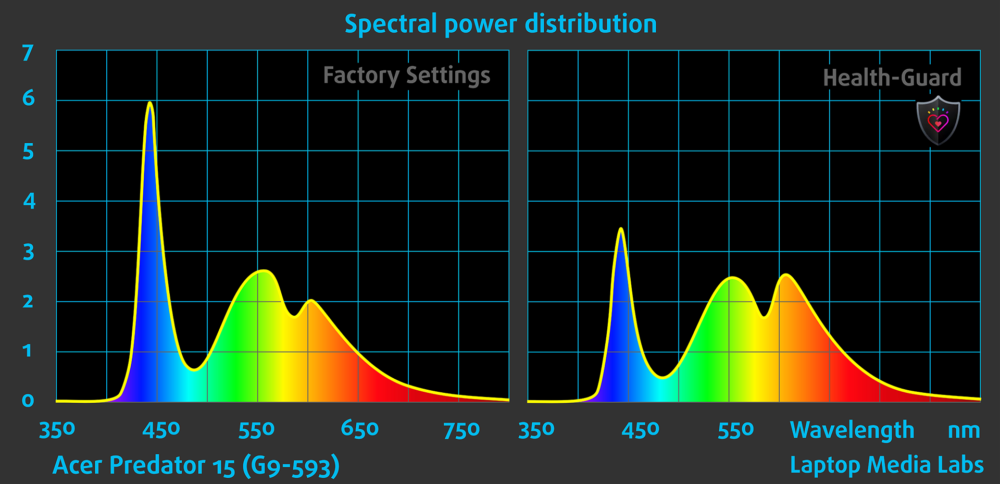 Conclusion
Acer Predator 15 (G9-593) has a very good screen and that is something normal having in mind that we're testing a high-end machine. It has excellent brightness, contrast and viewing angles. However, it uses PWM for all brightness levels and it has an unwanted high color temperature. Both of these problems can be easily solved by installing the Health-Guard profile. The resolution is Full HD and we consider it as optimal for a 17-inch screen.
The "Office and Web Design" profile successfully reduces the DeltaE to a good level and "Gaming and Movie Nights" could be very handy at low ambient light when you want to see better the near-black areas. You can take an advantage of them by purchasing them for a modest price, which will also support our laboratory.

Buy our profiles
Since our profiles are tailored for each individual display model, this article and its respective profile package is meant for Acer Predator 15 (G9-593) configurations with 15.6″ LG Philips LP156WF6-SPP1 (FHD, 1920 × 1080) IPS, which can be found on Amazon: http://amzn.to/2ccAYet
*Should you have problems with downloading the purchased file, try using a different browser to open the link you'll receive via e-mail. If the download target is a .php file instead of an archive, change the file extension to .zip or contact us at [email protected]
Read more about the profiles HERE.
[edd_item edd_id_1='70440′ edd_id_2='70443′ edd_id_3='70446′ edd_id_4='70449′]

Sound
Acer Predator 15 (G9-593) supports the Dolby Audio technology with Music, Movies and Games modes. The sound is relatively good but the tones aren't clear enough in some low and high frequencies.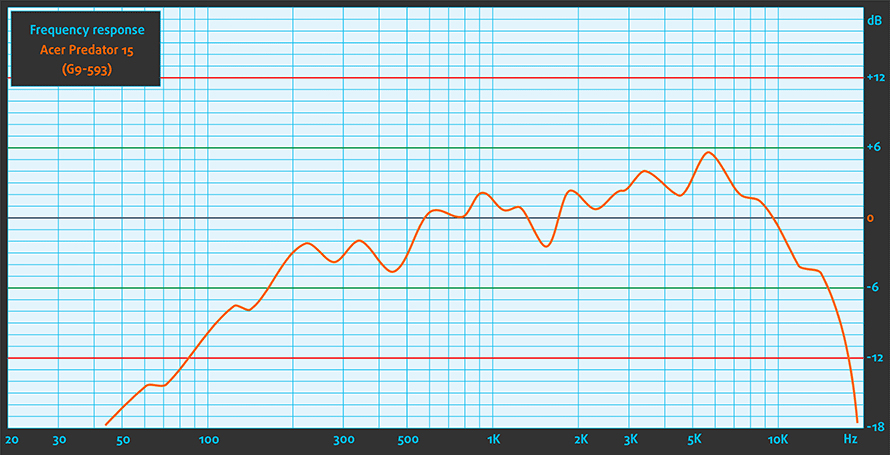 Specs Sheet
These technical specifications refer only to the particular device being tested in this review. Laptops from the same series could have different characteristics and features.
Software
All Predator configurations ship with a pre-installed Windows 10. At the first start you'll find the PredatorSense and Killer Network Manager apps.
With Predator Sense you can track the temperatures inside the notebook and the fans speed. You can also see the current CPU frequency but unlike the 17X version of Predator Sense, you can't overclock your system with one click. The advanced options give you the choice of always using the discrete graphics, use maximum speed or disable sticky keys.
There is a hotkey profiles panel as well where you can assign actions to the glowing buttons above the keyboard. You can also assign macros. In the third tab you can control the four zone keyboard backlight.
Killer Network Manager gives you the ability to see which applications are hogging your wireless bandwidth, and automatically prioritizes sensitive application traffic for an online game, HD video, and high-quality audio. With Killer DoubleShot Pro, Predator 15 can use wired and wireless network connections simultaneously.
If you want to do a clean install of Windows 10, here you'll find all the drivers and software you need:
http://www.acer.com/ac/en/US/content/drivers

Battery
Just as its predecessor, G9-593 has an 88.8Wh battery (6000 mAh), which we aren't sure is enough to handle the GTX 1070 and 6700HQ for a long time. The major problem is that the notebook doesn't take advantage of an integrated card so every application uses the GeForce one. As you can guess, that leads to serious power drain and it can't help but reflect on the battery life.
Web Surfing
In order to simulate real-life conditions, we used our own script for automatic web browsing through over 70 websites.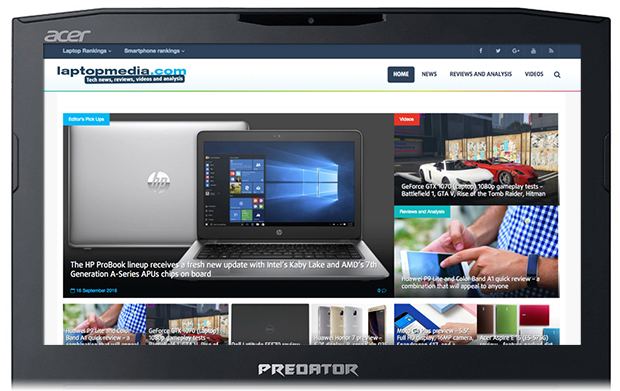 The new Predator 15 (G9-593) got us just 276 minutes (4 hours and 36 minutes) which wouldn't be a disappointing result some years ago but now it's below most of its competitors. As a matter of fact, G9-593's predecessor G9-591 got us 464 minutes of browsing time, which is 68% more. We know who's to blame – as we said, the new Predator has gotten rid of the integrated Intel Graphics card and the powerful GTX 1070 has to do all the work.
Video playback
For our Video playback test we use a 720p HD film.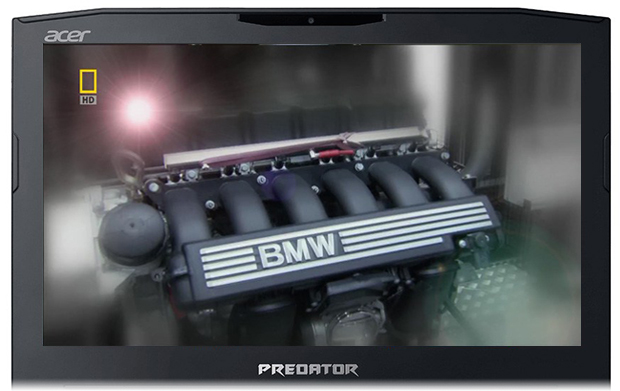 As always, the video playback result is very close to the web browsing one. This time around we registered 257 minutes before turning off. However, that should be enough for a short movie marathon without the charger.
Gaming
For accurate gaming simulation, we use the F1:2015 benchmark on loop, at lowest graphic settings and native resolution.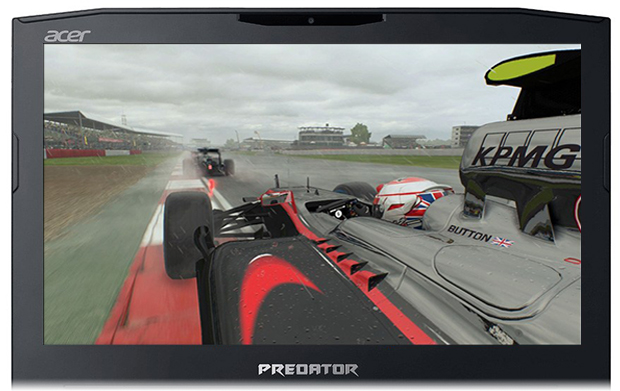 This is the hardest test and thus the Predator 15 kept working for just 113 minutes (1 hour and 53 minutes).

CPU – Intel Core i7-6700HQ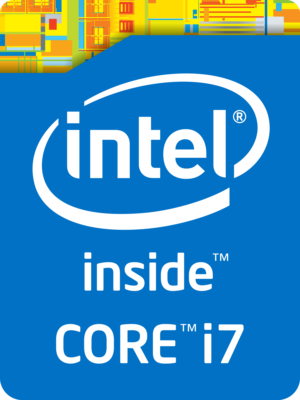 Intel Core i7-6700HQ represents the Skylake H family and it's a high-performance chip with normal voltage and 45W TDP. This is a step down from its direct predecessor – Core i7-4700HQ, but matches its short-lived predecessor, Core i7-5700HQ. The Core i7-6700HQ has four cores ticking at 2.6GHz and can go up to 3.5 GHz for one active core and 3.1 GHz for four active cores. The silicon supports the so-called Hyper-Threading technology that emulates one virtual core for each physical and thus establishing a total of 8 threads.
Furthermore, the chip is manufactured using 14nm FinFET process and integrates Intel HD Graphics 530 GPU with 24 EU (Executable Units) clocked at 350 – 1050 MHz. The memory controller supports up to 64GB of DDR3 or DDR4 RAM at 1600 or 2133 MHz respectively. The CPU is suitable for heavy applications and gaming.
Take a look at our CPU rating system to see where the Core i7-6700HQ stands:
http://laptopmedia.com/top-laptop-cpu-ranking/
More information about the CPU can be attained here:
http://laptopmedia.com/processor/intel-core-i7-6700hq/
Check the prices of all notebooks equipped with Core i7-6700HQ: http://amzn.to/2bZIaHY
Storage speeds
We made a little spoiler some days ago (okay, a not so big one), when we revealed that the new Predator 15 comes with a Toshiba THNSN5256GPU7 which is an ultra fast M.2 NVMe SSD with a sequential read speed of up to 2576MB/s and seq. write speed up to 1196MB/s.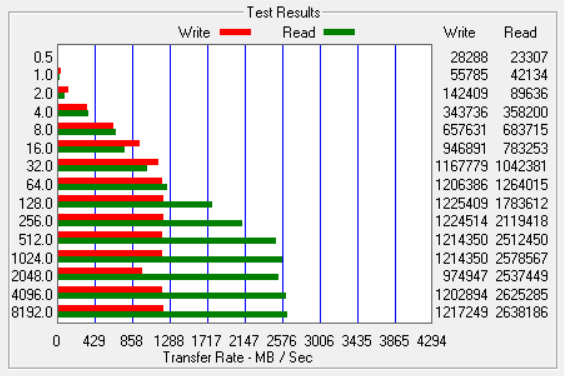 This is one of the fastest M.2 SSDs on the market so if your configuration also happens to use the module in question, you can be sure that your operating system will run blazingly fast. Here's a quick comparison between some of the most popular M.2 SSDs we've tested so far:
| SSD model | Seq. Read (Max) | Seq. Write (Max) | Read Access Time |
| --- | --- | --- | --- |
| Toshiba THNSN5256GPU7 TO (256GB) | 2576 MB/s | 1196 MB/s | 0.069 ms |
| Samsung SM951 (256GB) | 2242 MB/s | 1290 MB/s | 0.057 ms |
| Samsung PM951 NVMe MZVLV256 (256GB) | 1583 MB/s | 313 MB/s | 0.121 ms |
| LiteOn CV1-8B128 (128GB) | 560 MB/s | 181 MB/s | 0.086 ms |
Our Predator 15 (G9-593) came with a 2.5″ HDD as well – Hitachi Seagate HTS721010A9E630 (1TB, 7200 RPM, 32MB cache). This model reached 126 MB/sec at our sequential read test and 123 MB/sec at sequential writing.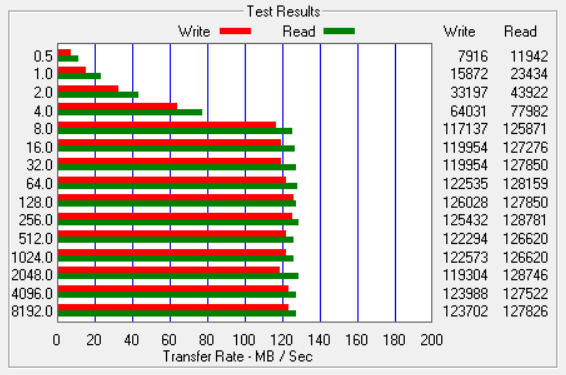 GPU – NVIDIA GeForce GTX 1070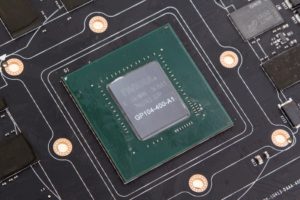 The NVIDIA GeForce GTX 1070 is a part of NVIDIA's Pascal generation of GPUs and unlike previous releases, the company finally closes the gap between mobile and desktop graphics processors and that's why there's no "M" in the branding of Pascal GPUs. All thanks to the 16nm TSMC manufacturing process of the GPU, which allows better thermals and overall performance in a smaller form factor. That's a big technology jump compared to the 28nm Maxwell generation.
Compared to its desktop counterpart, the GTX 1070 doesn't differ too much. They share an identical number of ROPs (64) and identical memory – 8GB GDDR5 with 256-bit bus clocked at 8000 MHz. However, there's a minor difference in clock speeds – the laptop GPU ticks at 1443 MHz and can go up to 1645 MHz while the desktop variant is running at 1506 MHz – 1683 MHz. To compensate to some extent, the laptop 1070 carries more CUDA cores (2048 vs 1920) and slightly more TMUs (170 vs 120).
Due to its performance, thermals and power consumption, which is believed to be 10W more than the GTX 980M, the GPU is suitable for large 17-inch laptops with the appropriate cooling solution.
You can browse through our top GPUs ranking: http://laptopmedia.com/top-laptop-graphics-ranking/
Here you will find other useful information and every notebook we've tested with this GPU: http://laptopmedia.com/video-card/nvidia-geforce-gtx-1070-8gb-gddr5/
Gaming Tests
In the video below you can see how Battlefield 1, GTA V, Rise of the Tomb Raider and Hitman 2016 run on the Predator 15 with GTX 1070. If you'd like to see more gameplay benchmark videos you can subscribe to our YouTube channel.
All the gaming tests we ran with the GeForce 372.70 drivers on Minimum, Average and Max settings and Full HD resolution.








Temperatures and Comfort
For a hardcore gaming laptop like the new Predator, it is essential to maintain low temperatures under heavy load. We'll conduct two synthetic torture tests and a real-life one, in order to check the notebook's stability in the long-term.
100% CPU load
For starters, we run a 100% CPU load for one hour. We should note that 6700HQ's maximum Turbo Boost for four cores is 3.1 GHz. This is the exact frequency we've got in this test and that's great news, especially given the CPU temperature of 55-56C for two of the cores and 80-85C for the other two. The situation isn't any different after the full 60 minutes so we're going to the next level…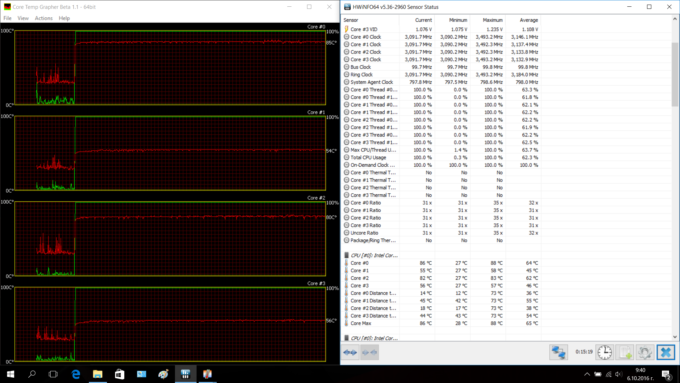 100% CPU + 100% GPU load
Without cutting the CPU load, we're adding 100% GPU load as well. Yes, this is a hard one. As soon as we started the GPU load, the CPU temperatures rose to 70/70/91/96C for the four cores, while the frequency remained 3.1 GHz. We keep the things like that for an hour. After a cumulative of 2 hours CPU and GPU load, the CPU frequency was 2.9 GHz and the cores temperature – 72/73/93/96C. The GPU temperature rose to ~69-70C, at 1240 MHz frequency.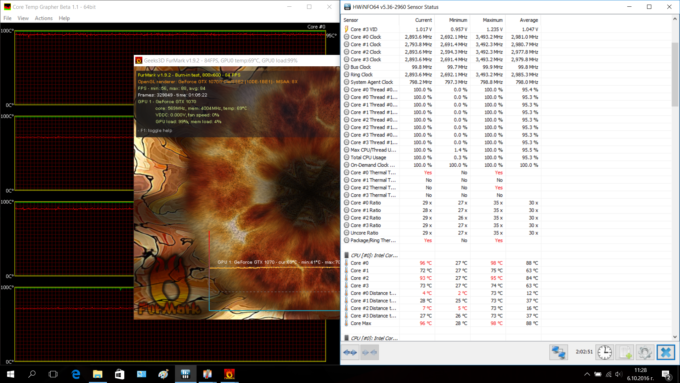 Comfort
Keeping the internal temperatures low is an essential task for every gaming system, but we shouldn't give the user experience less priority. That's why we measure the external temperatures as well, at idle and under heavy load.
External temperatures at Idle
Even the hottest point at idle is pretty cool and that is normal when you aren't playing games.
External temperatures at Maximum load
When we put the notebook to 100% CPU + 100% GPU load, we measured 44.3C at the hottest point which is a great result.
FrostCore fan
Acer Predator 15 ships with an additional fan called FrostCore which can be swapped with the DVD optical drive. In order to see if there's any improvement with and without it, we ran a benchmark while the notebook was already put to 100% CPU load. The disappointing surprise is that the additional fan doesn't do anything for the cooling system and it's more of a marketing gimmick, instead of a handy tool. The concept is great and we'd be happy to see Acer working further on that.
Verdict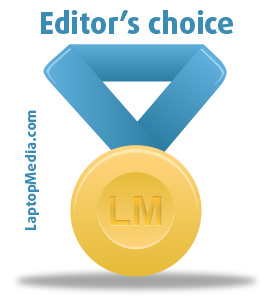 We had a lot to say about the new Predator 15 and most of it was good words and excellent results. The product is excellent indeed and if some years ago nobody thought that Acer could come up with a top-notch gaming monster, now everyone respects their presence on this market. Just like its bigger brother, the Predator 15 offers outstanding performance, up to 64GB RAM and ultra fast PCIe storage. All of the internals are well protected by a solid construction with fiber glass reinforcement.
We can say some good words about the IPS display as well, which becomes even better with our profile package. The panel uses PWM across all brightness levels (except 100%) but our Health-Guard profile gets rid of it.
The only notable drawback is the battery life – Predator 15 is having a hard time without its charger since its processor isn't equipped with an integrated GPU for the light tasks, and the powerful GTX 1070 has to work even when you're reading your e-mails.
Our overall impression is excellent and we can easily say that this is one of the best gaming notebooks ever.
You can check the current price of Acer Predator 15 (G9-593) here: http://amzn.to/2ccAYet