Alienware 17 R5 review – ultimate mobile gaming rig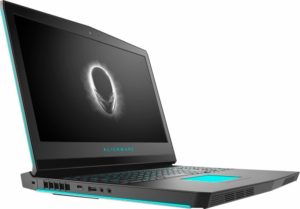 Alienware is an iconic name when it comes to gaming. These notebooks have always aroused attention with their out-of-this-world design and top-notch hardware.
Now, in our labs, we have the latest iteration of the Alienware 17. With its 4.42 kg (9.7 lbs) weight it's hard to say that the notebook is easily portable but that's the price you pay for having the latest and greatest hardware inside.
This year, the Alienware 17 R5 comes with the new Core i9-8950HK – a CPU unlocked for overclocking up to 5.00 GHz. The Alienware 17 R5 is all about overclocking and getting maximum performance. Even the GPU inside is factory OC – something you rarely find in notebooks.
The biggest concern is if the cooling system is going to be able to sustain this hardware. Let's find out if the Alienware 17 R5 is this year's champion.
You can check the prices and configurations in our Specs System: https://laptopmedia.com/series/alienware-17-r5/
Contents
Specs Sheet
Alienware 17 R5 technical specifications table
Display
17.3", Full HD (1920 x 1080), IPS
HDD/SSD
256GB SSD PCIe NVMe + 1TB HDD, 7200 rpm
Dimensions
424 x 332 x 29.99 mm (16.69" x 13.07" x 1.18")
Body material
Aluminum, Magnesium alloy
Ports and connectivity
1x USB Type-C 3.2 Gen 2 (10 Gbps), Thunderbolt 3, DisplayPort, HDMI
1x USB Type-C 3.2 Gen 2 (10 Gbps)
1x USB Type-A 3.2 Gen 1 (5 Gbps), Sleep and Charge
1x USB Type-A 3.2 Gen 1 (5 Gbps)
HDMI 2.0
Displayport mini
Card reader
Ethernet lan 10/100/1000 Mbps
Wi-Fi 802.11ac
Bluetooth 4.1
Audio jack 2x 3.5 mm jacks for headset and external microphone
External graphics port for Alienware Graphics Amplifier
Features
Web camera 1080p Full HD
Backlit keyboard
Microphone Dual-Array Microphone
Speakers 2x 4W
Optical drive
Security Lock slotNoble lock
Alienware Cryo-Tech V2.0 cooling
2x RAM slots
What's in the box?
As expected, inside the box you find the notebook itself as well as the 300W power brick and a few brochures you'll probably never read.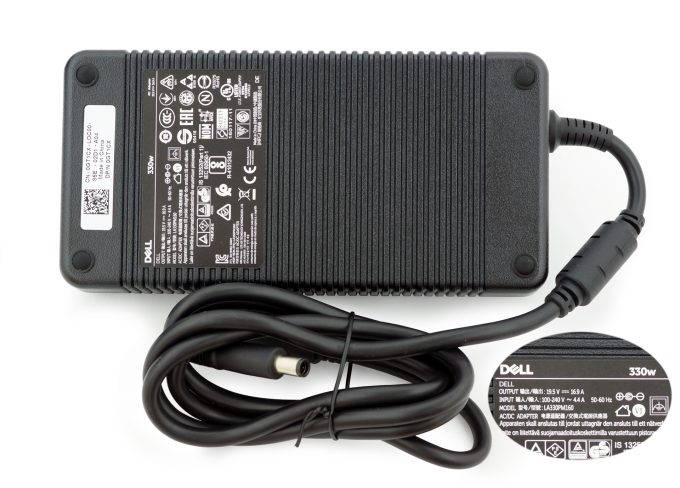 Design and construction
The Alienware 17 R5 has one hell of a design. Some may say it's extraterrestrial! It's mostly made out of polycarbonate but boy is it sturdy. The only metal pieces of the chassis are the back lid and a plate at the bottom. We guess it's better this way as the plastic material saves some weight of the already heavy 9.7 lbs (4.42 kg) notebook.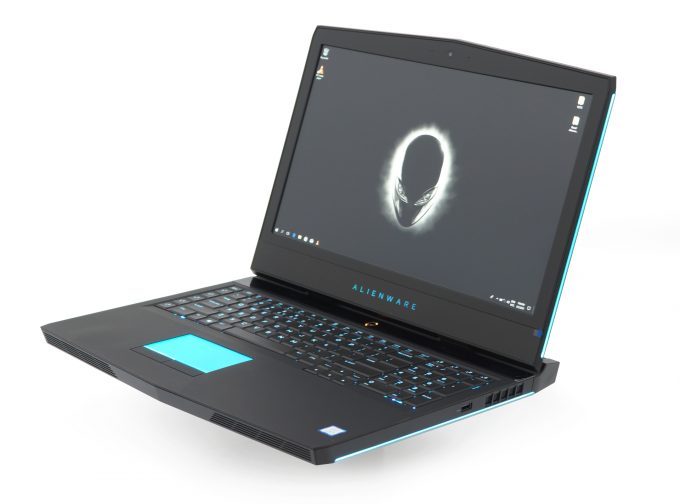 Design-wise, you can't help but feel small next to those large exhaust vents at the back of the device. We are glad that there are so many exhaust vents – two on the sides, two at the back, and one large for the fans on the bottom – as the monstrous Core i9-8950HK and GTX 1080 require constant air flow to keep running smooth.
The back metal lid has a smooth matte finish. It is decorated by three engraved lines that meet at the center and an Alienware logo. The lid is sturdy with almost no flex when pressure is applied. Also, the hinges holding the screen are so good that you can open it using only one hand.
Once you open the lid, you are presented by a 4-zone RGB keyboard which feels great. There are an additional 9 macro buttons which you can program as you like. There is enough key travel (2.2 mm) and feedback for comfortable typing. The areas around the keyboard and the palm rest areas have a nice to the touch matte finish which keeps your hands in place. The touchpad is precise and has its own backlight but it's small, however, we assume you won't play games with a touchpad.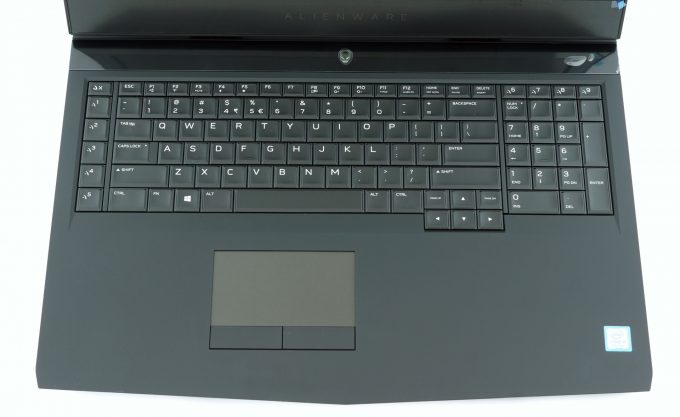 The Alienware 17 R5 is like a Christmas tree. There are lights all over the notebook. Two strips on the sides of the lid, two strips on the sides of the body, a logo under the display, a logo on the lid, and of course the keyboard and touchpad are all shining in whatever colors you decide.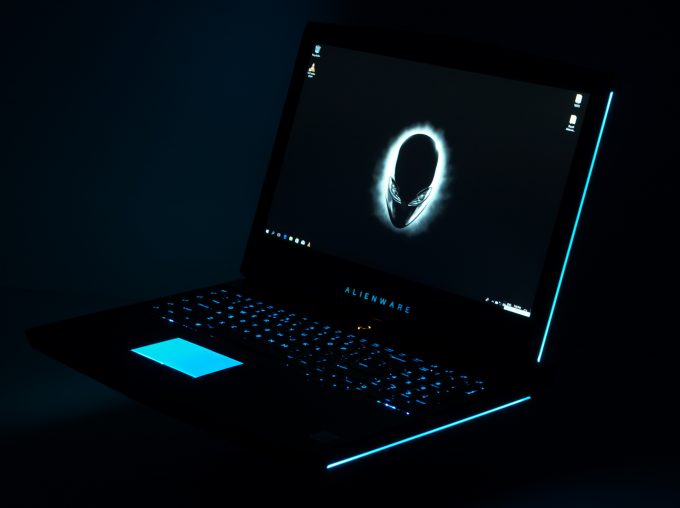 As you can see in the chart below, there are absolutely no changes in the chassis whatsoever over the last generation.
| | Width | Length | Height | Weight |
| --- | --- | --- | --- | --- |
| Alienware 17 R5 | 424 mm (16.69″) | 332 mm (13.07″) | 29.99 mm (1.18″) | 4.42 kg (9.7 lbs) |
| Alienware 17 R4 | 424 mm (16.69″) | 332 mm (13.07″) | 29.99 mm (1.18″) | 4.42 kg (9.7 lbs) |
Ports
The Alienware 17 R5 probably features every port you can ask for. In a manner typical for high-end gaming notebooks, the majority of ports is located at the back of the device which makes connecting peripherals more comfortable than having cables sticking from both sides.
Starting with the left side, you can find a USB Type-C port, a USB 3.0 port, and two 3.5 mm jacks – one for a microphone and one for headphones.

The right-hand side is home to only a single USB 3.0 port.

The back of the notebook is densely populated. There you can find the DC charging port, the Alienware Graphics Amplifier Port which lets you connect an external GPU, another USB Type-C port with Thunderbolt 3 support, an HDMI, a Mini-Display Port, and a Gigabit Ethernet port (Killer Networks e250000).

Disassembly, upgrade options and maintenance
To gain access to the main upgrade slots of the Alienware 17 R5, you just need to unscrew six Philips M2.5×13 screws and loose one Philips screw that keeps the back plate tight to the rest of the chassis. Once that's done you can start upgrading.
You have two DDR4 RAM slots. One of them is empty on our configuration. The notebook supports up to 32GB.
When it comes to storage upgrade, you get one SATA slot that supports 2.5-inch drives and not one or two but three M.2 slots. Two of them are M.2 2280 and the third is M.2 2242 in size. The M.2 2242 slot supports up to 1TB of SATA 6 Gbps SSD. Both M.2 2280 slots support PCIe NVMe 3.0 x4 drives with a capacity of up to 1TB each. One of the M.2 2280 slots can be used for Intel Optane drives as well.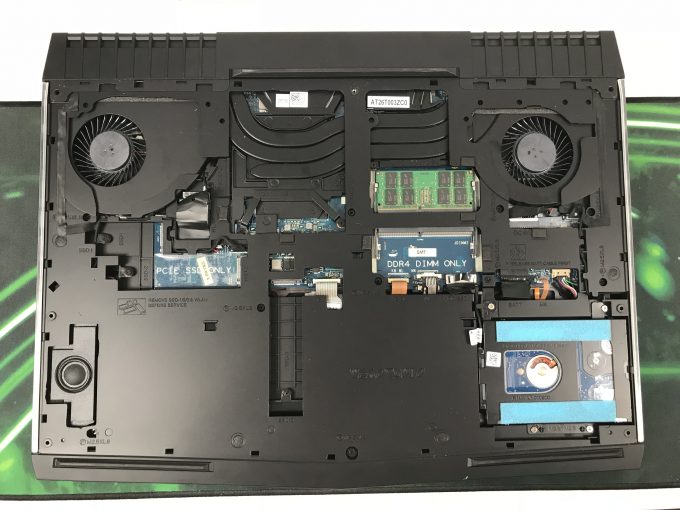 The Killer 1435 Wireless-AC network adapter is hidden under a layer of isolation tape next to the M.2 2242 slot.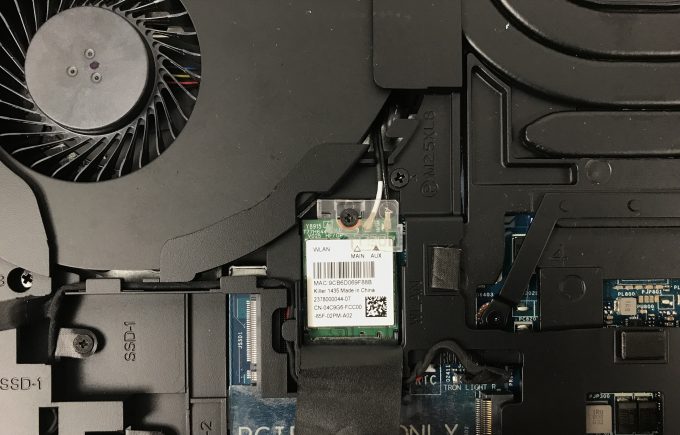 You can also take a look at the two fans and three heat pipes that we will test further down in the review. At the bottom left corner, you see the subwoofer which is part of the 2.1 audio setup. The two speakers are located in the front of the notebook.

Display quality
Alienware 17 R5 features a Full HD IPS panel manufactured by AUO carrying a model number B173HAN01.3 (AUO139D). Its resolution is 1920 x 1080 and its diagonal – 17.3 inches (43.94 cm). This translates into a pixel density of 127 ppi. The screen ratio is 16:9 and the pixel pitch is 0.1995 х 0.1995 mm. The screen becomes Retina when viewed from a distance greater than 27 inches/ 23 cm (from this distance the human eye can't tell apart individual pixels).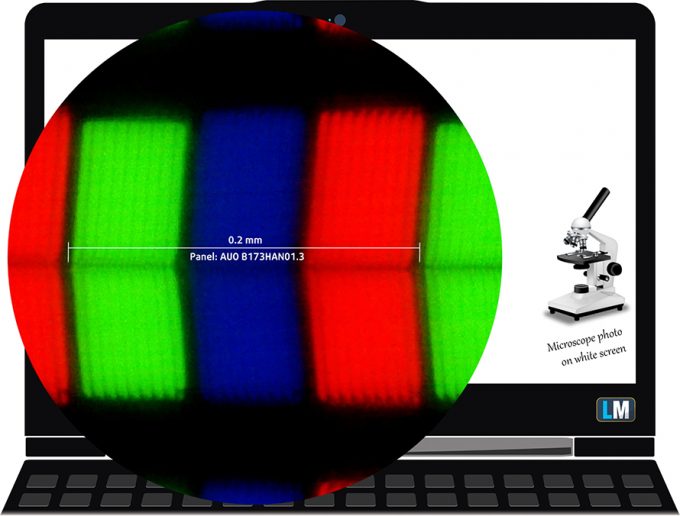 Alienware 17 R5's screen provides comfortable viewing angles. We offer images at 45° to evaluate image quality.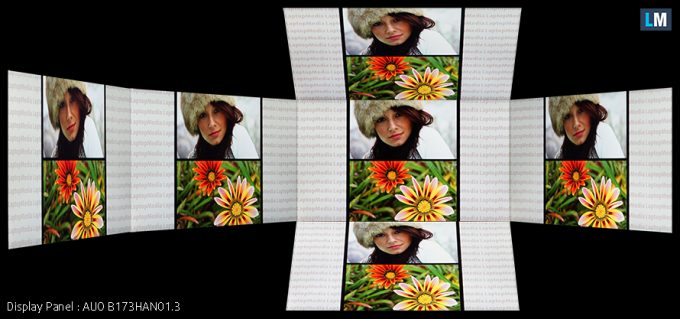 The measured maximum brightness is reasonably high – 340 nits (cd/m2) in the middle of the screen and 330 nits (cd/m2) average across the surface of the display with a maximum deviation of 11%. The Correlated Color Temperature on a white screen is 6780K – almost in line with the optimal 6500K temperature for the sRGB standard. The average color temperature through the grey scale before profiling is 6670K.
In the illustration below you can see how the display performs from uniformity perspective. In other words the leakage of light from the light source.
The illustration below shows how matters are for operational brightness levels (approximately 140 nits) – in this particular case at 36% Brightness (White level = 140 cd/m2, Black level = 0.1 cd/m2).
Values of dE2000 over 4.0 should not occur, and this parameter is one of the first you should check if you intend to use the laptop for color sensitive work. The contrast ratio is good– 1350:1 (1250:1 after profiling).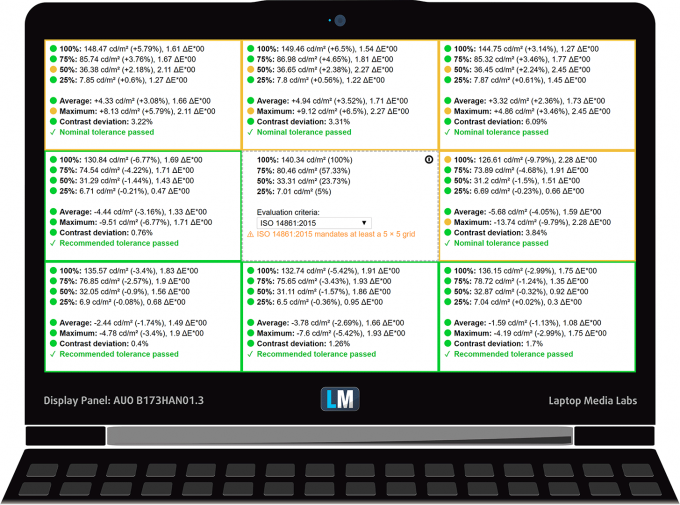 Color reproduction
To make sure we are on the same page, we would like to give you a little introduction of the sRGB color gamut and the Adobe RGB. To start, there's the CIE 1976 Uniform Chromaticity Diagram that represents the visible specter of colors by the human eye, giving you a better perception of the color gamut coverage and the color accuracy.
Inside the black triangle, you will see the standard color gamut (sRGB) that is being used by millions of people in HDTV and on the web. As for the Adobe RGB, this is used in professional cameras, monitors etc for printing. Basically, colors inside the black triangle are used by everyone and this is the essential part of the color quality and color accuracy of a mainstream notebook.
Still, we've included other color spaces like the famous DCI-P3 standard used by movie studios, as well as the digital UHD Rec.2020 standard. Rec.2020, however, is still a thing of the future and it's difficult for today's displays to cover that well. We've also included the so-called Michael Pointer gamut, or Pointer's gamut, which represents the colors that naturally occur around us every day.
The yellow dotted line shows Alienware 17 R5's color gamut coverage.
Its display covers 92% of the sRGB/ITU-R BT.709 (web/HDTV standard) in CIE1976 – a prerequisite for a saturated and attractive image.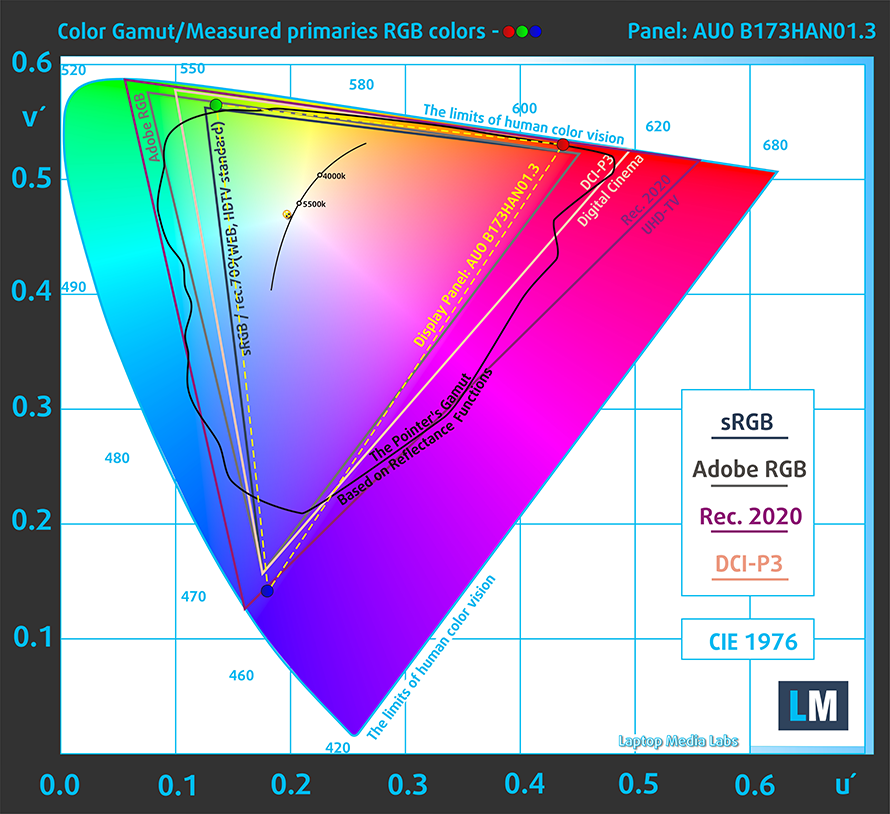 Our "Design and Gaming" profile delivers optimal color temperature (6500K) at 140 cd/m2 luminance and sRGB gamma mode.
We tested the accuracy of the display with 24 commonly used colors like light and dark human skin, blue sky, green grass, orange etc. You can check out the results at factory condition and also, with the "Design and Gaming" profile.
Below you can compare the scores Alienware 17 R5 with the default settings (left), and with the "Gaming and Web design" profile (right).
The next figure shows how well the display is able to reproduce really dark parts of an image, which is essential when watching movies or playing games in low ambient light.
The left side of the image represents the display with stock settings, while the right one is with the "Gaming and Web Design" profile activated. On the horizontal axis, you will find the grayscale and on the vertical axis – the luminance of the display. On the two graphs below you can easily check for yourself how your display handles the darkest nuances but keep in mind that this also depends on the settings of your current display, the calibration, the viewing angle and the surrounding light conditions.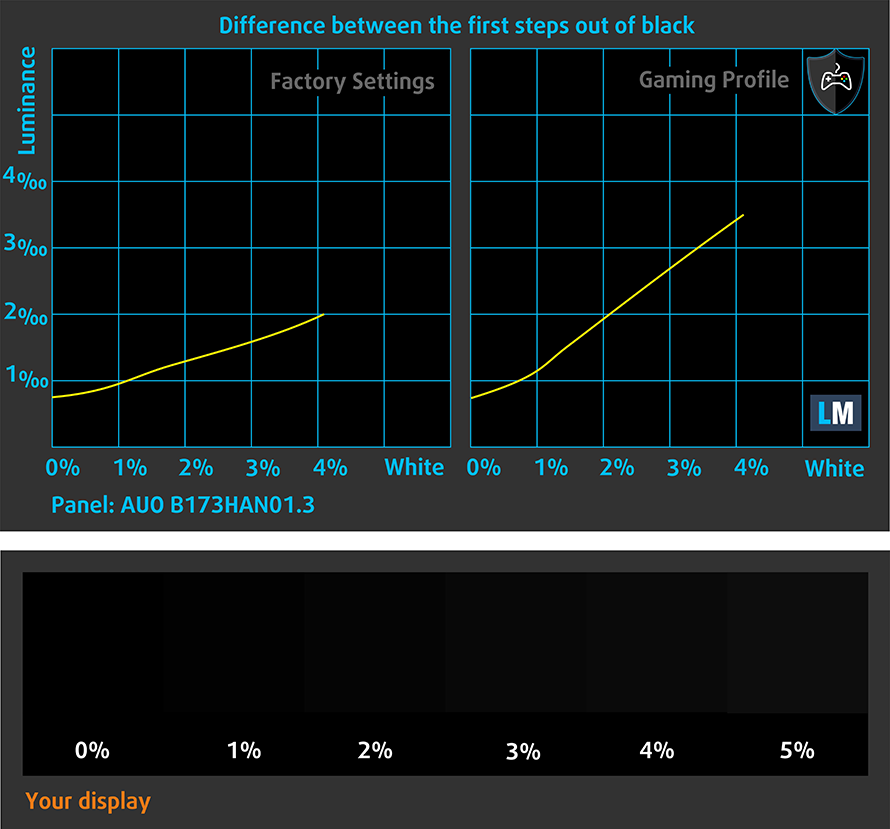 Response time (Gaming capabilities)
We test the reaction time of the pixels with the usual "black-to-white" and "white-to-black" method from 10% to 90% and vice versa.
We recorded Fall Time + Rise Time = 27 ms.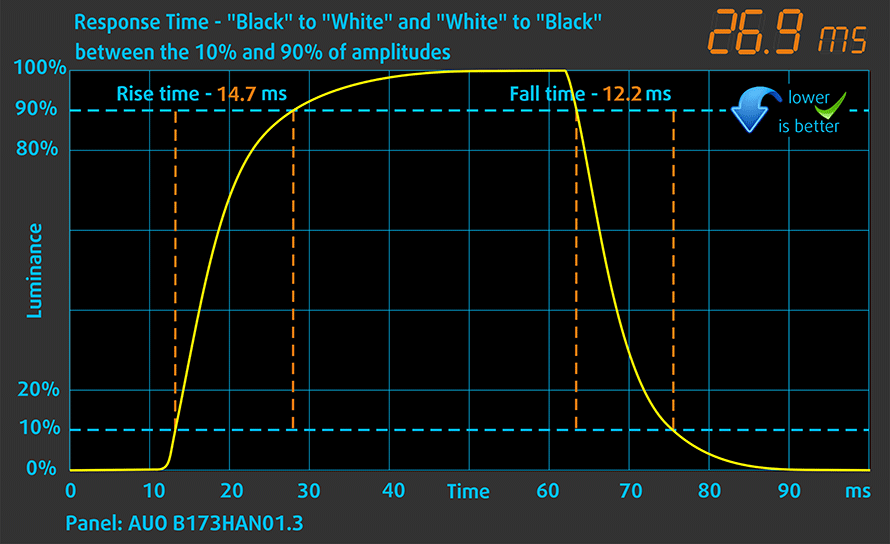 PWM (Screen flickering)
Pulse-width modulation (PWM) is an easy way to control monitor brightness. When you lower the brightness, the light intensity of the backlight is not lowered, but instead turned off and on by the electronics with a frequency indistinguishable to the human eye. In these light impulses, the light/no-light time ratio varies, while brightness remains unchanged, which is harmful to your eyes. You can read more about that in our dedicated article on PWM.
Alienware 17 R5 does not use PWM to control monitor brightness which makes it safe to use in the viewed aspect.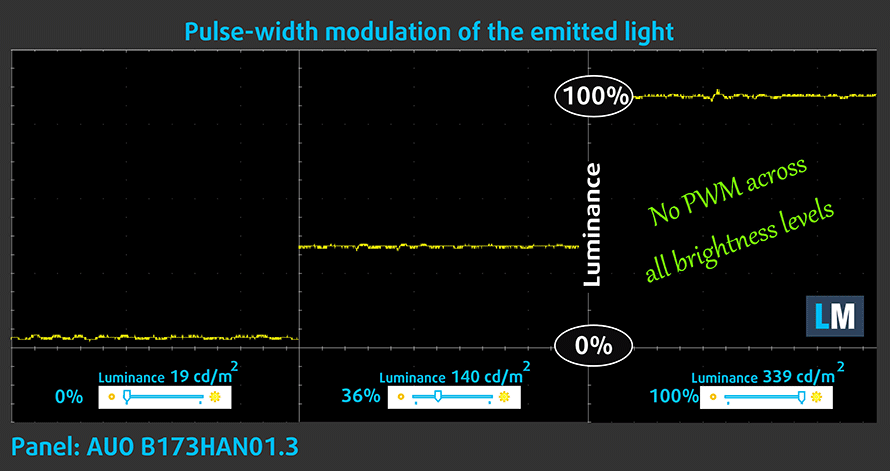 Blue light emissions
Installing of our Health-Guard profile not only eliminates PWM but also reduces the harmful Blue Light emissions while keeping the colors of the screen perceptually accurate. If you're not familiar with the Blue light, the TL;DR version is – emissions that negatively affect your eyes, skin and your whole body. You can find more information about that in our dedicated article on Blue Light.
You can see the levels of emitted blue light on the spectral power distribution (SPD) graph.

Conclusion
Alienware 17 R5's display features a 17.3-inch IPS panel with Full HD resolution and comfortable viewing angles. Its contrast ratio and maximum brightness are rather high and the color range is wide (92% sRGB coverage). The brightness is also not pulse-width modulated.

Buy our profiles
Since our profiles are tailored for each individual display model, this article and its respective profile package are meant for Alienware 17 R5 configurations with 17.3″ AUO B173HAN01.3 (AUO139D) (FHD, 1920 × 1080) IPS.
*Should you have problems with downloading the purchased file, try using a different browser to open the link you'll receive via e-mail. If the download target is a .php file instead of an archive, change the file extension to .zip or contact us at bg.laptopmedia@gmail.com.
Read more about the profiles HERE.
In addition to receiving efficient and health-friendly profiles, by buying LaptopMedia's products you also support the development of our labs, where we test devices in order to produce the most objective reviews possible.
Sound
Alienware 17 R5 provides rich sound that gets pretty loud. The tones are crisp and clear in the low, mid, and high frequencies. The Alienware Sound Center and Audio Recon software let you customize and tweak every sound.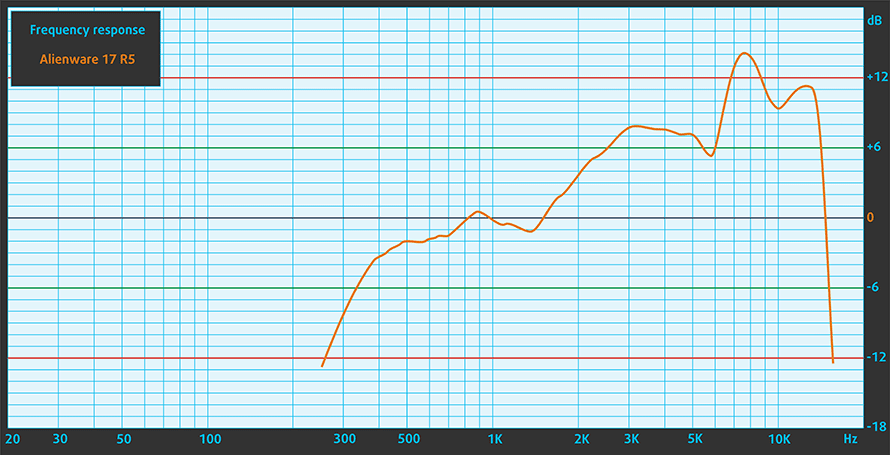 Drivers and software
You can get all the necessary drivers from Dell's support page: https://www.dell.com/support/home/us/en/04/product-support/product/alienware-17-r5/drivers
From all additional software, them most interesting is the Alienware Command Center. From this app, you can monitor your notebook's vitals, choose present or make your own for fans speed, audio, and power options. You can easily overclock your CPU from here but do it at your own risk. The Command Center is also used for customizing the RGB keyboard and other lights. You can also create a library of your favorite games and associate a custom performance preset to them.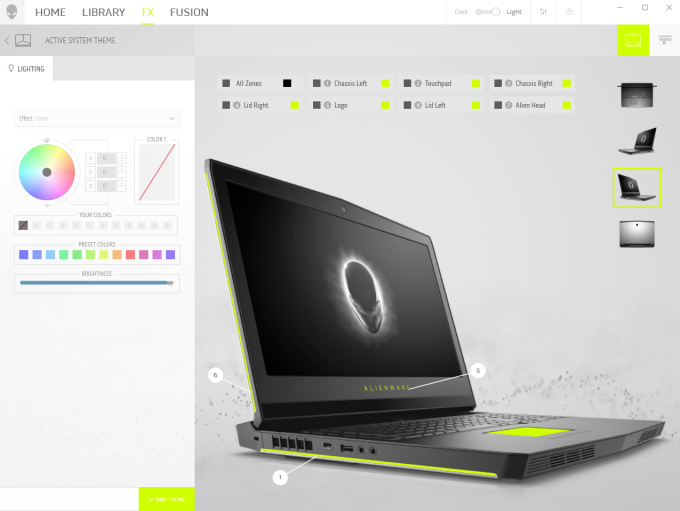 Battery
Alienware 17 R5 has two battery options – either 68 or 99Wh. Our configuration contains the latter, larger battery. However, we couldn't get more than 4-5 hours of battery life which isn't that surprising considering the powerful hardware.
In order to simulate real-life conditions, we used our own script for automatic web browsing through over 70 websites.
For every test like this, we use the same video in HD.
We use F1 2017's built-in benchmark on loop in order to simulate real-life gaming.
Storage performance
Our configuration is equipped with a 256GB PCIe NVMe Toshiba SSD with a model number KXG50ZNV256G and a 1TB hard disk. We offer benchmarks for the SSD.

| | | | | | | |
| --- | --- | --- | --- | --- | --- | --- |
| SSD model (240-256GB variants) | Max.Seq.Read (GB/s) | Max.Seq.Write (GB/s) | IOPS 4K Read | IOPS 4K Write | Latency Read (ms) | Latency Write (ms) |
| Toshiba KXG50ZNV256G (NVMe) | 2.83 | 1.08 | 7086 | 25292 | 0.076 | 0.040 |
| Intel SSD 760p / PEKKW256G8L (NVMe) | 2.35 | 1.03 | 13340 | 24671 | 0.047 | 0.048 |
| Samsung SM951 (NVMe) | 2.24 | 1.29 | 11320 | 28450 | 0.057 | 0.034 |
| Samsung PM951 MZVLV2560 (NVMe) | 1.58 | 0.31 | | | 0.121 | 0.035 |
| SK Hynix SC300 (NVMe) | 3.19 | 0.91 | 11000 | 26180 | 0.060 | 0.053 |
CrystalDiskMark – Max.Seq.Read/Write; AS SSD – IOPS 4K Read/Write, Latency Read/Write

CPU options
The Alienware 17 R5 comes with only two CPU options – the Core i7-8750H or the overclockable Core i9-8950HK. Our configuration features the latter.
Results are from the Cinebench 20 CPU test (the higher the score, the better)
Results are from our Photoshop benchmark test (the lower the score, the better)
Results are from the Fritz chess benchmark (the higher the score, the better)
GPU options
Our configuration of the Alienware 17 R5 is equipped with the NVIDIA GeForce GTX 1080 OC edition graphics card. Other configurations include the GTX 1070 or 1060 both overclocked too.
Alienware 17 R5 GPU variants
Here you can see an approximate comparison between the GPUs that can be found in the Alienware 17 R5 models on the market. This way you can decide for yourself which Alienware 17 R5 model is the best bang for your buck.
Note: The chart shows the cheapest different GPU configurations so you should check what the other specifications of these laptops are by clicking on the laptop's name / GPU.
Gaming tests
The Alienware 17 R5 is equipped with the GTX 1080 and for now, you can't really get any better. Of course, there are exceptions like two GPUs in SLI inside a notebook but in most cases, our configuration is the best out there.






Temperatures and comfort
The Alienware 17 R5 has a very serious cooling system with vents all around and user-controlled fan speed. That's only fair as the notebook boasts some extremely powerful hardware and it even supports overclocking of the CPU and a factory overclock of the GPU.
Our tests were conducted utilizing the maximum fan speed and no further overclocking.
We have a new way of torturing laptops, and for gaming machines, it comprises of 100% CPU load plus real gameplay test (Rise of the Tomb Raider).

Max CPU load
In this test we use 100% on the CPU cores, monitoring their frequencies and chip temperature. The first column shows a computer's reaction to a short load (2-10 seconds), the second column simulates a serious task (between 15 and 30 seconds), and the third column is a good indicator of how good the laptop is for long loads such as video rendering.
Average core temperature (base frequency + X); CPU temp.
| Core i9-8950HK (45W TDP) | 0:02 – 0:10 sec | 0:15 – 0:30 sec | 10:00 – 15:00 min |
| --- | --- | --- | --- |
| Alienware 17 R5 | 3.21 GHz (B+11%)@ 81°C | 2.57 GHz (B+%)@ 63°C | 2.49 GHz (B+%)@ 60°C |
As you can see from the chart above, the cooling system manages to handle temperatures low even after 15 minutes of 100% load. However, just 15 seconds into the test and the clock speed drops below the base clock of the CPU. Nonetheless, an internal temperature of just around 60°C is more than enviable.
We have to note that these low temperatures come at some cost. Apart from the lower clock speed, the fan noise is very high and you could probably blow dry your hair on the rear vents.

Real gameplay
| | GPU frequency/ Core temp (after 2 min) | GPU frequency/ Core temp (after 30 min) |
| --- | --- | --- |
| GTX 1080 | 1793 MHz @ 76°C |  1782 MHz @ 84°C |
The GPU is handled even better than the CPU. The temperatures are higher but just about average – around 80°C but the clock speed remains high. This version of the GTX 1080 is factory overclocked and after 30 minutes of high load, its clock remains above the boost frequency of a regular GTX 1080.

Gaming comfort
Surface temperatures reach a peak of around 57°C, however, only in areas unlikely to be used while gaming. The palm rest area and the WASD keys remain far cooler.
Verdict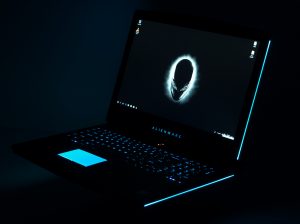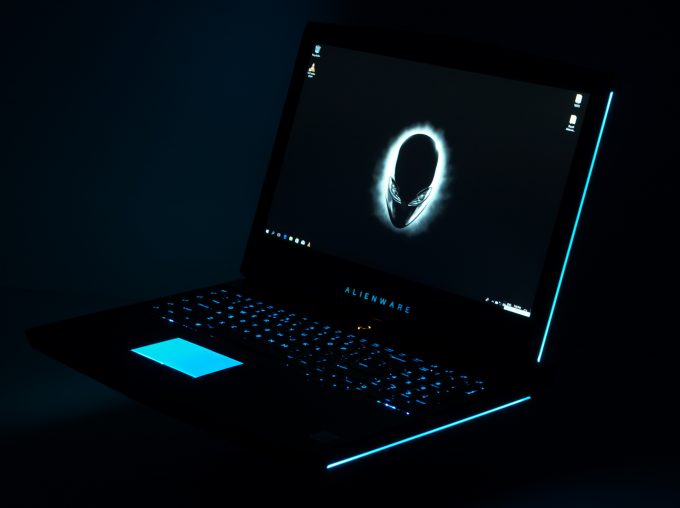 The Alienware 17 R5 lived up to our expectations. Performance-wise you can't get much better. Maybe the AMD Ryzen 7 2700 can beat the Core i9-8950HK in some benchmarks but real-world performance shouldn't be any different. And as far as GPU performance goes, the GTX 1080 is the best on the market for now. We are waiting for NVIDIA's new GPUs which should release soon judging by all the rumors.
Our configuration of the Alienware 17 R5 comes with a great Full HD panel. There are also a QHD and UHD panel options and some come with Tobii Eye-tracking technology which lets you interact in some games using your eyesight.
Battery life of the Alienware 17 R5 is not a record-breaker but you can get about 4 hours or more of moderate usage (not gaming) which is still impressive considering the hardware we speak of.
The cooling system is what we feared most but the Alienware 17 R5 endured our test like a boss. It maintained low CPU and GPU temperatures even after continuous use. The CPU frequency dropped below its base clock but 2.50 GHz is not bad at all.
One of the few notebooks that can currently rival the Alienware 17 R5 is the Acer Predator Helios 500.
You can check the prices and configurations in our Specs System: https://laptopmedia.com/series/alienware-17-r5/
Pros
Good cooling system
Lots of upgrade options
92% sRGB coverage (1080p AUO139D)
Great performance (up to Core i9 + GTX 1080)
Alienware Graphics Amplifier Port – for connecting an external GPU
Lots of customization options (RGB lights)
High-quality build and design
Cons
Quite heavy – 4.42 kg (9.7 lbs)
High fan noise