MSI RTX 3060 Ti Gaming X LHR review – the sweet spot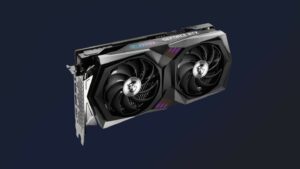 It seems that the GPU shortage is almost over and the gamers can finally get a new and up-to-date GPU. No matter how big is your budget, saving money is always a good idea and that's why a video card like the NVIDIA GeForce RTX 3060 Ti can be easily considered as a smart buy. This fella has the same memory capacity and bus width as its bigger siblings – RTX 3070 and RTX 3070 Ti. In addition, it's not too far away from the performance levels of the GeForce RTX 3070 and if you want to squeeze a bit more performance out of it you can use DLSS to boost the FPS.
It's almost clear that this GPU should perform great on 1080p but what will happen if you have a 1440p monitor or even a 4K one? That's why we're here to find if the 8GB VRAM could possibly be a bottleneck on higher resolutions, especially on 4K or if this GPU can be the ultimate sweet spot among the other Ampere video cards?  For this occasion, we got the MSI RTX 3060 Ti Gaming X LHR – this graphics card looks like a great allrounder – it's not huge, it weighs 1 kilo, and its cooling should be sufficient to cool down the internals.
You can check the current price of MSI RTX 3060 Ti Gaming X LHR here: Buy from Amazon.com (#CommissionsEarned)
Contents
Specs Sheet
|   | MSI RTX 3060 Ti Gaming X LHR |
| --- | --- |
| Architecture | Ampere |
| GPU chip | GA104 |
| Shader units | 4864 |
| ROPs | 80 |
| TMUs | 152 |
| Transistors | 17400M |
| Base Clock (MHz) | 1410 |
| Boost clock (MHz) | 1770 |
| Memory clock (MHz) | 1750 |
| Memory size (MB) | 8192 |
| Memory type | GDDR6 |
| Memory bus width (bit) | 256 |
| Default board power limit | 220W |
| Max board power limit | 230W |
| Power Connectors | 8-pin + 6-pin |
| Recommended PSU | 600W |
| Dimensions | 278 x 131 x 51 mm |
| Weight | 1007g |
| I/O | 3x Display Port v1.4a, 1x HDMI 2.1 |
| Max Resolution | 7680×4320 |
| DirectX version | 12.2 |
| Technology | 8nm |
| RTX capabilities | Yes |
| Release date | 12.2020 |
Test configuration
CPU: Intel Core i9-12900K
Motherboard: MSI MPG Z690 Carbon
RAM: 2x16GB DDR5 G.SKILL Trident Z5 6000MHz CL36
Power Supply: EVGA P+ 1300W
Cooling: COUGAR AQUA 360mm
Monitor: LG 43UN700-B
Case: Open test bench
Software
OS: Windows 11 x64 with the latest updates
Drivers: NVIDIA 516.40 drivers

Drivers
The GPU drivers for the MSI RTX 3060 Ti Gaming X LHR can be found in the following link:
https://www.nvidia.com/en-us/geforce/drivers/

What's in the box?
The video card is well-secured in a sturdy-looking box. Inside, you'll find the GPU itself surrounded by protective foam which is good if the couriers decide to play a bit of ping-pong with your precious GPU before delivering it. Of course, there is a quick start guide and some other manuals.

Design and looks
The GPU features a two-fan design and that's why it's decently compact compared to some other RTX 3060 Ti models with triple-fan coolers. As you can see, the video card isn't huge but keep in mind that it's still a 2.5-inch product – other than that, it should fit even in most mATX cases.

Speaking of the fans, here we can find a pair of two TORX FAN 4.0 which on paper should be better compared to the previous versions. These fans can be found in many other MSI RTX 3000 graphics cards, including top-tier models. The shroud is made of plastic and it's not a surprise at all – most modern GPUs come with plastic shrouds. On the other hand, the shroud houses the RGB illumination which isn't too intrusive, ergo, the GPU isn't glowing like a Christmas tree. If you're not a fan of these modern fancy RGBs, probably you're going to like this video card.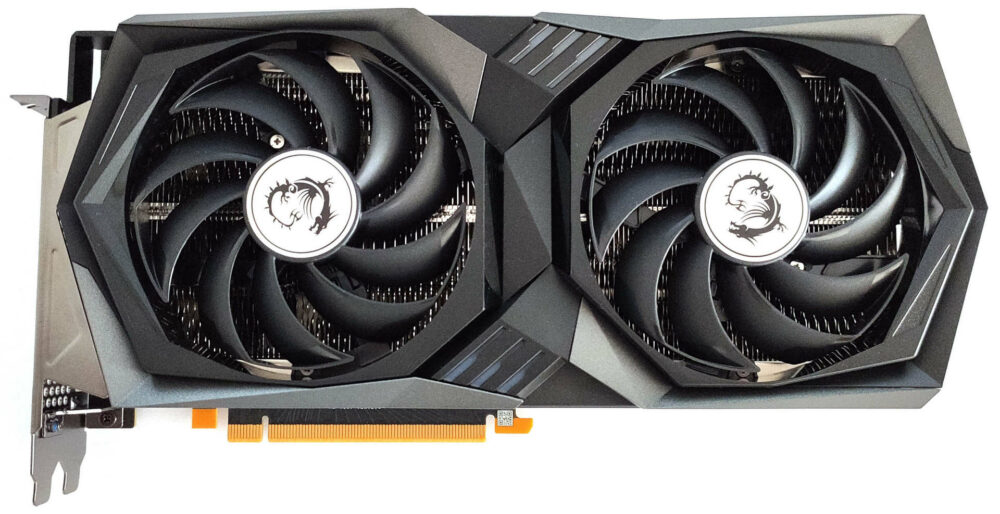 The backplate is made of metal which ensures better protection for the GPU and it has many cuts for better heat dissipation. Actually, it is good that the backplate is metal, considering that some mid-range video cards are equipped with plastic backplates, which is a shame.
This graphics card has a metal anti-bending strap which should prevent GPU sag. Still, it's not a 32 cm four-slot model so GPU sagging isn't a problem at all. MSI is advertising the heatsink design as "silencing" because of the improved "airflow dynamics". Well, we'll see further in the review if the GPU is silent under load or not.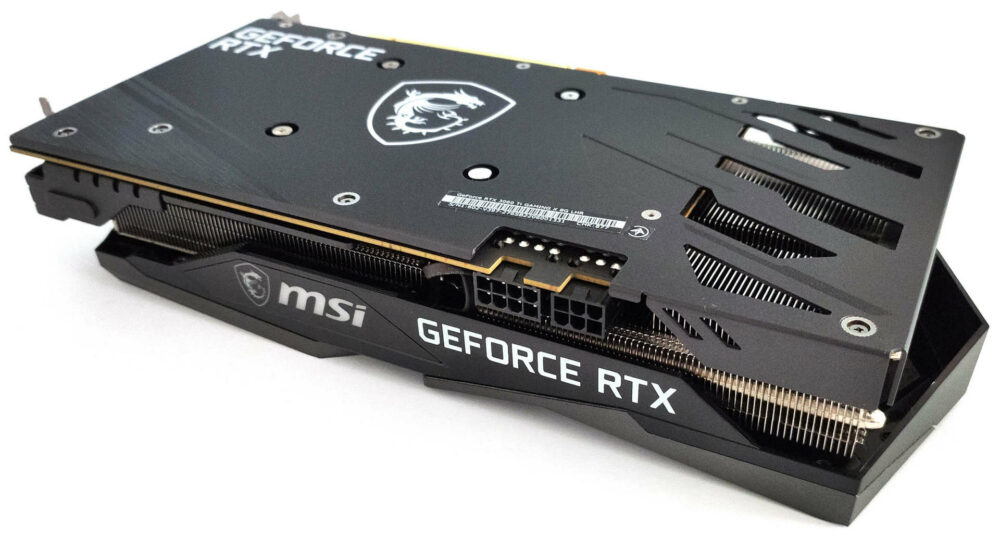 Synthetic benchmarks, BIOS, and overclock
So, let's test the GPUs' raw performance with the aid of some popular benchmarks like 3DMark Fire Strike, 3DMark Time Spy, and Unigine Superposition. We'll start with the stock results.
Now, let's check the OC results.
3Dmark Fire Strike Graphics Score
3Dmark Time Spy Graphics Score
Unigine Superposition

MSI RTX 3060 Ti Gaming X LHR Stock

30571
11672
7215

MSI RTX 3060 Ti Gaming X LHR OC

32882

(+8%)

12499

(+7%)

7689

(+7%)
As you can see from the table above, the average gain from the overclock is around 7%. If you have some spare time, you can try to overclock your GPU – the free performance is always welcome but if you just want to play games after work, don't even bother the OC sliders, the performance gains aren't massive at all.
BIOS 
You can have a look at the BIOS of the GPU and its stock clocks. In idle, the graphics card is dead silent, the fans aren't spinning at all and the core temperature is below 40°C.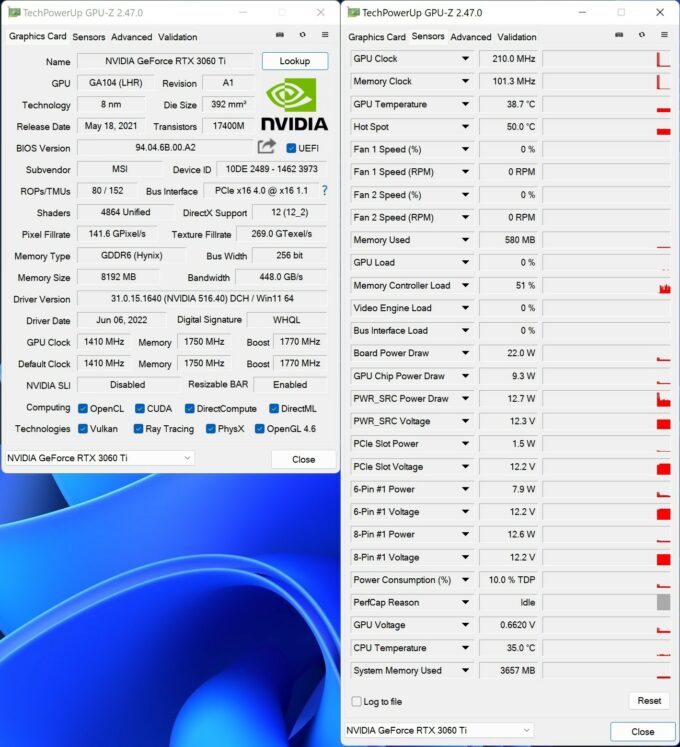 We're a bit disappointed, that the GPU maximum power limit is just 10W higher compared to the stock one – shame.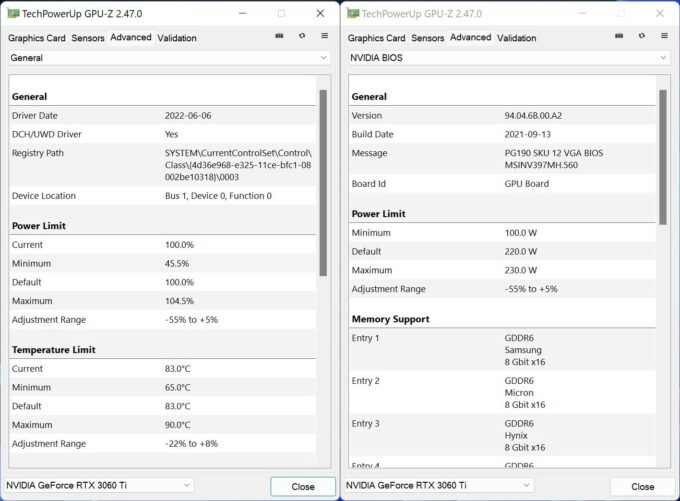 Overclock
We're using Unigine Heaven 4.0 in 4K for monitoring the stock and OC frequencies while testing for stability. Our video card isn't a monstrosity when it comes to overclocking potential but keep in mind that it's held back by the smaller power limit. Let's check the stock frequencies. We got around [email protected]°C for the core and the memory is set to 1750MHz (7000MHz effective). The fans are spinning with 1710 RPM.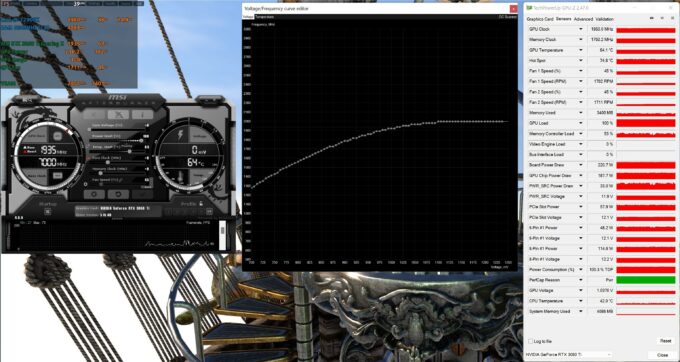 Overclocking the GPU isn't complicated at all. With the MSI Afterburner's Voltage/Curve frequency editor we set the core voltage to exactly 1V and the core clock to 2085MHz – the video card needs more than 1V for 2100MHz and this lead to throttling because it's out of power limit. The Hynix memory is not an overclock champion – it's stable at +750MHz (1938MHz – 7750MHz effective clock). The fans are set to 50% (1855 RPM) and we can bearly hear them spinning.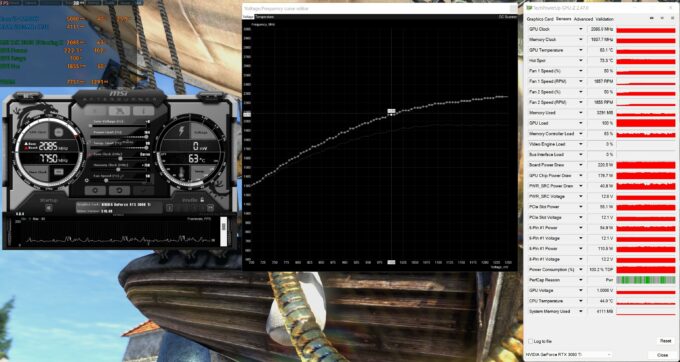 Gaming tests



| Diablo Immortal | V.High (Check settings) |
| --- | --- |
| 1080p | 505 fps |

















| Tom Clancy's Rainbow Six Siege | Ultra (Check settings) |
| --- | --- |
| 1080p | 492 fps |
| 1440p | 342 fps |
| 4K | 181 fps |











| Rocket League | H.Quality (Check settings) |
| --- | --- |
| 1080p | 559 fps |
| 1440p | 409 fps |
| 4K | 212 fps |



| Team Fortress 2 | MAX (Check settings) |
| --- | --- |
| 1080p | 279 fps |
| 1440p | 279 fps |
| 4K | 248 fps |







Temperatures and comfort
In this test we use 100% on the GPU, monitoring its frequencies and chip temperature.
| 30 min Cyberpunk 2077 on 4K Ultra details | Clock | Core Temperature | GPU Hot Sport Temperature | Power | FAN RPM |
| --- | --- | --- | --- | --- | --- |
| MSI RTX 3060 Ti Gaming X LHR | 1868 Mhz | 64°C | 74°C | 219.1W | 1677 RPM |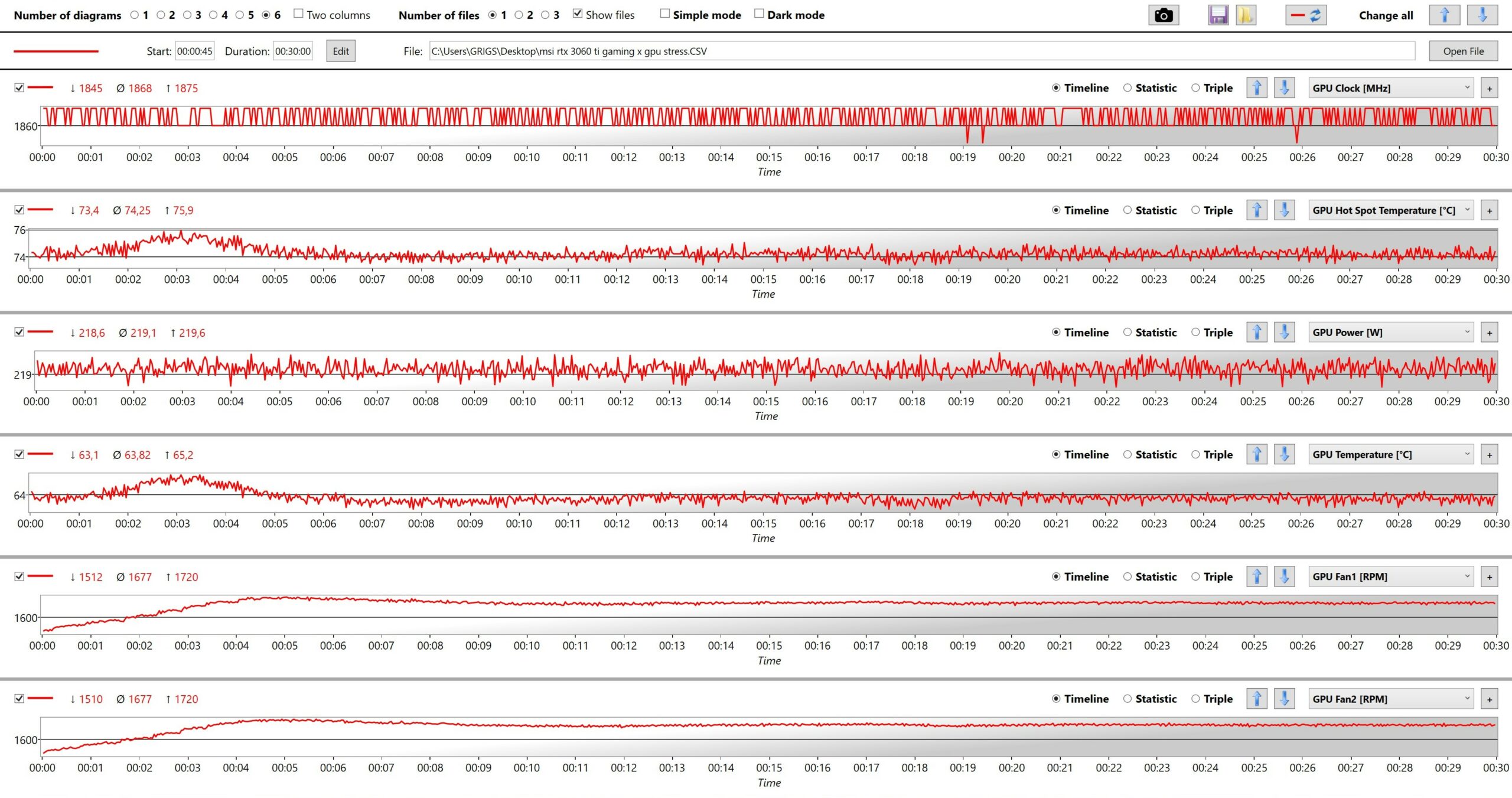 Yes, the MSI RTX 3060 Ti Gaming X LHR is almost a near-silent video card. Keep in mind that we are torturing the GPU in Cyberpunk 2077 for 30 minutes on 4K resolution and the quality is bumped to Ultra – on 1080p and 1440p the GPU is even cooler and quieter (also, check the frequencies while benchmarking with Unigine Heaven 4.0). Let's get back to the stress test – 64°C core temperature and around 1677 RPM for the fans is a great result. The Hot Spot temperature is in check as well – this GPU can be great for overclocking but it needs a bigger power limit or you can try a combination of undervolt and overclock.

Verdict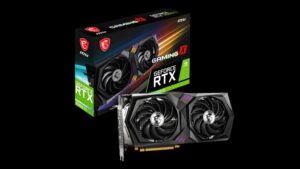 The MSI RTX 3060 Ti Gaming X LHR is a great mid-range GPU. Yes, it's great because it has a good build quality, its unintrusive design is a bit on the stealthy side, it's quiet under load (almost near-silent) and the performance of this GPU is even enough for 4K gaming with some compromises. Speaking of which, at least for now, the 8GB memory buffer isn't a problem for playing on 2160p but if you're looking for a future-proof product, probably a 10GB+ video card will be a better choice.
In most cases, if the FPS on 4K isn't high enough, the bottleneck isn't the capacity of the video memory  – the raw power under the hood is the real limitation in these scenarios. Still, the GPU is doing a good job (on 2160p) even in games like God Of War, Days Gone, Call Of Duty: Warzone, etc. If you need more FPS, you can always drop down the details from Ultra to Very High / High – (depending on the game) or you can use DLSS if the title supports this feature.
You can check the current price of MSI RTX 3060 Ti Gaming X LHR here: Buy from Amazon.com (#CommissionsEarned)
Pros
Well-build
Nearly silent under load
Compact
Has a metal backplate
Cool during gaming
Idle fan stop
Comes with goodies like HDMI 2.1, PCI-Express 4.0, DLSS, and ray tracing
8nm tech process
Cons
Just 230W TGP for a 8-pin + 6-pin configuration
The maximum power limit isn't sufficient for a proper overclocking without throttling