Langogo Genesis review – personal translator in your pocket (…and much more!)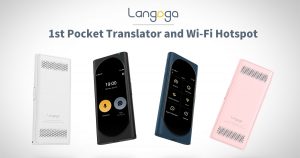 Langogo Genesis is a pocket translator but not a usual one. The Genesis model features two–way voice translation (in real-time), has a big display, and supports voice translation in over 90 languages.
We live in a free world. You can travel everywhere and meet different people from different cultures and languages. Most of the time the language barrier is the main thing that will prevent you from knowing people better. Let's say that you are in China or Japan, you are looking at a beautiful city with ancient and stunning architecture, taking pictures, having a good time. Suddenly you want to know where is the nearest restaurant but no one around you speaks your native language. Well, this is the time when a device like Langogo Genesis will help you and the language barrier is not a problem anymore.
?? UK product link: https://amzn.to/2PeH7t0 [Promo Code: laptopmedia]
Other countries: Buy from Amazon.com (#CommissionsEarned)
Contents
Official video
Design and construction
The design of the device is very sleek. The all-black display contrasts with the white body (four color options – Black, White, Pink, and Blue). We like this combination of colors. Its buttons are easy to press, the feedback is fine, you can always feel when you are pressing a button correctly or you have to press it a bit more. There is a "click" sound for every press of a button and that's always handy.
The gadget is easy for one-hand usage. Its rectangular shape with softened edges and the grippy surface makes the device more secure when you are walking with it. Even when your hand is fully opened, the grip is fantastic (see our video). For its size (121.3 x 54.4 x 13.2 mm) the device's weight is acceptable – just 115g. The 3.1″ display is big enough to see the already translated speech or everything you are typing on it.

What is in the box
Langogo Genesis comes in a small glossy unpretentious box. Inside you'll find the pocket translator, a manual, a USB-C cable for charging, an eject pin, and a wrist-wrap.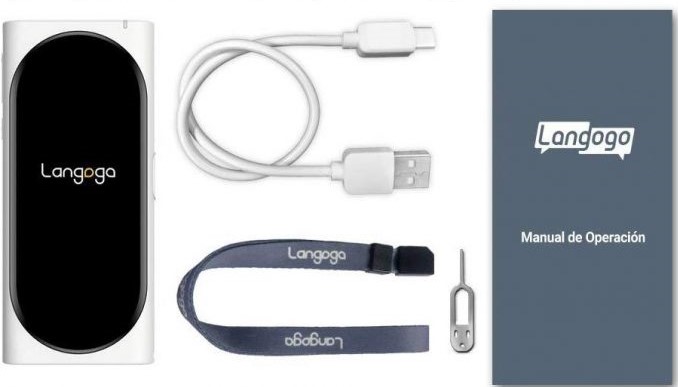 We really like the wrap because it makes the whole experience safer. You can use the Langogo gadget instead of your precious (and maybe expensive) phone. You can't suddenly drop Langogo if you are wearing the wrist-wrap. As we said, that's a much safer way for communication, just imagine that you are using your phone for translating the speech of someone else and suddenly you drop the phone on the floor – the result is a broken screen or dead phone. So, just use Langogo, maybe it will save you some money and your phone too.

Specifications
| Model name | Langogo Genesis |
| --- | --- |
| Dimensions | 121.3 x 54.4 x 13.2 mm |
| Color Options | Black, White, Pink, Blue |
| Weight | 115g |
| Screen Size | 3.1 inches |
| Screen Material | Capacitive Screen |
| CPU | MTK6739 |
| ROM | 8GB |
| GSM | 2G/3G/4G, GSM900/DCS1800/PCS1900/GSM850, WCDMA B1/B2/B5/B9, TD-SCDMA B34/B39, TDD-LTE B38/B39/B40/B41M (2555-2655), FDD-LTE B1/B2/B3/B5/B7/B8/B17/B20 |
| Battery | 2200 mAh |
First impressions and testing
The menu is really straightforward. The first screen is showing the date and time (synced from Wi-Fi network or SIM), as well as Translation and Global W-Fi. Of course, you are going to use "Translation" 99% of the time with the device. It is simple, again. Just select the two desired languages, slide down and press the national flag, speak something, and …. that's all. There is offline and online mode for translation. The offline mode is limited to Chinese, Japanese, Korean, and English. With the online mode you have the full potential of the device – 90 languages are available for translation.
Speaking of online stuff, you can get an online connection with Wi-Fi, SIM card or eSIM. We don't think that it is imperative to explain the first two – just enter the Wi-Fi password or plug your SIM card inside of the device. The eSIM (Global Wi-Fi option) is more interesting because it's an embedded SIM (not a physical one, it's a software feature) – you can purchase different data packages which will expire after a certain amount of time (for example you can buy 500MB for a day, that's the maximum limit, no matter the country). When you set up your mobile data plan you can use the Langogo Genesis as a hotspot – that's pretty useful when you are traveling with other people.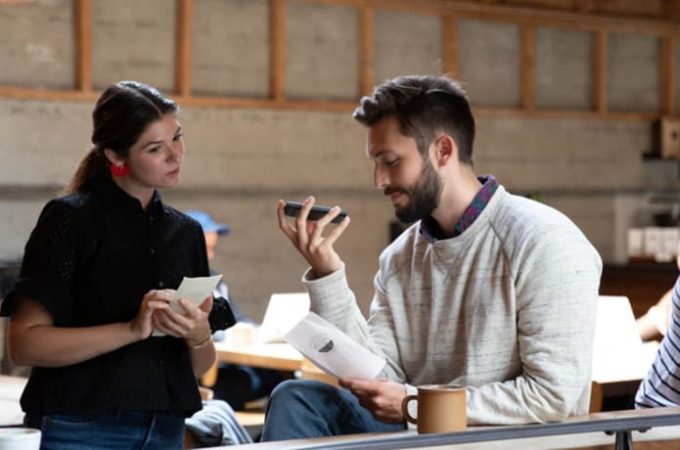 Let's continue with some other features. The Interpreter mode is just showing the translation on the screen, without voice. It's handy when you don't want to interrupt the other people around you and just want to ask quickly someone about location or else. Again, choose two languages from the menu, select your native language and the other one too. Now, place your thumb on the language icon that you can speak. When the device is ready for translation it'll show "Please start talking" notification. Say your sentence, wait a couple of seconds and the translated text will be ready.
Another cool thing – Euri, an AI assistant. You can use Euri about the weather condition, food, attractions or transportation. It is a quick way to navigate in an unfamiliar environment.
Real-life test
In the following video, you can see how this device performs in real life.
Battery
Battery life is strong, it'll take at least 6 to 7 hours of screen time to fully drain the juice. The recharge from 0% to 100% takes two hours.

Performance
It's a fast little machine. There are no hiccups while browsing the menus, the translation is fast too. The display is bright, and you can enlarge the text size of the menus – people with large hands will appreciate that.
Buy the way, when you connect it to a PC, Langogo Genesis will be recognized as an Android device but you have no access to it. You can't explore the internal storage or copy the translation files.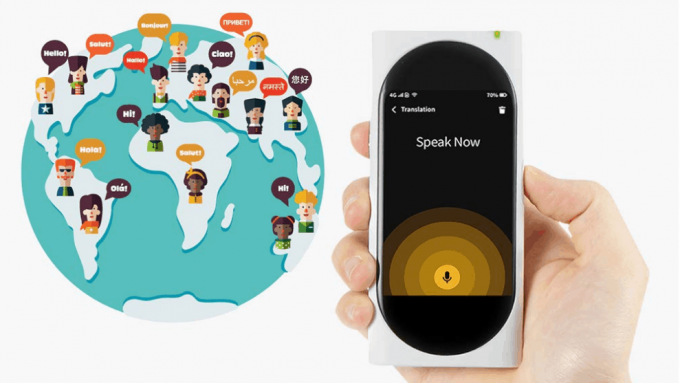 The only complain is the often loss of Wi-Fi connection. We have a good wireless connection in our office, all the devices have no problem when connecting to the router, only Langogo Genesis has a problem with it. Sometimes, if you stand between the device and the router, the connection fails immediately. If you place your hand in front of the device the signal gets weakened. We can hope that this problem is already solved because we have a pre-production model.

A quick journey through the menu
Before our verdict let's show you the Langogo Genesis menu and some real-life translations.
Verdict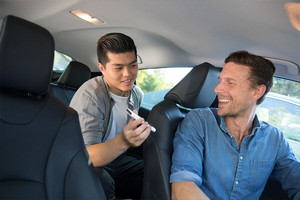 What a handy little fella it is. Place it in your pocket and travel in other countries whenever you want – Langogo will help you with every conversation, no matter the location. The design is beautiful (especially in white color), dimensions are normal, and the display is clearly visible and readable.
Battery life is acceptable but if you plan to use it the whole day bring the charger with you. Well, it is not a cheap device, but at least it doesn't look and feel cheap. The wrist-wrap is a nice touch too – you don't have to worry about accidentally dropping the device – the wrap will save it.
Our device was updated three times after the first boot. Now, with the latest update, the menu is a bit more eye-candy and the navigation through the options is faster. Langogo is ensuring that this little machine comes with lifetime update service and the users will be always up-to-date with new features and improvements.
?? UK product link: https://amzn.to/2PeH7t0 [Promo Code: laptopmedia]
Other countries: Buy from Amazon.com (#CommissionsEarned)
Pros
Sleek and beautiful design
Durable battery
USB-C cable for charging
Included wrist-wrap
Big screen
Grippy surface
Cons
Unstable Wi-Fi signal (with our sample)
A bit expensive