AMD Ryzen 5 3550H vs Intel Core i5-9300H – Red vs Blue, the showdown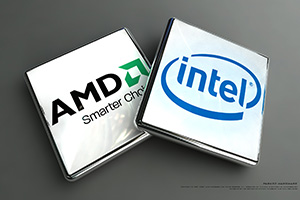 We are happy that AMD has played its cards in a way that makes it easier for us to distinguish the processors from one another. In fact, it is extremely easy to make this comparison because, despite being on separate teams, these CPUs share a lot of the approach.
Visit our Top Laptop CPU Ranking to check these two and many more CPUs.

Specs overview
The first we're going to talk about is the Ryzen 5 3550H. It is manufactured on a 12nm Zen+ architecture and has a TDP of 35W. On the other side, the Core i5-9300H has a slightly larger node of 14nm and uses 45W of power. They are both quad-core CPUs, embodying octa-thread technology. However, they work at different clock speeds – the Red marque's CPU has a Base clock speed of 2.10 GHz and a Boost one of 3.70 GHz, while its opponent goes from 2.40 GHz all the way to 4.10 GHz – not a small margin. Additionally, the Core i5-9300H has 8MB of cache, while the Ryzen 5 3550H has only 4MB.
On the internal graphics department, we see the RX Vega 8 versus the Intel UHD Graphics 630.
You can check out the full specs of the AMD Ryzen 5 3550H and the Intel Core i5-9300H.

Benchmarks
Intel Core i5-9300H shows higher results in synthetic benchmarks – advantage, Blue.
Results are from the Cinebench 20 CPU test (the higher the score, the better)
Results are from our Photoshop benchmark test (the lower the score, the better)
Conclusion
According to the benchmarks and the ability of the Core i5-9300H to go to a higher maximum frequency makes it the better processor of the bunch. This way it is going to ensure a greater potential for video editing and essentially – in gaming. On the other side, however, the Ryzen 5 3550H uses less energy than its opponent and should provide a cooler die, which can be viewed as a larger headroom for the GPU of the laptop.
All laptops equipped with the AMD Ryzen 5 3550H
All laptops equipped with the Intel Core i5-9300H