GTX 1050 Ti Battle: Lenovo Legion Y520 vs ASUS ROG Strix GL553VE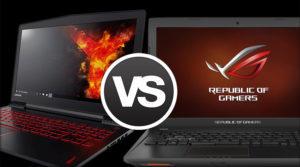 Things are looking very good in the mobile gaming sector, especially when we're looking at price to performance offerings. They're so good in fact, that you can buy a decent mobile gaming station for around $1000 and it would serve you well as a jack-of-all-trades device, and as long as you realize you won't break any world records, you'll find that for the amount of money you spend, your mobile machine can serve you just as well as a similarly priced desktop in most tasks.
We're getting closer to the point where mobile technology will catch up to its desktop counterparts, and the most benefit from that is seen in the budget, around $1000 market. Recently we've reviewed some of the most promising offerings in this segment and today we'll take a look at another couple of great gaming devices and see how they compare – is the slightly higher price of the ASUS ROG Strix GL553VE worth it when we stack it against the Lenovo Legion Y520? Read on to find out.
Design and construction
Design wise both notebooks share an aggressive gaming look with a black matte or brushed finish and bright red and orange ornaments. Lenovo Y520's design can be considered simpler than the ASUS ROG Strix GL553VE, which follows the trademark aggressive look of the ASUS ROG brand. They both have roughly the same weight however, the Lenovo is also quite a bit slimmer – the profile of the Y520 is just 25.8 mm compared to the 30 mm of the ASUS ROG Strix, which considering the asking price is already sufficiently thin, while the ROG leaves something to be desired in the dimensions department, and although both models have improved upon their predecessors, Lenovo scores the extra points here.

Moving off to the construction, the Lenovo is built solely out of plastic which is to be expected from a sub $1000 device that packs so many features. The surface of the Lenovo Y520 imitates carbon fiber and has a matte finish. This gives it a nice grip and makes fingerprints easier to clean. The plastic material used is quite rigid and you can hardly bend the lid when applying some force. In the ROG's case, the metal chassis gives it a more premium look however, it is more susceptible to fingerprints and smudges.  The lid is quite flexible and bends under even small pressure, but the hinges, on the other hand, seem to be extra sturdy, stealth and perfectly tightened. As we mentioned before, it's a bit more aggressive in its design and neither the plastic construction of the Lenovo nor the more premium materials with the ROG give a definitive edge to either one, so it comes down to personal preference and what you're looking for in a laptop.
Let's say a few words about the sides of the notebooks. They are the home of all the ports in both cases, exclusion being the USB 2.0 port which is found on the right side of the ROG laptop, together with the optical drive. You will find all the necessary ports like LAN, USB 3.0 and HDMI and we are happy to see that both manufacturers have also added a single USB Type-C port to the configuration which is a must in our times. You will find that both laptops house most of their ports on the left side, so you won't find any difficulty using them when you've connected more devices. However, minus points for the ASUS because the ports are closer to the front edge of the laptop, which can sometimes be annoying during usage.
Lenovo Legion Y520: Detailed information about design and construction
ASUS ROG Strix GL553VE: Detailed information about design and construction

Display
Both notebooks feature an IPS screen. Specs are all the same – 15.6-inch diagonal, Full HD (1920 x 1080p) resolution which translates into a pixel density of 142 ppi. Lenovo Y520 is equipped with an LG Philips LP156WF6-SPK3 panel while the Strix is featuring the BOE NV156FHM-N43.
As expected of an IPS panel, the viewing angles are comfortable and we measured a decent maximum brightness of 268 cd/m2 in the center of the screen for the Lenovo and 336 cd/m2 for the ASUS. The contrast ratio is more pronounced on the ASUS compared to the Lenovo. The GL553VE's contrast ratio is almost twice that of Y520 – 1060:1 vs 670:1. Both panels offer almost ideal (6500K is considered optimal) color temperatures.
Colors aren't very accurate with a color reproduction of just 52% of the sRGB gamut for the Legion Y520, which is unsatisfactory, on the other hand, the ROG notebook's sRGB coverage is 92% and it's excellent for multimedia purposes and gaming as colors will appear vibrant and punchy. A disadvantage for both screens is that they use Pulse Width Modulation (read more here) to regulate the brightness. Luckily, the frequency used is very high (20.7 kHz for the Y520 and the same 20.7 kHz for the GL553VE) which greatly reduces the harmful impact. By using our custom-tailored profiles (you can check them out over here) you can eliminate the unwanted effect.
Lenovo Legion Y520: Detailed display tests
ASUS ROG Strix GL553VE: Detailed display tests

Specs sheet
Specs wise both models are nearly identical. They are running on the Intel Core i7-7700HQ from the latest 7th generation Kaby Lake. The CPU features four physical and four logical cores (Hyper-Threading) with a base clock speed of 2.80 GHz. The chip's consumption is 45 Watts, and its maximum operating temperature is 100 degrees Celsius.
More information about Intel Core i7-7700HQ and its position in our Top CPU Ranking you can find HERE.
Both models that we are comparing are also equipped with the same GPU – it wouldn't be fair if they weren't. We are talking about the NVIDIA GeForce GTX 1050 Ti which is powerful enough to run every modern game with a solid frame rate and decent graphics settings.
More information about the GPU and its place in our Top GPU Ranking you can find HERE.
–
Lenovo Legion Y520
ASUS ROG Strix GL553VE
CPU
Intel Core i7-7700HQ (4-core, 2.60 -3.80 GHz, 6MB cache)
Intel Core i7-7700HQ (4-core, 2.60 -3.80 GHz, 6MB cache)
RAM
8GB (1x 8096MB) – DDR4, 2400MHz
8GB (1x 8192MB) – DDR4, 2400GHz
GPU
NVIDIA GeForce GTX 1050 Ti (4GB GDDR5)
NVIDIA GeForce GTX 1050 Ti (4GB GDDR5)
HDD/SSD
512GB M.2 PCIe NVMe SSD + 1TB HDD (5400 rpm)
1TB HDD (5400 rpm)
Display
15.6-inch Full HD (1920×1080) IPS, matte
15.6-inch Full HD (1920×1080) IPS, matte
Features

2x USB 3.0
1x USB 2.0
1x USB 3.1 Type-C (Gen 1)
SD card reader
3.5 mm combo audio jack
HDMI 2.0
RJ-45
keyboard backlight

3x USB 3.0
1x USB 2.0
1x USB 3.1 Type-C (Gen 1)
3.5 mm combo audio jack
RJ-45
HDMI 1.4
memory card reader
customizable RGB keyboard LED backlight

Battery
45Wh
4-cell, 48Wh
Profile thickness
25.8 mm (1.01″)
30 mm (1.18″)
Weight
2.5 kg (5.51 lbs)
2.5 kg (5.51 lbs)
Price
Buy from Amazon.com (#CommissionsEarned)
  Buy from Amazon.com (#CommissionsEarned)
Battery
The ASUS ROG has a larger battery than the Lenovo Y520 – 48 Wh vs 45,  which isn't a difference. That's why we can say that the Acer is better optimized than the Lenovo.
In our Web browsing test, the ASUS ROG Strix GL553VE lasted for 369 minutes (6 hours and 9 minutes) while the Y520 – 256 minutes (4 hours and 16 minutes). Nearly a couple hear lead here for the Strix. In the Video Playback test, the Lenovo scored 240 minutes (4 hours) while the ASUS – 338 minutes (5 hours and 38 minutes). Again, better battery performance is shown by the slightly more expensive notebook.

Performance
We already mentioned that both laptops are equipped with the same hardware so we can expect similar performance and our gaming test prove this statement.




Temperatures
Lenovo's previous generations of gaming notebooks were known for some thermal throttling problems but we are happy to say that the new Legion Y520 offers a big improvement in this regard but there's still much work to be done. The ASUS does slightly better in the thermals department. After the 30 minutes in which the CPU stress test runs, in both cases, the clock speed dropped to 3.4 GHz which is still in the Turbo Boost range but the temperatures on the Lenovo were rather high – around 90 degrees Celcius. On the other hand, ROG notebook ran much cooler at around 80 °C.
After the GPU test was turned on we started to experience some thermal throttling in both notebooks but it was definitely more noticeable on the Lenovo where the processor temperature raised to 100 °C and the CPU clock speed started to wobble between 800 MHz to 3.0 GHz, with the GPU plateauing at around 74 °C. The ASUS ROG Strix showed a better performance – keeping CPU temperatures around 85 °C and clocks wobbling between 1.5-1.8 GHz and 3.4 GHz, although the GPU ran at a tad higher temperature of 82°C.
Despite the thermal throttling problems, the Lenovo kept surface temperatures fairly cool with only some areas reaching to 43-44 °C, mostly around the NumPad area. The GL553 had a more uniform temperature distribution and also kept temperatures in check, with highest readings showing around 37 °C, however it managed to do that while still keeping thermals within acceptable levels. The palm areas of both laptops remained cold.
Verdict
Both models are excellent all-rounders. For around $1000 you get lots of features and a pretty decent gaming experience. The IPS display of the Strix laptop is much better in terms of color accuracy, however, both displays unfortunately use PWM. Design wise, it comes down to taste as both are quite aggressive. As far as build quality goes, the ASUS uses more premium qualities, however, the keyboard tray, for example, is made of a material which is only imitating brushed aluminum and is prone to smudges and fingerprints. Also, there is flexing around the middle of the keyboard and the wrist rest area. The touchpad is also a bit wobbly. Overall the ASUS ROG Strix GL553VE has a better battery life, thermal control, and a better screen while the Lenovo Legion Y520 is a jack-of-all-trades with very little to complain about given how it competes with more expensive propositions, however the cooling leaves more to be desired and the display is definitely not one of its strong suits.
Lenovo Legion Y520 (GTX 1050 Ti): Full review /  Buy from Amazon.com (#CommissionsEarned)
ASUS ROG Strix GL553VE: Full review /  Buy from Amazon.com (#CommissionsEarned)
Why choose Lenovo Legion Y520 (GTX 1050 Ti)?
Slimmer, less prone to fingerprints
Sturdier
Better placement of ports
More affordable
Why choose ASUS ROG Strix GL553VE?
Better battery life
Higher quality IPS screen
More reliable cooling system
Better keyboard